By Clair McLafferty | Photography by Ali Rosa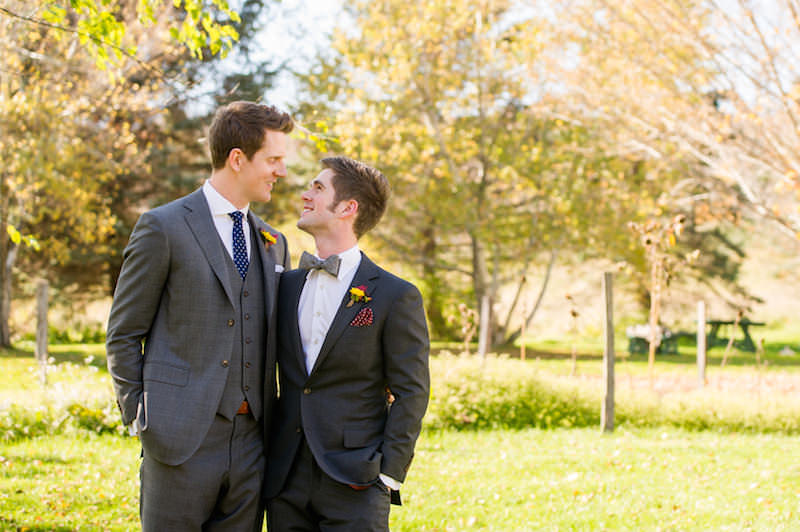 Joel and Mike first caught each other's eyes in the winter of 2009. At the time, they were on opposing teams in an LGBT volleyball league in New York City. "After weeks of making eyes across the net, we found ourselves at the sports bar around the corner," says Joel. They eventually started their lives together in Brooklyn, moving into an apartment and becoming proud fathers of their dog—and ring bearer—Baxter.
The Engagement
After three years of flirting and dating, Joel and Mike took a vacation to Hawaii where they went on a hike along the volcanic coastline. "We were literally in the middle of nowhere, completely alone, overlooking the most amazing cliffs and crashing surf underneath," says Joel. "Mike got down on one knee and proposed to me. I said yes."
Mike had another surprise up his sleeve. Following his proposal, he pulled another ring out of his pocket and made Joel propose back. "I happily obliged," laughs Joel.
The Venue
Since New York City and the surrounding areas can be prohibitively expensive for weddings, Joel and Mike chose a newer venue in the middle of the picturesque Catskill Mountains—the gorgeous Inn at West Settlement. With space for the rehearsal dinner, ceremony, cocktail hour and reception, it was the perfect place for the fall wedding they'd dreamed of.
"It was a gorgeous barn situated next to a spring-fed pond," says Joel. "The rolling hills, country setting and gorgeously appointed rustic chic space made it our clear choice." With all of the natural beauty surrounding the inn, the grooms didn't have to do much to decorate. "[Our venue] had an entire room full of props and decorations that we could use, including tons of vintage mason jars and cool bottles."
Paired with the burgundy-accented sunflower centerpieces, the venue's rustic chic flair shone. This aesthetic was embellished with custom vintage-fabric pennants, the grooms' burgundy, mustard and navy color palette and gorgeous reclaimed wooden farm tables and mismatched chairs.
The Ceremony
"We really wanted our ceremony to be a reflection of us," says Joel. They tapped into their friends' talents for the layered guitar, accordion and jazz vocals processional. "We began with our guitarist playing "La Vie En Rose" by Edith Piaf, and then had our groomsmaid walk down the aisle, strap on her accordion and join the guitarist, followed by our other groomsmaid who added the vocals after her walk down the aisle," explains Joel. "It was unexpected, and the crowd loved it."
"In a perfect world, both of our mothers would have walked us down the aisle," says Joel. "However, I lost my mom to cancer the year before, so this was a tough moment for me." But Joel's dad insisted on walking him down the aisle while Mike's father escorted their furry ring bearer, and it ended up being "just the right touch."
The grooms' officiant had one condition: that they write the ceremony. "It was perhaps our vows that truly made the ceremony what it was," says Joel. "It was maybe the most vulnerable I've ever been in my life, and also the most fulfilled. To share our own words with our loved ones really made the ceremony all the more special, genuine, and honest."
The Fashion
Both of the grooms had custom gray suits made by Suitsupply. "We decided to wear gray suits so we would stand out against our color scheme, and would accessorize with our wedding colors to bring it all together," notes Joel.
The Party
During the cocktail hour, the two set up lawn games, a photo booth and a guitar-clarinet duet that serenaded the attendants from above. For the main event, they scripted table numbers on old window panes directing their guests to their tables, where they were served a delicious seasonal menu, family style. After dinner, the party began in earnest. Joel and Mike had their first dance to "First Day of My Life" by Bright Eyes and halfway through the song, they invited the rest of the couples to dance for what would end up being the only slow tune of the night, kicking off a dance party that would last until the wee hours of the morning. "We gave [our DJ] a few suggestions of songs to play, but told him we ultimately wanted a big gay dance party," exclaims Joel. "He delivered!"
Vendors:
Photography: Ali Rosa Photography
Wedding planning/design: Jason Mitchell, author of Getting Groomed
Officiant: The Honorable Allyne R. Ross
Venue: The Inn at West Settlement
Florist: Catskill Flower Shop
Cake Designer and Caterer: Sweet Nothings by Linda Laestadius
Wedding suits: Suitsupply
DJ/Band: Steven Paul
Makeup/Hairstylist: Hair by Tom Mantel
Others: Videographer Blake Drummond Films
**This real wedding originally appeared in Love Inc.'s V2 Issue**