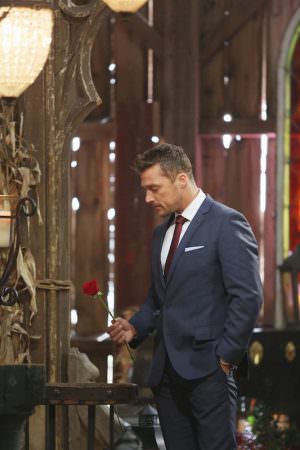 Well, you guys, we made it. Two and a half months (if I'm counting correctly) ago, we started our journey with Farmer Chris on season 19 of The Bachelor and tonight he's an engaged man. But who did he pick? All that and more (though not too much more — don't get your hopes up) after the jump… let's recap!
The reason I say not to get your hopes up is that this was possibly the most boring two hours of television I've ever watched. Half of this is due to the fact that Chris eliminated all the crazies early on, and the other half is that it was painfully obvious who Chris was going to choose. We start the episode with the final two, Becca and Whitney, heading to Chris's hometown of Arlington to meet his family. Whitney is up first, and immediately charms the Soules clan. She fits right in — as much as I have not been able to stand Whitney for the entire season, I have to admit that she'd blend right into Arlington, Iowa. She gets along amazingly with his sisters (which seems like no easy feat, but that's probably just great editing on ABC's part) and even makes a toast when they sit down for a meal together. And cries. She cries! And the best part is, it works! If she has to give up her fertility nurse career, she certainly has a backup for penning a book called "How to Win the Bachelor" because she's a pro in this role. She totally wins over their family — so much so that Chris's sisters don't even want to meet Becca. Chris is adamant that they will love her, though, and insistent that they're going to love her just as much if not more than they love Whitney.
News flash: they do not. At all.
Becca gets along with the family well enough, but you can tell they are not as enamored with her as Chris is. You might even say that they don't understand what he sees in her. I get that Chris and Becca have a connection … but he had one with Britt, too, and remember what happened with that? Britt went nuts! Chris doesn't seem to have the best judgment unless someone tells him what to do re: the ladies (he jokingly asks his family to pick for him, and the more I think about it, the more I believe that it wasn't a joke). I've been #TeamBecca for the last few weeks, and the conversation she has with Chris's mother is exactly why I've been rooting for her: she's committed to how she feels. She's not going to bend over backwards for a guy she met through a TV show a few weeks beforehand! I say this every week, but Becca is the most rational person I've ever seen on The Bachelor — if she's not in love, she's not. Whitney, on the other hand, is so insistent on being in love with Chris that I'm pretty sure she's living in a fairy tale world and not real life … but what do I know? What drives me nuts is that Chris admits that he's falling in love with the two of them repeatedly to the camera. The moral of the story: it's okay for Chris to be falling in love, but if one of the girls isn't totally head over heels, then it's not good enough? Girl, bye. That's some internalized Hollywood misogyny if I've ever seen it! Anyway …
Chris takes the girls on their final dates before the rose ceremony and this is where things start to become crystal clear. Chris, acting on advice from his sisters earlier in the episode, confronts Becca about her feelings for him, and she deflects as she had been the whole episode. She gives him endless "I don't know" and tells him that she's unsure of their relationship — from being together forever to moving to Iowa. And from there, you can kind of see how the rest of the episode is going to play out, as their date ends on a sour note. Chris takes Whitney to his farm and shows her around his property, takes her driving around in his tractor, and she spends the whole time ooh-ing and aah-ing over the 800 acres of land he owns (which, I have to admit, is pretty cool). I don't know. I tune out whenever Whitney talks, so I'm pretty sure she spent the whole date talking to the camera, but then I heard her crying at some point … so I think Chris told her that he was falling in love with two people? I don't know. Sorry, guys. I can't listen to her speak.
If you watch How I Met Your Mother, you probably remember the episode which Carrie Underwood guest starred on, when the group talks about being on others' "hooks." Ted is on Carrie Underwood's hook, Carrie Underwood is on her ex-boyfriend's hook, and so on. That's all I could think of during this episode: Chris was on Becca's hook while Whitney was on Chris's hook.
The rose ceremony nears, and you can almost feel the anxiety through the screen. (Oh, and Neil Lane stops by armed with bling as per usual. As our EIC Brittny pointed out on Twitter — the man just does not age!). The first limo pulls up — and if you're familiar with The Bachelor at all, you know that the first limo is the girl who's going home — and out walks Becca. Let me tell you, I wasn't surprised, but I was upset. I knew she'd be going home. I actually half expected her to just not show up for the rose ceremony because she was so not as invested in it as Whitney was … and she had to have known she was going home. They talk, they acknowledge that they aren't right for each other, there's some smiling and laughing … and Becca leaves. She says that she's shell shocked, but there is not a single trace of emotion on her face — but it's not a bad thing! Reality TV just does not phase her. I wish I were like that, because I'd probably be a lunatic if I were a contestant on this show.
Whitney shows up and the girl's breathing is so shallow that I start breathing irregularly. She was making me so nervous! And I knew she was getting, at the very least, a rose! She doesn't even let him say anything first, she just launches into a very impassioned speech about how much she loves him. If Becca is north, Whitney is south, etc. They are such absolute opposites, it's flooring. Chris does get down on one knee and presents her with an absolute rock from Neil Lane: about 1.5 carats according to Glamour.com. They smile, they kiss, they live happily ever after? End scene. Guess Whitney is living in a Disney movie after all.
I'm underwhelmed. I don't know why I expected anything more than the very, very lukewarm episode we got considering who the final two were. I was really gunning for Britt v. Becca (or, in my wildest dreams, Ashley S. v. Kelsey), because at least then it would have gotten interesting. Becca just didn't care enough and Whitney cared too much. Here's hoping the Bachelorette is better! Spoiler: Chris Harrison's "unprecedented drama" was the announcement of two bachelorettes — Britt and Kaitlynn!
I'd like to leave you with a quote from my best friend Kate, who is the reason I ever started watching The Bachelor in the first place and had the best reaction to Whitney and Chris getting engaged: "She's gonna be the wife who makes him a bag lunch to take into the field with a scavenger hunt to find his dessert which is a heart shaped cookie that has "ILU" piped onto it."
Thanks for watching, laughing, drinking wine and rolling your eyes with me. Until next time!
Photo credit: ABC.com
Past Weeks:
Episode 9: Welcome to Bali
Episodes 7 & 8: Meltdowns and Hometowns
Episode 6: I'm Glinda and She's the Wicked Witch of the West
Episode 5: New Mexico Is, in Fact, a Part of the USA
Episode 4: I Have No Feelings
Episode 3: Kardashley, Jimmy Kimmel and the Amazing Jar
Episode 2: Feral Cats, Zombies and Tractors, Oh My!
By Meghan Kennedy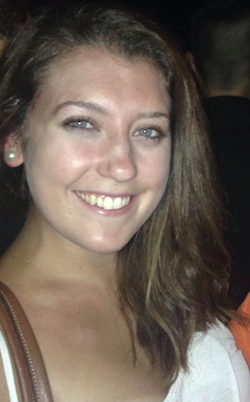 Meghan is a recent graduate of SUNY Geneseo with a degree in Personal and Professional Communication. You can find her at the nearest Chipotle tweeting about Drake, her sorority little and Project Runway.