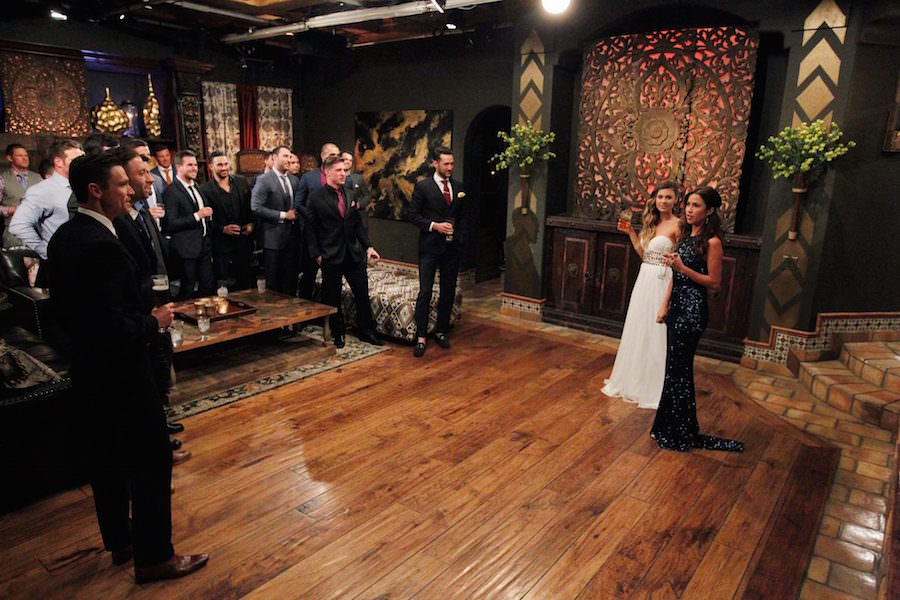 Hello everyone, and welcome back to The Bachelor(ette) recaps! I missed you guys! I'm super excited to be recapping season 11 of The Bachelorette for many reasons, including but not limited to: making fun of Chris Harrison, making fun of the contestants and counting up how drunk everyone gets each episode. If tonight's premiere was any indication, we are in for a wild ride this season. How could we not be, with Britt and Kaitlyn back on our TV screens? The lovely ladies of Chris Soules' Bachelor season are looking for love once again in the most backwards way possible — one of the most infamous reality shows on network TV. Hey – even Scott Foley is watching this season, and if Captain Jake Ballard supports it, we're all in. (FYI, according to Us Weekly, he's Team Kaitlyn). We've got gimmicks, drama and trash talking galore … so if you're ready, let's recap the very first episode of season 11!
The Ladies
If you read my recaps last season, you know my allegiance lies with Canadian dancer Kaitlyn Bristowe. I have been solidly on Team Kaitlyn last season and although I knew she wouldn't win The Bachelor, I had high hopes that she'd be the next Bachelorette. Cue my surprise when I found out Britt Nilsson, the infamous crier & shower avoider, would be joining her. This isn't new — season 6 of The Bachelor employed the same tactic of contestants choosing which heart they'd like to fight for — but it is a first for The Bachelorette as a standalone show. Ultimately, at the end of Week One, the hopeful guys will vote for which Bachelorette they'd like to stay, and which they'd like to send home. Major shade is already thrown when Kaitlyn not-so-subtly drops, "I'm a sincere person, and she's … so different." Yikes.
First Impressions
As is tradition, we meet a select few of the men that will be campaigning for Britt or Kaitlyn's heart before the ladies meet them. First up is Jonathan, who has already professed his love for Britt, so I don't take his opinions too seriously. But … he has a kid. I love when the contestants have kids, so he may be a good one yet. He is so emphatically into Britt without even meeting her that I'm starting to wonder if he'll get up and quit the competition should Britt get sent home. Joe, an insurance agent with unusually tall hair, has Notebook-level dreams, which is appropriate for The Bachelor. He wants a mansion with a white picket fence (someone should tell him he's got some conflicting views of the archetypal American dream, but that's a discussion for another day).
Josh is an interesting character. He's a law student and the camera follows him at the library while he's hitting the books. He puts on a firefighter's uniform, which caused my heart to melt — until he walked out onto a stage. He's a stripper!!!!! I love it! Gotta pay that law school tuition somehow! We've got a Magic Mike on the show and I'm stoked to see if he makes it past the first round. He looks like a corn-fed Scott Disick, and I'm sorry to say that this is not the first celeb comparison I'll be making tonight. There is a singer named Brady who mentions that "melodies are in his soul," but the camera spends about two minutes on him singing, so I admittedly tuned that out. I'm not here to listen to these guys try to achieve their dreams of fame! I'm here to watch them fight!
Next up is a farmer boy, Joshua, who looks like he could be Chris Soules 2.0, so if Britt is looking to recreate any of the ~magic~ from the first night she met him, she may want to hang on to this guy. Following is Ian, who I am calling right now for next season's Bachelor. He's charismatic, charming, and good-looking to boot … he's got an incredible story (after a major car accident, he landed in a coma which, when recovered, gave him a new lease on life). He's super into Kaitlyn — more on that later — and I just generally get a good vibe from this guy. I like him tons. Next up are a few cringeworthy minutes of Jared, who has a fascination with superheroes and also, it seems, with embarrassing himself on national television. He calls himself Loveman, and is taking it upon himself to heal the Bachelorette's heart. I threw up in my mouth a little bit. Ben Z. is pretty bland — he loves his mom, he's a personal trainer — but he is also extremely good looking. Is the act of writing these recaps making me more shallow? I don't care. I'd just like to say that, Ben, if your stint on The Bachelor doesn't work out, call me maybe?
We need to talk about Tony. Tony deserves all the attention I have right now. I don't even know where to begin with him. His job title is listed as "Healer," which isn't really a job, but okay, I'll let it slide. He walks around for the majority of the episode with a giant shiner on his face and it's never explained as to why. What happened? Did you fall out of a yoga pose onto the floor? Dude does a ton of yoga. In fact, the first time we see Tony, he pops his head out of a yoga pose a la Jack Nicholson in The Shining. "Here's TONY!" He's an oddball, to say the least. Namaste away from Tony.
Limos
Chris Harrison kicks off the initial convo with Britt and Kaitlyn with a simple, "Well, this is different." You don't say? Contestants may come and go, but Chris Harrison holds the title of King of Understatements for another season! Nice to know there's some stability within this trainwreck of a show.
The limos start to arrive, and every single guy who gets out of the limo goes straight to Britt. Maybe one guy in the first limo goes to Kaitlyn first, but that's about it. There are a few ITMs where Kaitlyn starts to break down about it, but as our editor Brittny pointed out to me — "she needs to stop sulking. Guys like confidence." (Side note: we'll be adding a new section to this recap entitled Texts From My Editor, where you can see all the stuff Brittny freaks out about during the show. It's truly great.)
Jonathan sees Britt and says, "Mmm." Can I just say that I hate that? It drives me nuts when any person looks at another person like they are a piece of food. My fifth grade teacher used to call people delicious — drove me up a wall then, drives me up a wall now. Kaitlyn takes the time that guys beeline to Britt and ignore her for to master the perfect side eye, which the camera lingers on. Miss Kaitlyn is the master of throwing shade, and I'm 100 percent here for it. I just love her so much. Maybe I'm biased. I'm definitely biased. Jared the Love Doctor/Love Man/Love Whatever shows up with a custom-made superhero shirt under his suit. "L for Love," he says to Britt. L for Loser. L for Leave. I really hope this dude doesn't make it past the first round.
Ian finally gets out of the limo and goes straight for Kaitlyn, where he whispers in her ear, "I'm hoping it's going to be you." And from here on out, the deluge of Kaitlyn admirers come in. She gets basically all the gifts from each suitor: balloons, homemade moonshine, a hockey puck. JJ with the hockey puck tells Kaitlyn, "I'd like to puck you." Score one for JJ — he seems right up Kaitlyn's alley with the inappropriate jokes immediately upon meeting someone. Ever the gentleman, when he goes over to Britt, he says, "I'd like to puck you too." Equality, am I right? I usually hate the gimmicks of the limo entrances, but these were all A+. The number one, however, was when Tanner showed up with a box of tissues for Britt. "If a lady cries, a gentleman should always bring her a tissue … and I watched last season…" I don't know what this dude's intentions were with the tissues, but I do know that I went into hysterics after watching that.
We need to pause to discuss Ryan McDill, because no one else compared to the shining light that was Ryan McDill. In all honesty, the dude was horrific. A guy drove up in a hot tub car (which was honestly the lamest thing in the world) and he made fun of him while the guy was meeting Kaitlyn and Britt. He was harassing the two Bachelorettes, harassing the competitors, and generally being an all around awful human being. He showed up hammered — stepped out of the limo blackout — and proceeded to completely mess up everyone's entire night. Ryan McDill will have his own section of quotes at the end of this post, so if that's what you're interested in … feel free to scroll down. I won't blame you.
Kaitlyn suddenly books it from the front of the house and runs in to say hi to the guys before the cocktail party starts, and Britt is not happy. It almost makes you forget that she dragged Chris away from a group date last season to spend more time with her … right? No? Okay.
First Night & Voting Room
The first cocktail party of the season kicks off like any other … dudes pulling Kaitlyn and Britt in a thousand different directions to try to get their word in before they can be eliminated. Kaitlyn starts the night with a joke, which I'll write here for you so you can remember it forever: "Knock knock." "Who's there?" "Two bachelorettes." "Two bachelorettes who?" "Two bachelorettes … that's the joke!" Kaitlyn, welcome to Bitter Town, population you. She didn't even try to hide how annoyed she was that she has to compete against Britt yet again. Britt flipped her hair a lot and Kaitlyn laughed a lot. There isn't much to say in that respect, but the guys had some really interesting stories that I loved hearing about. First up, the first guy Kaitlyn has some one-on-one time with (not on a first name basis with these guys yet and they all kind of look the same, so sorry, readers!) brings up the infamous plow-my-field joke from last season, which Kaitlyn (and I) both loved. I just want this girl to be happy!
One of the guys straight up admitted that Britt was a trophy wife, so LOL at him but also made me feel kind of bad for Britt. Most of the guys that wanted Britt to be the Bachelorette only wanted her because she's pretty, but the guys that wanted Kaitlyn to be the Bachelorette genuinely wanted to get to know her. I started to feel bad about my vendetta against Britt at this point. One of the Bens and Britt started to connect on a way deeper level as they both sponsor kids, which was really sweet. One of the contestants brought Kaitlyn a frame containing a drawing of Chris Harrison — "someone I knew would definitely be on The Bachelorette."
At this point in the cocktail party, Chris Harrison walks into the room and announces that the voting room is open for the men to make their decisions about who will continue on The Bachelorette. Tony the Healer immediately books it out of the room without looking back. While in the voting room, he says that "the chest with Britt's name on it was pulsating, and I knew I was making the right decision." This dude freaks me out to no end and is also the new Ashley S. of this season by far, so I'm sticking by him.
Meanwhile, the guys who aren't lucky enough to be spending time with Britt or Kaitlyn are spending their night getting into fights with Ryan McDill. This dude is really quite the character — Brittny is convinced he's a paid actor. I can only hope so, because after the things he said on this episode, there's no way this guy is ever going to find a job. Ever. He was rude, mean, and belligerent and that's putting it nicely. His behavior eventually gets so bad that Chris Harrison is forced to send him home. Dude didn't even make it to the first rose ceremony … and I think we're all better off that way. Justin, who I can only imagine refers to himself as "the poor man's Ryan Gosling," presents Kaitlyn with a drawing his child did. I thought that was a super sweet gesture … albeit a little weird for such a preliminary first date. Either way, it's definitely memorable.
The previews for next episode bring us back to a familiar sight: Britt sitting, lost in thought (thankfully not on the curb this time), staring out into the distance. Yes, we get three whole hours of The Bachelorette this week! I don't know about you, but I'm super excited to see where this season goes. These guys are pretty bland and didn't really make a huge impression on me this episode but we're only at the beginning. There is always tomorrow … and the week after … and the week after …
Thoughts, Feelings & Questions
Ryan McDill is Nikki Ferrell's ex-boyfriend (THE Nikki from Juan Pablo's season)! So many Bachelor connections!
Why do all these guys look like knockoff celebrities?
Did you know Chris Harrison wrote a romance novel? It's called The Perfect Letter, and according to Jimmy Kimmel (whose show I'm watching as I type this up), will be on bookshelves tomorrow.
Who's your prediction for the next Bachelor?
Ryan McDill Quotes of the Night (We Hardly Knew You)
"I'm going to take her out to a nice steak dinner and never talk to her again."
"I'm Ryan… me, I'm Ryan. And you… are… Kaitlyn." I would hope you knew the name of one of the potential Bachelorettes on the show you applied for months to be on.
"That car sucks!" "We'll talk inside." "NO WE WON'T! THAT CAR SUCKS! YOU SUCK!"
"I'm all horned up right now, everybody!"
"I apologize for nothing. I'm sorry for being awesome."
Upon someone telling him that Chris Harrison needed to talk to him: "CHRIS HANSEN?!" (For those of you who don't know, Chris Hansen is the Dateline NBC anchor who traps pedophiles on To Catch A Predator. Cue eye roll.)
This isn't necessarily a quote, but an action — he fell out of the pool but mysteriously kept his beer full. There is nothing I love more than someone who willingly gets that sloshed on national television.
Texts From My Editor
"Amateur sex coach rolls up in a hot tub car and drunk guy totally hates on his game = great TV"
Regarding Justin's child's drawing: "I bet Ryan Gosling-wannabe drew that himself."
"Really? They need a security guy to unlock the boxes? This isn't an ATM, producers. No one wants a box of f*cking roses!"
See you all tomorrow for Week 1, Part 2 — who will go home? (Actually, I already know because I'm a cheater and I read Reality Steve. But if you don't want to know, stay away from the Internet!)
By Meghan Kennedy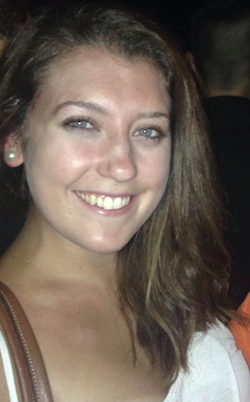 Meghan is a recent graduate of SUNY Geneseo with a degree in Personal and Professional Communication. You can find her at the nearest Chipotle tweeting about Drake, her sorority little and Project Runway.