By Shannen Hofheimer | Photography by Jerry Yoon Photographers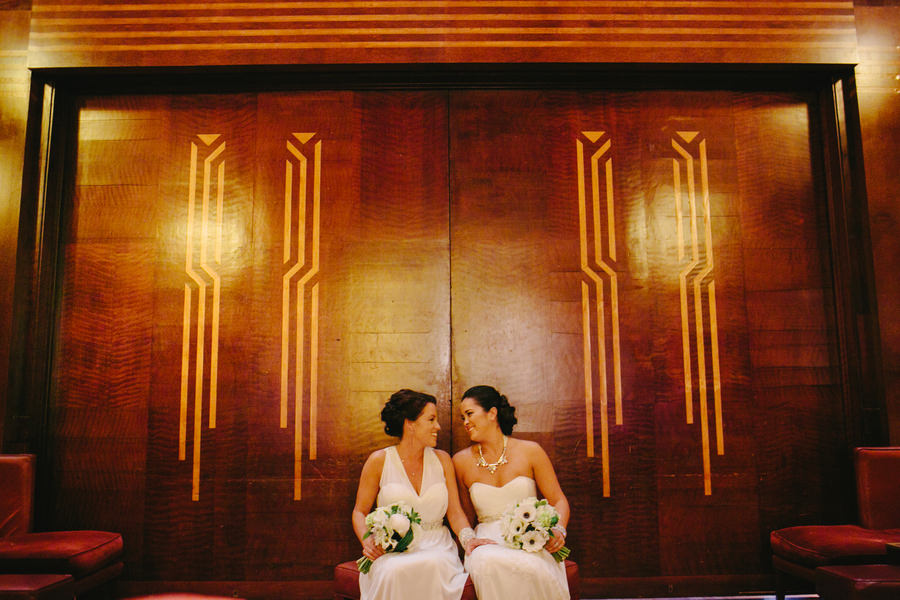 By celebrating at the quintessential San Francisco restaurant Foreign Cinema, Kai and Alisha were able to bring their modern-glam dinner party vision to life with the help of Jubilee Lau Events. Their mantra "I Choose You" was sprinkled throughout the day's details and Jerry Yoon Phographers flawlessly captured Kai and Alisha's love through every facet of their lives including family, friends, food and wine.
The Love Story
As two major players (Alisha is the president of the Seattle Storm, a WNBA basketball team and Kai coaches the women's basketball team at UC Berkeley), it seems that Kai and Alisha's meeting six years ago in a basketball gym can only be described as meant-to-be. "You can say that the love of the game has had an everlasting impression on our relationship," Kai assures us. "I proposed to Alisha in June 2013 in the San Francisco Japanese Botanical Garden under a yellow umbrella as rain fell all around us. The evening ended with a surprise dinner at Michelin star restaurant, Aziza, surrounded by our closest family and friends."
The Venue
After excitedly meandering around the dark, mystique-filled corridors of the Clift Hotel, taking dramatically striking, elegant photos, Kai and Alisha headed to Foreign Cinema for the main event, a unique restaurant and bar that projects foreign films onto a large wall for their patrons in their courtyard. Connoisseurs of anything that involves incredible food and wine, it made complete sense that Kai and Alisha would choose to have their wedding at one of the top restaurants in San Francisco. "It fit our vibe: modern and fun with an upscale dinner party environment. Having amazing food was really important to the two of us."
The Ceremony
Kai and Alisha wanted to ensure that their ceremony was intimate and integrated their loved ones in every way possible, recruiting their talented and closest friends for elements that made the ceremony unique and sentimental for the beautiful couple. "Our close friend, Janell, officiated our wedding, and our friend, Lakin, sang two songs for us to create the mood. She sang You Make It Real by James Morrison as our guests took their seats, followed by I Choose You by Sara Bareilles after we said 'I do.'"
In an effort to make the day fun and memorable for guests of all ages, Kai and Alisha devoted the top floor to a children's play area complete with creative activities under the supervision of hired nannies. Each blushing bride processed down the aisle between her parents, also accompanied by their own flower girls.
The Fashion
Each bride looked breathtakingly gorgeous, wearing dresses from BHLDN and accessorizing with a glowing aura of happiness and bliss.
The Inspiration
Kai and Alisha wanted soft, neutral, clean colors for their wedding, which included hues of tans, browns, green and white, also reflected in their floral designs. To add a clever touch that matched the ambiance of their venue, Kai and Alisha chose stationery that imitated the look of old-time cinema tickets, also infusing their words of gratitude to their guests through personal Thank You cards at each place setting. An element of their wedding that was perfectly sewn into the day were the words "I Choose You," a mantra comprised of three simple words, yet heavy with meaning and heart. The words could be seen in multiple forms from being projected onto the wall to their wedding vows and first dance.
The Party
The reception was held in the Modernism West Gallery, a part of the restaurant that boasts art-covered walls, which resonated with the brides and truly spoke to their style of modern class and elegance. As guests were socializing, drinking and dancing, Foreign Cinema never ceased to entice the taste buds with hors d'oeuvres throughout the evening. But that was only the beginning of the mouth-watering eats. "We knew every meal served would be spectacular, so we chose a four course sit-down dinner. Each guest got to look at the menu and order what he or she wanted on the spot. We still hear from guests how much they enjoyed the food."
In addition to the food, the brides offered wines selected to match the entrees and two specialty cocktail drinks: The Clouds and Her, a beautiful pink gin drink topped with flower pedals (for Kai), and Sunrise, a bourbon drink (for Alisha).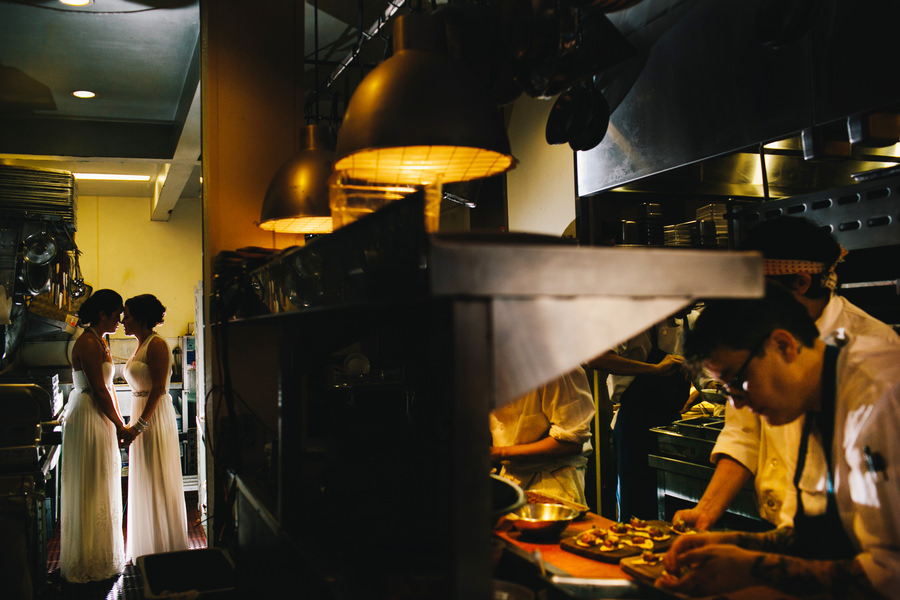 Vendors:
Venue/Catering: Foreign Cinema
Planner/Designer: Jubilee Lau Events
Photographer: Jerry Yoon Photographers
Florist: Natalie Bowen Designs
Wedding gown/suit: BHLDN  Gowns
DJ/Band: DJ Jason Mitchell
Makeup/Hairstylist: Katie Nash Beauty