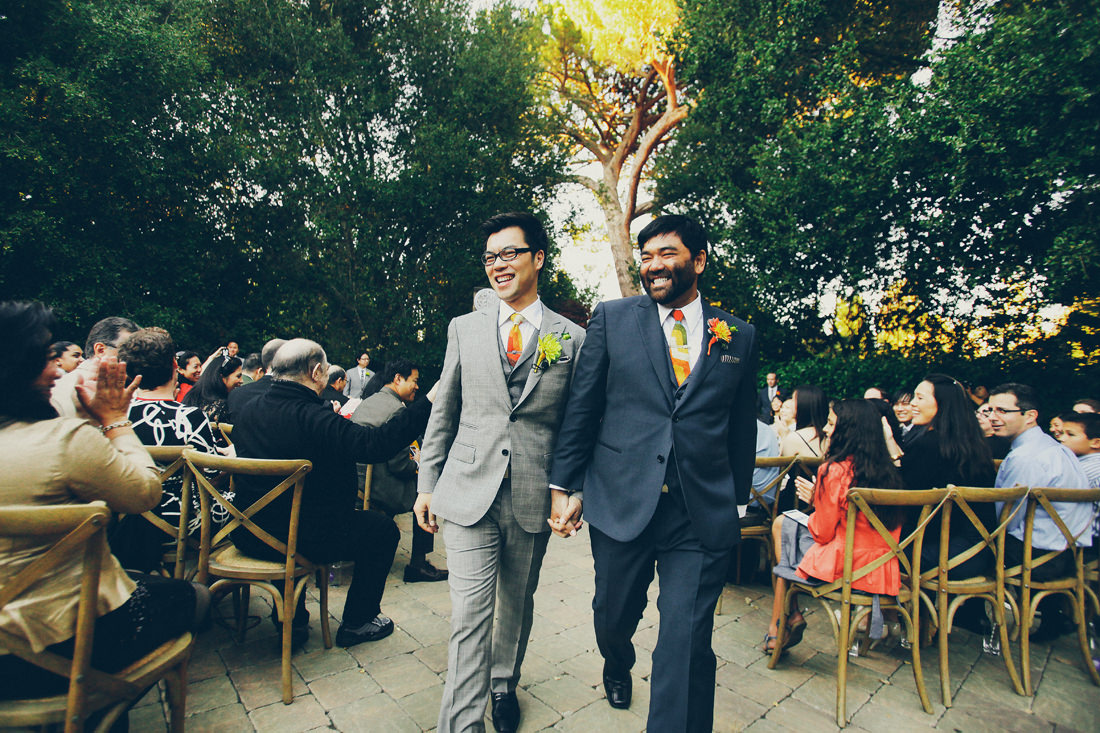 What are friends for, if not for lending their gorgeously lush, large California backyard for your fall, mid-century workplace-inspired wedding? "We had originally thought of an urban setting, but our friends shared pictures of their own wedding, and we asked if they would be willing to host ours," Alex says. "We were so happy and honored they said yes!" As are we! Their brightly colored palette with vintage decor, featuring typewriters, time clocks and literary classics like "The Hunchback of Notre Dame," is the perfect nod to the Mad Men-era vibes they were hoping for. Take A Picture It Lasts Longer was there to capture the bold colors and bright smiles that made Alex and Lawrence-Michael's day full of love. 
THE DECOR
It isn't hard to see why Alex and Lawrence-Michael were inspired by the critically acclaimed television series that won countless awards for its production and costume design, which played practically perfect homage to the '60s. The happy couple adopted the bright pops of orange and bold textures into the details that they DIY'd for months before the big day. From the museum wall that featured items unique to their history together to the water bottles, straws and coffee cups personalized with their very own logo and the wedding portrait mosaic where guests scribbled well wishes for the couple, every little detail was carefully crafted to celebrate Alex and Lawrence-Michael's journey together.
THE CEREMONY
For Alex and Lawrence-Michael, who first met after being cast in the same play in 2001, getting married was about more than just saying I do. "We wanted to bring elements to our ceremony that reflected who we are and to respect those important to us," the couple says. "We decided to include a tea ceremony to honor not just Alex's Chinese heritage, but also to honor both our parents."  Alex and Lawrence-Michael also exchanged personalized vows in between readings that held special meaning to them both, including a snippet from Armistead Maupin's "Tales of the City," about life in San Francisco from the 1970s on. And to close out the ceremony, they incorporated a Mano, a Filipino tradition of accepting blessings from their parents.
THE PARTY
Following a beautiful ceremony, the grooms served up an unforgettable party as the sun set beyond the California horizon. "We were happy to have found Chef Tim Luym from Attic Restaurant, who brought his modern Chinese-Filipino fusion food to our table," Alex says. For added flair, "the appetizers served during cocktail hour were served in white Chinese food to-go paper boxes," he says. Together, they danced to Michael Buble's version of "Kissing a Fool" by George Michael before sharing a dance with their moms to Phil Collins' "You'll Be in My Heart."
MEMORABLE MOMENT
"We spent the previous night apart, so seeing each other during the photo session for our first look was unforgettable. Also hearing each other's vows for the first time was very moving," Alex says. 
Team of Talents
Photography: Take A Picture It Lasts Longer
Wedding Designer: Alex Hsu
Wedding Planner: MB Weddings & Events
Videography: Burkart Studios
Florals: JFloral Art Inc.
Cake Design: CakeABakin
Catering: Attic Restaurant
Wedding Suit: Indochino
DJ: Ruben Palma
Band: IM Entertainment
By Danielle Renton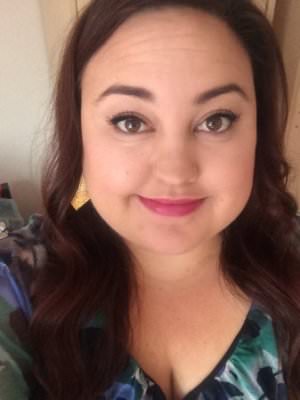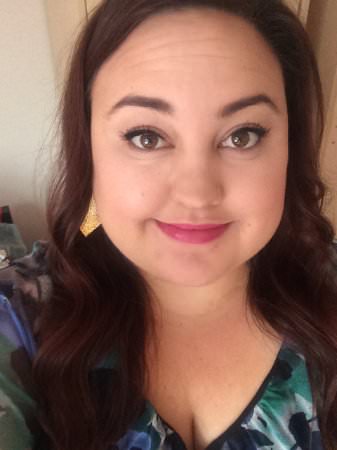 Danielle is a University of Missouri graduate who recently moved to New York, fulfilling a lifelong dream of hers. New York is her first love; writing and editing are her second. When she's not plugged in, Danielle spends her free time exploring the city and finding inspiration in its energy. Aside from her passion for love, she's a grammar nerd, coffee lover and music enthusiast!