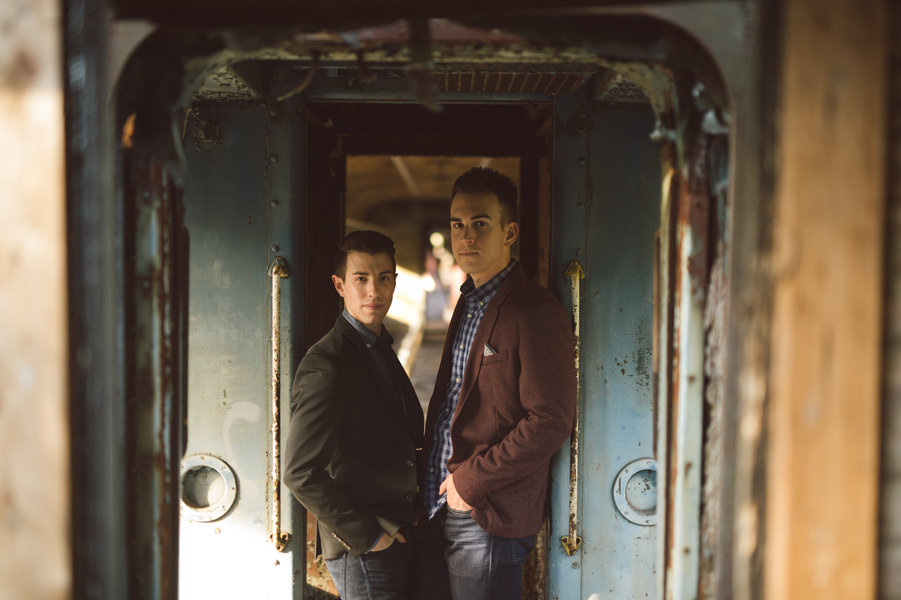 We love a unique photo shoot, and this one at an abandoned train station for Brendan and Blake's engagement is wonderfully memorable. On a fall day in Doylestown, Penn., the colors on the leaves surrounding the abandoned train station were just starting to change. Along the wood-lined tracks, old train cars sat forgotten, their exterior peeling and bruised. Inside, the structural foundation is all that remains of rows of seats that used to carry passengers along the railroad. Tyler Boye Photography captured the rich colors and captivating textures that served as a gorgeous background for these dapper men to show off their newly engaged status.
THE LOVE STORY
Brendan and Blake's first meeting is what Hollywood would describe as a meet-cute, where two characters meet in an orchestrated way that is cute and charming. Theirs happened at a party. Brendan was a member of an a cappella group, and when a fellow member threw a party, both Brendan and Blake were there when the power suddenly went out. When the lights flickered back on, Brendan and Blake were standing face-to-face, and the rest is history. After they hugged for the very first time, Blake says he knew he'd found the one. "It sounds cliche, but it didn't feel that way, like something you only see in movies," he says.
THE PROPOSAL
Brendan planned an intimate proposal after they had been together for eight years. Knowing Blake's admiration for English characters, he booked a suite at a local historical village where they spent the night in spacious quarters that were once a part of age-old houses. Before they arrived, Brendan gathered Blake's favorite flowers, wine and sweets and lit a fire in the fireplace. "That evening, we went to the village's restaurant where we had an amazing meal and walked home under the gas lantern-lined streets," Blake says. When they arrived back at the room where champagne was waiting, Blake admits he was still clueless. "Then as I turned around, Brendan was on one knee in front of the fireplace with a black box in his hand." In lieu of traditional rings, Brendan asked Blake to marry him with an impeccable, standout gold watch. After he, of course, said yes, Blake was flooded with elation and shock. His soon-to-be groom had managed to surprise him in the best way.
MEMORABLE MOMENT
"The moment I turned around to see him standing on one knee," Blake says. "I couldn't believe it was happening and had no idea. It felt like time stood still."
By Danielle Renton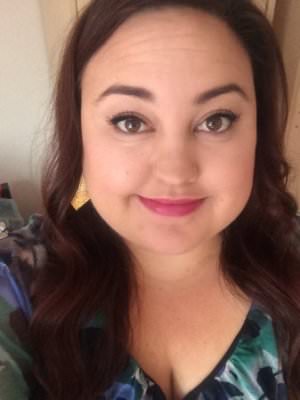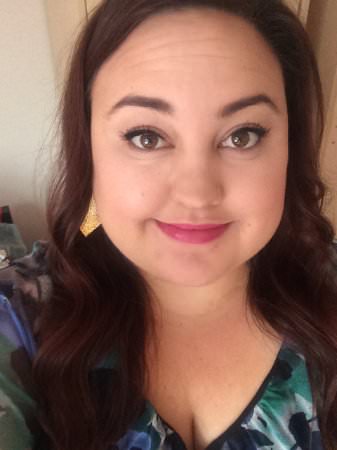 Danielle is a University of Missouri graduate who recently moved to New York, fulfilling a lifelong dream of hers. New York is her first love; writing and editing are her second. When she's not plugged in, Danielle spends her free time exploring the city and finding inspiration in its energy. Aside from her passion for love, she's a grammar nerd, coffee lover and music enthusiast!