We love hearing about the different ways couples infuse unique design elements into their wedding. For Aubrey and Tim's chic, vintage-inspired wedding, they hit the thrift stores for wedding accessories and table decor, including beautiful blue porcelain vases that inspired the bridesmaids' attire. We're seriously obsessed with the way the different shades of blue complement the mix of prints! From one of the most unique unity ceremonies we've ever seen to the intimate outdoor reception, Aubrey and Tim's wedding, captured by Alex Bruce Photography, leaves much to be inspired by.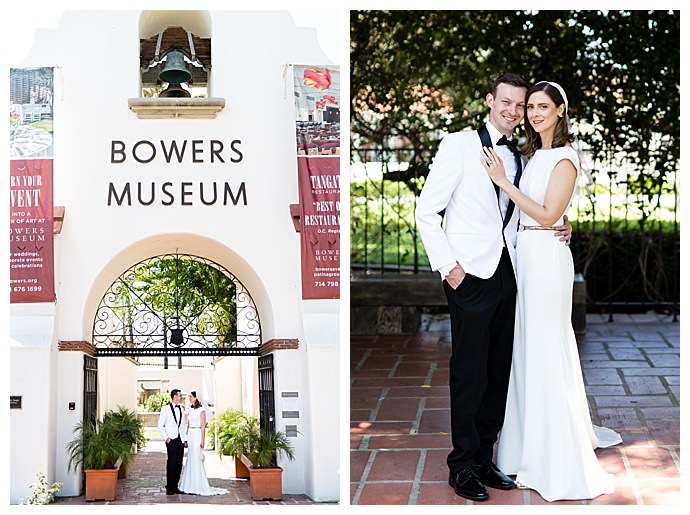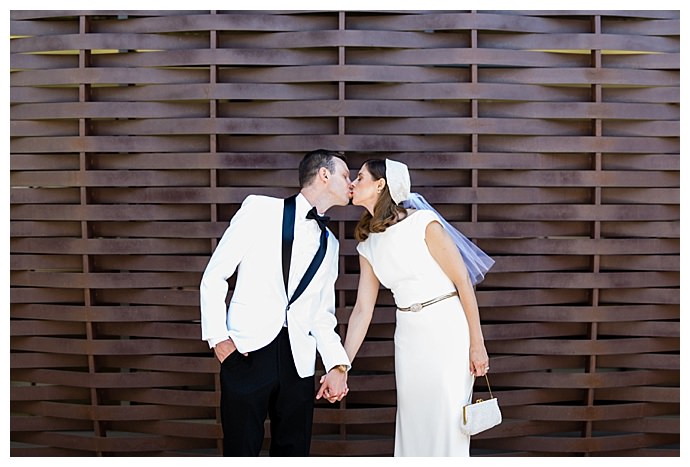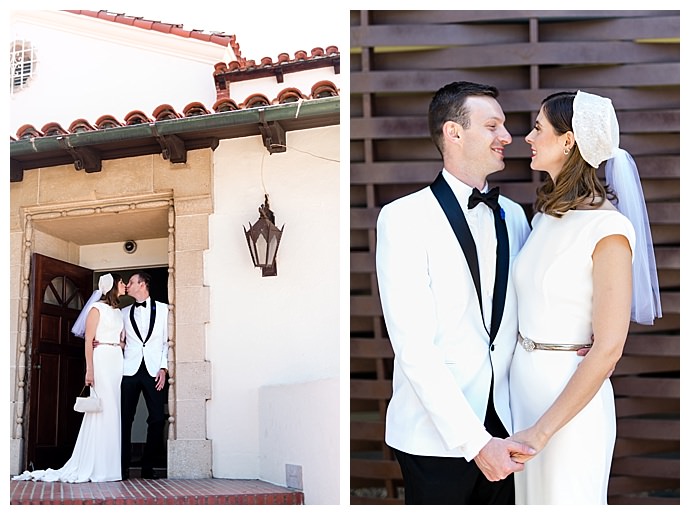 The Love Story
One of Aubrey's friends was in town from Minneapolis, and Aubrey thought it best to mark the occasion with a fun girl's night out. When they arrived at the bar, it was swarming with people, so they looked around for anyone who looked like they would soon be leaving. After keeping close eye on two seats at the bar, Aubrey and her friend sprang into action when a couple got up from their seats. Little did she know, Tim and his friend Blake were nearby and had the exact same idea. "The four of us collided into the newly open bar spot," Aubrey says of how she and Tim met. "Tim bought us drinks and the four of us bar hopped together the rest of the night."
For a year, Aubrey and Tim remained friends until they finally started dating. Then on one very special Halloween, Tim proposed to Aubrey in the rose garden at Huntington Botanical Gardens in Pasadena. "After that, we went back to our friend's apartment where all our friends were waiting with champagne," Aubrey says. "Then we quickly changed into our Halloween costumes and went out for the night."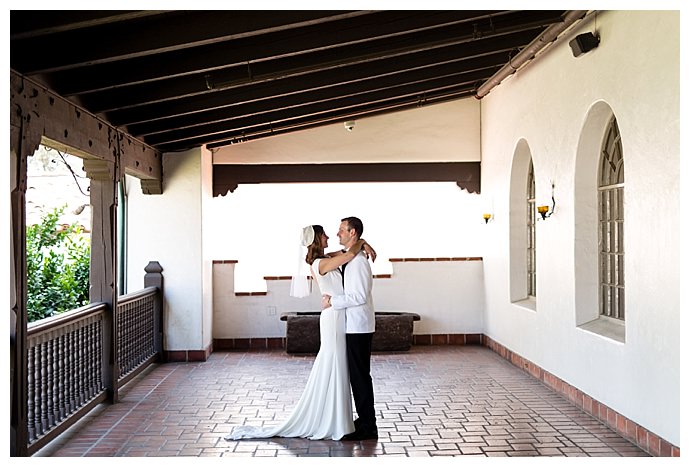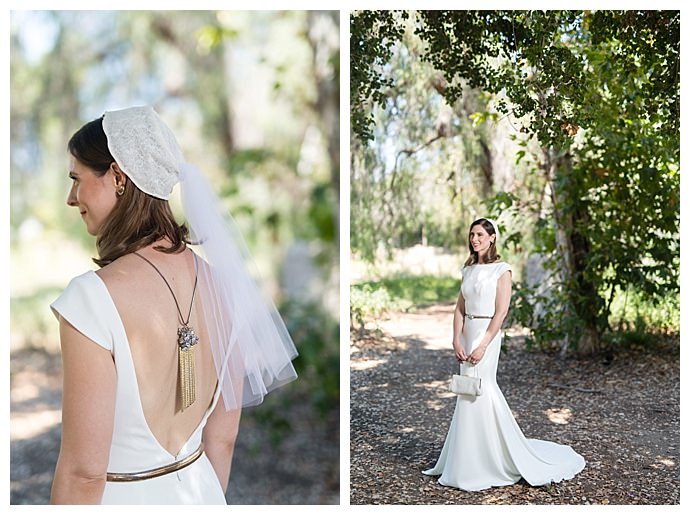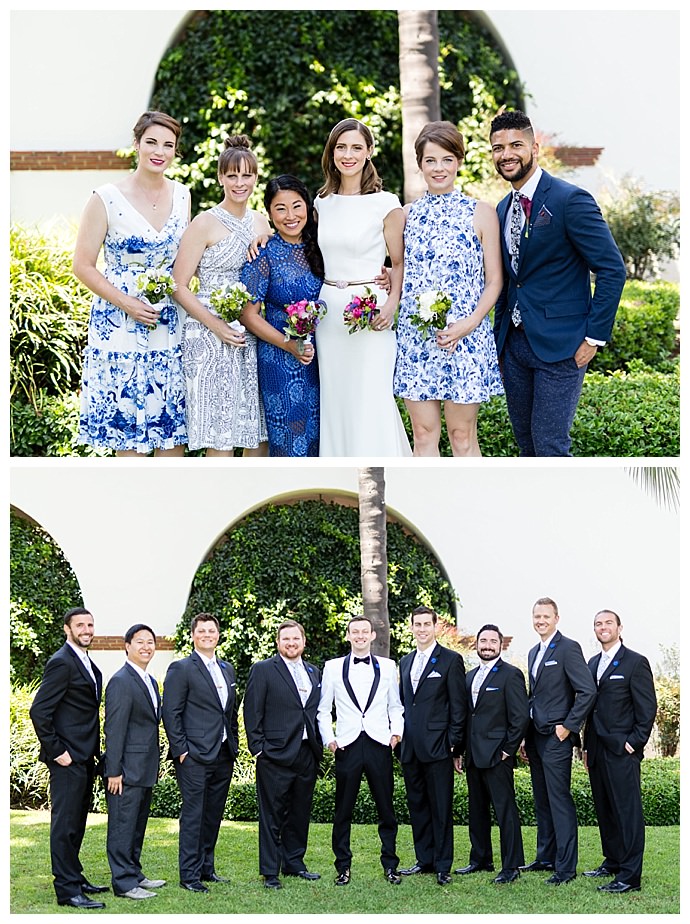 The Fashion
When Aubrey set out to go dress shopping, bringing her mom along was one of the best decisions she could have made. Her mom spotted another bride trying on a dress and immediately pointed it out to Aubrey. "My stomach dropped because I knew it was perfect," Aubrey says. "As soon as I tried it on, it was truly the stereotypical bridal moment." The simple yet stunning design allowed Aubrey to accessorize with a belt she picked up from one of her favorite Los Angeles consignment stores along with a gorgeous pair of earrings she found from a resale warehouse in Milwaukee. And as a finishing touch, Aubrey's mom replaced the tulle on her grandma's headpiece from the '50s for her veil.
Tim's wedding style was inspired by his favorite films as a kid. "Growing up, I was always a huge fan of the Sean Connery Bond films," he says. "I distinctly remember watching 'Thunderball' and seeing the white tuxedo jacket with black pants. At the time, I thought it was the coolest look, and it's always just kind of stuck with me." To complete his dapper look, Tim wore a black bow tie with a blue flower lapel pin to match his groomsmen.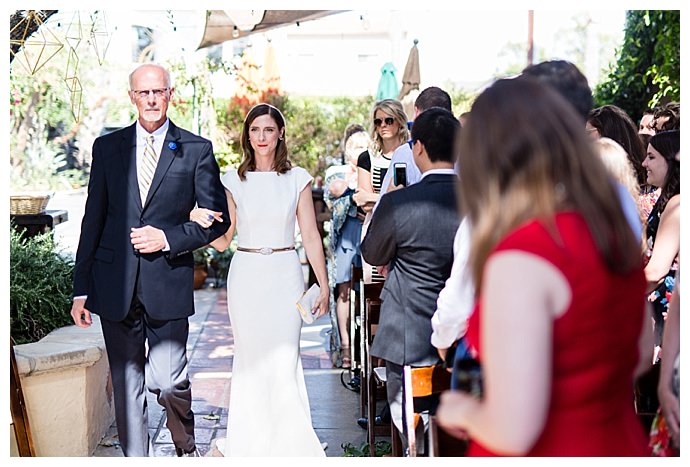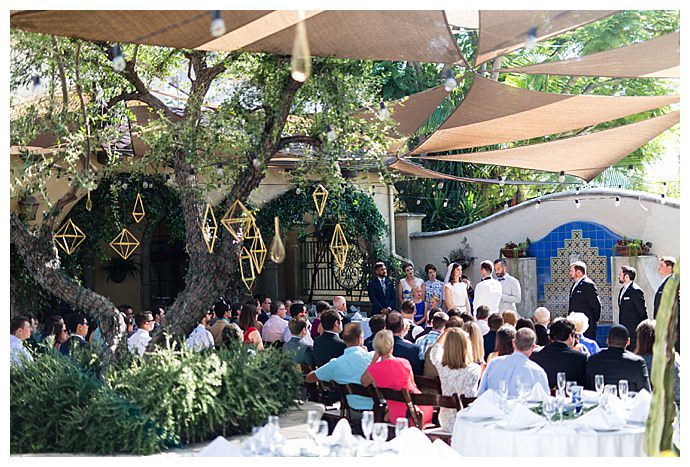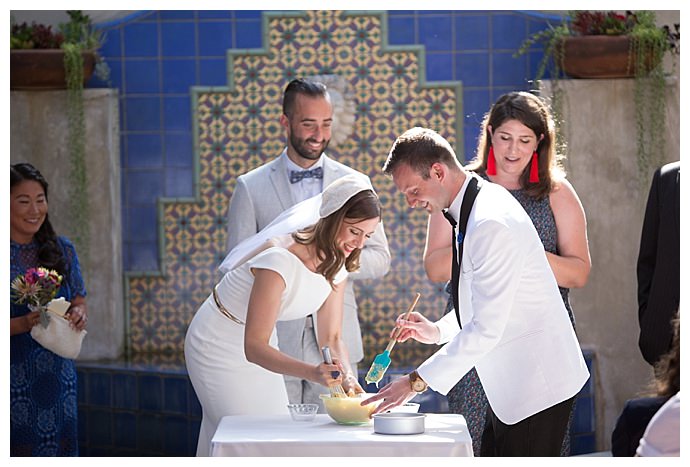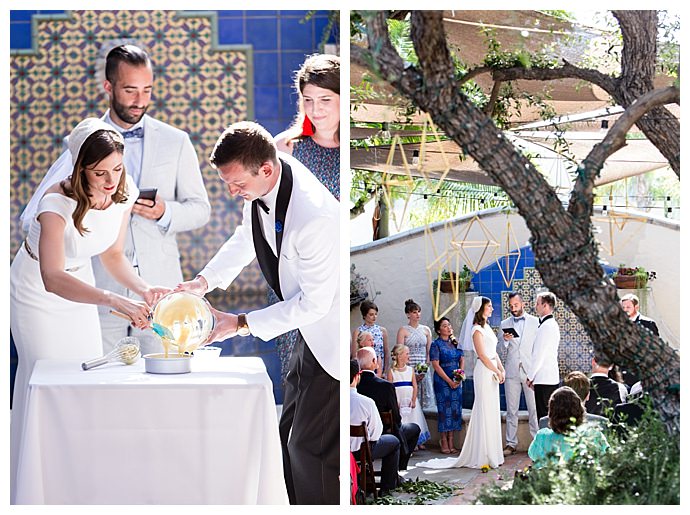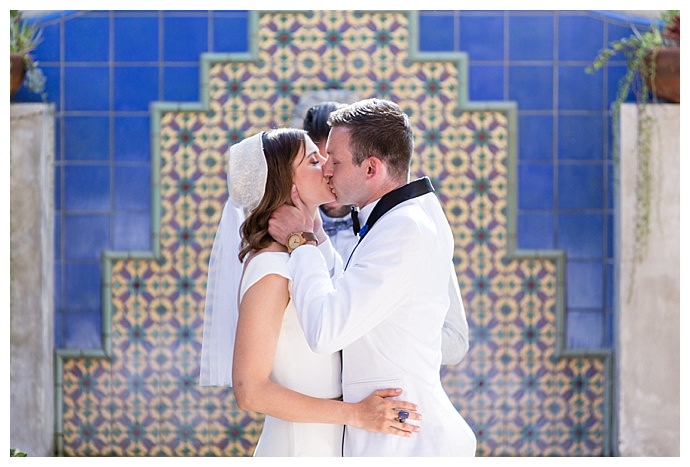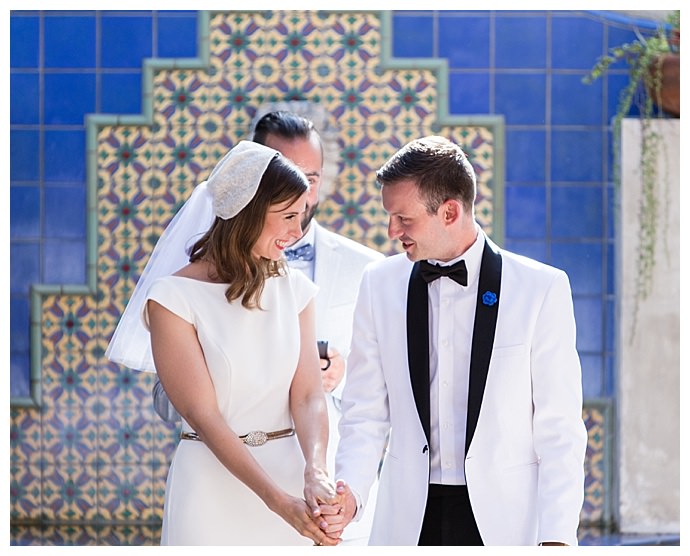 The Ceremony
Aubrey and Tim were drawn to the charming outdoor space at The Green Parrot Villa in Orange County, where they exchanged vows in an intimate setting. And to put their own unique spin on the ceremony, Aubrey and Tim took part in a one-of-a-kind unity ceremony that certainly takes the cake. "We wanted to do a unity ceremony that was personal, so instead of mixing colored sand, we mixed wet and dry ingredients and made a cake," says Aubrey, who works as a head baker. "We love to cook together, and as a baker, a cake totally made sense. I bake; Tim tastes."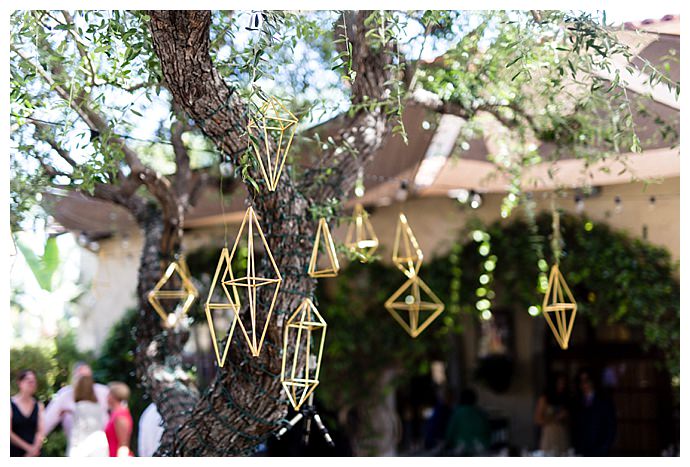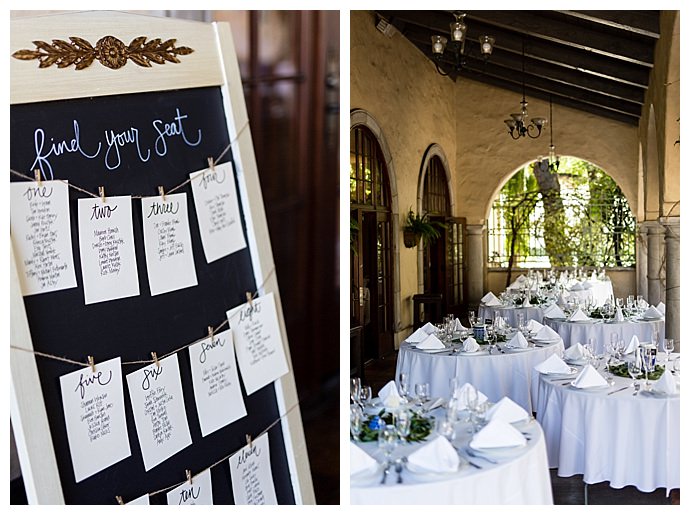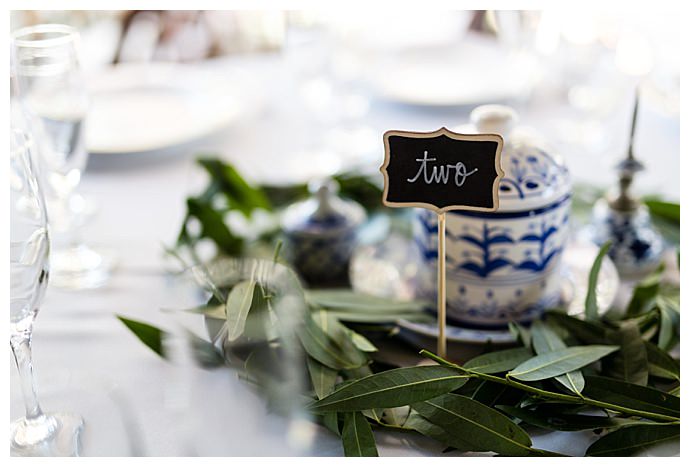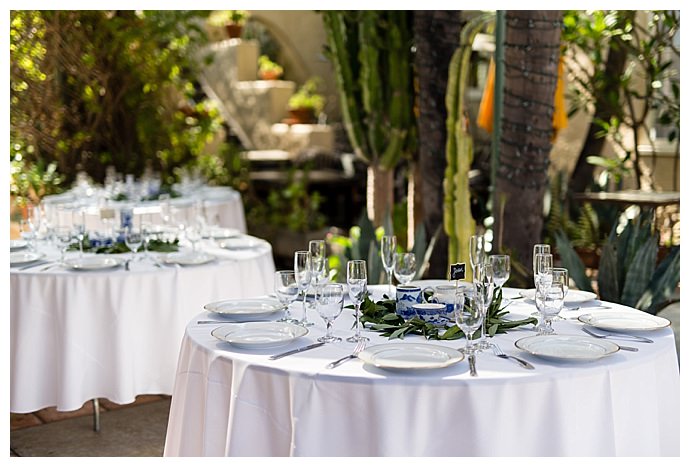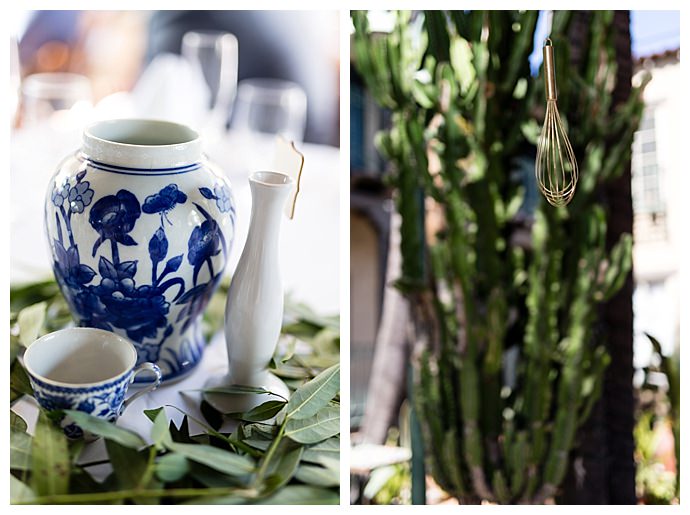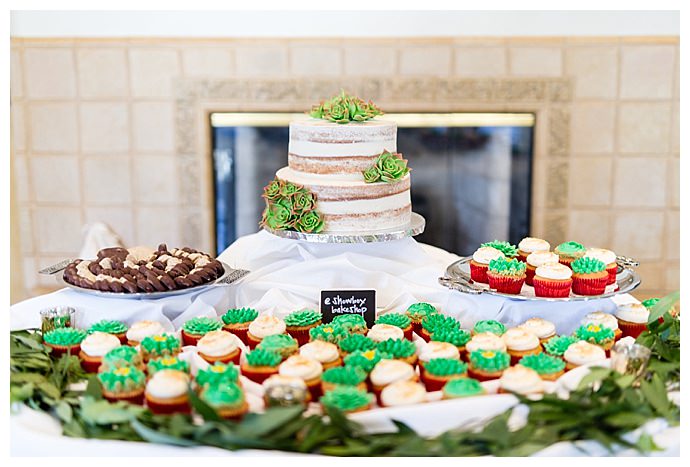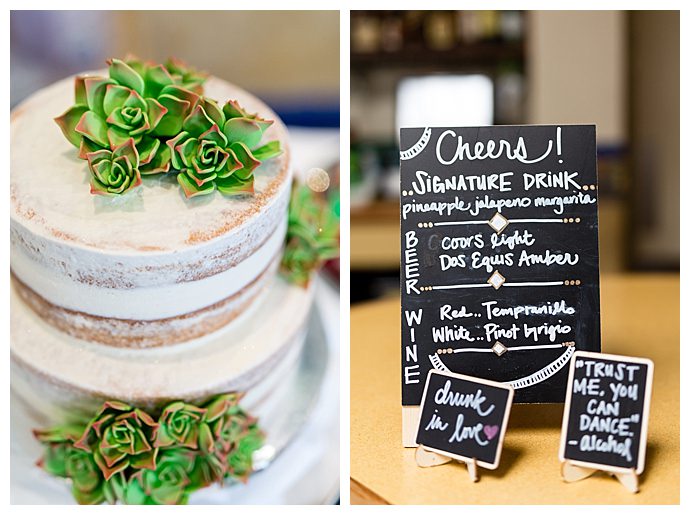 The Party
Aubrey and Tim tackled the planning and design themselves and worked hard to create a day that felt authentic to their relationship. "We wanted the style of the wedding to reflect our tastes and really tried to think of it as throwing a party to celebrate our marriage versus planning a traditional wedding," Aubrey says. "After touring the venue, we really allowed the palms and succulents from the garden influence our choices for the style of the reception." Along with blue porcelain patterned vases that Aubrey found while thrifting, she incorporated baking whisks into the decor, which hung alongside geometric himmeli.
As a baker, Aubrey initially considered baking her own wedding cake. But after she consulted with some friends at Showboy BakeShop in Nevada, they offered to make her and Tim's cake as a wedding gift. They crafted a gorgeous two-tiered vanilla naked cake and adorned it with succulent-style frosting. "And after hearing that Tim loved their key lime cupcakes, they made those as well," Aubrey says. "It was perfect!" After the cake was cut, Aubrey and Tim shared a dance with their parents and partied the rest of the night away and didn't realize until the next morning that they accidentally skipped their first dance. Even so, their wedding day couldn't have been more perfect. With all the leftover tequila, wine and beer, they continued the celebration and threw a huge pool party for their friends the following day.