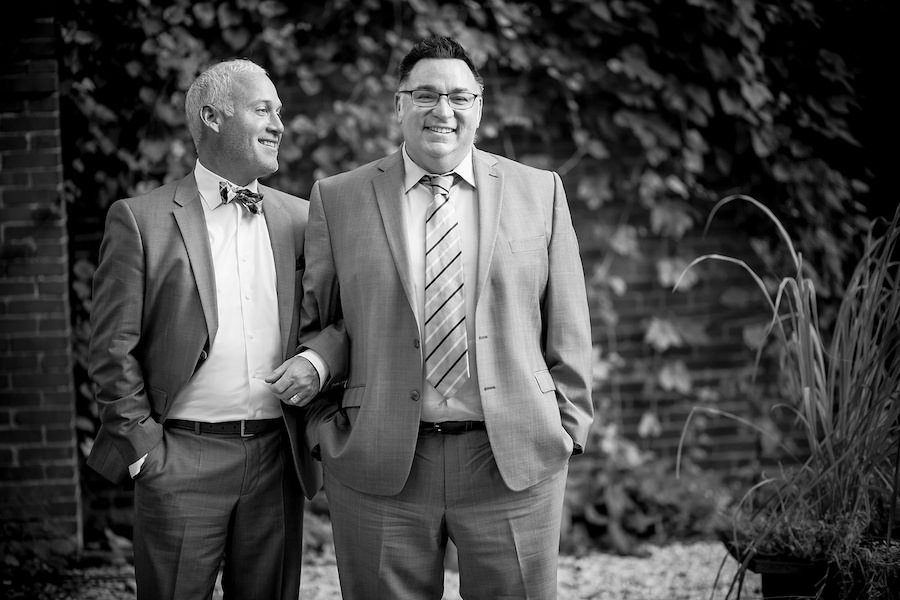 Small weddings make for some of the best weddings. And that's exactly what Will and Kent wanted to commemorate their special day. Turner Photography captured the dapper couple, who tied the knot after 19 years of dating, as they celebrated with close friends and family at an intimate reception that was filled with delicious food and drinks, joyous laughter and enough love to last a lifetime.
THE LOVE STORY
A blooming flower is the beginning of something beautiful, much as the meeting of two souls who were destined to be together forever. A shared passion for flowers brought Will and Kent together for the first time at the National Arboretum in Washington D.C. Will was volunteering at an event that Kent was attending. "I asked him out to dinner, and the rest is history," Will says. "That was 19 years ago; we only recently had the option of getting married, so I proposed to him one night while we were watching TV." Will had a custom ring designed by a local artist and got down on one knee to pop the question.
For their big day, Will and Kent envisioned an intimate ceremony void of standard wedding tradition. At the courthouse, the couple exchanged vows in front of the Justice of the Peace, who, unbeknownst to them, turned out to be a friendly face: their neighbor. Even more unexpected were the raw emotions they both experienced during the ceremony. After nearly two decades together, the enormity of officially tying the knot and becoming husband and husband was not lost on them. "We took a selfie and cried," Will says.
THE VENUE
The following weekend, 10 of their closest friends and family joined them for an intimate celebration at VOLT, a restaurant set in a Victorian mansion that is close to their hearts. "They have been a big supporter of our farm over the years," Will says. "Kent and I started an organic farm 10 years ago, and it is the hardest thing we've ever done together. VOLT opened up around the same time. It was like both of our businesses have grown and supported each other. Plus, the food is incredible and Chef Bryan Voltaggio and his staff really know how to make you feel special."
Their guests settled in at a long table around Will and Kent, who sat across from one another, for a scrumptious 10-course meal. A single rose wrapped in blue tissue paper at each place setting doubled as a place card, the bright colors popping against the dark table and the line of white candles that stretched from one end of the table to the other. Hung on a white bare wall behind the table, two vertical flower arrangements brightened the room. "The flowers were a real splurge," Will says. "We are both passionate about flowers, and, really, we met over flowers, so we ended up with a living diptych mosaic of brightly colored flowers." The two square displays were overflowing with striking orchids, roses, carnations and hydrangeas in a gorgeous palette of reds, whites and pinks.
For the final course, the chef prepared a decadent trio of chocolate for dessert, which they paired with a glass of fizzy champagne. "We loved that it was small and intimate and held in a place that had meaning to us. By having so few people, you really pare it down to the most important people in your life."
THE FASHION
Will wore a steel blue suit by Hugo Boss, tied together with a plaid purple bow tie. Kent wore a gray Ralph Lauren suit with a striped purple tie.
MEMORABLE MOMENT
"Saying our vows at the courthouse, thinking it wasn't a big deal after 19 years and then crying like a sap because it is a big deal," Will says.
 Team of Talents
Venue: Volt
Photography: Turner Photography
Florals: En Masse Flowers
Wedding Suits: Hugo Boss & Ralph Lauren