When Nick proposed to Conor in Napa on a vacation from their home in Chicago, they knew they had to go back to California to tie the knot. With their closest friends and family in tow, the grooms organized a ceremony and reception that incorporated both personal elements and Greek wedding traditions in honor of Nick's heritage. 
Julie Mikos Photography documented the incredibly special moments from Nick and Conor's big day, from when they defied tradition and got dressed in their matching blue suits together to when they cut into their stunning four-tier wedding cake adorned with orange flowers. With orange decor and elegant white florals abound, this intimate Napa Valley wedding is filled with charm.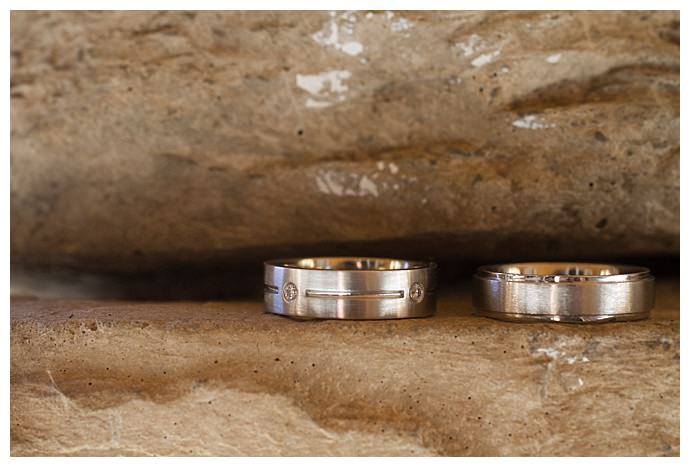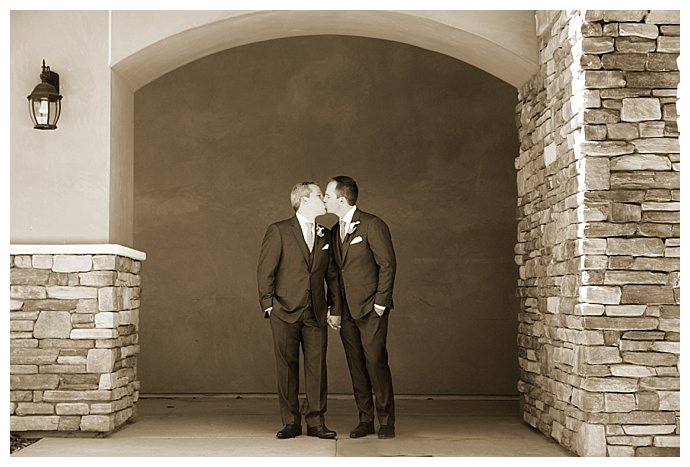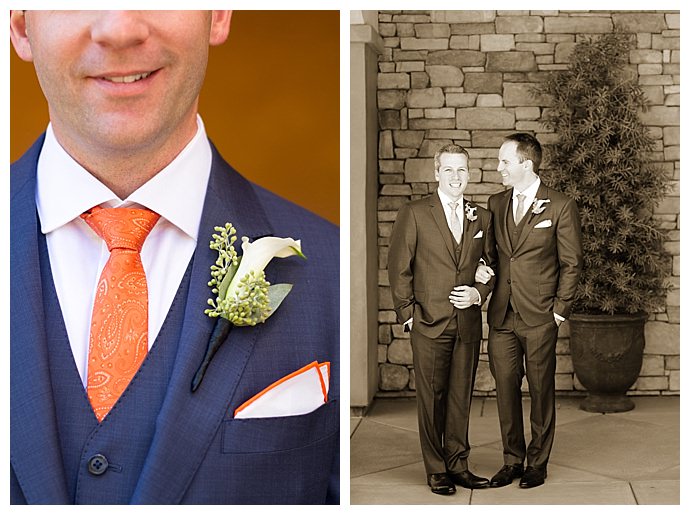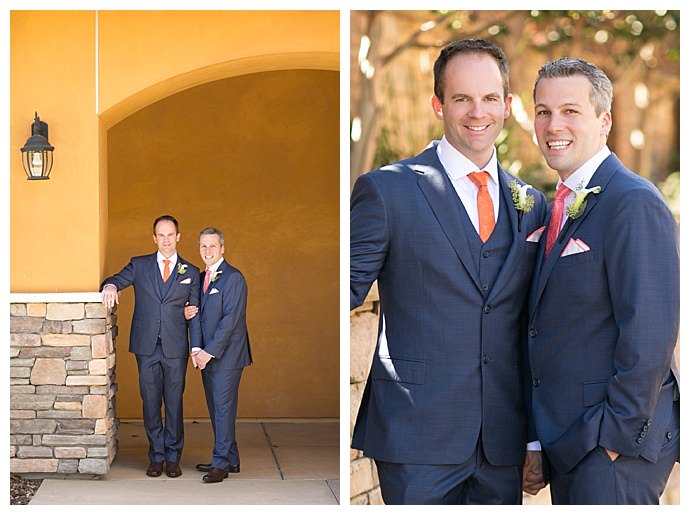 The Love Story
Nick and Conor's professional lives merged as they were completing their residencies at Northwestern Memorial Hospital in Chicago. Nick was in the general surgery program while Conor was in emergency medicine. If fate ever comes in the form of trauma, it did for Nick and Conor when they first met while working together on a trauma patient. Over the course of the next few weeks, they began to see more of each other around the hospital, and Nick had no choice but to ask Conor out.
Years later, they left the windy city for a mini vacation in the sunny California sun in Napa Valley. It was Nick's first time to Napa, and he knew he didn't want it to be the last. So one evening after a romantic dinner at Solage in Calistoga, Nick proposed to Conor under the stars, to which Conor, of course, said yes.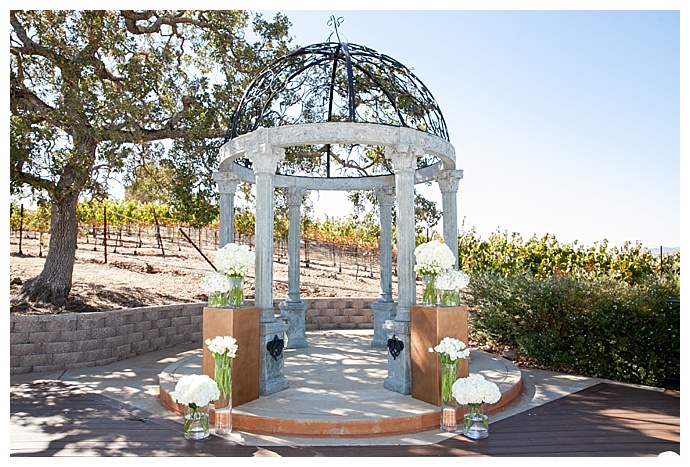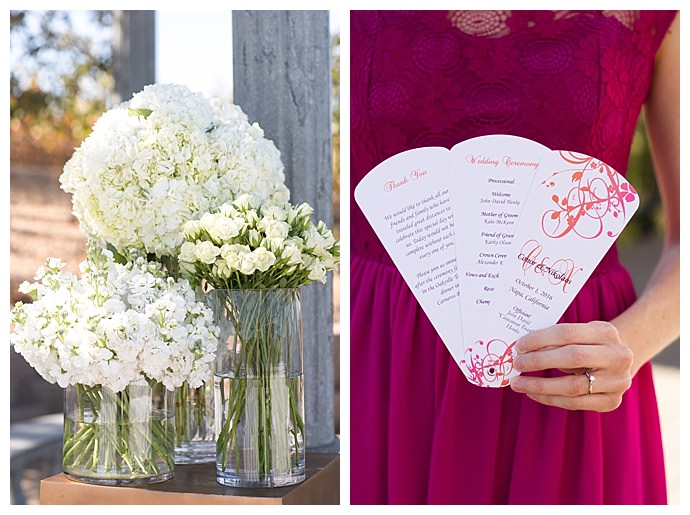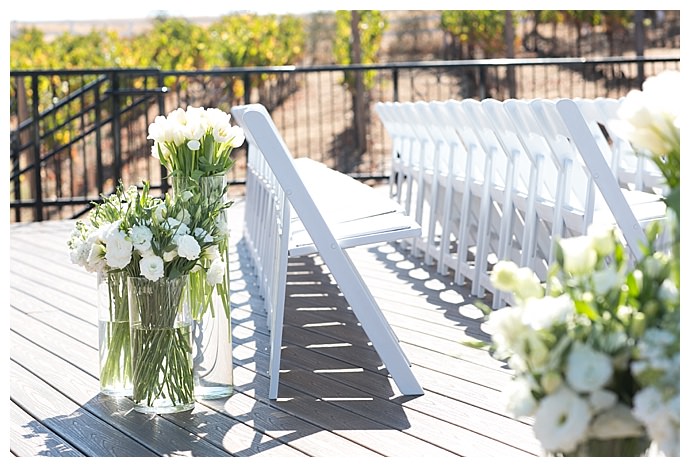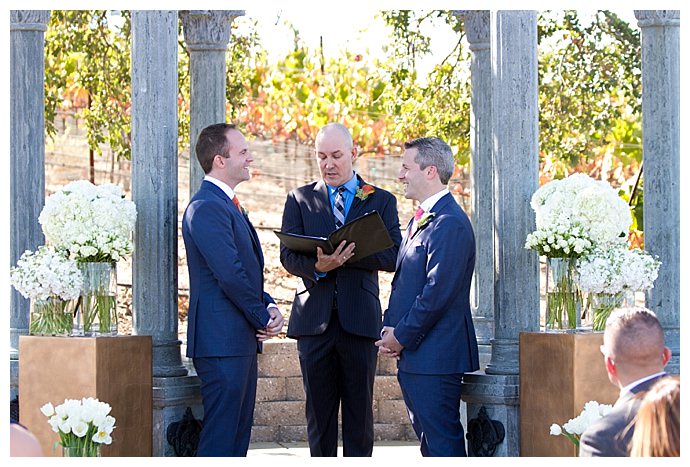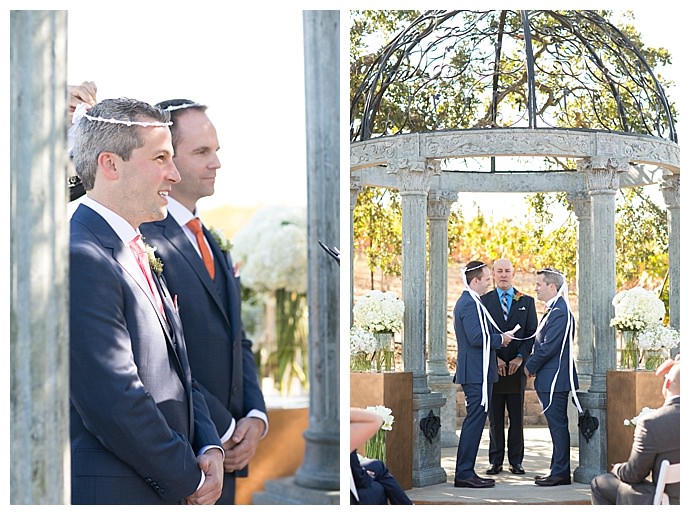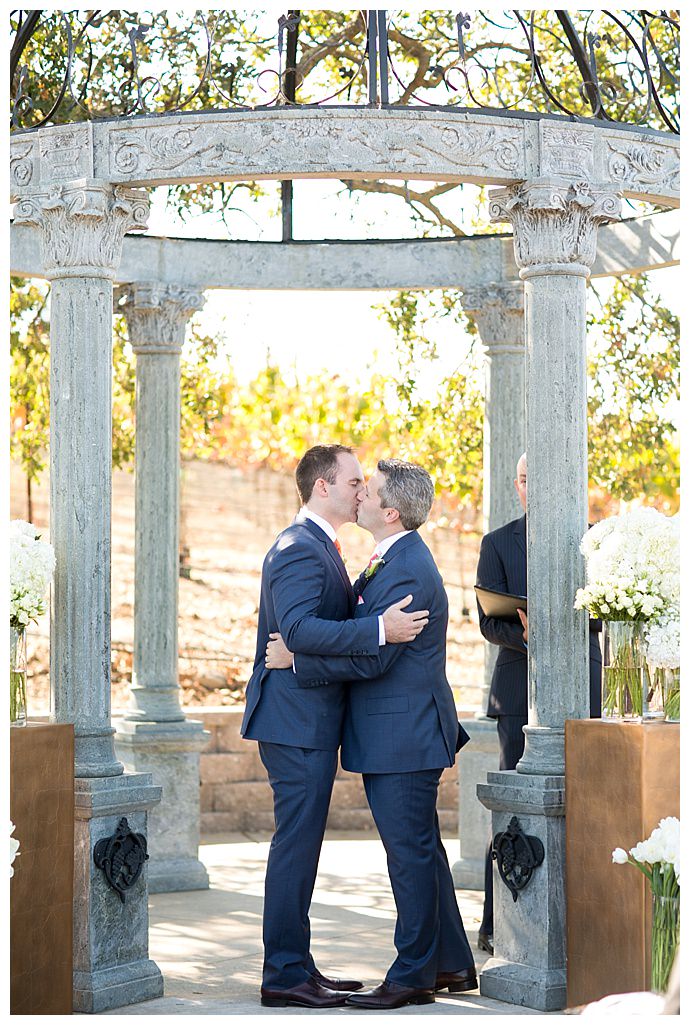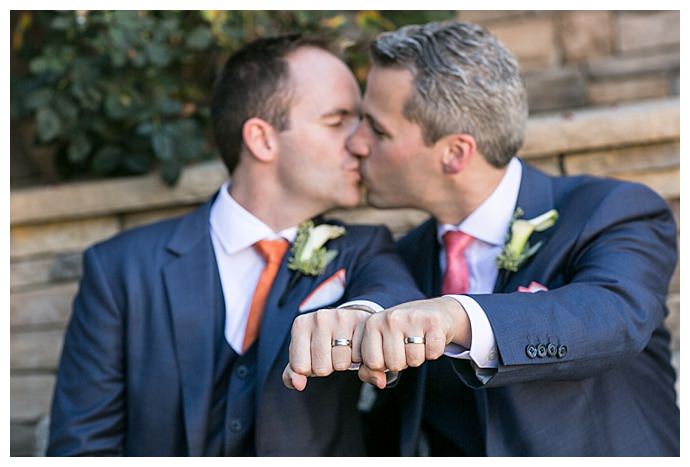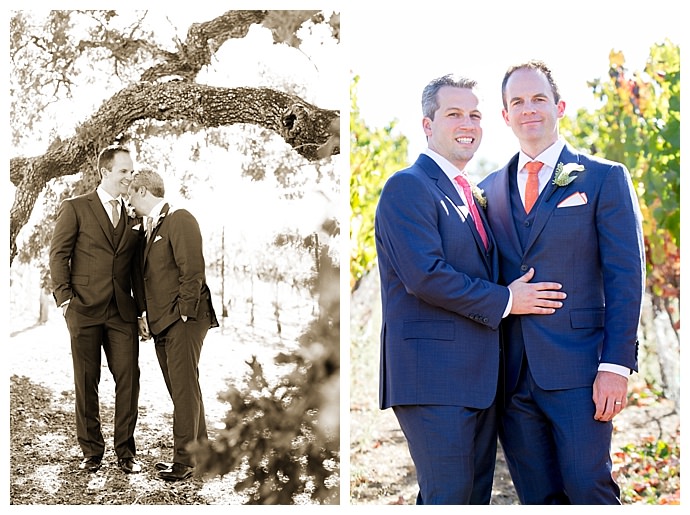 The Ceremony
For the ceremony, the grooms wore matching custom blue suits and accessorized with pink and coral Paisley ties with a white calla lily fastened to the lapel of their jackets. At the Meritage Resort and Spa in the heart of Napa Valley, Nick and Conor said "I do" underneath a large gazebo surrounded by white flowers with rows of vines in the distance.  
Having a personalized celebration was of the utmost importance to Nick and Conor on their wedding day. So one of their closest friends, John, officiated the vows, which included a traditional Greek crowning unity ceremony as a nod to Nick's heritage and ended with friends introducing the newlyweds as husband and husband.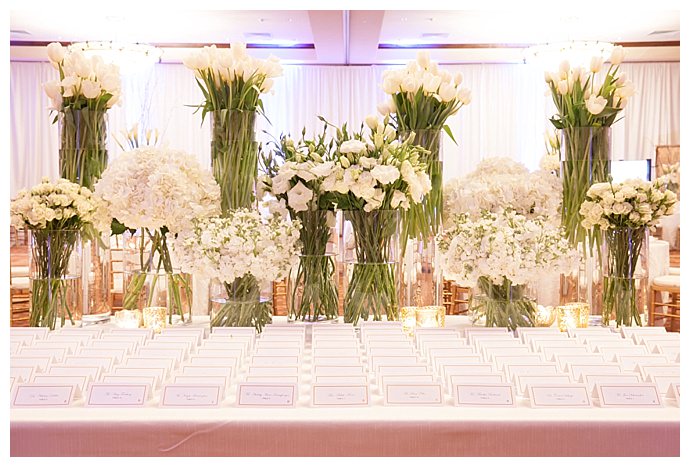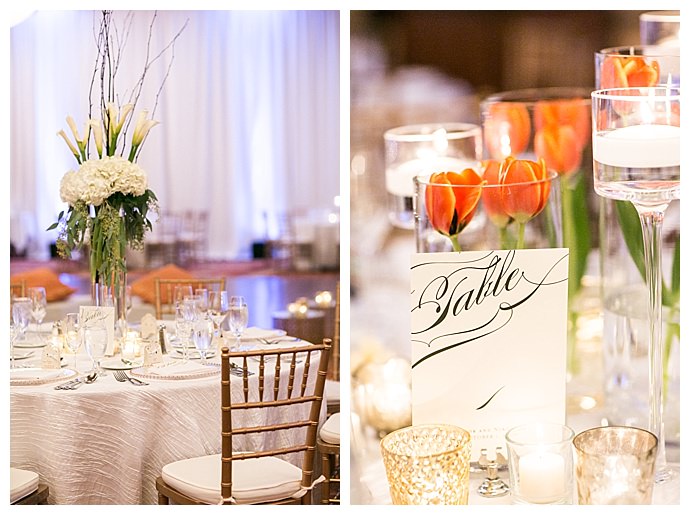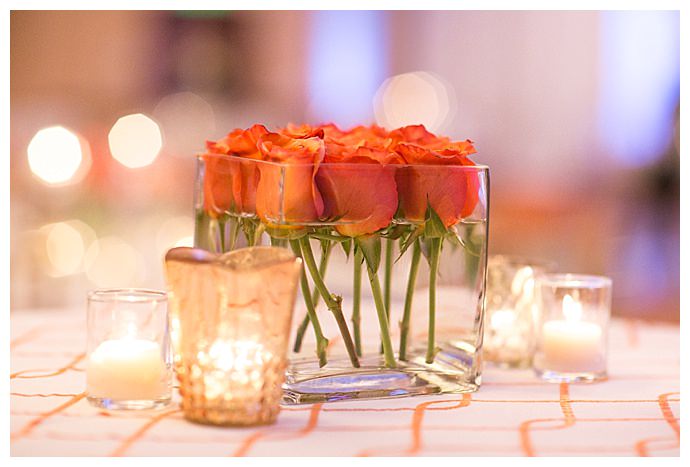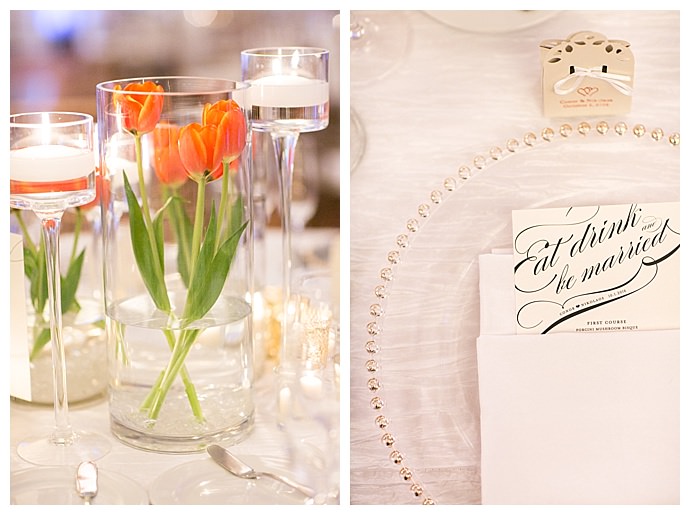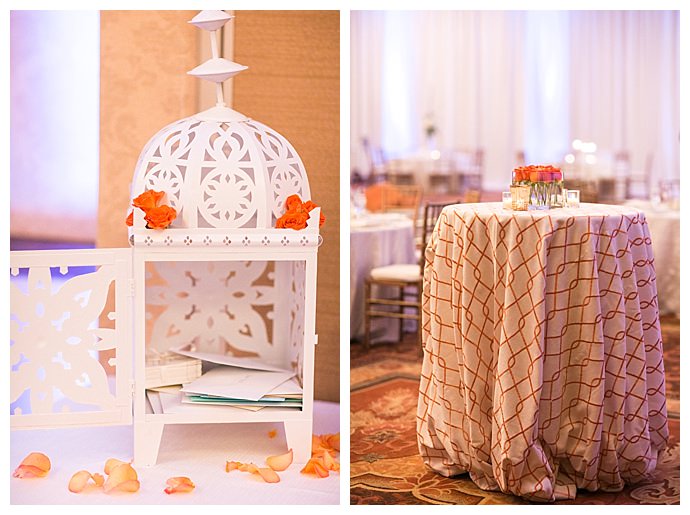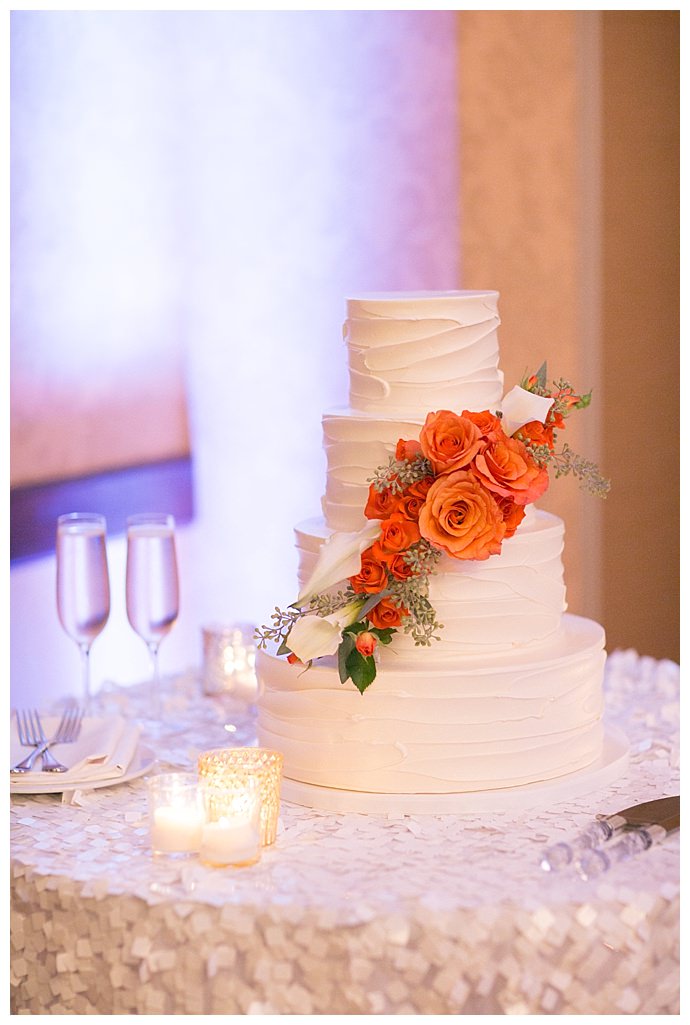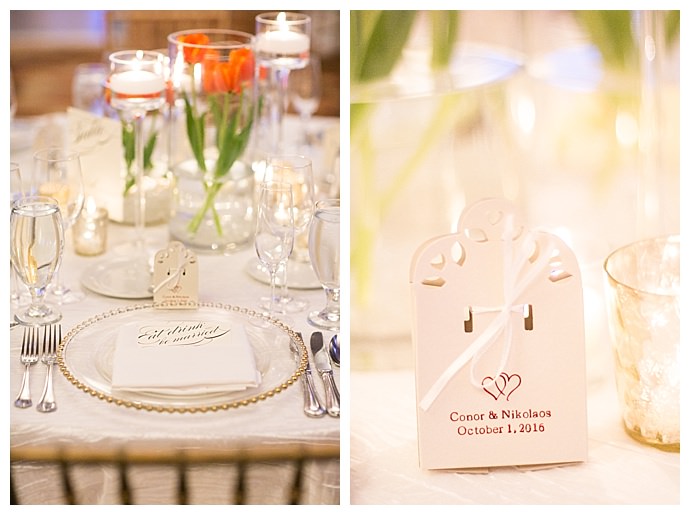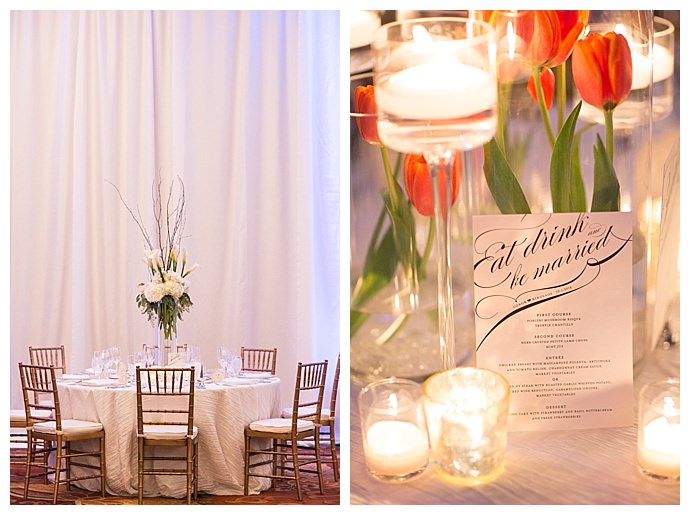 The Party
After the ceremony, friends and family made their way to a nearby banquet hall for an elegant seated dinner in a flower-filled room decorated with orange accents. Before the newlyweds cut into their delicious basil and strawberry four-tiered wedding cake bedecked with cascading orange flowers and white calla lilies, they shared their first dance to Carrie Underwood's classic anthem, "Heartbeat."
And because every elegant affair needs an element of fun, Nick and Conor had a photo booth where friends and family posed in silly neon wigs and sunglasses holding Mr. and Mr. signs for memorable photos they'll never forget. As the night came to an end, Nick and Conor sent their guests home with Jordan almonds in a box customized with their names and wedding date, a custom Greek wedding favor.