By Brittny Drye | Photography by Jodee Debes Photography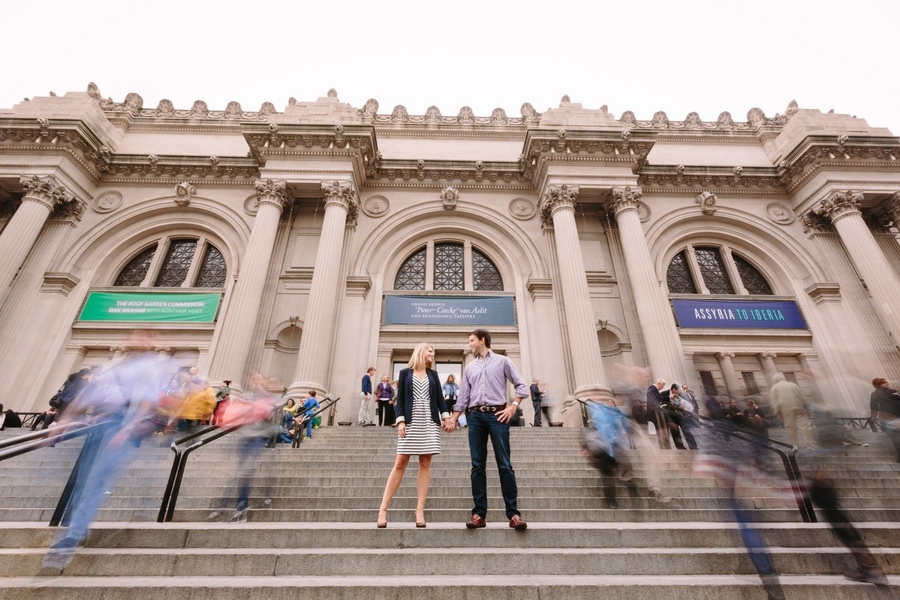 This engagement shoot by Jodee Debes Photography elegantly captured Meredith and Clay's New York City life, complete with a walk through their West Village neighborhood, milkshakes at Hamilton's — a charming retro style soda fountain shop — and photo ops at The Met as a nod to Meredith's museum career. "We wanted friends and family in Texas –where we're both from — to get a glimpse of our life in New York," explains Meredith. "We also wanted to have these photos as a keepsake so we can look back at our lives as young people in the city!"
The Love Story
Meredith and Clay met in college and three of their five years together as a couple were spent long distance. "We have moved to four different cities as we followed our dreams to have successful careers in finance and museums. We've finally ended up together in New York City and love it," gushes the bride.
The Proposal
"The day was so normal — I sat on the couch and watched a depressing movie. We were going on a trip to California the following week and he kept on talking about a really romantic restaurant in Santa Barbara. I was sure that was where he would propose," says Meredith. "Earlier in the week, he had casually mentioned that we should go to a nice restaurant in TriBeca, Bouley, to celebrate our weekend before vacation. That should have been a dead giveaway, but he was so calm.
Later that night I got ready and put on a frumpy dress, thinking the night would be nothing out of the ordinary. Thankfully I remembered to paint my nails. When he saw that I was painting them, he definitely thought I knew, but I didn't! At the beautiful restaurant, we had a gorgeous private table. After we ordered our drinks he kept on holding my hand and saying I was beautiful. Finally he said the most beautiful speech and then I blacked out.
I was so shocked. It felt like an outer body experience. I actually couldn't speak and the waiters, who knew what was happening, thought I had said no. Finally, I was able to ask him if he ask my dad for permission, when he started to tell me the story of how he went to visit my father to ask him for my hand, that's when I started bawling! It was a great moment. However, I was still too shocked to eat the wonderful six-course meal."
The Ring
Meredith's classic emerald cut ring is flanked with a sparkling baguette.
Wedding Date: October 17, 2015