As the busiest travel days of the year fast approach, we're thinking about all the soonlyweds jetting off for destination weddings and newlyweds buckling up for a long journey to their honeymoon haven. This exciting time in two people's lives should be anything but stressful, which, unfortunately, travel has a way of inducing, so we've rounded up eight products that are perfect for anyone taking a trip. Whether you're looking for a gift for the travel enthusiast in your life or you want to gift your soonlywed friends with some handy essentials for their upcoming destination wedding, we've got just what you need to help your friends travel with style and ease.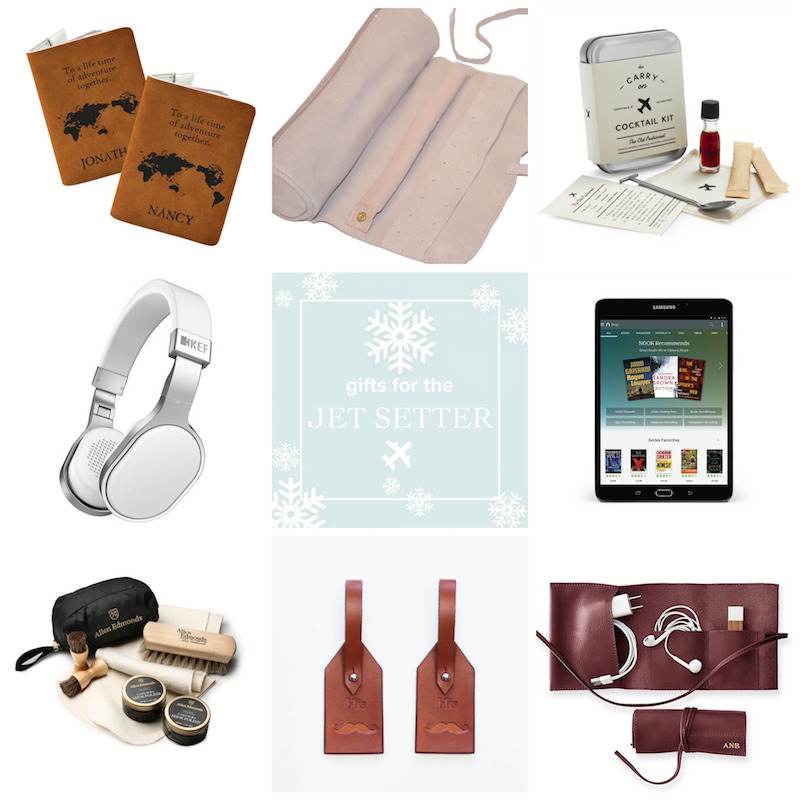 Couple Passport Covers: Passport covers are a great gift for travel enthusiasts, but these sweet personalized covers are more than just a passport holder; they are a promise of many adventures to come. With this gift, you'll be giving a couple the gift of memories, and when their 20-year anniversary rolls around and they celebrate with an international vacation, you know they'll be grabbing these handy passport covers before they head to the airport.
Jewelry Roll: Traveling with jewelry can be tricky, but for destination weddings, it's a necessity. Keep your jewelry safe, tangle-free and protect its shine for the big day with this convenient jewelry roll that's perfect for travel. With slots for earrings and a zipped pouch for bracelets and necklaces, you won't have to worry about anything happening to your wedding-day accessories during travel.
Carry-On Cocktail Kit: This is the gift that all your friends never knew they needed. With this super handy cocktail kit, you can start your celebration in the sky the second the wheels go up. Quickly whisk together a tasty Old-Fashioned so you can sit back and relax an enjoyable flight to start your wedding or vacation off on the perfect note.
Nook: Give the gift of endless entertainment for soonlyweds heading to their destination wedding or newlyweds embarking on a tropical honeymoon. Read, watch movies, listen to music or podcasts and catch up on any work you need to finish before you can banish it from your mind with this ultimate travel essential. Its sleek and compact design makes it easy to carry on the plane or keep beachside for a relaxing day basking in the sun.
Leather Charger Rollup: There's nothing worse than a dying battery when you're on vacation, snapping pictures of you and your beau in front of iconic landmarks or navigating an unfamiliar place. Keep your phones fully charged and the tangle at bay with this chic, personalized leather rollup that houses all the tech accessories and charing cords you'll need throughout your trip. After all, the only knot that should be tied is the one at the wedding.
Luggage Tags: We love these handcrafted his-and-his leather luggage tags from RSVP Handcrafted. The genuine leather and customizable tags come in an array of colors and are stamped with a trendy mustache. There's nothing we love more than seeing couples in love flaunting their soonlywed status, and these personalized tags are the perfect way to add a little love and flare to boring luggage. It's also a surefire way to avoid mixing up bags once they arrive at their destination!
Shoe Shine Kit: You never know what could happen in between shoe shines, let alone between home and the miles of travel to your destination wedding. This complete yet compact shoe-shine kit has everything you need to achieve the perfect shine and will ensure that any scuffs and scratches are history on your wedding day. You'll never want to leave home again without it!
Headphones: Headphones are a great gift and, let's be honest, a plane essential. These sleek on-ear headphones rest comfortably on your ears and provide a crisp, clean sound that's sure to transport you straight to paradise — even if your seatmate happens to be a loud-talker or screaming infant. Give your newlywed friends the gift of bliss as they jet off for their honeymoon in style. 
*Editor's Note: This post contains affiliate links. Each time you purchase an item via our affiliate links, Love Inc. is receiving a small percentage of the sale, thus you are helping our small, equality-minded business grow and allowing us to provide more content for YOU! Isn't that just fantastic?