By Meghan Kennedy | Photography by Alexis June Weddings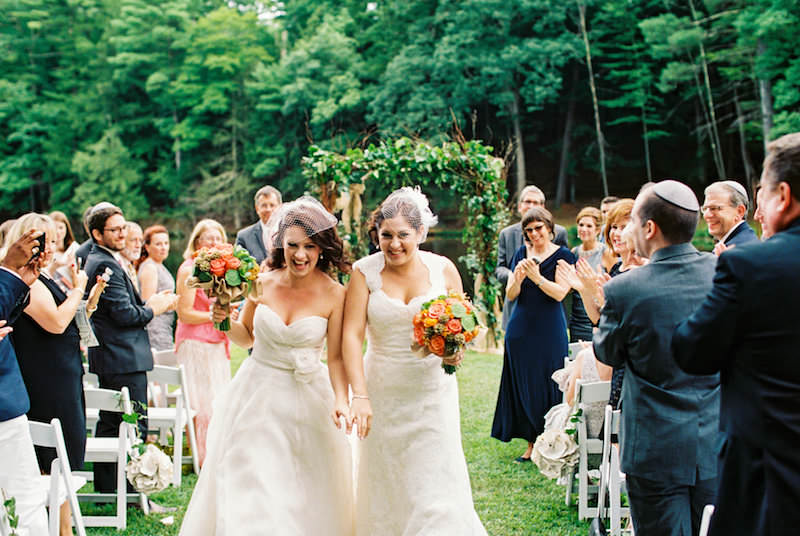 We previously covered Elena and Lindsey's love story back in September, a romantic whirlwind of rule-breaking, from a "no-engagement" rule to the fact that theirs was a relationship between boss and employee. Far from their urban Brooklyn engagement session, their outdoorsy, Catskill resort wedding, captured by Alexis June Weddings, was a scene straight out of "Dirty Dancing."
The Venue
While the couple resides in New York City, for their big day they wanted to celebrate away from the city in order to create a weekend vacation for their friends and family; a retreat-like feel was found at Twin Lakes resort, in the Catskill town of Hurley, N.Y. Between the gorgeous upstate atmosphere and foodie scene, Elena and Lindsey fell in love with the space.
The Inspiration
"It wasn't intentional, but we kind of fell into a 'Dirty Dancing' theme!'" exclaims Elena. "We couldn't not do it considering how much the resort reminded us of the movie." The couple went with brights and neutrals mixed together as their colors: orange, green and slate grey. "We kept it minimal, since the scenery was so beautiful."
The Fashion
The women didn't reveal their wedding day outfits to each other, saving it for their first look. However, Elena was restless. "Elena was panicking about wearing different shades of white — she thought we'd look weird in pictures if one white was more yellow or faded than the other," laughs Lindsey. "I stored my dress at my parents' house so Elena had my father sneak into the closet and match my dress to a paint chip so she knew exactly what shade of white it was!"
Guests were asked to wear "dressed-up picnic attire," resulting in a stylish party of seersucker, bow ties and colorful summer dresses.
The Ceremony
Elena didn't grow up with religion but Lindsey was raised Jewish so the brides chose to implement some Jewish traditions into their non-religious ceremony, including a chuppah that their three brothers constructed and a glass-breaking.
Their lakeside ceremony was held at sunset and, to give the ceremony an extra-special touch, they asked a friend to officiate. "I wanted it to be someone close to both of us. We immediately agreed on our friend Travis, a U.S. diplomat working in Public Diplomacy in West Africa. He's poised, well spoken, handsome, and has known both of us since we first started dating," explains Elena. "It was actually a miracle he was able to make it! He and his wife live in the Ivory Coast and soon after we asked him, they discovered they were pregnant with their first child, and due a couple weeks before the wedding! We held our breaths and made no backup plans, and thankfully, baby Ingrid arrived happy and healthy three weeks before the wedding, and the whole family made it! It made it so special to have them all there!"
[raw]
[/raw]
The Party
The venue provided natural scenery, so the brides didn't rush to create elaborate floral arrangements. A friend created bouquets of orange ranunculus, orange roses, kale, scabiosa pods and lotus pods with burlap collars. They kept their décor simple and fresh with white hydrangeas at every table and homemade wine cork votives, since both brides work in food and wine in New York City.
Cocktail hour was held on a grassy vista above the lake, and served up lobster and oysters. "The [cocktail hour] food was a huge hit," adds Lindsey. Later, guests were invited into the picnic pavilion, ushered by chalkboard signage created by Elena that directed guests to their designated tables, each named after a cocktail as a nod to the brides' careers.
"Because each table was named after a classic cocktail, our favors were miniatures of the liquor in each cocktail!" exclaims Elena. "I designed tiny recipe cards to tie around the necks, so all of them matched. Most of the favors didn't get taken home, they barely made it to the after party!"
As for dessert, Elena and Lindsey featured an extra large cupcake tree filled with a medley of flavors, plus a small cake for them to cut in honor of tradition. Their band, RSVP Live Music, kept guests grooving. "Our band was amazing! They truly made the party more than any other single element. They played every song we requested, got the crowd on their feet, and kept everyone dancing late into the night!" says Lindsey. "Our first dance was to 'You Send Me' by Sam Cooke, but I think the most fun was our entrance, to 'Every Little Thing She Does' by The Police."
They ended the reception (but not the night!) with, what else, "(I've Had) The Time of My Life," along with a huge s'mores bonfire to kick off the after party.
Memorable Moment
Lindsey: We each gave a speech at the reception to thank our guests, but Elena's was a little different. She leapt into a long, impassioned speech about how important family and tradition are to her, and to us. She kept saying how different our backgrounds are, and how even though we come from different traditions, we should start a family with the same values and morals and customs. I freaked out, because even though we had discussed raising our kids Jewish, she had never talked to me about converting religions. I also knew she felt strongly about keeping her last name. I could see my mother behind her, violently waving her arms, trying to get Elena to stop speaking. At the end of her speech, Elena said "So, Lindsey, my gift to you on our wedding day is that I'm converting … to the Jets." It got the biggest laugh from the entire crowd, especially her friends who had always known her as a Steelers fan!
Wedding Date: August 16, 2014
Vendors
Photography: Alexis June Weddings
Venue: Twin Lakes Resort
Entertainment: RSVP Live Music
Cake Designer: Cynfre's Bakery
Catering: Twin Lakes Resort
Makeup: Carol Kurtzer
Hair: Lyndsey Musso