By Meghan Kennedy | Photography by Alexis June Weddings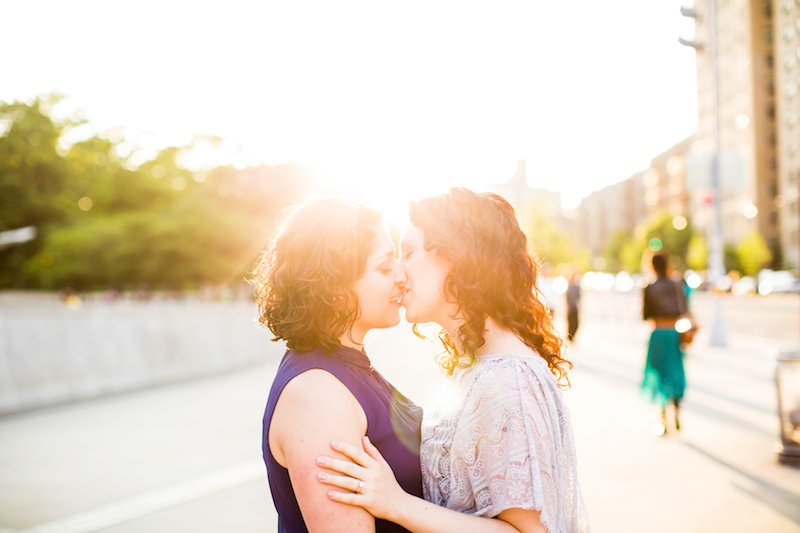 There's an adage that says rules are meant to be broken—and that fits Elena and Lindsey perfectly. The Brooklyn couple, once in a boss-employee relationship, broke that rule to be together. After a blissful one-year romance, Lindsey broke Elena's staunch "no engagement" rule, and now, they are on their way to happily ever after.
For their engagement shoot, they strolled through their Brooklyn neighborhood as Alexis June Weddings documented their love with her lens. Slow dances in front of bold, colorful graffiti backdrops, light-filled kisses on "their" bench and Champagne toasts are just the icing on the cake for this session that proves one thing is for certain—sometimes it's okay to break the rules.
The Love Story
Elena and Lindsey originally had a totally different relationship—"Lindsey was my boss!" exclaims Elena. "I interviewed with her and something immediately clicked that said, 'This girl is going to be important in your life.'"
Lindsey knew Elena was the one when on one night, they somehow ended up on the same subway home, one train car apart, despite having spent the day in totally different locations. "We had both been having a terrible day and were so excited just to get a hug. I stepped off the train and saw Elena right there in front of me, like she was put there just for me," notes Lindsey. As soon as Lindsey saw Elena, she just knew that they were meant to be—and let everyone else in the station know it. "Everyone I passed, I told 'I love her!' and a little boy even high-fived me," laughs Elena. "That was the night we collapsed onto the bench that became 'ours' and figured out we were pretty perfect for each other."
Elena had swore to never get engaged before the two year mark due to past relationships … but Lindsey wasn't worried about that.
The Proposal
A year into the relationship, Lindsey's brother got engaged and her sick grandmother traveled to New York City for the engagement party. Lindsey wanted her grandmother to see how happy Elena made her so she set up a surprise engagement party, even though Elena had sworn off an engagement until she was further into a relationship.
Lindsey convinced her love to go to a casual brunch, brought her to "their" bench on an avenue near their shared apartment, and popped the question.As Lindsey was proposing, a surge of emotion swept over Elena, "I wanted her to stop talking because I knew she would say something meaningful and wonderful and I would be too overwhelmed to remember anything!"
When they finally got to brunch, both their families and closest friends were waiting at the restaurant, which, through no coincidence, was where they had their first date.
The Ring
Lindsey designed Elena's ring herself—she wanted something "unique but classic, which would make everyone stare, but not overwhelm her." Elena's ring features a near-perfect diamond in the center stone, and beveled sides with tiny diamond points for "sparkle everywhere." Elena surprised Lindsey with a ring for herself—a five-stone ring with diamonds in all different sizes that creates a "crown of light."
Memorable Moment
Lindsey: Having my grandmother there to share in my joy.
Wedding Date: August 16, 2014