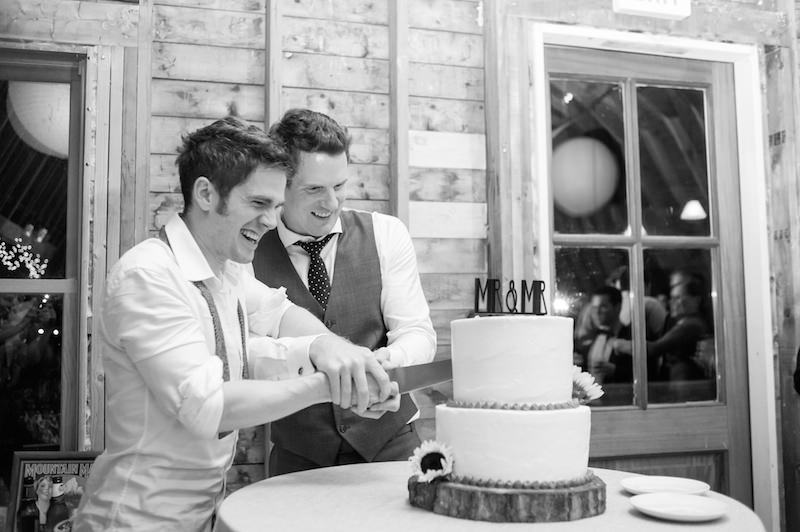 The big, wide world of weddings comes with its own language which many of us are not fluent in. Specifically within the wedding cake realm, we're met with vocabulary that extends far beyond vanilla and chocolate. Before meeting with your cake designer, study up on the below vocabulary to be well-versed in front of your vendors.
Buttercream: A creamy icing option that can be used for all-over coverage, decorative embellishments or filling. It is soft and can be colored and/or flavored and, because it's made from butter, it melts easily so will need to be kept cool.
Cake Topper: A decorative embellishment that is placed at the top of the cake. Traditionally, this item is not edible.
Cake Stand: A decorative object the cake is placed on for display.
Fondant: An icing option that is smooth and firm with a porcelain-like finish. It's elastic texture makes it ideal for elaborate designs.
Ganache: A rich, dark chocolate glaze that can be used as a filling or icing.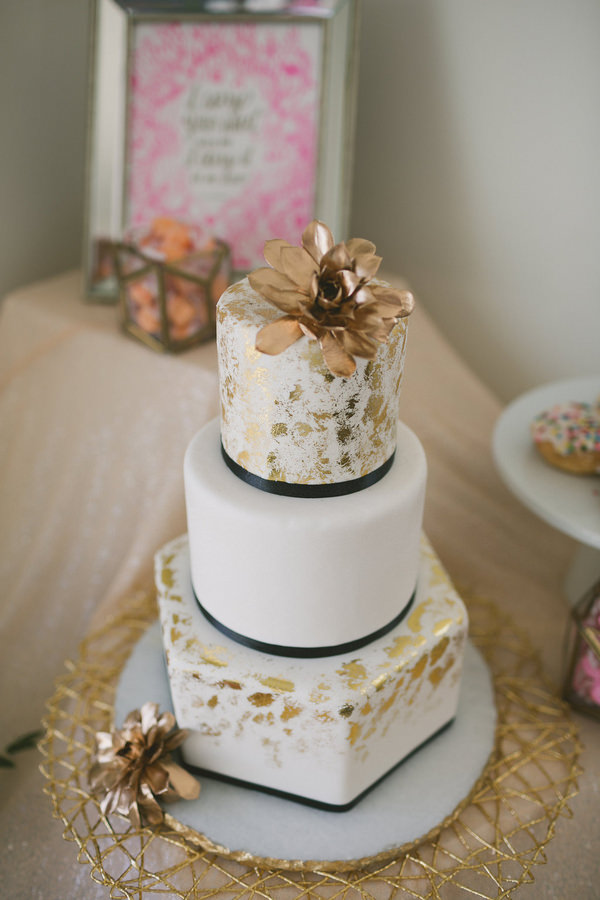 Gold leaf cake from Idaho Collective Inspiration Shoot | Cake design by Greg Marsh Designer Cakes | Photography by Ampersand Studios
Gold Leaf: An edible, metallic garnish that comes in rice-paper-thin sheets that can be cut into shapes, molded around fondant or gently torn to form irregular shards.
Gum Paste: A sugar, cornstarch and gelatin paste that is used to mold hand-modeled designs. It dries hard and, while technically edible, you wouldn't want to eat it. It's best used for small, decorative details.
Hand-Painted: A cake decorating technique that is, well, hand-painted using edible coloring.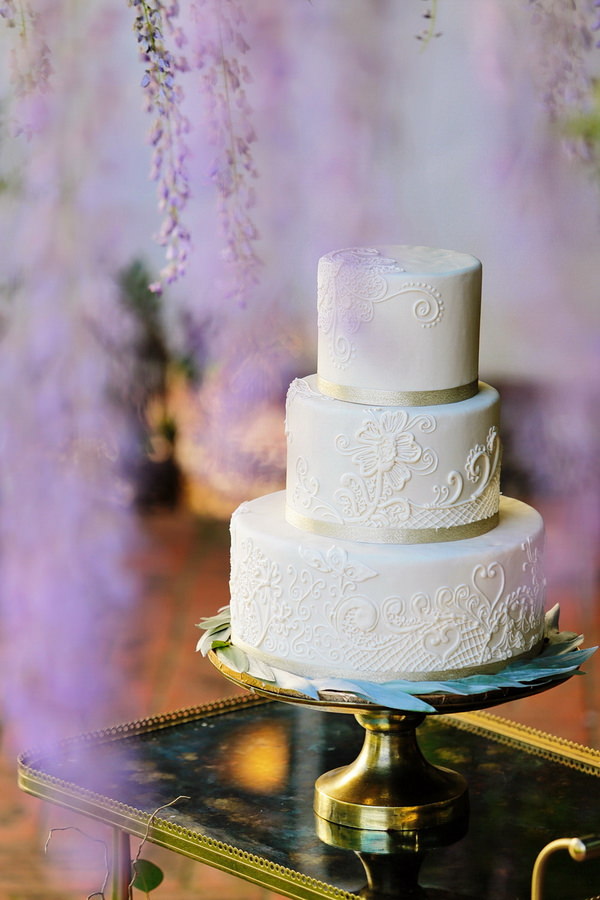 Latticework cake from Elegant and Enchanting Inspiration Shoot | Cake design by Skiff's Cakes | Photography by Kimberlee Miller Photography
Latticework: A piping technique that features a crisscross pattern.
Spun Sugar: Hardened sugar syrup drawn out in strands and, when pulled together, creates a glossy, web-like design.
Naked: A cake sans icing, exposing the layers of the actual cake and fillings.
Petal Dust: Used to achieve deeper hues with a matte finish. When brushed on petals of white or pastel gumpaste flowers, a realistic effect is created. Pearl or luster dusts can be applied over or mixed with petal dust for a variety of effects.
Piping: A decorative technique created by squeezing icing out of a pastry bag with various metal tips.
Royal Icing: A smooth but not very tasty icing option used mostly for sculpting.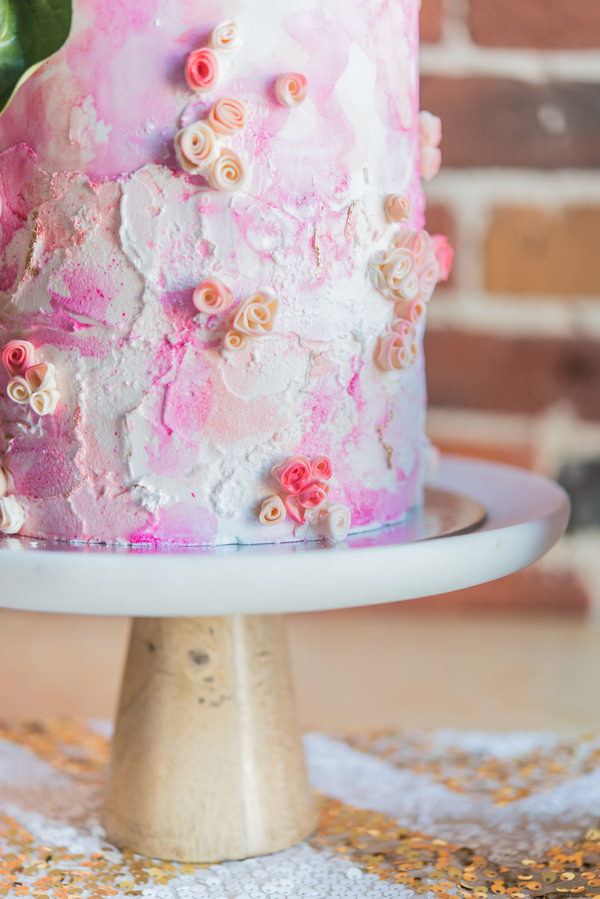 Spackled wedding cake from Bright & Bold Wedding Inspiration Shoot | Cake design by The Cake Whisperer | Photography by Laura Kelly Photography
Spackled: An icing technique that creates a ruffled texture.
Sugar Flowers: Edible embellishments made from gum paste.
Opening photo credit from Joel and Mike's Cozy Catskill Wedding, photography by Ali Rosa Photography
By Brittny Drye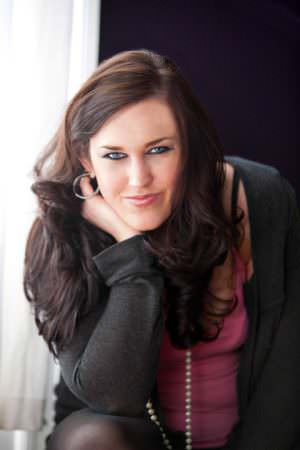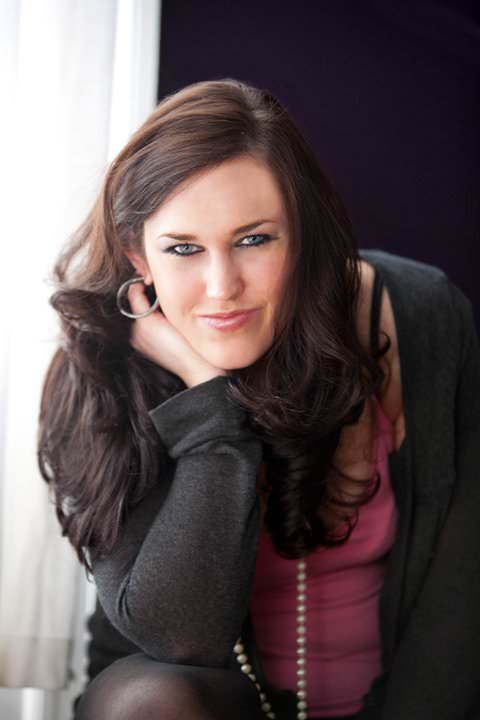 Brittny Drye is the founder and editor-in-chief of Love Inc. magazine. A fierce cheerleader for marriage equality, she launched loveincmag.com in 2013 as a way to to celebrate both straight and same-sex love, equally. She lives in New York City with her husband and their cat, Scout.