By Shannen Hofheimer | Photography by Lisa Hibbert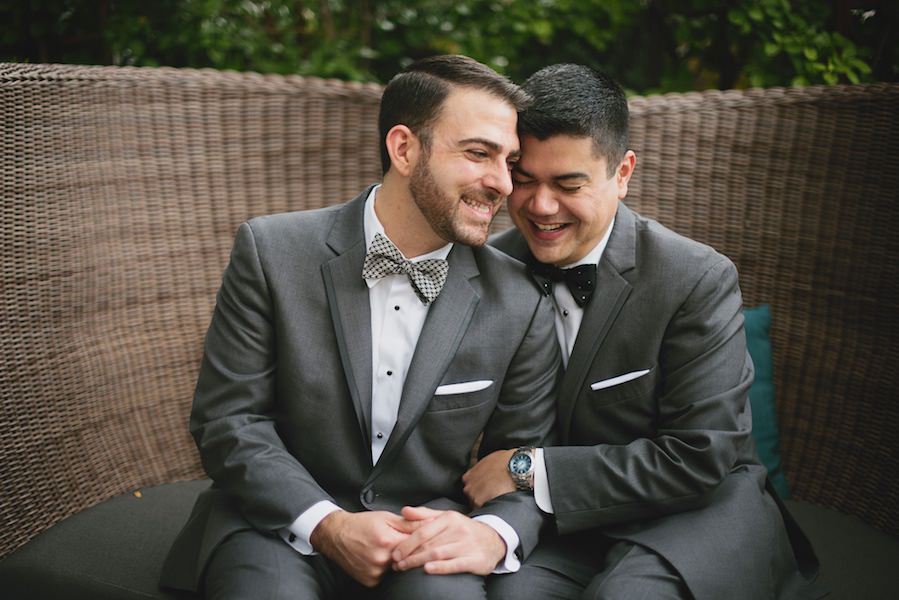 Once you have found your soul mate, you can sit back, relax and enjoy the ride. After a two-year engagement and having spent 13 years of their lives growing and learning together, Vinny and Stephen celebrated their wedding day on October 18, 2014 in New York City. Lisa Hibbert Photography did an incredible job of depicting the love that these two grooms share for one another. "We truly are best friends," Vinny and Stephen tell us, exuding that trust and closeness in all of their wedding photos as they celebrated a day infused with music and poetry, both classic and contemporary.
The Love Story
Vinny and Stephen met at the start of their freshman year of college at Seton Hall University in the Touring Choir and became inseparable from the very beginning of their journey. "We both weren't out to our family and friends when we met, but we were able to rely on the strength of one another and our relationship to give us the courage to do so. Luckily, we were met with lots of support and love that only strengthened our bond," the happy, devoted couple says. After graduating, Vinny and Stephen both moved to the Big Apple. As an Art History major, Stephen had studied one of the most important works of art of the Italian Renaissance in America: the Studiolo from the Ducal Palace in Gubbio. Little did Stephen know that 11 years later, he would be standing in that famous structure at the Metropolitan Museum of Art before a proposing Vinny. Being that Stephen is usually the "planner" of the two, he was completely stunned and surprised by the proposal. "We had a two-year engagement as we didn't want to rush the planning process for the wedding of our dreams. The fact that we were able to legally get married and stand in front of our family and friends to express our unending love was a magical experience that will stay with us always."
The Venue
Vinny and Stephen looked at numerous venues, each very nice, but remained patient until they found a venue that they felt exuded them as a couple. The Kimpton Eventi Hotel was that venue. "From the moment we walked in the door, we knew that this was the place for us. From the Ventana Ballroom to the veranda to the guest accommodations, everything was so well appointed and beautiful. The fact that Kimpton goes above and beyond to embrace the LGBT community was the icing on the cake. We were able to use the special LGBT package that was offered and surrounded ourselves with a team that we knew supported us."
The Ceremony
One of the most unique facets of Vinny and Stephen's special day was the fact that they chose to integrate both traditional and contemporary touches, mixing their own personal style into their wedding day elements. The ceremony, held in the Ventana Ballroom at Eventi (which featured two stunning floral arrangements designed by The Arrangement and highlighted by floating candles), was accompanied by the Chamberlain Brass, who played a slew of classical works including their prelude, Pachelbel's Canon, an interlude of Ave Maria and then the recessional, Ode to Joy. Paying homage to the very first seeds planted that allowed their love to blossom, the ceremony was officiated by the former director of the Touring Choir at Seton Hall where they first met. In addition to reading their own vows as well as the traditional wedding vows when exchanging rings, the handsome grooms and the guests were transported by poignant, sentimental words from a Bible passage, an excerpt from Letters to a Young Poet, a poem by Maya Angelou and lyrics to one of the couple's favorite songs.
The Fashion
Both Vinny and Stephen looked dashingly dapper in Black Label tuxes from Vera Wang in charcoal gray. The difference in the two grooms' ensembles, of course, could be found in their bow ties: Stephen boasting a black bow tie with white polka dots and Vinny showing off a gray-and-black houndstooth bow tie. Vinny also chose a more contemporary, succulent boutonniere, while Stephen's was a more traditional white calla lily.
The Inspiration
Navy blue with bits of silver elegantly tied in gorgeous decor designs and floral details that were admired on Vinny and Stephen's special day. "We wanted the flowers to be crisp and clean, so we kept to shades of white, pale green and antique blueish-green with pops of blue," the grooms tell us. "For our ceremony, two tall and dramatic arrangements in glass cylinders on white pedestals flanked us. The arrangements included bells of Ireland, delphinium, hydrangea, roses, stock, orchids, lush greenery and tall curly willow branches. There was green amaranthus dripping over the vase for added drama." Being that the handsome couple chose to have nontraditional, open seating for the reception (mixing large tables, small cocktail tables, highboy tables and a lounge seating area with couches and coffee tables), they were able to take more creative liberties. Passionately going above and beyond with their floral design, it ranged from traditional centerpieces for large tables and smaller, more contemporary arrangements for the lounge area. "Centerpieces were in silver pedestals in a clean garden style, featuring green antique hydrangea, white hydrangea, white roses, orchids, greenery and silvery green succulents. The lounge setup included small vignettes of potted succulents and bright green reindeer moss with orchids placed artfully around the table."
The Party
The food at Vinny and Stephen's reception was served buffet-style and would make anyone's mouth water, the menu featuring a selection of salads, prime rib and cedar-planed salmon plus two pasta dishes: orecchiette and pappardelle with short ribs. As if that wasn't enough to get your stomach rumbling, their vanilla cake, masterfully designed by Sylvia Weinstock, was too beautiful to devour and included three different layers of filling: chocolate, mocha and black cherry. The edible work of art was covered with white buttercream and accented with an arrangement of Sylvia's signature sugar flower that matched the day's intricate floral designs. Vastly differing from the music in the ceremony, DJ Jon Black kept the dance floor packed with a selection of pop and  Top 40 hits, the grooms sharing their first dance to a special acoustic version of Sara Barielles' "I Choose You."
Not only are our grooms classy and elegant with a versatile taste for music and art, but they are also compassionate, generous people. "We did not do favors for guests, but instead gave a contribution in celebration of the day to St. Jude Children's Hospital, a favorite family charity."
Memorable Moment
"We'll never forget the moment that the doors to the ceremony opened and all at once, gathered there together, was an amazing cross section of our lives: family and friends who have been by our side — from our childhood all the way to today — all there to support us and be a part of our special day."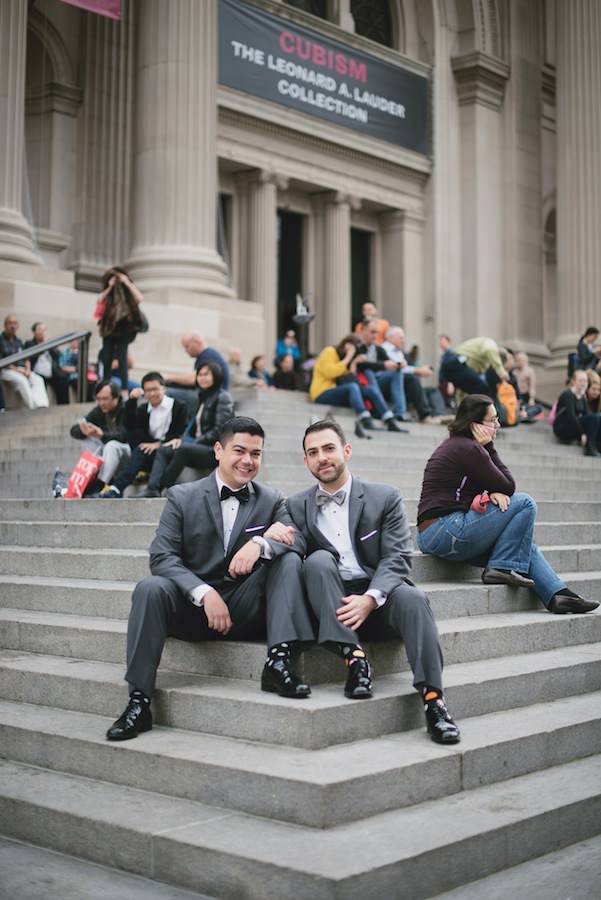 Wedding Vendors:
Photography: Lisa Hibbert Photography
Floral Design: The Arrangement
Venue/Catering: Kimpton Eventi Hotel
Cake Designer: Sylvia Weinstock
DJ/Band: Chamberlain Brass & DJ Jon Black of Scratch Weddings