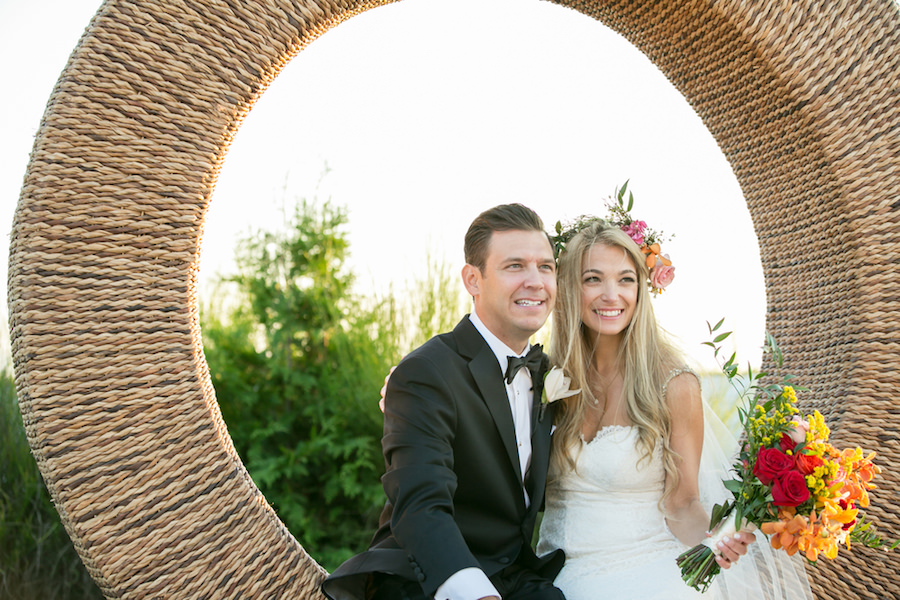 A Midwesterner and an East Coaster found each other during the famous music and arts festival Coachella and brought the boho-chic vibe from that fateful day into their wedding with amazing prop rentals (the bride owns well-known rental company RentQuest in New York City), flower crowns and amazing live music, gorgeously captured by UP Studios.
THE VENUE
For their big day, Tommy and Vanessa eyed the Sun & Surf Beach Club on Long Beach, N.Y., for their ceremony and reception. "The boathouse-style, raw space was the perfect canvas for us to create our own aesthetic and theme," Vanessa says. "Situated right on the water, you would have thought we were at a venue in California, not half an hour from New York City."
"I run an event furniture and prop rental company called RentQuest," Vanessa says, "so with my team, we were able to bring my hippie-chic vision to life." With a mix of vintage sofas, brightly colored accent chairs, clear acrylic coffee tables and multi-colored Persian rugs, they were able to achieve just that. 
THE CEREMONY
"Throughout our relationship, our love for music has been something that we share and are both passionate about," Vanessa says. "So when the big day finally came to get married, we wanted to incorporate a lot of the hippie-chic and music-centric elements from Coachella that would honor the day we first met."
Tommy and Vanessa met on the boardwalk along the beach for their first look, Vanessa wearing a laced mermaid gown with beaded straps and a crown of flowers in her long blonde hair and Tommy wearing a black tuxedo with a matching bow tie. During the ceremony, Tommy walked down the aisle with his parents to "In My Life" by The Beatles. The bridal party walked down to "Stand By Me," and "You're So Cool" by Hans Zimmer played while Vanessa walked toward her groom and met him under a wooden arch, bursting with flowers and greenery while colorful loose petals lay at their feet. "We had so much fun choosing our flowers," Vanessa says. "It was a mix of deep reds, blush pinks, white hydrangeas and yellow accents."
THE PARTY
Tommy and Vanessa's reception was nothing short of vivacious. With a 10-piece band that played a selection of their favorite songs, their guests were dying to get on the dance floor. Vanessa also planned a surprise for her new husband, roping in her mom, a professional singer, to sing "Somewhere Over the Rainbow" from Tommy's favorite childhood movie. Later, Vanessa's brother played a beautiful rendition of Frank Sinatra's, "New York and Chicago," a nod to their long-distance beginnings with Vanessa in New York and Tommy in Chicago. 
"We couldn't have asked for a better day," Vanessa says. " We will cherish it always, and it will be a constant reminder of the day we met and the day we were able to celebrate with our loved ones."
Team of Talents
Photography: UP Studios
Venue and Catering: Sun & Surf Beach Club
Florals: Stefan's Florist
Cake: Dina's Delights
Band: True Blue from Faze 4 Orchestras
Rentals: RentQuest