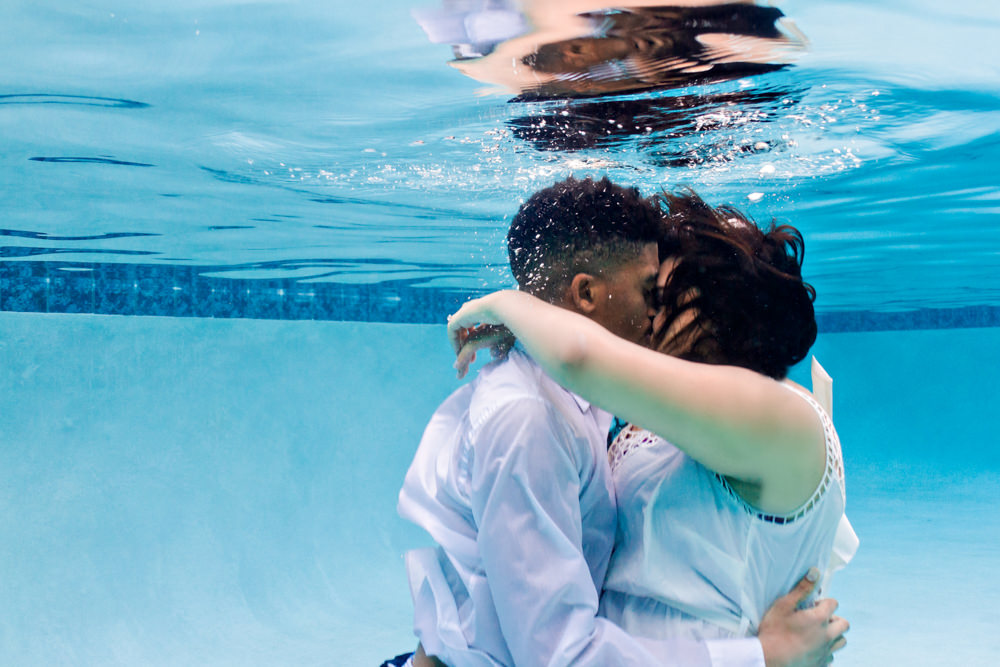 It was in the water that Gaby found both joy and heartbreak. It was where she conquered her greatest fears and was reminded of her unwavering strength. It was also where she fell in love, the water acting as a driving force that pulled her and her best friend Khari together to form a bond that would never break.
One day when Gaby was a teenager, she dove into a shallow pool of water and wasn't able to swim back to the surface. She was instantly paralyzed, relying on her niece to rescue her from the water and into the hospital where she would spend the next two months of her life. But the smile on her face never faded. With Khari at her bedside and insurmountable support from her family and friends, Gaby moved her legs. She was upgraded to an incomplete quadriplegic and took her first steps a year and a half after the accident, and it wasn't long before she was back in the water.
Melissa McClure Photography took the plunge with Gaby and Khari for a radiant underwater engagement shoot in the very place that brought the glowing couple closer than they ever imagined. "When we decided to start dating, we would frequently go swimming together," Gaby says. "Naturally, we both discovered that swimming was great physical therapy for me, allowed us to bond more and was something we both looked forward to. Therefore, being able to shoot in the water was a big deal for us. We were both so happy."
THE LOVE STORY
Gaby and Khari's love story began when they were just six and seven years old. But their first memorable meeting came seven years later at a meditation group in Los Angeles where they were making vegetarian sandwiches to feed the homeless. "He was kind, smart and laughed at my lame jokes," Gaby says. "We instantly connected and wanted to get to know each other. Living on opposite sides of town, getting together proved to be difficult at the beginning of their friendship. But they still managed to talk every day and grew quite close, as it was evident from early on that they had something special. "When we met, it felt like being reunited with a long lost soulmate," Gaby says. And maybe that's because they had actually met before, although the two of them wouldn't discover that until a year later when Khari found a picture of their two families together at a mediation conference in Oakland. It was almost as if they were destined to end up together. "I felt very blessed to God for giving me the opportunity to have such an intense, childhood connection with someone I feel so special about," Gaby says.  
After Gaby's accident, Khari stayed by her side. He read to her while she lay in the hospital bed with a brace tied tight around her neck. Other times, he simply meditated at her bedside, but all the while, he was there. "What's incredible is that my friendship with Khari didn't just survive the accident," Gaby says. "On the contrary, it's growing. Every day we've spent together has allowed us to learn so much about each other and about life."
THE PROPOSAL
Five years after they started dating, Gaby and Khari already knew they would spend the rest of their lives together. But Khari still managed to pull off a surprise proposal that brought his future wife to tears. Khari chose Perch, a restaurant located in downtown Los Angeles known for its glamorous rooftop seating with magnificent city views. "We're big foodies, so Gaby and I were both excited to try something new," Khari says. "I secretly called ahead and asked for a balcony seat with a view." When they arrived, Khari was ecstatic to see they got the best seat in the house where they enjoyed a delicious meal while a live band played in the background. "The mood was great," Khari continues. "All that was left was to pop the question."
After dinner, Khari asked Gaby to take a picture with him, the skyline serving as a breathtaking background. "As Gaby was getting ready to pose for the picture, I pulled out the ring from my camera bag, got down on one knee and proposed," Khari says. Overwhelmed with surprise and emotion, Gaby started to cry. "I think at that moment, I really couldn't believe that it was happening," she says. "It was kind of like a dream." Of course, she said yes.
Wedding Date: March 6, 2016
Team of Talents
Photography: Melissa McClure Photography
Hair/Makeup: Monica Duldulao Professional Hair and Makeup
By Danielle Renton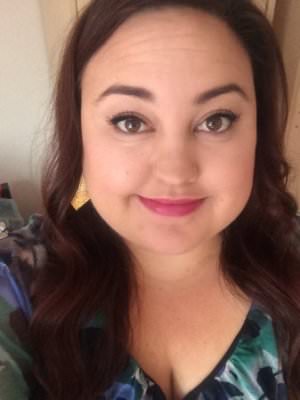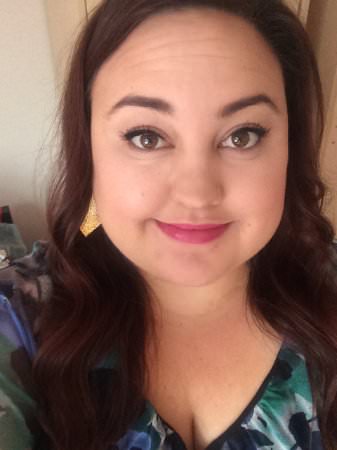 Danielle is a University of Missouri graduate who recently moved to New York, fulfilling a lifelong dream of hers. New York is her first love; writing and editing are her second. When she's not plugged in, Danielle spends her free time exploring the city and finding inspiration in its energy. Aside from her passion for love, she's a grammar nerd, coffee lover and music enthusiast!