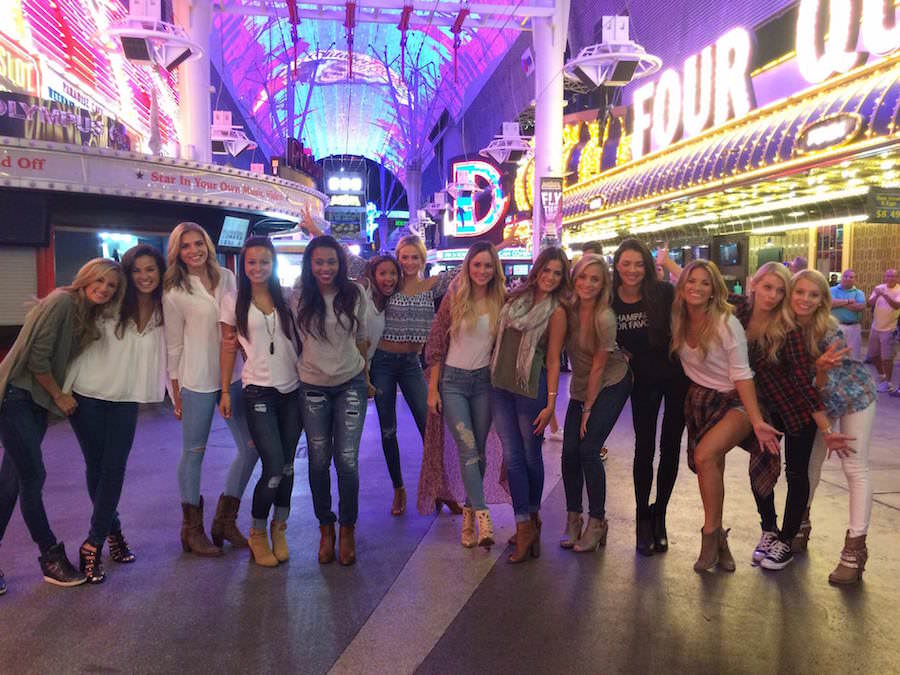 Dear readers, we are approximately one month into season 20 of The Bachelor– – this is week 4. Furthermore … we are in season 20 of The Bachelor. Can we let that sink in for a second? We've been watching twenty guys do this for about 14 years (yes, I Googled it). I have no complaints. Tonight's episode ran the gamut from funny to disturbing to downright awful … and it was beautiful. If you, like me, were a bottle of wine deep while watching, then I'm sure we share the same feelings about the two hours of television we just mindlessly consumed. Let's recap!
Clearly, we start off the previews right with Olivia about to go bonkers and have a full-on panic attack, a.k.a. pulling a Kelsey from last season. We spy her in a talking head telling the camera that she's never felt more sure that "Ben is her man" … yeah, and I'm sure the other girls feel the exact same way. This week, Chris Harrison rouses the girls from their beauty sleep with the news that Ben is no longer in L.A. and they'll have to follow him to Vegas. Coincidentally, the marriage capital of the world. Or, maybe not so coincidentally?
The girls, as expected, flip out. But you have never seen more screaming than when they see the giant sign he rents out for them on the Strip saying "Ladies, can't wait to see you tonight." I would assume it's equivalent to a guy buying out a Times Square billboard, and the girls scream louder when they see it than I would if I saw Beyoncé on the street. And I LOVE Beyoncé.
JoJo gets the first date card reading, "You set my heart on fire." And because this has everything to do with everything, there's a quick talking head with the twins, Emily and Haley, while they walk on the treadmill together … and talk together … and do everything together. How has this shtick not gotten old yet? Besides that, I'm really glad JoJo got the first solo date card of the week because she hasn't gotten nearly enough air time and she seems super cool. Of course, Ben takes her up to the roof for a glass of Champagne and a helicopter arrives. This season has gotten so unimaginative that the dates either involve aircraft or a Jacuzzi. I don't know if I have ever seen this many dates take place in the air. As soon as the helicopter lands, the table gets knocked over and Ben and JoJo start going at it. Say what you want about Ben Higgins, but the man wastes no time.
The second date card arrives while Ben is out with JoJo and the attendees are: Amanda, Jubilee, Caila, Lauren B., Amber, Haley, Emily, Leah, Lauren H., Jennifer, Rachel and Olivia. This means two things: 1.) Becca gets the second one-on-one date and 2.) Olivia makes it very obvious that she's unhappy with this. She literally pulls a blanket over her head and yells. So, basically, we're in kindergarten again.
Back on the date, JoJo mentions her past and says she's trying to move past it. So, natch, I'm like, escandalo! Give me the details! Are you divorced? Are you a mail-order bride? Tell me everything! And it's the most boring past of all the boring pasts … she loved a guy who cheated on her. Girl, tell it to someone who hasn't gone through that. We've all got trust issues (and I'm willing to bet a decent amount of us have dealt with some level of infidelity). Ben gives her a first date rose — which was the quickest first date rose ever — and takes her to a rooftop fireworks show. Cute. Olivia loses it, by the way, in case you were wondering.
The group date approaches and they're holding a talent show with a famous Vegas comedian and puppeteer, Terry Fator. Each girl needs to figure out a talent because — surprise! — they're opening for Terry at his next Vegas show at the Mirage. Of course the twins Irish step dance together, because of course they both took the same class and of course they can both still do it at the same time because they are the twins from The Shining. No? OK. Jubilee can play the cello which is amazingly cool and Olivia has no talent. At all. The majority of this date is spent speculating over what Olivia is going to do.
Fast forward through some seriously painful acts (besides Jubilee's cello recital) including Lauren H. dressed as a chicken to Olivia jumping out of a cake and awkwardly dancing around said cake. On stage. In front of a packed house there to see Terry Fator. This is why she has the panic attack we see early on in the episode and I can kind of understand it. Like, it's funny for me, but imagine being the person who actually did that. However, if you can't laugh at yourself…
Back at the post-show cocktail hour, Caila literally latches onto Ben — and I mean literally — and one of the girls kisses the puppet (I can't remember who. I think it was Jennifer. I can't remember who she is because she is the Samantha of this season). Olivia, of course, interrupts this to talk to Ben because the million other times she's interrupted him this season just don't cut it. The girl feels the need to explain literally everything she does to him  which makes you think she can't be that comfortable with him, no matter what she says.
Olivia then realizes how awkward she made her conversation with Ben, and shoves almost her entire hand in her mouth. She was probably drunk, but, like, girl. You're giving me serious Ashley S. on Chris Soules' zombie date vibes. Go get yourself a pomegranate/onion.
In other news, Ben and Lauren B. sitting in a tree, K I S S I S S I P P I. She even tells him that her first date with him could be her last first date ever. Progress? I think so! While Ben is talking to different girls, the other girls on the couch are watching Olivia as she circles Ben like a hawk. She's ba-ack … to ask Ben to start over since she embarrassed herself in the last conversation. Ben tells her to stop apologizing for how awkward she feels but she just doesn't stop. Lauren B. gets the rose because she's perfect and she's going to marry Ben (at least, that's what would happen if I controlled the universe).
We're finally at Becca's one-on-one date which we've seen in commercials and social media teasers: the gross wedding dress. Ben's proposal? "Will you marry … other people with me today?" They're going to be performing weddings in a Vegas chapel. Do I wish I could have done this? HELL YES! Am I glad she changed into a cute lacy swing dress instead of the monstrosity Ben sent to her? HELL YES! Everything is okay in my book. You do have to wonder, how desperate are these couples to get on TV that they were willing to get married by the Bachelor?
After the chapel sesh, Ben and Becca head to a neon sign graveyard, which Brittny and I give our wholehearted approval of. It sounds super cool. The conversation gets kind of boring, and of course they drift onto the topic of Becca's virginity, because why wouldn't they? The date ends with Ben and Becca giving some super saccharine vows to each other. It's not worth commenting on other than that.
If you thought this was getting boring, you're in for a huge surprise, because Ben decides to do an early hometown date with the twins. Obviously one of them is getting sent home, it just makes sense. Honestly, it's really got to suck to be competing on The Bachelor with your sister. Why would you ever think that was a good idea? In the limo after Ben picks them up for their date, one of the girls (I still can't tell them apart) goes, "This is the exact way we go home!". Uh, no shit. It's because you're going to your house.
As soon as they arrive, Emily and Haley's mom (a.k.a. Regina George's mom), welcomes them in as Ben brings her some seriously gas station-level pink daisies. Hate to be mean, but I speak the truth. Also, the twins have basically twin dogs. Just a note of importance. Emily takes Ben on a tour of their house and the girl could not have more Victoria's Secret fragrances in her room. It's the weirdest situation I've ever seen; Ben is cuddling with Emily in her childhood bed in one room while Haley's just hanging out with her mom in the other room. As you may have predicted, Ben ends up sending Haley home from the competition IN FRONT OF HER MOM. AND HER DOGS. AND HER SISTER. He rides back to the hotel with Emily in the limo while Haley stays behind. Rough.
We get to the cocktail party and I seriously want to know how Jennifer is still on this show, because no one knows who she is. I will tell you, though, is that all the girls definitely know Olivia and absolutely can't stand her. Jen (if that is her real name) was chatting one-on-one with Ben and then stood up out of nowhere saying, "I'm about to be interrupted" because she saw Olivia circling like a vulture. Honestly, she's a vulture. Although, I do have to say that if the girls spent half the energy they complain about Olivia on stealing Ben away from her, they would be a lot more productive, but that's just my opinion.
Now for my second Mean Girls reference of the night, was Olivia's plea to Ben basically saying "I just want you to love me" (I'm paraphrasing) eerily reminiscent of Cady Heron begging Aaron Samuels to listen to her re: Regina George right before she puked on his shoes? Life imitating art, man. So many parallels. I honestly thought JoJo was going to call Olivia out for being a psycho, but instead she wanted to see how her date went. Very sneaky. Ingratiating yourself with the resident psycho. I like it. I want to see more of JoJo!
I personally love the rose ceremony and look forward to it every week, so here are the ladies that will be Bachelor-ing on for another week (besides those that already got a rose tonight): Amanda, Lauren H., Jubilee, Emily, Caila, Jennifer, Leah and … Olivia.
Sorry, Amber. I feel really bad, especially since you threw yourself sobbing into the sofa and all, but this is not a Jane Austen novel. Chill, babe. Time to move out of the manse.
Thoughts & Feelings
I'd like to dedicate this week's thoughts and feelings section to the best Olivia quotes of the night.
"Ben is my man — at this point, I've never felt more sure."
"I know that we have the strongest relationship."
"I LOVE THIS MAN."
"I can try sexy, but I'm still gonna make it awkward."
"Can we start over?"
"It WAS reciprocated" — re: telling Ben she loves him
Texts From My Editor
"I hear there is an Olivia mouth filter on SnapChat … I tried doing it but I don't know how to work SnapChat. #imold"
"The way they shoot the twins' talking heads makes it look like they're Siamese twins."
"Omg why is she [Olivia] eating her fingers?"
"Ben just said "jump their bones." He's officially my favorite bachelor."
Photo credit: ABC.com
Past Weeks:
Episode 3: I Hate My Legs
Episode 2: I'm Not a Crazy Girl at All
Episode 1: Are You a Chicken Enthusiast?
By Meghan Kennedy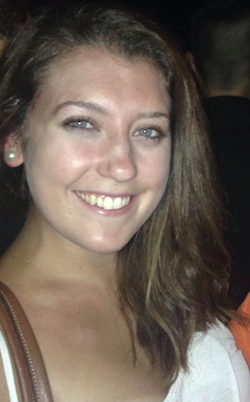 Meghan is a recent graduate of SUNY Geneseo with a degree in Personal and Professional Communication. You can find her at the nearest Chipotle tweeting about Drake, her sorority little and Project Runway.