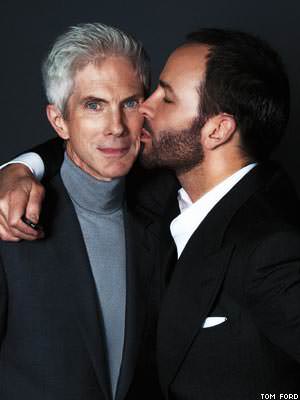 Last night, during a conversation with British creative director Kinvara Balfour at the Regent Street Apple Store in London, fashion designer Tom Ford waved his newly placed wedding ring and announced that him and his partner of 27 years, former UK magazine editor Richard Buckley, had recently tied the knot. "We are now married which is nice," said Ford. "I know that was just made legal in the UK which is great; we were married in the States."
This power couple's love story was published in Out Magazine's special LOVE Issue in 2011 in which they both share their perspectives of that first meeting and gave us a raw, inside glance into their intense devotion that they had for each other over the course of a relationship that was filled with obstacles, love and loss. Here are two excerpts from the feature, one from each man's viewpoint, of that fateful first meeting:
Ford: We first encountered each other at a fashion show in New York in 1986. He was 38 at the time and the fashion editor of Women's Wear Daily. He was confident and handsome in a way that made him almost unapproachable. His stare was so intense that it completely unnerved me, and when the show was over I literally bolted out the door and down the street to avoid him. Ten days later, my employer, Cathy Hardwick, sent me to the office of Women's Wear Daily to retrieve some clothes. I was directed to the roof where they were being photographed, and as the elevator opened, there was the man with the eyes the color of water. He rushed over and introduced himself as Richard Buckley and told me that the clothes were actually downstairs and offered to take me down to what was then called 'the fashion closet.' He was adorable, and he was a complete fool. He was sort of dancing around, flashing his eyes at me, and trying so hard to be charming. I decided in that elevator ride that I was going to marry him. I'm very pragmatic, and I was, like, OK, there's some kind of connection here. He ticked every box, and — boom — by the time we got to the floor, I was like, OK, sold. He seemed so together. He was so handsome, he was so connected, he was so grown-up, so he was very intimidating. And he really chased me — not that he had to chase that hard. It excited me but it also scared me, because I knew he was different and that whatever it was I felt with him was very different from what I'd felt before.
Buckley: On my fourth day back in town, I attended the show of a young designer called David Cameron. As I was waiting for the show to begin (it was held in a loft), I noticed a guy standing in the crowd off to the side and thought, Cute. Definitely cute. When the show was over, I sat in my seat, fiddling with my pens and my notebook, until I saw his camel coat out of the corner of my eye. I hopped up and started to walk out with him. Like I said, we were in a loft, and the quickest way out was by the stairs. As we walked, I would look over at him from time to time and smile. He'd give me a weak smile back. This went on until we hit the street, when I swear he sprinted away from me.
Fast-forward 10 days, and I am up on the roof of the Fairchild building on 12th Street doing a hideous shoot for WWD. … At that point, I told him [the art director] about this guy I'd seen at David Cameron's fashion show and how he'd disappeared. Literally two minutes later, Harry, from the photo lab, came up on the roof and said, 'There's some guy here from Cathy Hardwick to pick up clothes.' It was then that the guy from the fashion show stepped onto the roof. …
… I went over and told the young man I could give him all the clothes except for the dress we were going to photograph, most likely, for a cover. I took him down in the elevator to the WWD floor. The whole time down in the elevator I was babbling on like a schoolgirl. It is at this point, when telling this story, that I like to put my hands up to my head and wiggle my fingers like eyelashes. I was shamelessly flirting with this boy. He, meanwhile, said nothing, and the quieter he was, the sillier I became.
Read the full, almost unbearingly adorable, love story here.
Photo from Out.com