By Brittny Drye | Photography by Michelle Girard Photography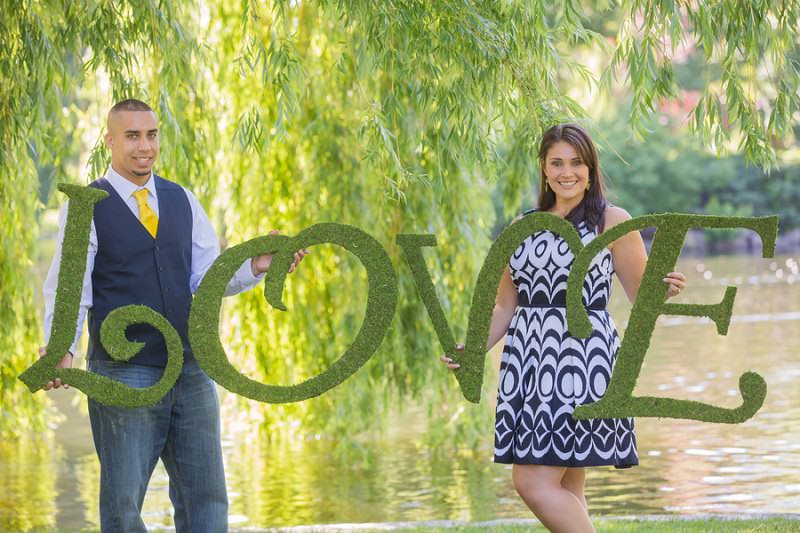 This couple has mastered the art of accessorizing. Chris and Michelle had their love captured by Michelle Girard Photography around their home city of Boston looking stellar with complementary outfits detailed right down to the hats and jewelry they wore (can you imagine how great they're going to look for the big day?). A picnic, wisteria-covered trellis, over-sized moss "LOVE" signage and gelato also make an appearance for an engagement shoot that is chock full of personality.
The Love Story
Chris first laid eyes on Michelle when she was hosting a tour of a local Boys & Girls Club for young professionals that he was attending with co-workers. While he didn't have the guts to ask her out then, they came across each other two months later at another event and Chris knew he couldn't let her get away. "To this day, Chris swears that he knew that I was The One from the moment he saw me," says Michelle.
The Engagement
A year later, they were planning their first vacation together to the romantic Caribbean island of Bermuda. "She had no idea what was in store for her because as far as she was concerned, it was just going to be a relaxing getaway for her birthday and our very first real vacation together," says Chris. After a day of snorkeling, they had a romantic dinner on the water and, just as the sun was setting, headed toward one of the island's most picturesque spots, Tobacco Bay. "Michelle kept holding me up by taking pictures of old buildings and random flowers she thought were pretty … I was a man on a mission so I kept patiently telling her to hurry it up," laughs Chris.
Once they arrived, they climbed a rock that soared 50 feet above the water, taking in the views as the sun dipped below the glistening Atlantic Ocean, without a soul in sight. "After a few minutes of taking it all in, I told Michelle how much she meant to me and how I wanted to spend the rest of my life with her," explains Chris. "I took the traditional approach and got down on one knee, held up the ring in my hands and asked her  'Quieres casarte conmigo?' — Spanish for 'Will you marry me?'"
"The first words out of her mouth were 'SHUT UP!' so I wasn't really sure what that was supposed to mean, but she quickly said yes after realizing that she had told me to shut up," he adds laughing.
"I was totally caught off-guard when Chris asked me to marry him. I couldn't have asked for a better man to ask for my hand in marriage and I thought it was so sweet that he proposed to me in Spanish," says Michelle. "That really meant a lot to me." After the proposal, they toasted their engagement at the house they were staying at with a glass of wine by the water. "I would definitely call it a great ending to the perfect day!" says Chris.
The Ring
"Years before we got engaged, I had overheard Michelle talking to my brother, who was in the midst of picking out a ring for his girlfriend, about how much she valued Colombian emeralds because of her heritage," explains Chris of his ring choice. "Instead of going to any jeweler to pick out an over-the-counter ring, I decided to work with a local jeweler to custom design a ring for Michelle." The center setting of the ring is a princess cut diamond with alternating emeralds and diamonds on the side. "When I gave her the ring in Bermuda on that July evening, it was everything she had envisioned and more."