After nearly eight years together, Katelynn and Marina planned the wedding of their dreams to celebrate their love on a charming farm in South Carolina. With a beautiful burgundy color palette, rustic wood slices and an incredible dessert bar with seven different wedding cakes, this wedding had all the ingredients for an incredibly memorable day. Captured by Cory Lee Photography, Katelynn and Marina say their wedding day felt like a true fairy tale. And it sure looked like one, too!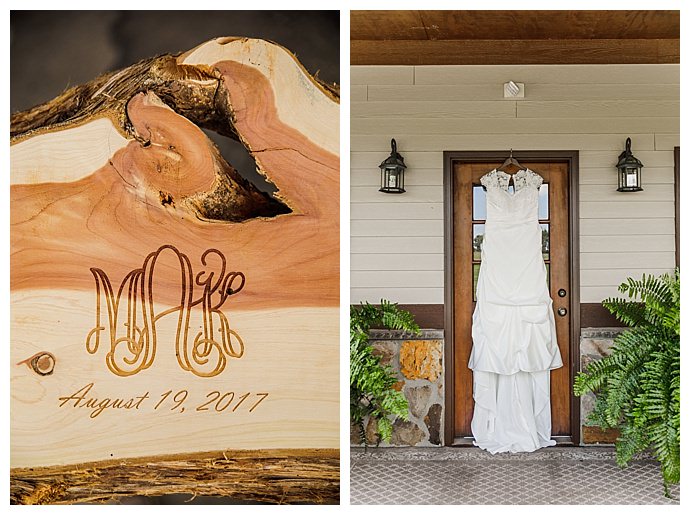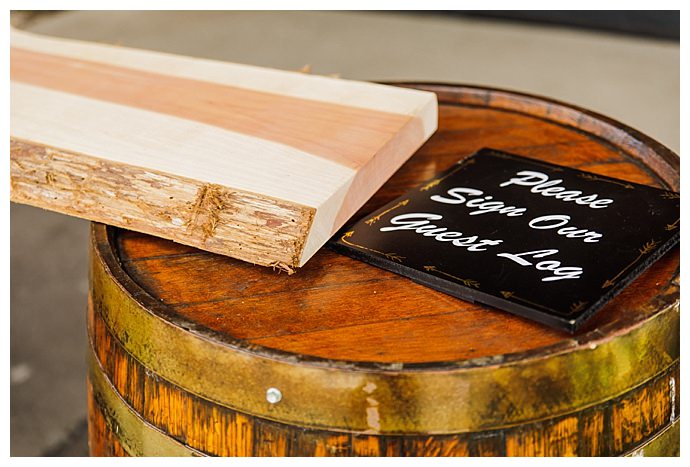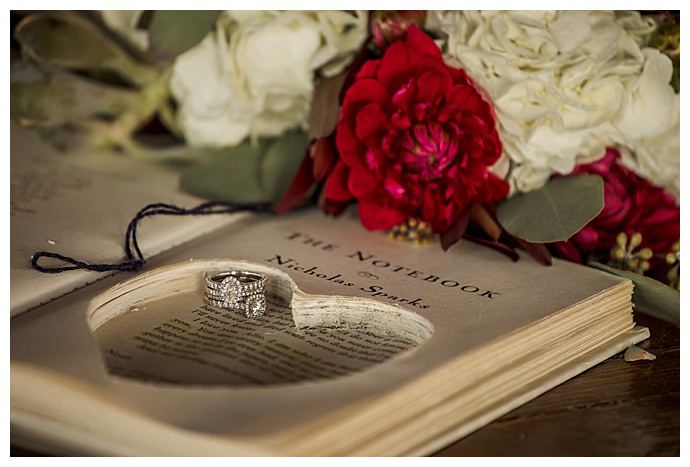 The Love Story
Katelynn and Marina were attending college two hours away from each other in South Carolina, but that didn't stop their mutual friends from sneakily setting them up at a party. "Hours passed and Katelynn hadn't shown up," Marina says. "Finally, the patio door opened and out walks this girl — she was unlike anyone there. Just in her smile, everything told me she was something different." When Marina's friends first told her about Katelynn, the distance was a deal breaker. But after Katelynn hugged her the moment they first met, the distance no longer mattered.
Seven years later, Marina planned a road trip for Katelynn and two of their closest friends to Southport, North Carolina, where one of Katelynn's favorite books and movies, "Safe Haven" was filmed. "Katelynn is a huge Nicholas Sparks fan," Marina says. "She's read almost all of the books and makes it a point to watch all of the movies — two of her favorite being 'Safe Haven' and 'The Notebook.' I wanted to take her love for the author and her sappy personality and make this something she wouldn't forget."
After they spent the day exploring the town, Marina took Katelyn for a walk along a dock that winded through the salty marsh. When they reached the end of the dock, where a scenic view of the Oak Island Lighthouse was waiting for them, Marina pulled one of Katelynn's favorite books, "The Notebook," out of her bag and handed it to her. "I talked about how we'd been together for nearly seven years and how I couldn't wait to come back one day with our kids," Marina says. "When she opened the cover, she found a heart that I carved out, and Katelynn's ring was tied inside. I untied the ring, got down on one knee and asked if she would marry me."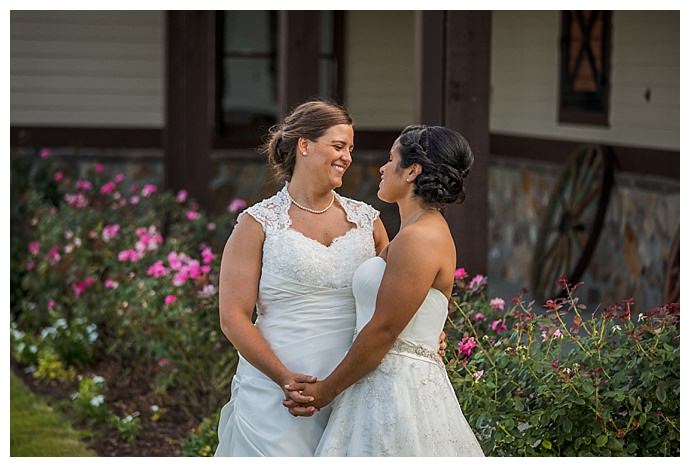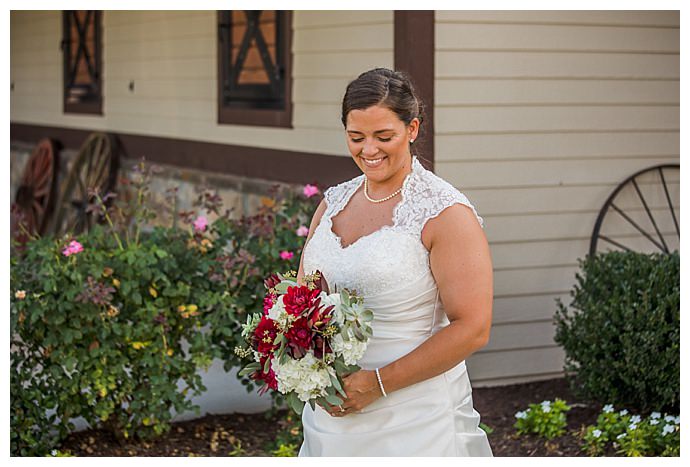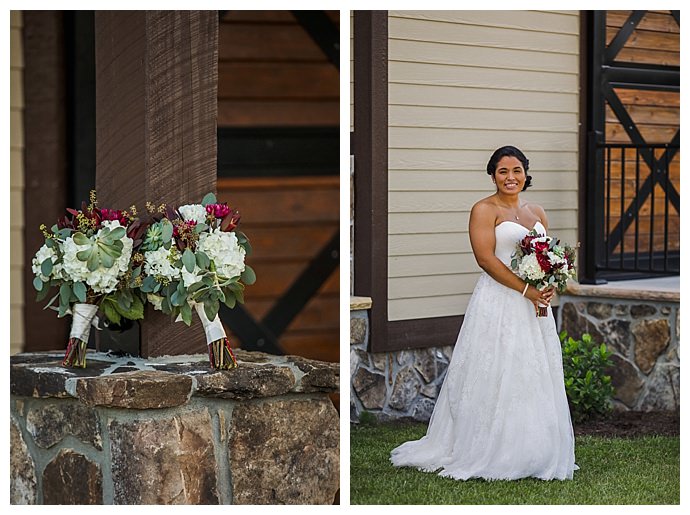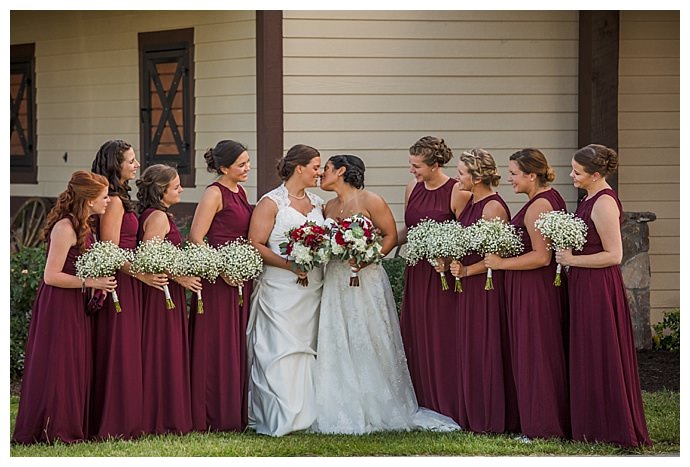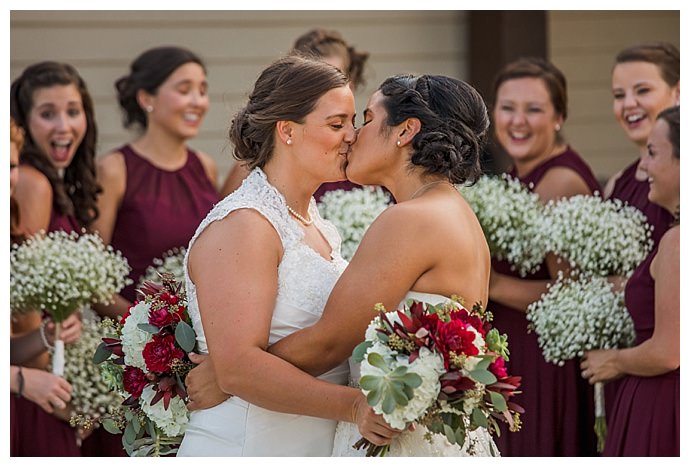 The Ceremony
Ever since they were little girls, Katelynn and Marina shared the same dream of walking down the aisle in a white wedding dress. With their best girls dressed in burgundy by their sides, Katelynn and Marina tied the knot at the Farm at Ridgeway, a gorgeous rustic venue tucked into the rolling hills of South Carolina's midlands. The brides carried bouquets of succulents, safari sunset flowers, baby's breath, hydrangeas and dahlias, and Katelynn tied a family heirloom necklace — dubbed the nanny necklace — around hers, which has been passed down to every girl in their family for their wedding day. The light was perfect as the brides exchanged vows, and after the ceremony, they took advantage of the golden sky for some romantic portraits on the farm.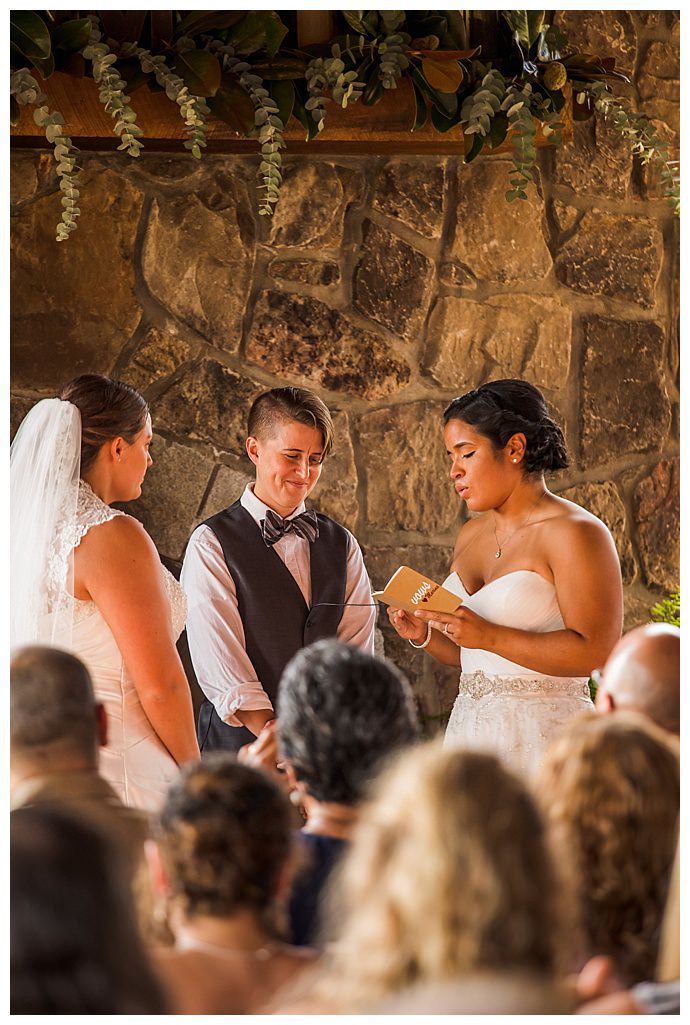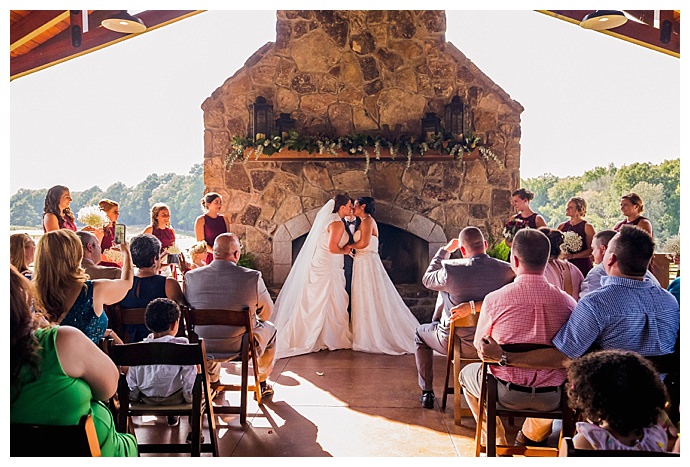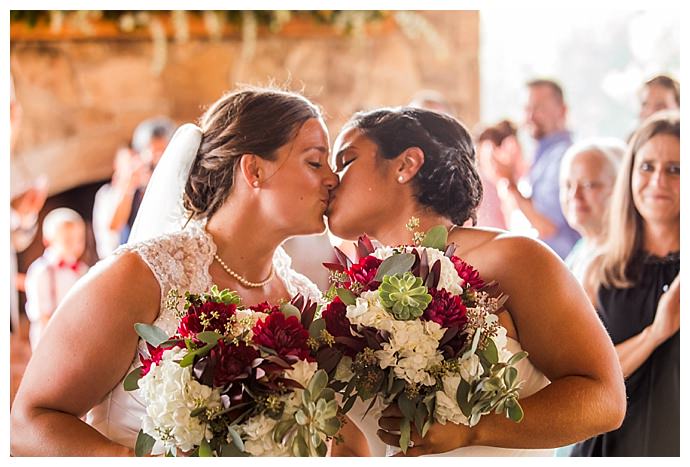 The Party
Katelynn and Marina's rustic wedding was brought to life with modern calligraphed signs, splashes of burgundy and an epic dessert table with seven decadent cakes. The newlyweds' cake was two layers of funfetti smothered in white rippled frosting, accented with succulents and greenery. Providing a variety of flavors for their guests, the other six cakes were snickerdoodle, cookies and cream, lemon poppy, strawberry, chocolate and red velvet.
Katelynn and one of her best friends sanded and glazed log slices for centerpieces, which rested atop a burgundy table runner and held a mason jar filled with white hydrangeas. The brides also handpicked a long piece of cedar wood to use as their guest book, which was engraved with their monogram and the date of their wedding. For favors, Katelynn and Marina had burgundy personalized beer koozies as well as a popcorn bar with thank-you bags.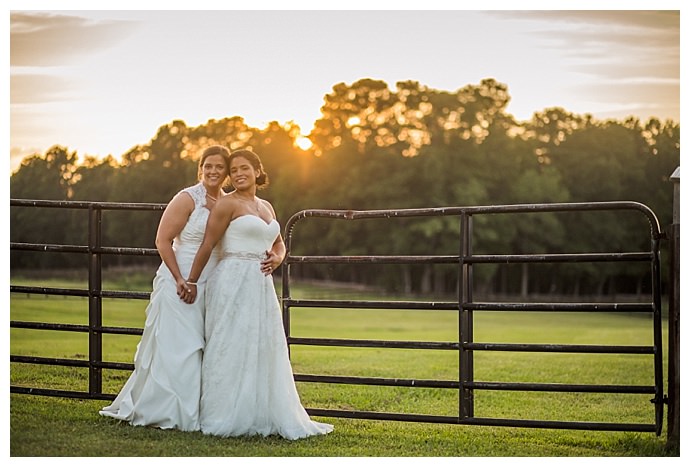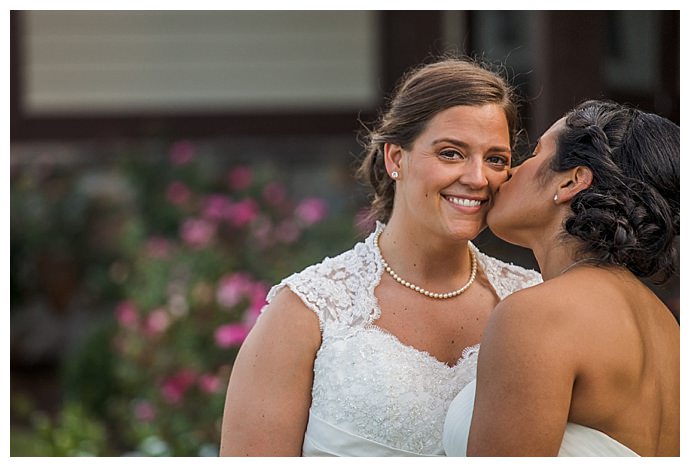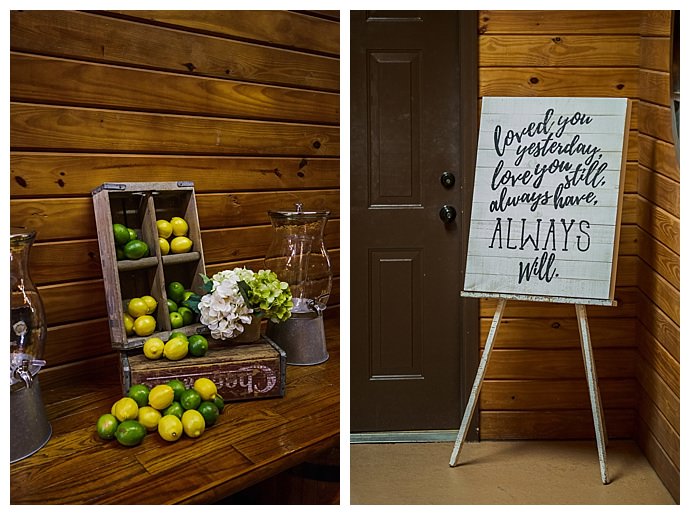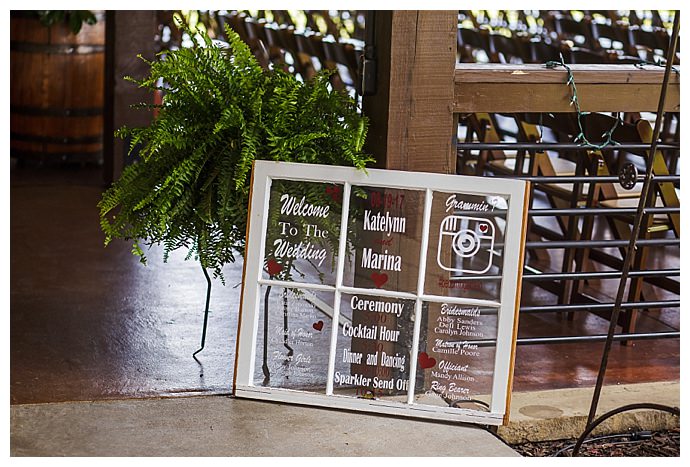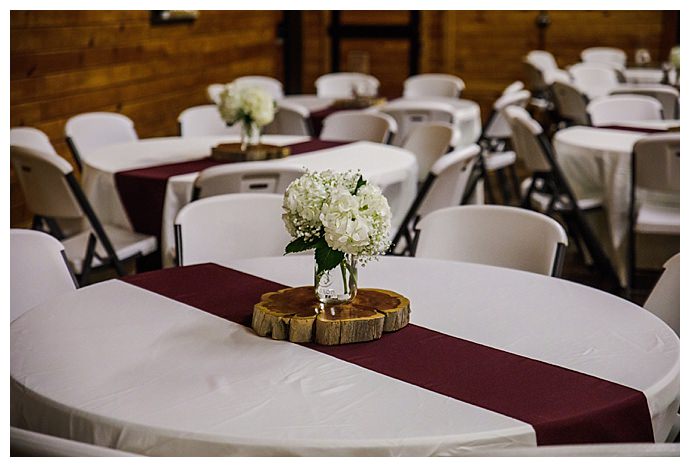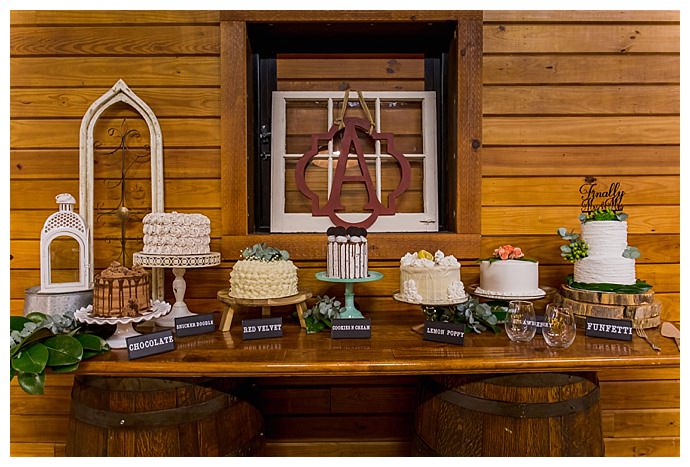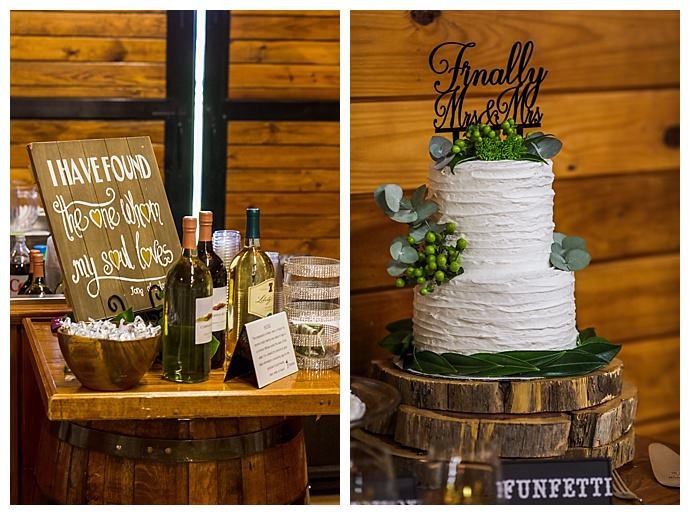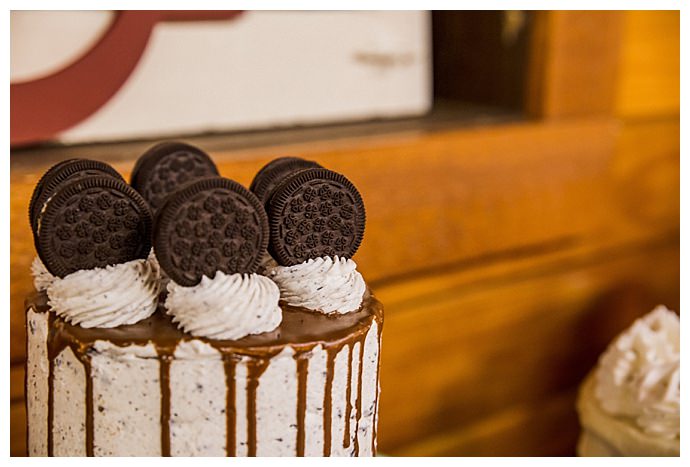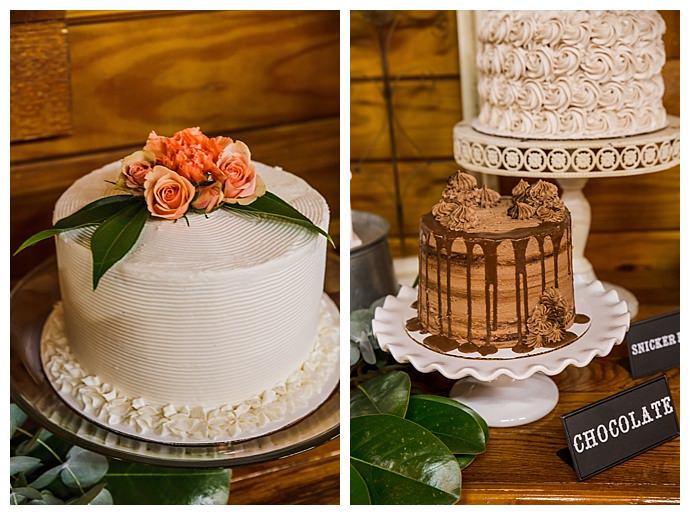 Memorable Moment
"One of the best parts was seeing our families merge," Marina says. "This has been a journey not only for us, but also for our parents. Having lesbian daughters who are now getting married was a process for each of them. After all these years, to watch them finally come together and welcome us both with open arms was beautiful."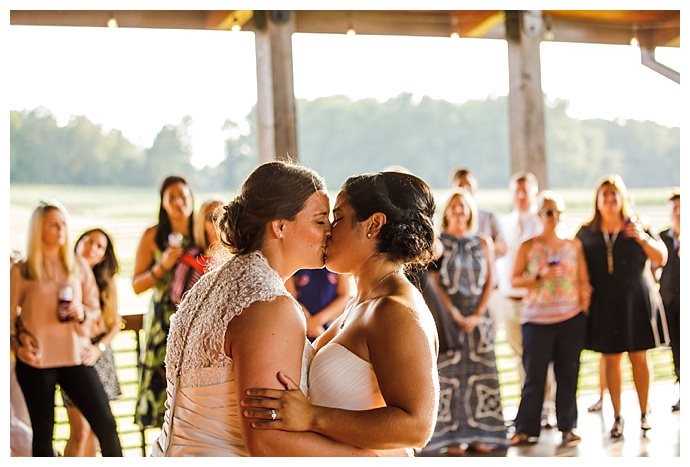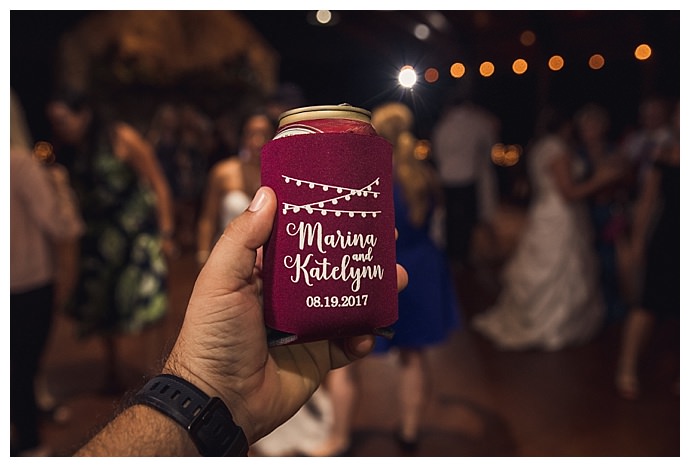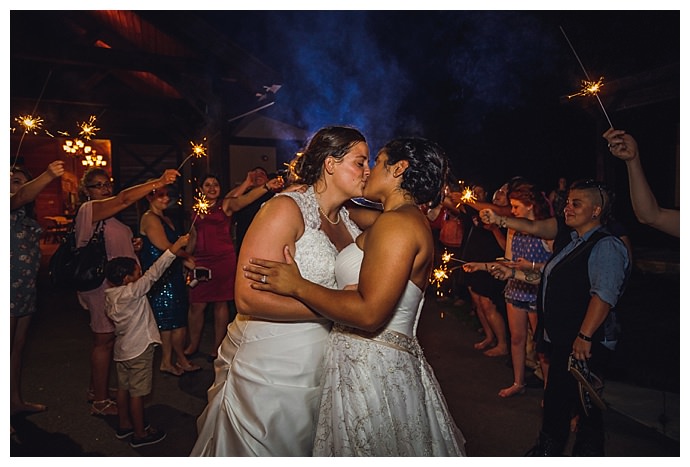 *Editor's Note: This post contains affiliate links. Each time you purchase an item via our affiliate links, Love Inc. is receiving a small percentage of the sale, thus you are helping our small, equality-minded business grow and allowing us to provide more content for YOU! Isn't that just fantastic?