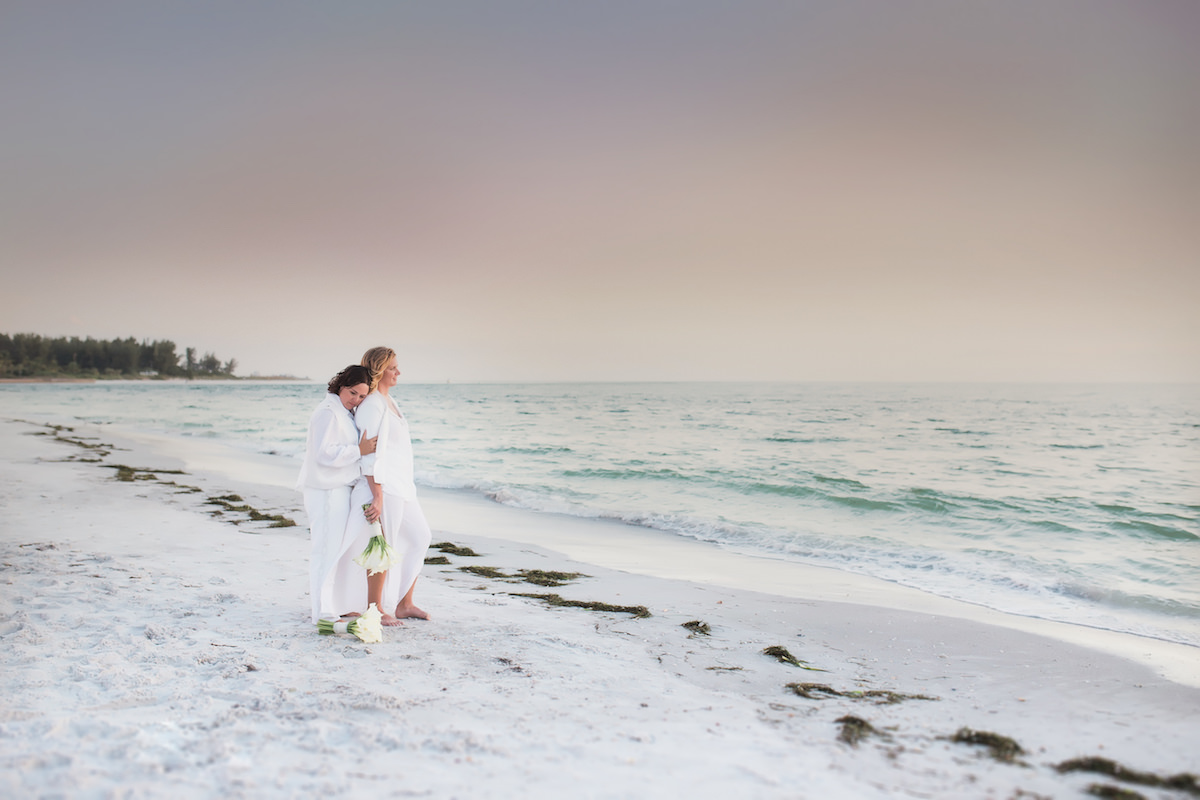 A white sandy beach is no place for shoes. Laura and Lauren took this seriously as they planned their beach wedding at Longboat Key in Fla., where their guests sat in chairs overlooking the ocean with their toes buried in the soft white sand as Laura and Lauren said I do. "We love the beach and this is the beach that Lauren grew up on visiting her grandparents who live on Longboat Key," Laura says. "We spent many weekends on this beach and thought it would be the perfect place to get married."
For two brides who love the beach, they took it one step further by incorporating a nautical theme with beautiful shades of blue into every last detail in their special day. NK Productions helped them bring their vision to life, creating a beach-worthy backdrop and absolutely gorgeous tented celebration right on the sand. Lauren even handmade some of the decorations, including painted wooden buoy table numbers and sand dollar placement cards that beautifully garnished the cream-colored table tops.
Tara Tomlinson took pictures while Current Films documented on film, as Laura and Lauren walked down the aisle together, shared their first walk along the beach as newlyweds and then celebrated with a delicious meal and lots of dancing with their closest friends and family.
THE LOVE STORY
Along the bright green grass of a soccer field, a painted white line separated the best team in the league from the second best, and coincidentally, Laura from Lauren. At the time they first met, Laura and Lauren were each other's competition on the field. But when Lauren was asked to join Laura's team for a tournament, a spark between them had them dating in no time at all.
A quick four and a half years later, Laura and Lauren had already picked out their rings, but neither had popped the question yet. On a Friday afternoon, Lauren walked in the front door of her home to two dozen red roses and a card that said "Marry Me?" Unaware of Laura's grand plan and without looking up, Lauren casually responded,"Yes, of course; we've talked about this." But the surprise was waiting for her when her gaze fell on Laura who was down on one knee with a ring in her hand. "Well, I couldn't just pick up yours," she said. "Mine is in the car."
THE CEREMONY
Custom designed by Marisu Moda, each bride wore a white, flowy outfit with pieces of material made from sailboat sails to fit their nautical theme along with matching white flip flops. They walked down the aisle together, clasping a crisp white bouquet of calla lilies — their favorite flowers. And during the ceremony, Lauren's aunt read Robert Frost's "The Road Not Taken" in honor of her grandmother who lived just down the beach from where they were standing. To close out the ceremony, Bob Marley's "Could You Be Loved" played as the newlyweds walked hand-in-hand back down the aisle with smiles stretching from ear to ear.
Team of Talents
Photography: Tara Tomlinson
Videography: Current Films
Wedding Planner and Designer: NK Productions
Venue and Catering: Longboat Key Club
Florals: Victoria Blooms
Tent Decor: Affairs in the Air
Cake Design: Pastries by Design
Wedding Attire: Marisu Moda
Band: Clint Wiley's None Other
Officiant: Grace Felice