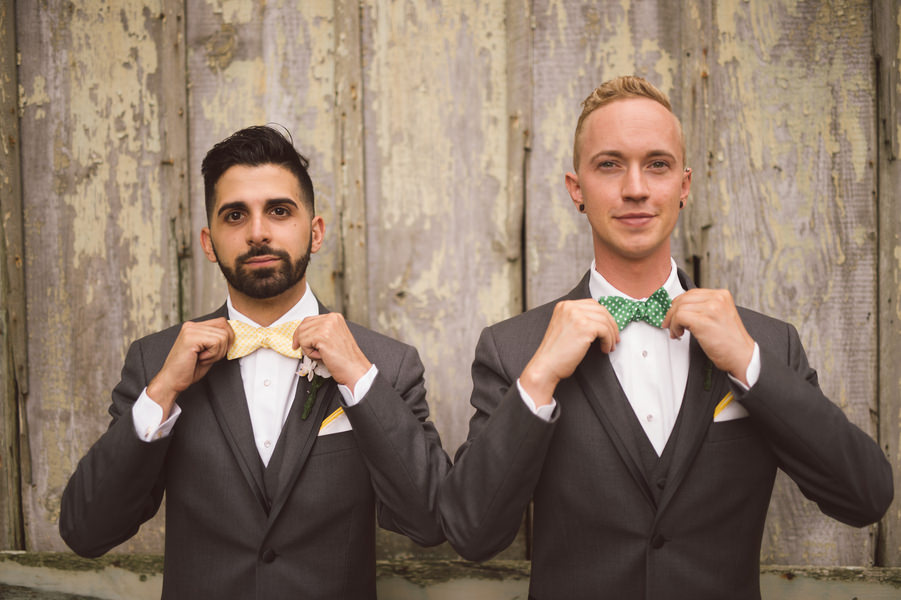 Some people subscribe to the theory that seeing is believing. For me, seeing these two on their wedding day is believing that true love not only exists, but also flourishes. My heart is simply overflowing with the amount of joy and love in their eyes. These beautiful pictures by Tyler Boye Photography showcase the personalized details of their gorgeous outdoor wedding on the Fourth of July at the historic Knowlton Mansion in Philadelphia.
THE LOVE STORY
Some of the most successful relationships blossom out of friendships. This was the case for Joe and Michael who became friends in an art class they took in their junior year of high school. It wasn't long after Joe and Michael fell in love that they traded in their high school book bags for college textbooks at Penn State University where they both attended college and pursued their passions. "It was actually at Penn State that Michael proposed over Arts Fest Weekend exactly eight years from our first weekend away together at Penn State before we had even begun dating," Joe says.
THE VENUE
The first time Joe and Michael saw Knowlton Mansion, it was love at first sight. "It had an elegant and effortless style that flowed throughout the house and combined the beauty of nature with the art and sophistication of the architectural style," Joe says. "The intimate feel of the house made it incredibly comfortable, and we were able to add our own sense of style to every room and truly make it feel like our home for the day." Built in 1881, the mansion is known for its rich history and Victorian architecture, and it fit perfectly with their vision for strong geometric design paired with a natural elegant atmosphere.  
"We covered the inside of the venue with live plants to transcend the walls and bring nature into the mansion itself to remind our guests of the natural beauty of the venue," Joe says.
THE FASHION
Joe and Michael stood across from each other as they said their vows wearing matching  gray tuxedos by Vera Wang and brown leather shoes. Fastened to a white shirt, Joe wore a green bowtie with white polka dots, and Michael sported a printed yellow bowtie, which paired perfectly with a white pocket square outlined with a yellow border that was tucked into each of their jackets.
"Both of us agreed that we loved the idea of wearing our favorite colors of yellow and green to symbolize our individuality and the aspects of ourselves that we would now be sharing for the rest of our lives as a new, inseparable couple," they say.
THE CEREMONY AND RECEPTION
The Fourth of July is a day filled with celebration. From classic American hamburgers and hot dogs to cans of beer decorated in red, white and blue, nothing screams Independence Day more than eating and celebrating with friends as the nighttime sky erupts in colorful fireworks. When Michael and Joe set out to pick a date for their wedding, July 4th had a symbolic meaning for them: It would mark the start of their new journey together.
Personalized elements were prominent throughout the ceremony and reception, as it was important to Joe and Michael to make every aspect of their special day meaningful. In between joyful tears, Joe and Michael recited their own vows and incorporated readings from 2 Corinthians and "Les Miserables," read by Michael's sister and Joe's aunt. At the reception, "our tables included gold candelabras, natural succulents, ferns and moss atop a gold charger," Michael says. "The live plants were placed perfectly in handcrafted and one-of-a-kind ceramic vessels each made by Joe in the months before the wedding."
MEMORABLE MOMENT
"From the start of the wedding with Beyonce's 'XO' to the end of the night and Donna Summer's 'Last Dance,' every moment of our wedding was memorable and uniquely us," they say.
Team of Talents
Venue: Knowlton Mansion
Photography: Tyler Boye Photography
Catering and Cake Design: Conroy Catering
Band: EBE Events and Entertainment
Wedding Suits: Vera Wang
Bowties: Mrs. Bow Tie
Florals: Henry Assetto
Officiant: Whitney Watts Moussaeu