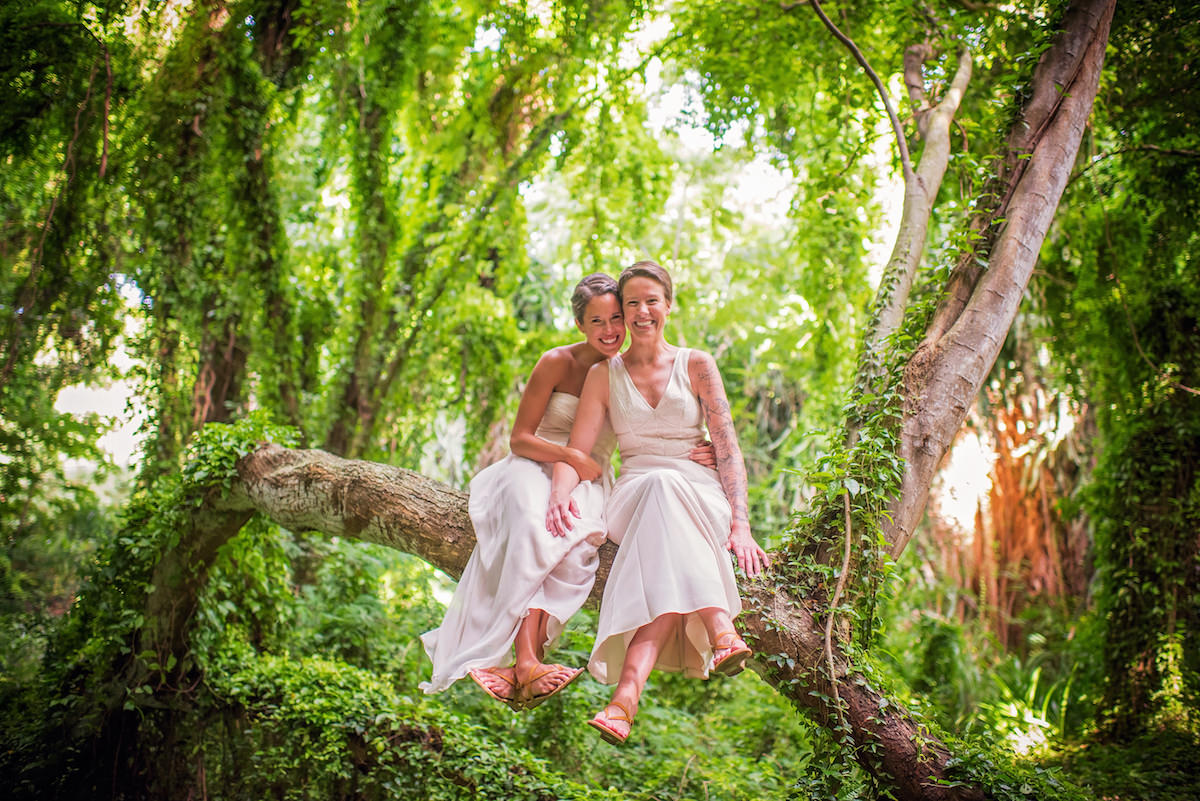 Hawaii is often thought of as one of the best locations for destination weddings. Its clear blue water and tropical landscape create a unique romance perfect for couples to celebrate their newlywed status. So when Steph and Meg decided to forego a big wedding to secure a house for their future together, Hawaii was a no-brainer. Mariah Milan Photography captured the gorgeous elopement of these two adventurous souls on the rocky cliffs of Hawaii. 
THE LOVE STORY
Meg and Steph first met when they were set up on a blind date by mutual friends. It's not very often that you walk away from a blind date with a connection, but Meg and Steph are some of the lucky ones — their friends knew them well. Even after the first date when Steph learned of their 10-year age difference and that Meg was not in college but actually an administrator, the two had already fallen hard enough for those small details to matter. They moved in together early on in their relationship, and five years and a move from Philadelphia to Oregon later, Meg decided it was time to pop the question.
She planned a scenic hike with their two beloved dogs to the top of a mountain that greeted them with breathtaking panoramic views of the Oregon coastal range. It was then that Meg got down on one knee with a pair of matching bands that outlined the river lines of Philadelphia and asked Steph to spend forever with her. The hike up the mountain had been rough on them both, Steph riddled with anxiety and Meg tired and hungry after taking a fall. But the hike back down the mountain as a couple of engaged soonlyweds was much, much different.
THE VENUE
Meg and Steph had been planning their wedding at a winery in Oregon for a year before they switched gears and decided on an elopement in Hawaii instead. Many are drawn to the white sandy beaches that Hawaii has to offer. But not these two; they craved adventure on their wedding day. "We frequently traveled to Hawaii for vacation and knew we wanted an adventurous location that would be memorable," they say.
Before the ceremony, Meg and Steph wandered through the Honolua Forest in long white dresses and matching tan sandals for pictures, where the lush, tropical forest served as the most breathtaking background. They climbed logs and shared kisses beneath trees before they set off on a 15-minute rocky hike to the cliffs against the edge of the Pacific for their intimate ceremony. Waiting for them at the bottom, their four friends who made the trip to Hawaii with them to celebrate this special moment.
THE CEREMONY
Mariah's husband acted as the officiant, and the ceremony was filled with joy, tears and nerves as they held their breath, hoping that their swollen fingers wouldn't reject the rings. With the help of a little chapstick, and perhaps a little love, the rings slid on with ease. Even though they chose the cliffs instead of the beach, they couldn't help but bring some sand with them for a ceremonial sand exchange, taking black sand from the beach and tan sand from their hotel in Maui. The ceremony ended with an adapted literary quote: "For the two of you, home isn't a place. It is a person. And you are finally home."
After the beautiful ceremony, Meg and Steph ate sushi and drank wine oceanside with their four friends before digging into a carrot wedding cake with cream cheese filling and buttercream frosting.
MEMORABLE MOMENT
"The whole experience was absolutely incredible," the happy couple says. "Standing together on that cliff, holding hands and looking into each other's eyes was so powerful. The love that was shared was more than either of us had ever experienced. It was truly a magical moment."