When Kristelle and Amanda were planning their dream wedding, they envisioned a laid-back soiree with all the magic of a fairytale in the serene landscape of upstate New York. With their closest friends at their side and the Hudson River rushing behind them as they exchanged vows, their dream became a reality as every moment of their woodland wedding was practically perfect. TNK Photography was behind the lens to capture all the magical moments, from an endearing first look to a unique unity ceremony, that the brides will treasure for the rest of their lives.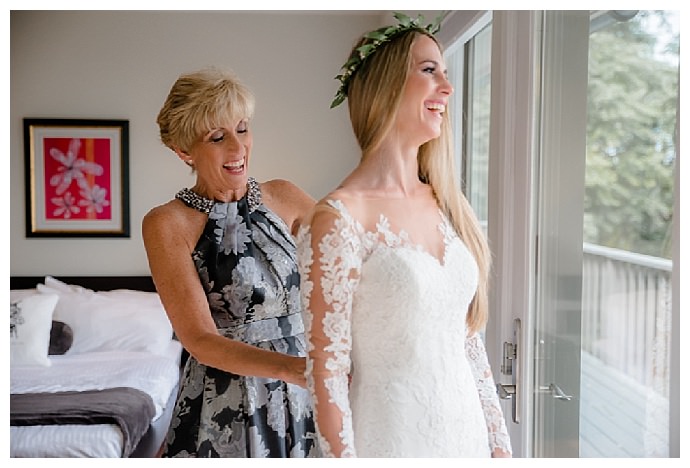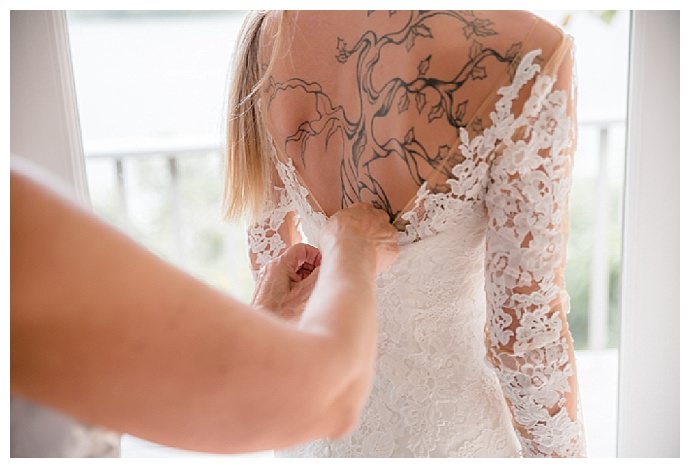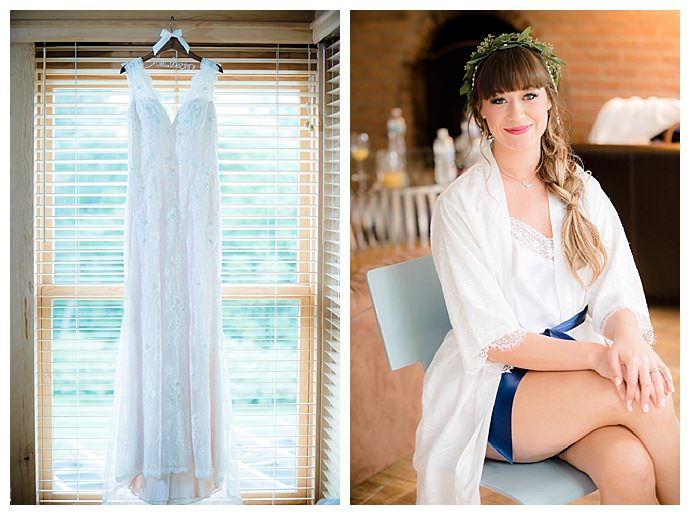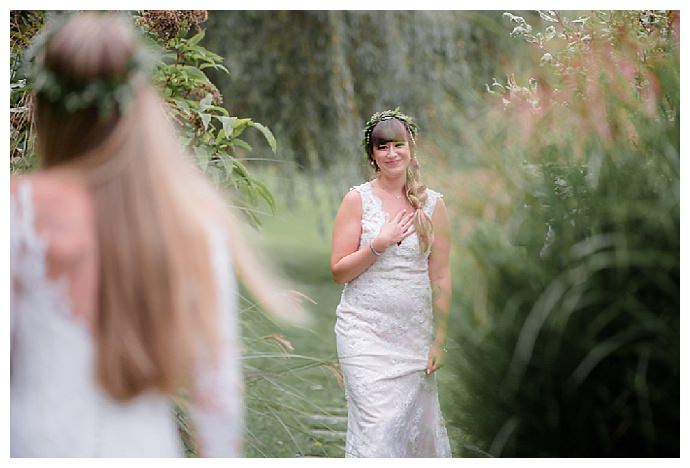 The Love Story
Of all places, it was a psychology class in college where Kristelle and Amanda first met more than eight years ago. They made eyes at each other and then went their separate ways, but fate had more in store for them. Later that night they ended up at the same local bar and started dating only a few months later. They've been inseparable ever since.
To celebrate their five year anniversary, Kristelle surprised Amanda with a trip to a remote island off the coast of Belize. "It took three plane rides and a very choppy boat ride to get to the island," Amanda says. But once they finally made it to their cabana and were getting ready for dinner, Kristelle proposed a toast, which ended, of course, with a marriage proposal that Amanda couldn't say anything but yes to. "About four months later, we went hiking on the Appalachian Trail with our best friend to take some engagement photos," Kristelle says. "At the foot of the waterfall, Amanda proposed to me while our friend was taking our picture."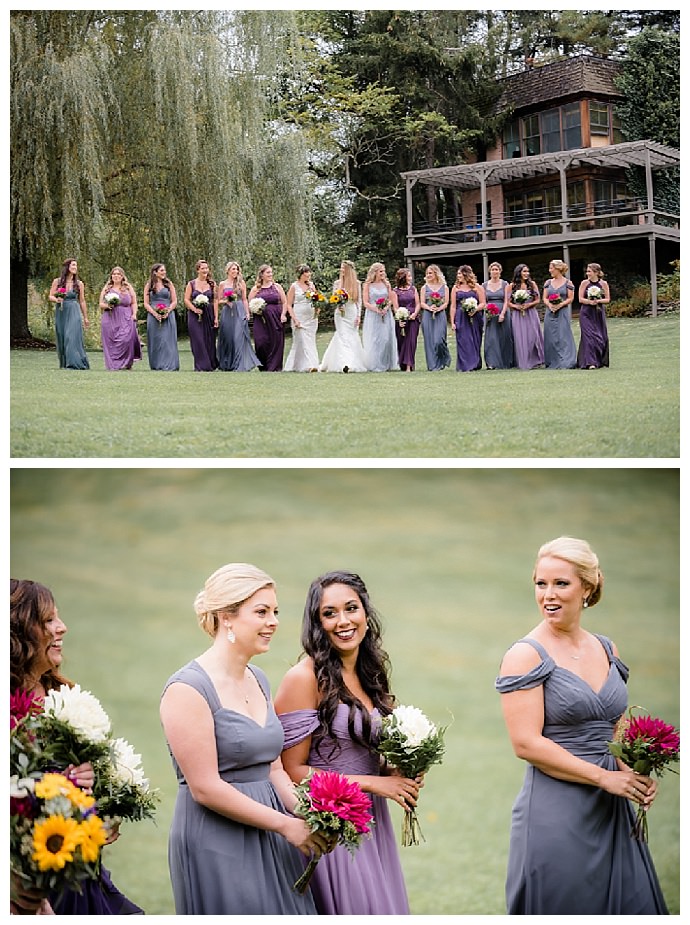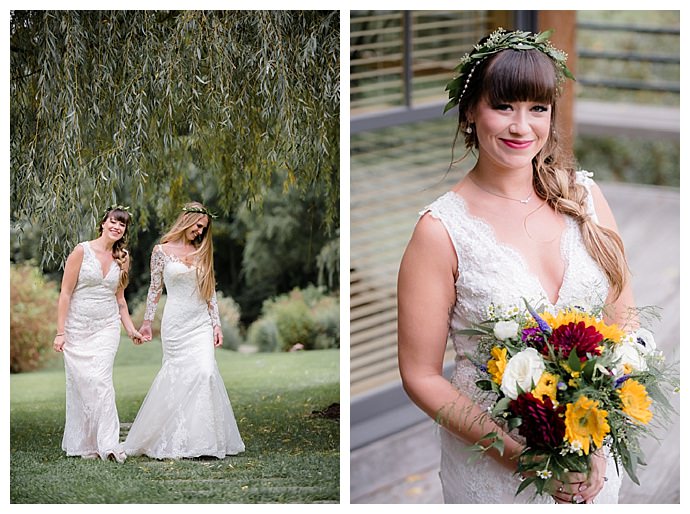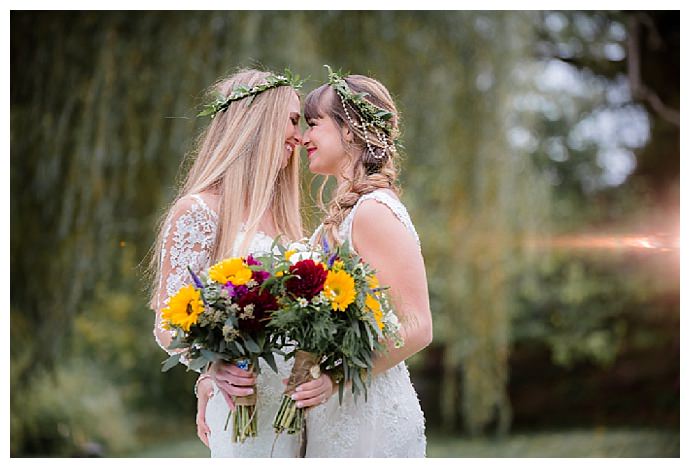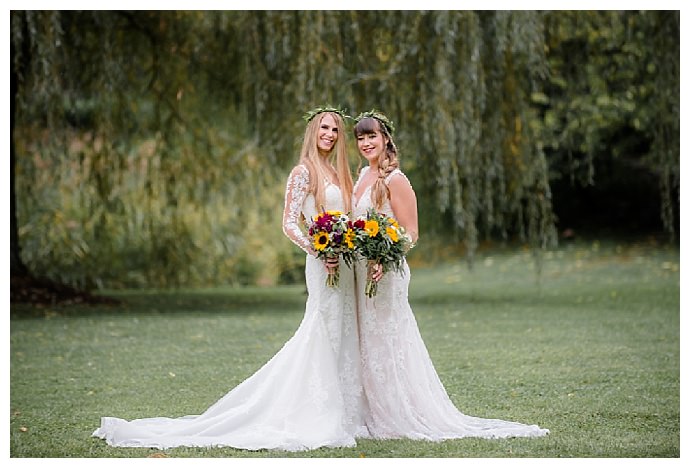 The Ceremony
Kristelle and Amanda often travel to upstate New York, so a wedding on the Hudson River Valley at Buttermilk Falls Inn & Spa fit the bill perfectly. After an endearing first look, the brides were escorted down the aisle by both of their parents, and underneath a birch wood altar sprinkled with sunflowers and bright blooms that matched their bouquets, Kristelle and Amanda exchanged vows on a patio overlooking the Hudson River. "Our ceremony was perfect, laid back and full of laughs," Kristelle says. "After we exchanged rings and before our first kiss, we were given salty bread to represent life's hardships and to symbolize never going hungry. We then were give two shot glasses, one with water, one with vodka. It is said the one who gets the vodka wears the pants [in the relationship]. Amanda got the vodka."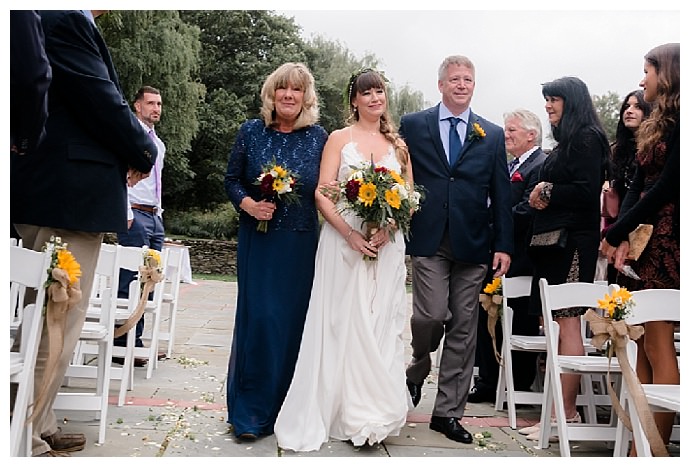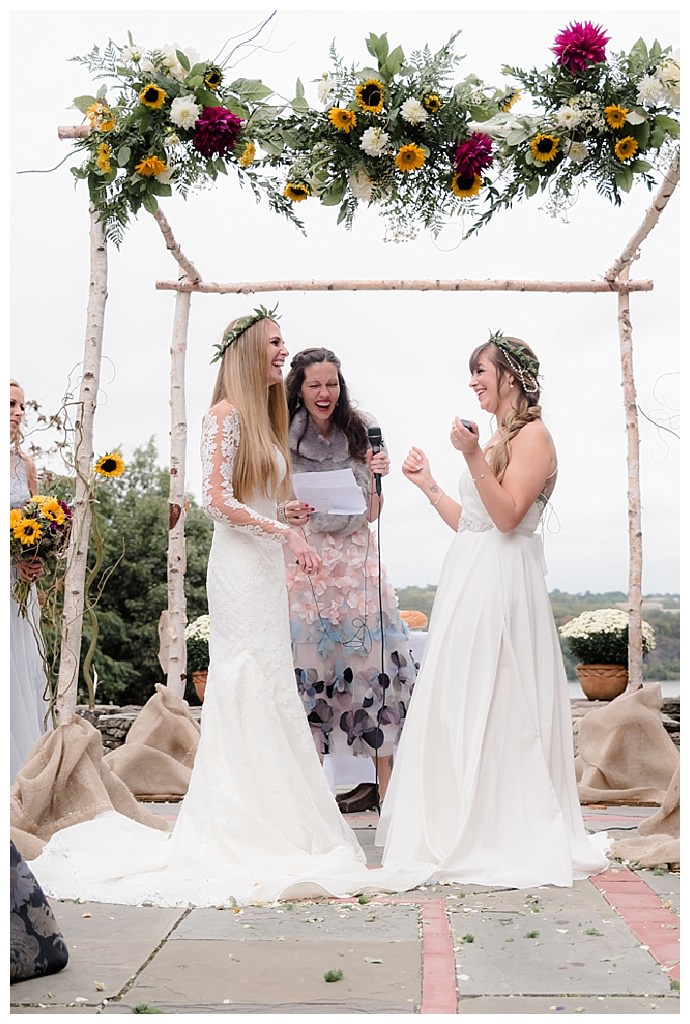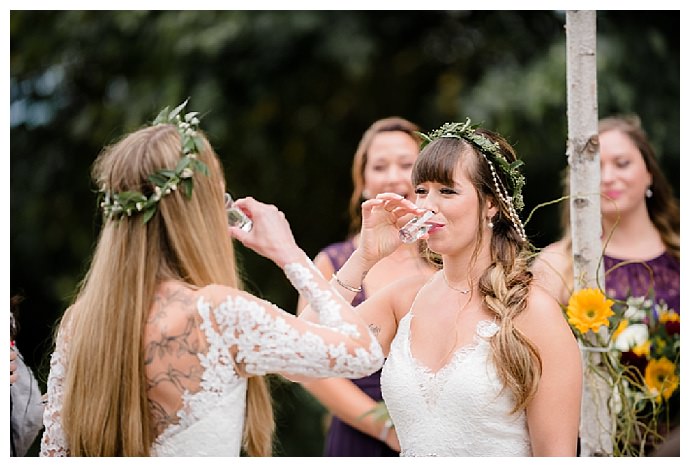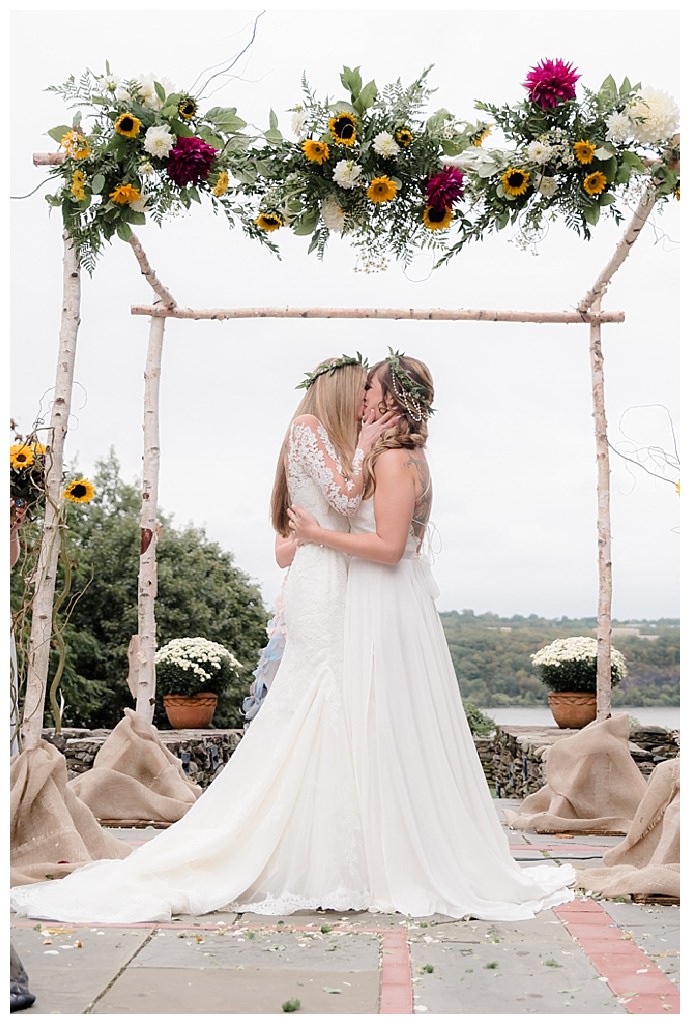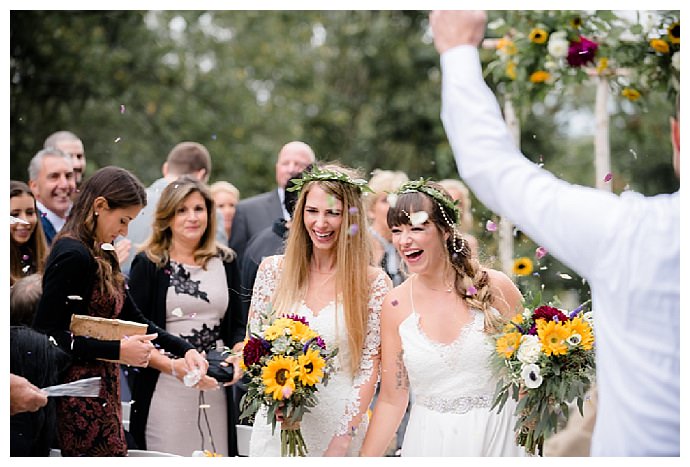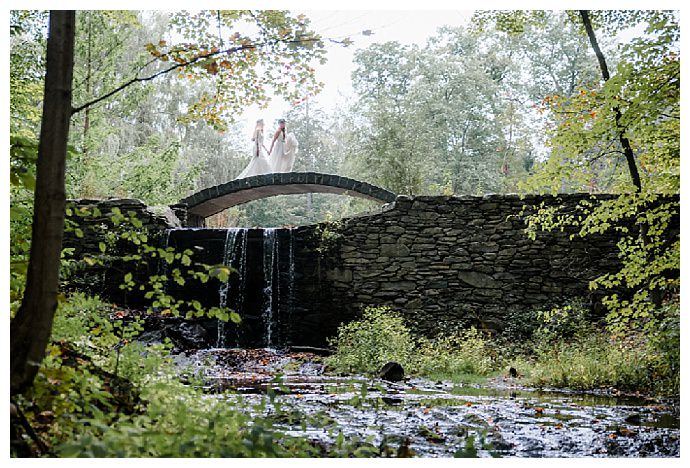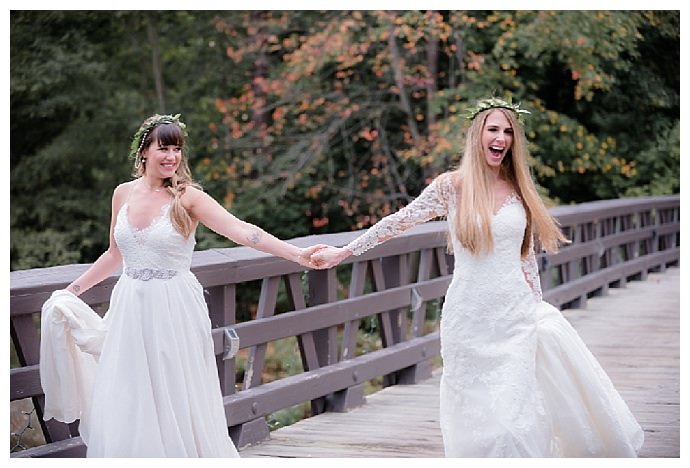 The Party
The reception was held inside the Inn's beautiful barn, where sunflowers placed in milk jugs and mason jars sourced from antique shops brightened up the room. After cocktail hour, guests were treated to a farm-to-table family style dinner of buttermilk fried chicken and beef tenderloin served with mashed potatoes and asparagus. And for dessert, the three-tier vanilla naked cake was served along with French macarons, cupcakes, tiramisu and apple tarts filled with apples grown on the venue's 72 acres. As the magical night came to an end, the newlyweds sent their guests home with bottles of hot sauce with a label that read: Thanks for spicing up our day!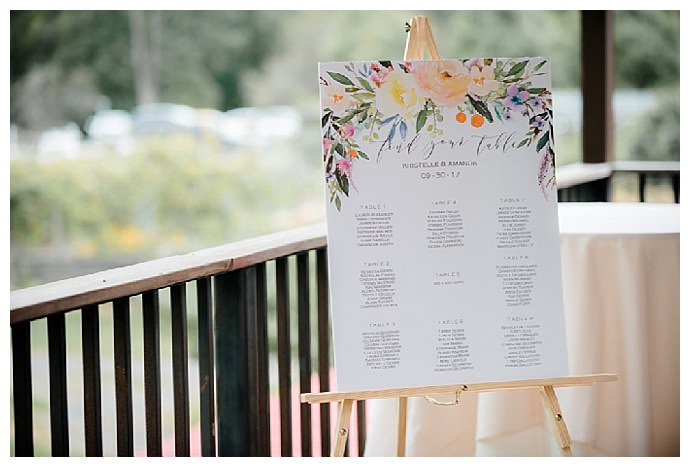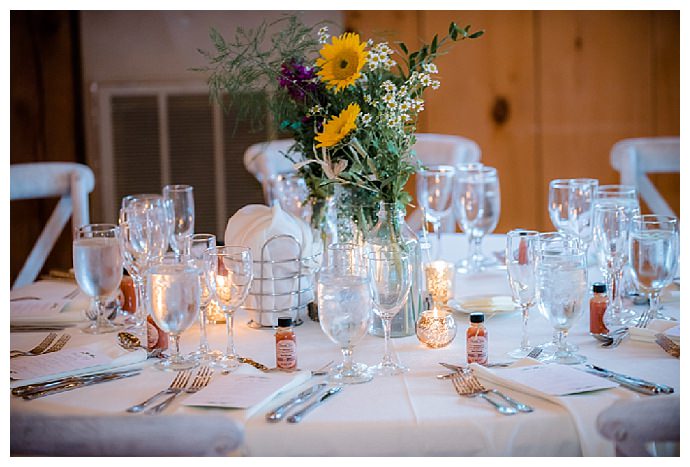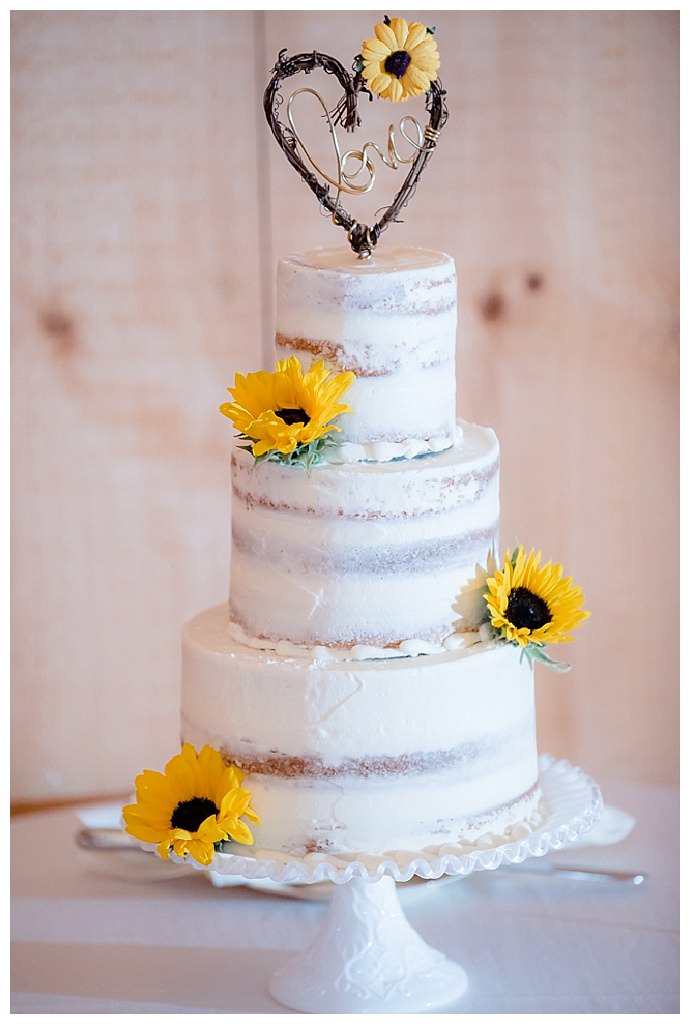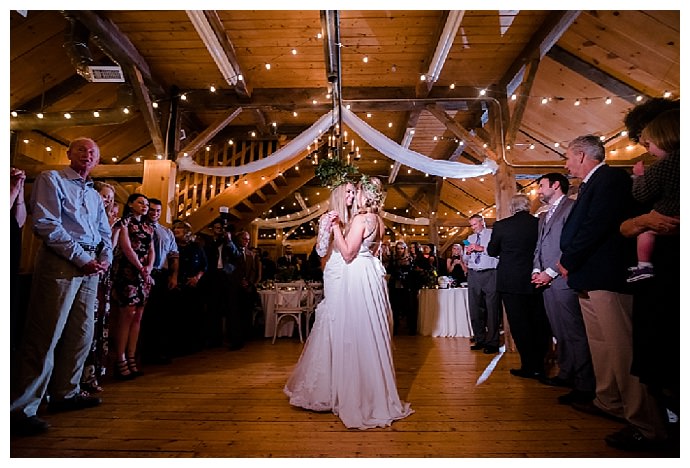 Memorable Moment
"For both of us, other than the perfect laid back, fun-filled ceremony, a favorite moment was during the appetizer portion of the night," Kristelle says. "'Skinny love' by Birdy came on, and Amanda and I got up and danced alone by our table. To be able to be so in tune with each other and just dance to one of our favorite songs while everyone else was enjoying their food was a moment we will never forget. We were able to just enjoy our love and each other."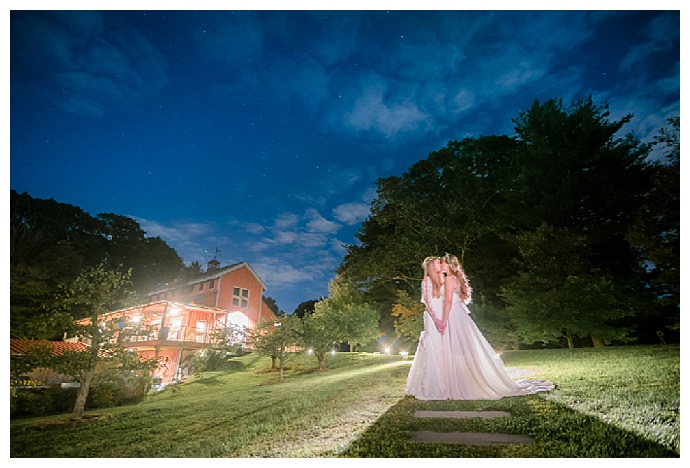 *Editor's Note: This post contains affiliate links. Each time you purchase an item via our affiliate links, Love Inc. is receiving a small percentage of the sale, thus you are helping our small, equality-minded business grow and allowing us to provide more content for YOU! Isn't that just fantastic?