Just a month and a half before Samantha and Connor were set to tie the knot, they lived every soonlyweds' worst nightmare. Their venue had canceled on them. Suddenly their vision of a romantic yet relaxed wedding no longer seemed in reach, but instead of panicking, they began searching for a Plan B.
With a new venue and a new set of plans in place, they embraced the changes, and it wasn't long before they were getting ready for their big day. Jeff Brummet Visuals was there to capture the magic of Samantha and Connor celebrating the beginning of the rest of their lives together in a stunning DIY wedding in the Texas countryside.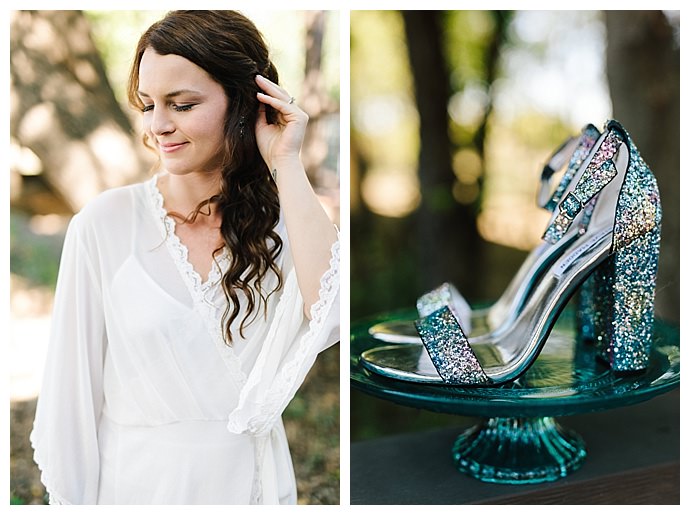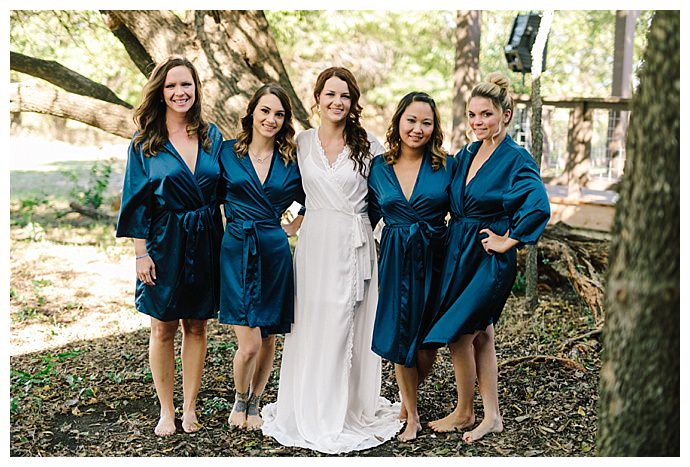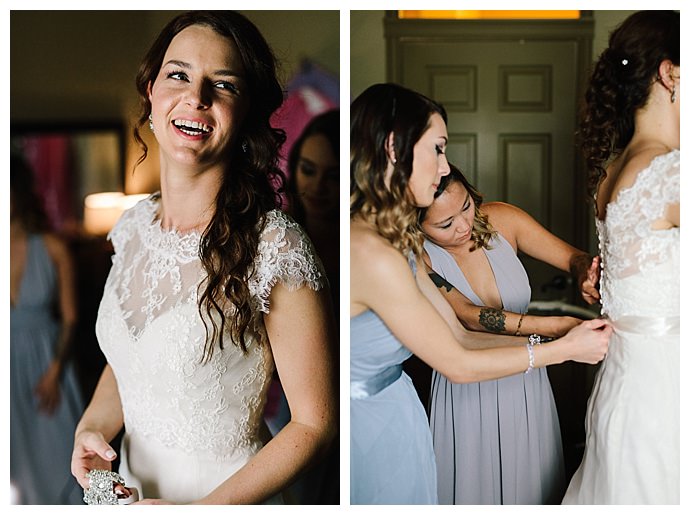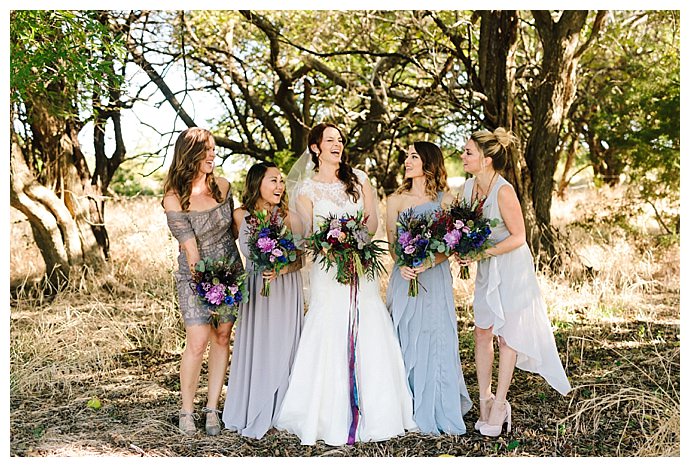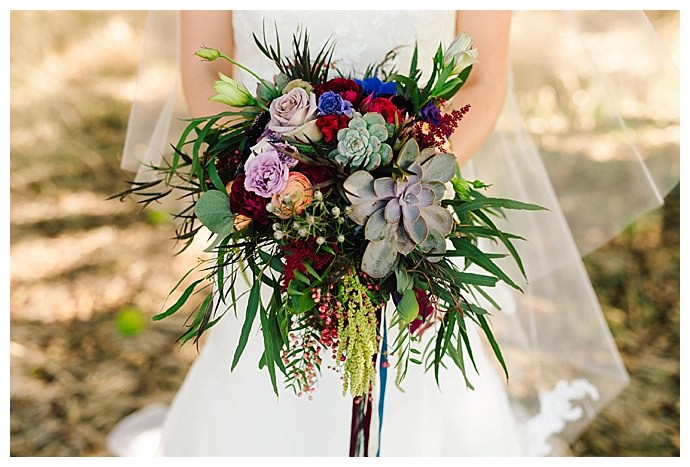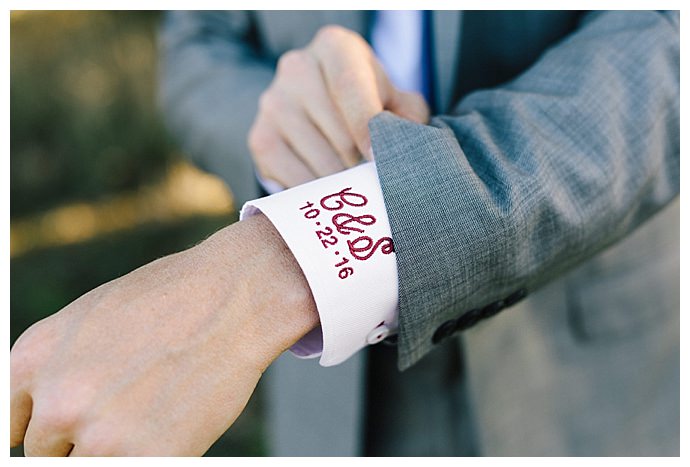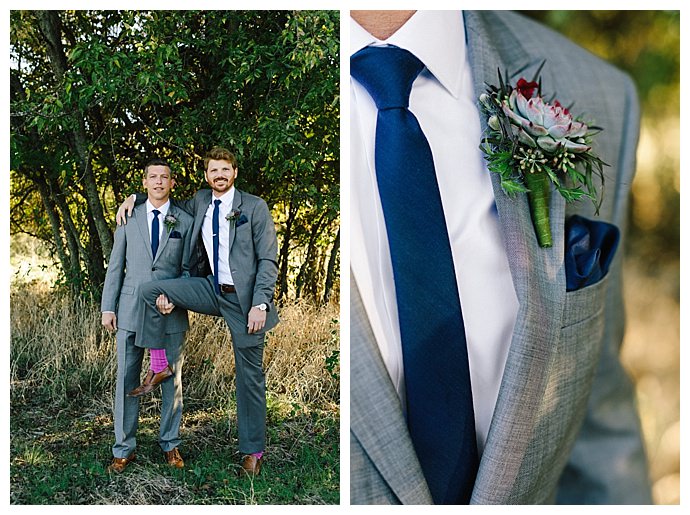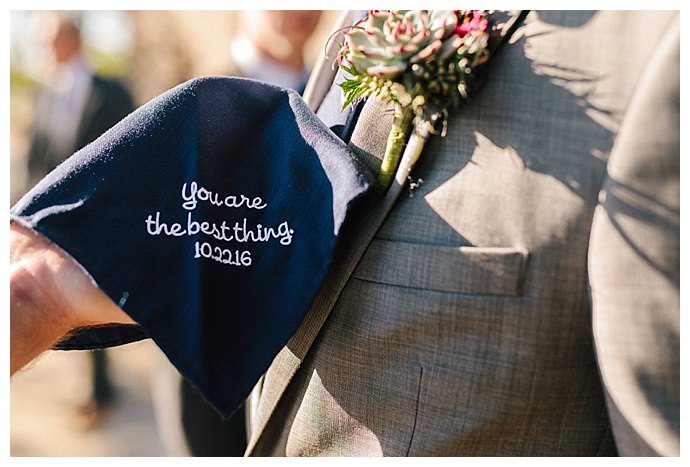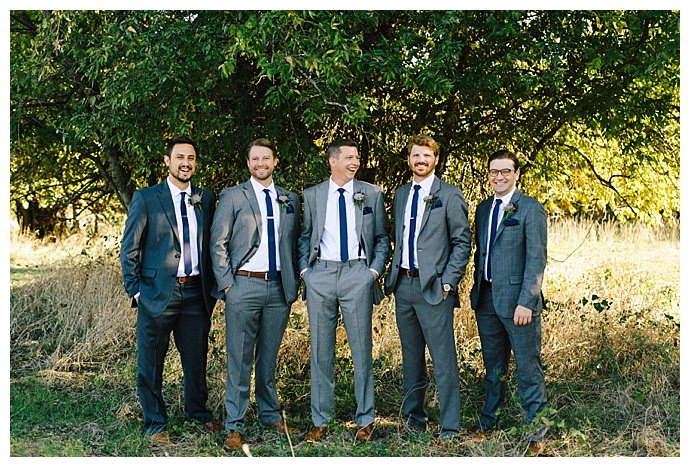 The Love Story
When the Texas Rangers had made it to the World Series for the second year in a row, both Samantha and Connor had gone to watch one of the games at a mutual friend's house. "During that game, we realized how much we had in common," Samantha says. "And for the next five years we spent our time traveling, camping, hiking, raising two dogs and enjoying life in Dallas."
Throughout those five years, Samantha and Connor fell in love with the state fair and made it a point to go multiple times every year that it was in town, and Connor thought it would be the perfect place to propose. It was October 1, and he had no trouble convincing Samantha to join him in the photo booth, as they had shared their first kiss in a photo booth years ago. He timed the moment perfectly, Samantha says, and now they'll always have a series of photos from the moment Connor asked her to marry him. "He asked, and I said yes," Samantha says. "Then we ate corn dogs — it was perfect."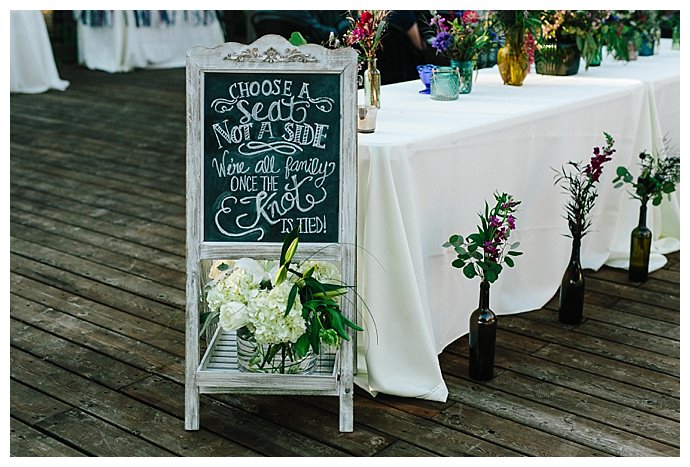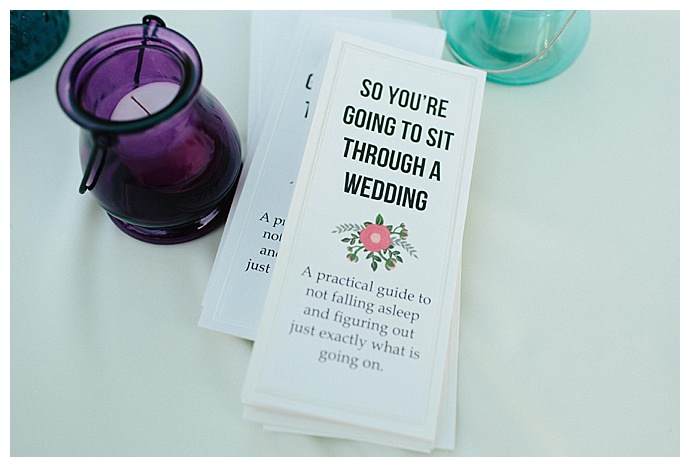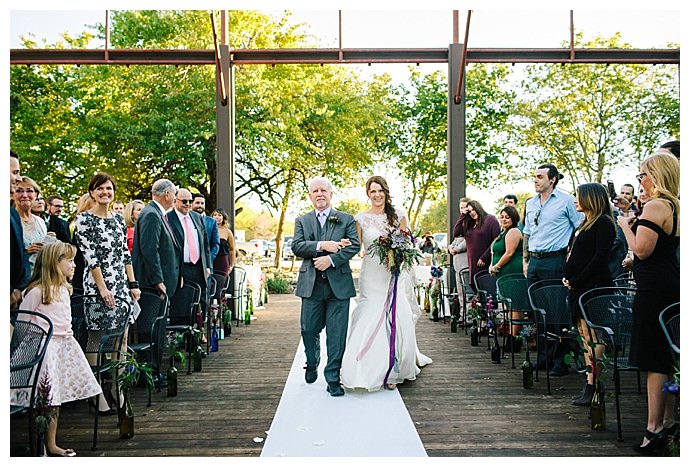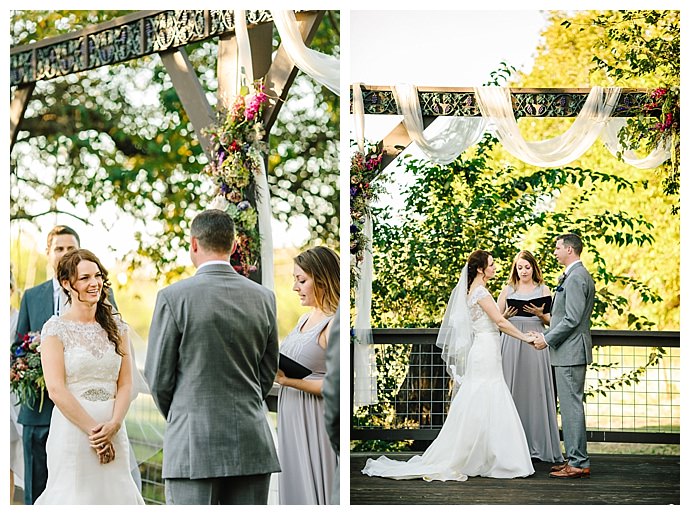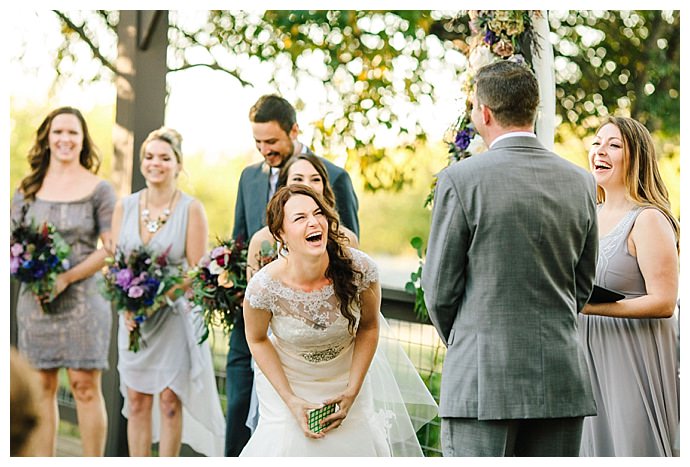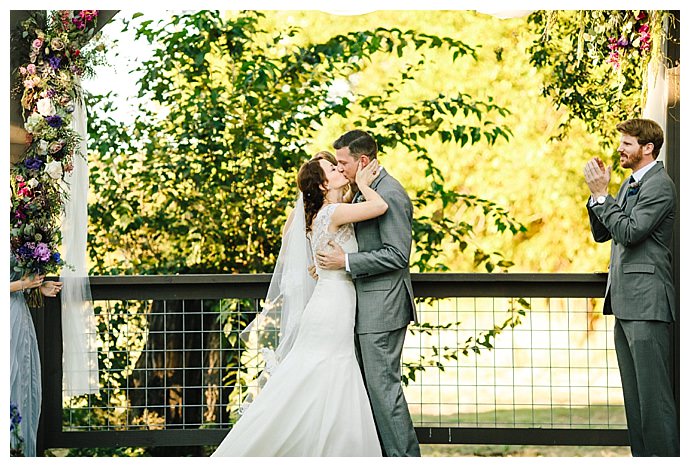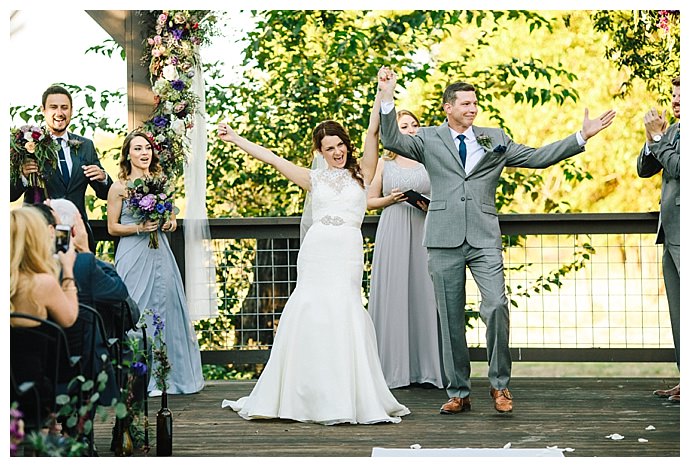 The Ceremony
Samantha and Connor opted not to do a first look, so the moment they first saw each other as Samantha walked down the aisle was one of their favorite moments from their wedding day. The bride wore a gorgeous lace dress by Hayley Paige that she paired with a stunning pair of rainbow sparkle heels by Steve Madden. The groom wore a suit from JoS. A. Bank and a blue tie from The Tie Bar, and for a personal touch, Samantha had his pocket square embroidered with lyrics from the song they planned to share their first dance to. 
"During our vows, we laughed and cried," Samantha says. "The entire ceremony was full of joy and love, and afterward, we took a minute to look around and really soak it all in. That is a favorite memory of ours — seeing all our friends and family together celebrating!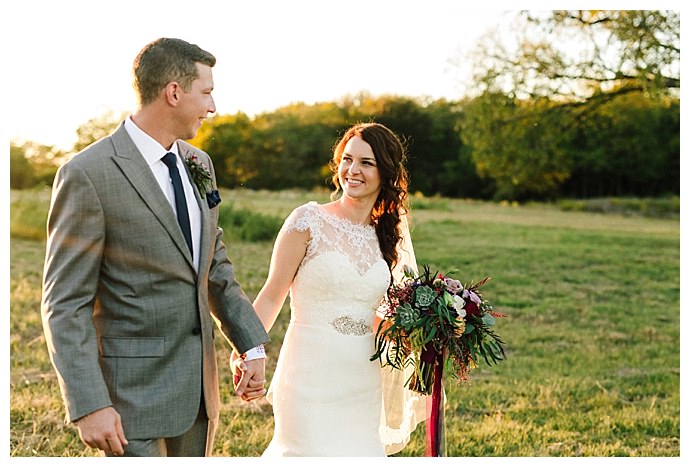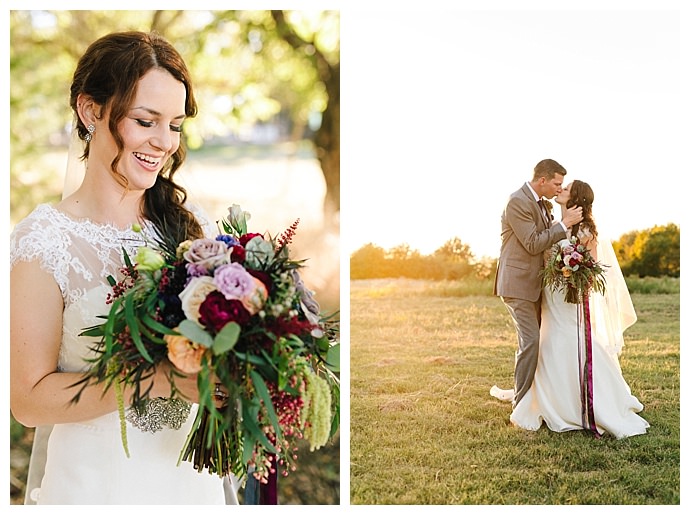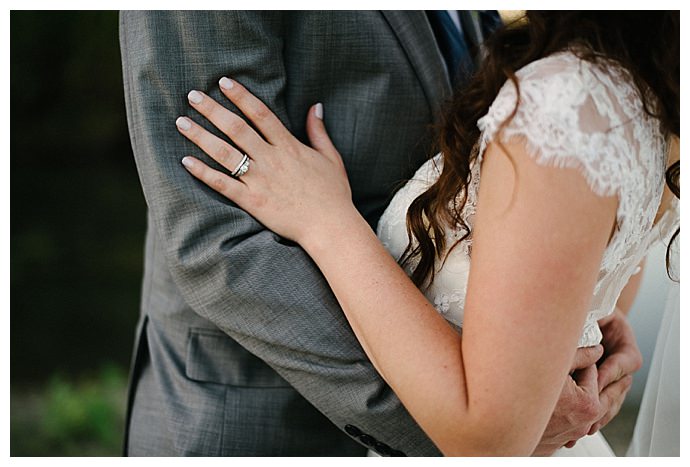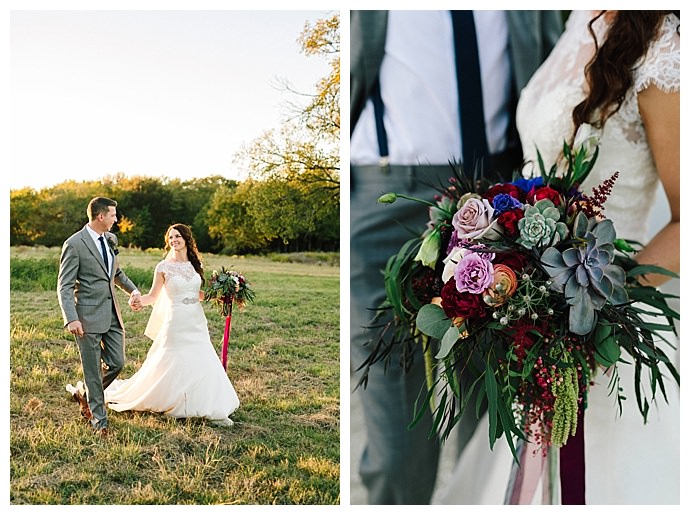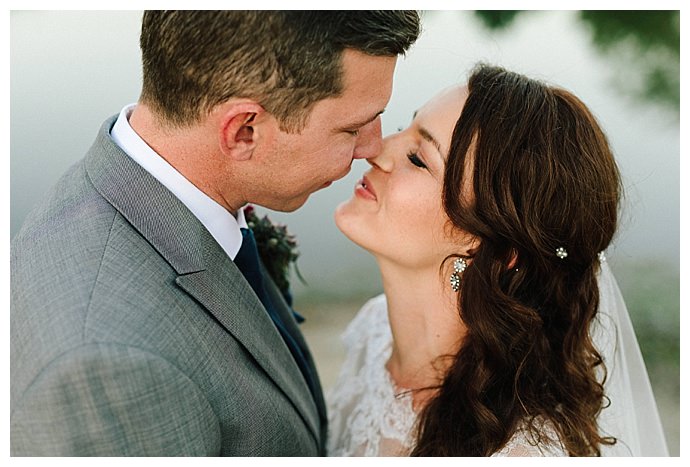 The Party
Samantha and Connor were drawn to the gorgeous landscape and outdoor setting at the new venue, which they decorated with succulents, wildflowers, bistro lights and colored glassware that the bride had collected over a few years. "The colored glassware now resides in our kitchen," Samantha says. "I love the little reminders of our big day throughout our home."
The newlyweds wanted their reception to take on the feel of a big party, so they brought in two food trucks, Taco Taxi and Easy Slider for their guests to enjoy in between spins on the dance floor. And just before the night came to a close, their guests lined up with sparklers in hand for an unforgettable exit.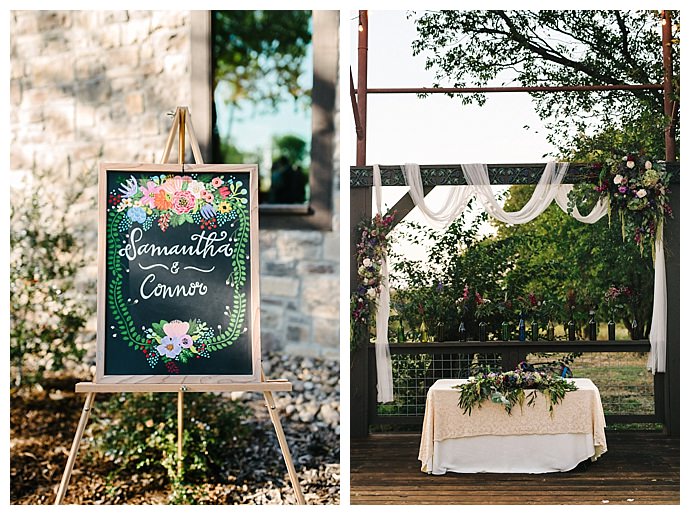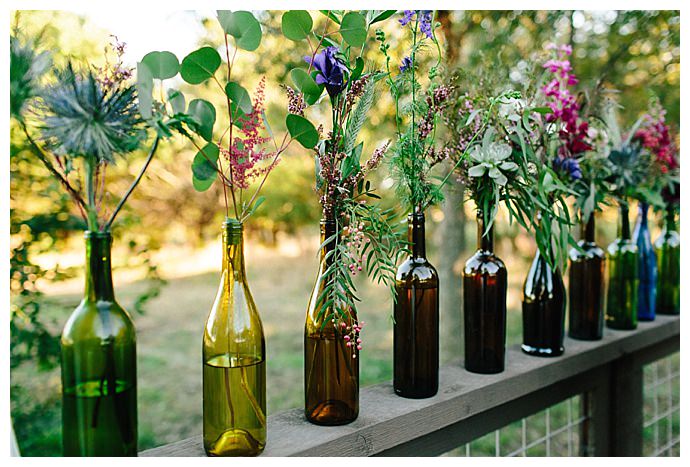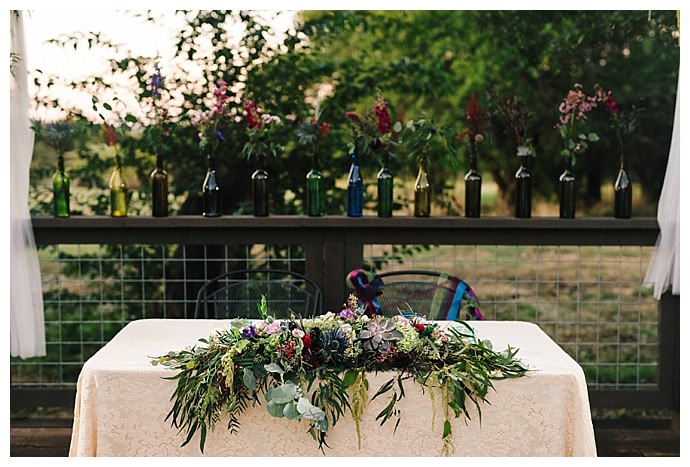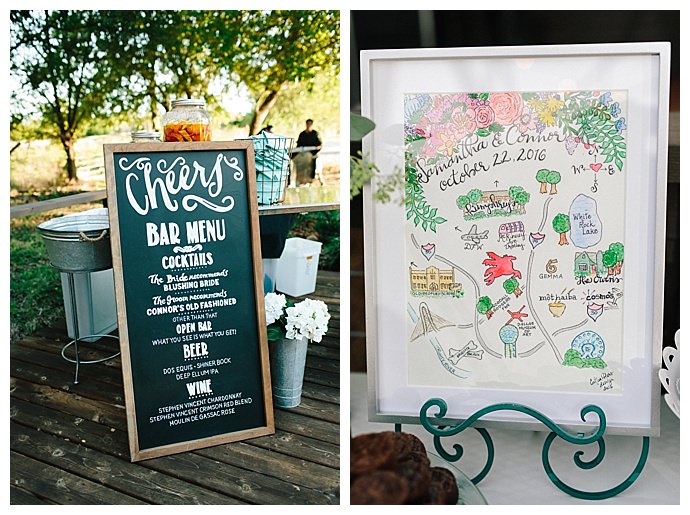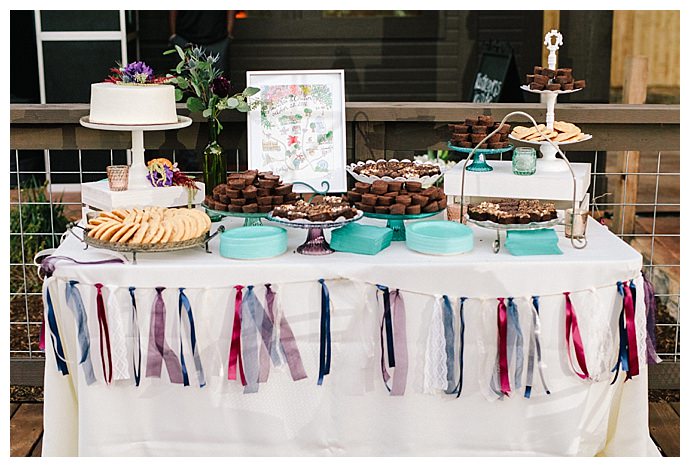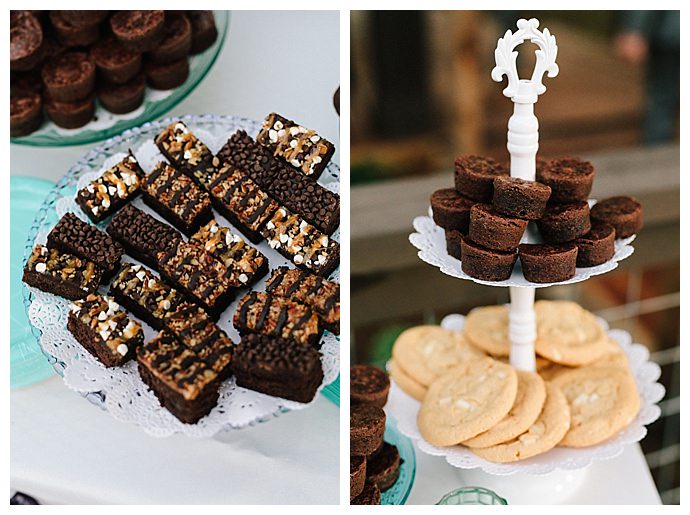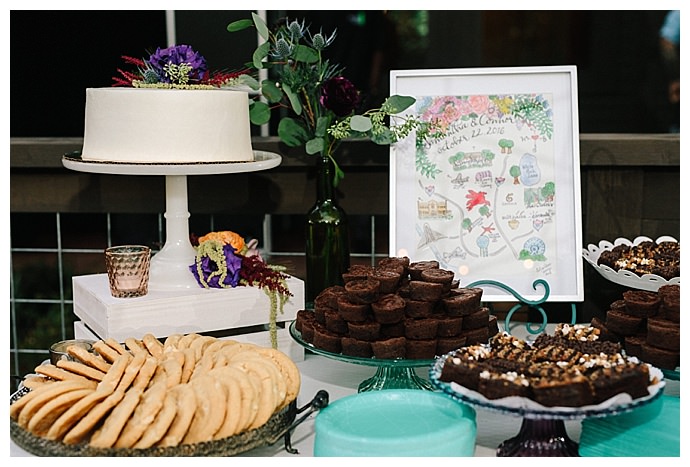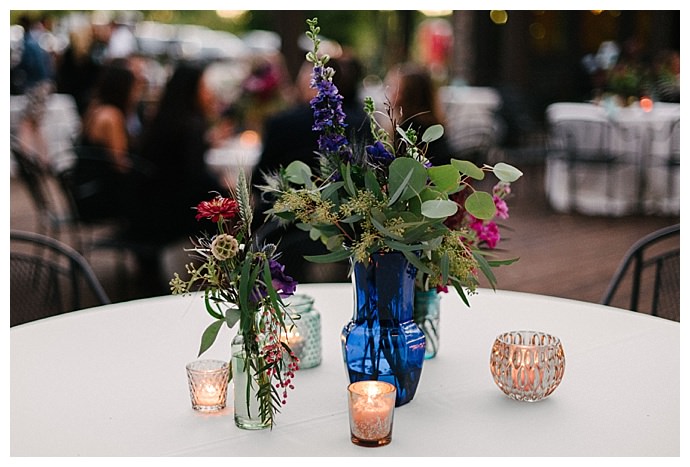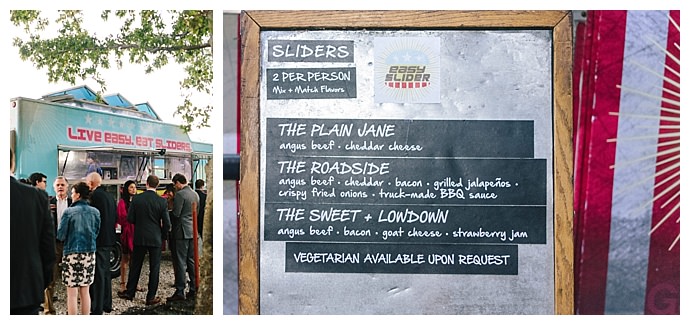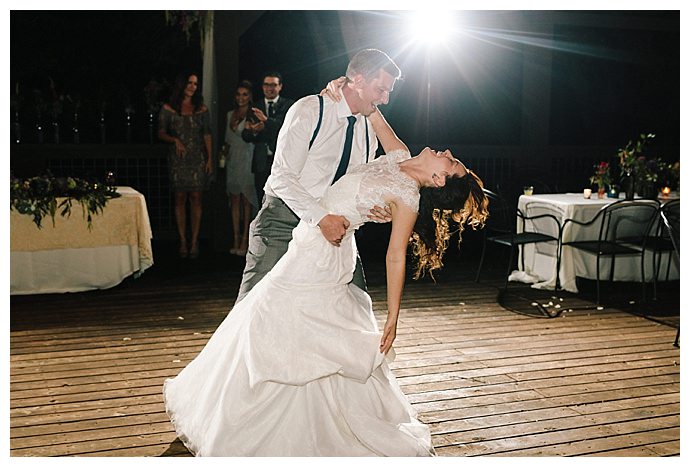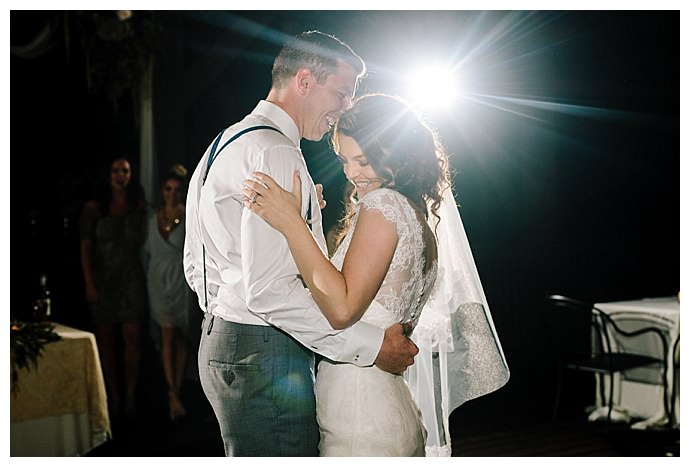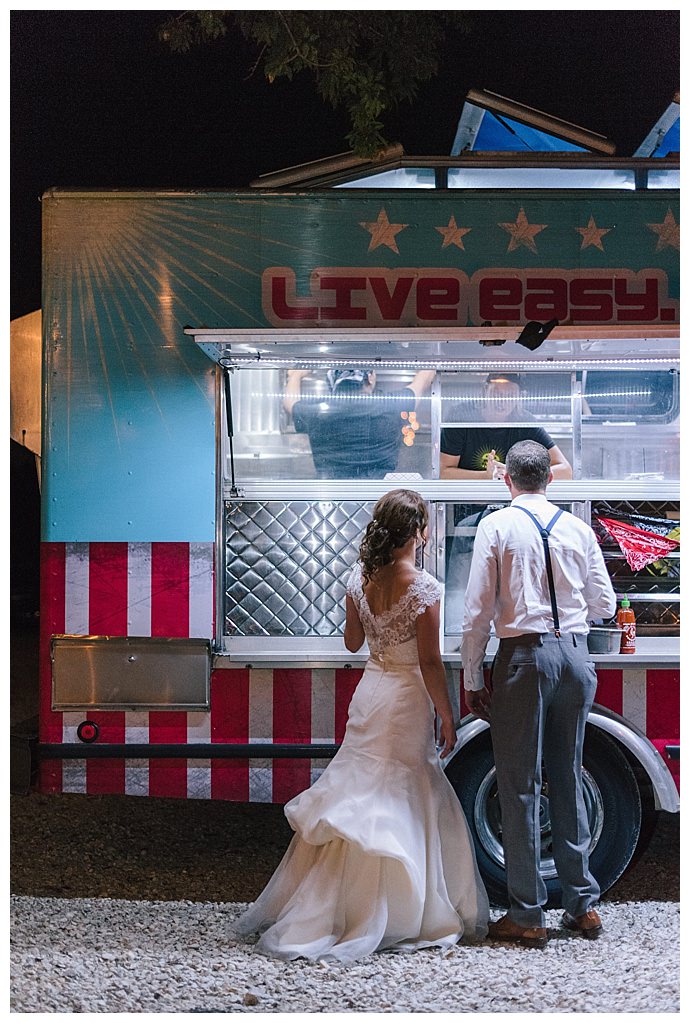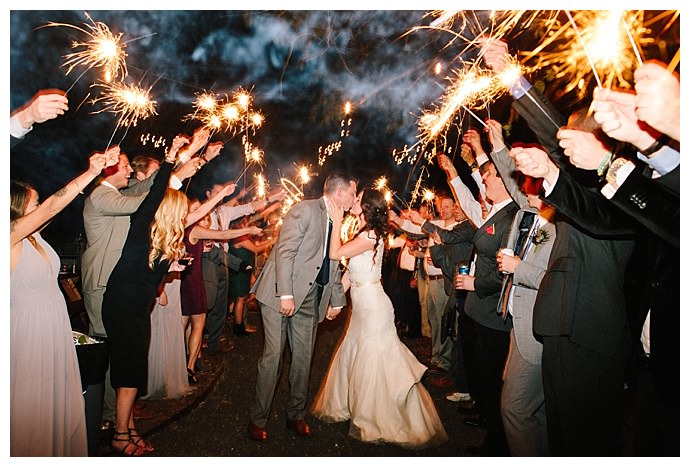 Shop the Wedding

*Editor's Note: This post contains affiliate links. Each time you purchase an item via our affiliate links, Love Inc. is receiving a small percentage of the sale, thus you are helping our small, equality-minded business grow and allowing us to provide more content for YOU! Isn't that just fantastic?
Submitted via Matchology
Written By: