By Clair McLafferty | Photography by Lionlady Photography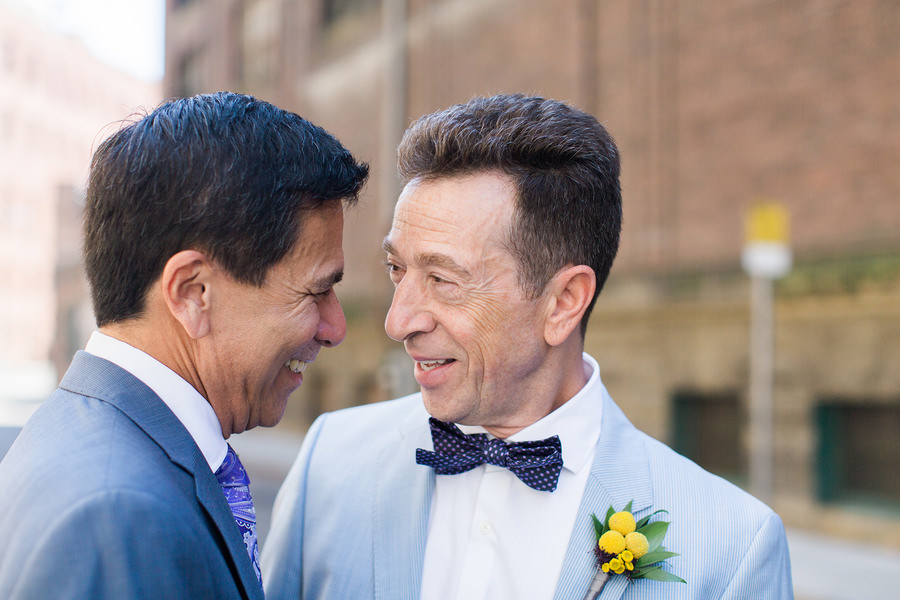 Ken and Steve wanted every part of their wedding to shine with casual elegance. A purple and gold color palette was chosen to incorporate the love for college sports that brought them together, and they worked with Floressence floral design to bring their vision to life.
"We found our floral designer by accident. We were on a visit to another possible venue and Floressence was setting up for a wedding later that day. We loved her style," says Steve. "The decorations for the reception were really about simplicity." Made from a combination of hydrangeas, calla lilies, tulips and orchids, their floral design underscored the day's simple elegance. By keeping the decorations minimal, the focus stayed on the most important part of their day — their love and the people who came to celebrate.
The Love Story
After 22 years of dating, marriage seemed like the natural next step for Ken and Steve. The Palm Springs natives met at a Washington Huskies basketball game and quickly bonded over their love of college sports. The proposal "just sort of happened" after the grooms decided to tie the knot. Once the decision was made, they quickly started planning.
The Fashion
Ken and Steve picked out non-matching blue shirts from Nordstrom. Ken, a free, fun-loving groom, chose a light blue BOSS HUGO BLOSS seersucker suit. Steve, the more serious and formal of the pair, wore a dark blue Ted Baker suit. To tie their looks together and give nod to their favorite college team, "both ties had to be purple, so Ken wore a bow tie and I wore a regular tie."
The Ceremony
"The wedding was special because we had so many of our friends and family with us to celebrate on this special day," says Ken. Julie, one of Ken's childhood friends, served as their officiant and helped make sure their I dos was absolutely perfect.
Ken and Steve's ceremony took place in the outdoor terrace of Hotel 1000 in downtown Seattle. They included their godchildren in the (unofficial) signing of their marriage certificate during the ceremony. "Ryan and Reid have such a special place in our lives and it meant so much," adds Steve.
The Party
The couple's 80 guests made their way to a cocktail hour featuring Dungeness crap salad, truffle fries and a charcuterie station before heading to the main event. Their seated dinner began with a candied beet salad and was followed by a choice of steak, fish or pasta. For the cake, each groom's favorite flavor was layered together — Ken's a decadent layer of chocolate mousse and German chocolate filling, Steve's a lighter layer of white cake with calamansi-and-coconut mousse with diced mangoes. They ended the amazing meal, where friends and family gathered to celebrate the couple, with a toast. "We wanted everyone to know how special they all are to both of us and our lives together."
Wedding Vendors
Photography: Lionlady Photography
Venue: Hotel 1000
Floral Design: Floressence
Cake Designer: Tallant House
Wedding Suits: Nordstrom
**This wedding originally appeared in Love Inc. V3**