By Shannen Hofheimer | Photography by Miki Vargas Photography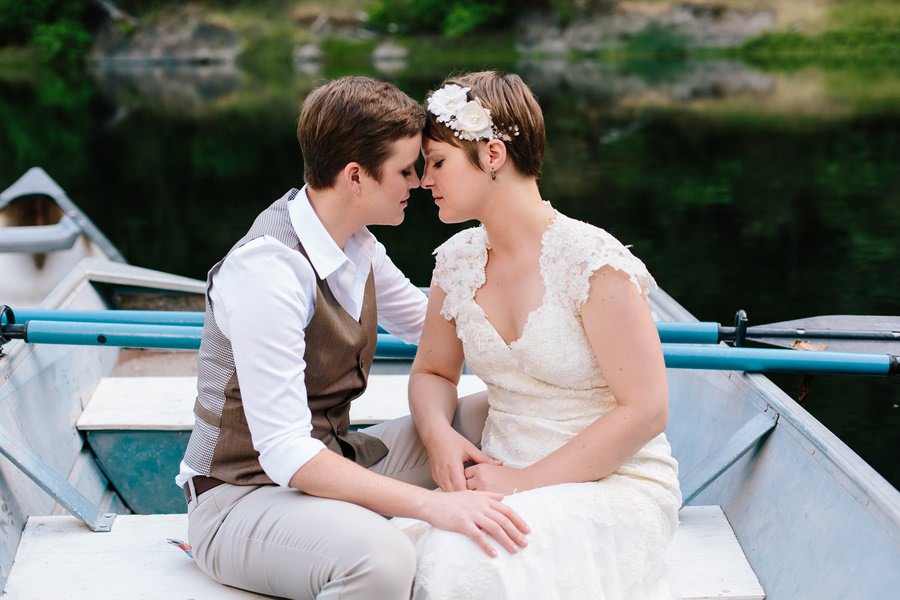 Our beautiful, blushing brides, Katie and Nina, effortlessly combined the vintage glam of the 1920s with the natural beauty of Leonard Lake Reserve in Redwood Valley, Calif., on throughout their wedding weekend this past June. Featuring six guesthouses, the venue was able to host 55 of the brides' closest family and friends for an intimate, three-day celebration. Thankfully, Miki Vargas Photography swooped in to capture it all on film, being that the brides lost their original photographer a mere five days before the wedding. "First, we were so relieved that a wedding photographer was available, but then we spoke to her and saw her work and we were ecstatic! Miki and her team came in to save the day and we could not have asked for a better crew. It was meant to be and we were so excited to have our day perfectly captured."
Katie and Nina's rejuvenating wedding retreat not only solidified their entry into a new and exciting chapter in their life-long commitment, but provided their loved ones with a weekend getaway filled with vintage fashion, handmade touches and an abundance of love.
The Love Story
Their journey began as mere acquaintances through soccer buddies, Katie and Nina became smitten with one another one evening when a mutual friend brought Nina along as a guest to Katie's monthly wine and cheese night. "The wine and cheese party led to a night out dancing and a promise of a brunch date the next morning at Dolores Park. We commuted back and forth for eight months until Nina found employment in San Francisco," the brides tell us, further attesting that true love can go the distance. After shopping for a ring for months, Katie proposed to Nina nearly two years later (the proposal coinciding with the unexpected strike-down of DOMA). "The proposal took place in our house in Oakland over Nina's favorite dinner. Nina thought Katie had something to confess, because the prepared dinner and immaculately clean house in the middle of the week were an unusual occurrence. The proposal came as an absolute surprise, leaving Nina speechless — also a rare occurrence."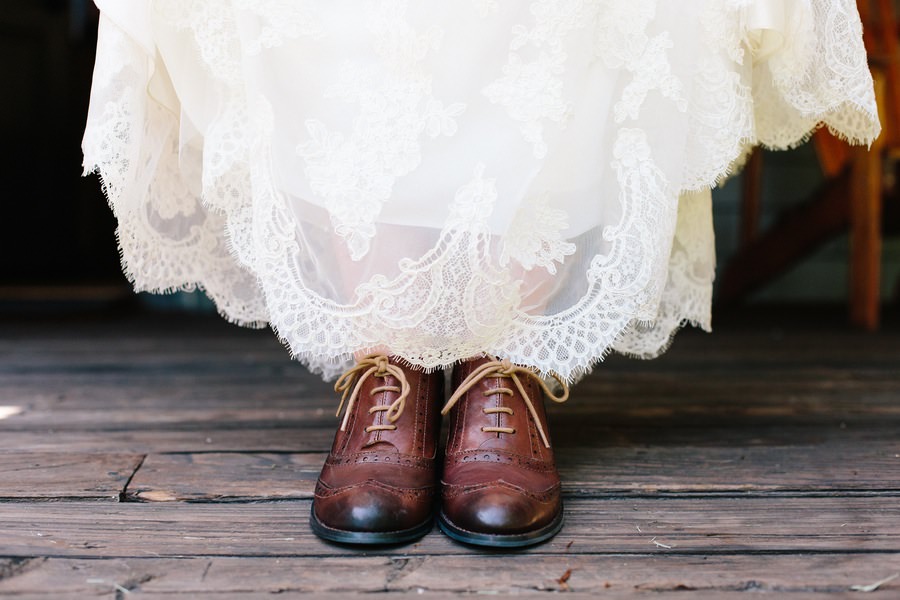 The Venue
Sitting in the heart of rare old growth fir and redwood groves, Leonard Lake Reserve is truly a magical place. "The site slept almost all of our guests comfortably — a few people decided to camp in an adjacent lot. We wanted to have a gathering for several days and have family and friends be able to spend as much time and as many nights as possible. We ended up occupying the whole site the whole weekend, which allowed us to host a barbecue on Friday night, a breakfast on Saturday morning followed by our ceremony and reception, as well as a brunch on Sunday morning," explains Katie. "It was very important to us that the atmosphere was relaxing and lent itself to self-entertainment. There were woods for hiking and biking, a bonfire pit and a lake to row and paddle board, amongst other activities so that our guests could have a mini-vacation while attending our wedding."
The Ceremony
Katie and Nina chose to keep their ceremony short, sweet and traditional, but sprinkled with their own personal touch. Katie's cousin sang Eva Cassidy's version of "Song Bird" as the brides entered the site, which was a special, sentimental highlight for the ladies. "We prepared our vows separately from one another, and one of Nina's bridesmaids read a poem she selected," Nina tells us. "We were married by Katie's very good friend Brandon in front of Leonard Lake."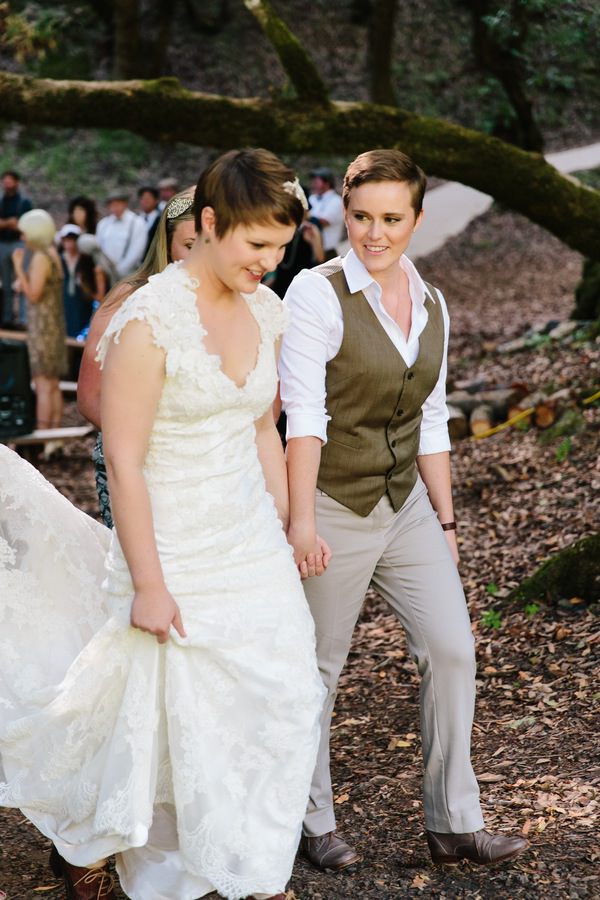 The Fashion
Nina looked breathtaking with a delicate beauty about her in a bridal gown made by Allure and a headpiece of lace and pearl, fashioned by Gardegaard Design based in Holland. Nina decided on a pair of handsome oxfords with a wide heel by MizMooz, being that the brides' site of choice was ripe with grass and earth. Katie wore khaki slacks by Alfani, a vest made by TomBoy Tailors and boots made by Frye's, finished off with a family heirloom — her grandmother's necklace.
The Inspiration
Inspired by Katie's grandmother's wedding of the same era, the brides chose to infuse their wedding with a 1920s flair. "All of our guests very much embraced the theme by dressing up in fun flapper outfits, hats and oxford shoes … there were lots of rhinestones!" Katie's brother, James, even dedicated months to assembling the perfect playlist for the brides' wedding, incorporating music of the 1920s that sent the brides and their guests traveling back in time.
"The majority of our wedding colors were orange, lavender and white. We had orange napkins with lavender bouquets that Katie's mother compiled from plants in her own garden. They were later converted into keepsakes by putting the flowers into little sachets," Nina tells us. With the help of Katie's mother and her friend Marian, deep red and yellow dahlias, Irish bells, dark pink calla lilies, orange and red tulips, craspedia, eucalyptus and some filler flowers in white and yellow were beautifully arranged for the floral design and were even crafted into handmade boutonnieres. "Our main wish was for the bouquets to look like an assortment of wild flowers randomly picked," notes Nina.
The Party
The most special part about Nina and Katie's wedding was the element of carefree, fun-loving relaxation that they brought to the celebration. "Throughout the night, guests kept jumping into the lake to cool down in between dancing, and we went for a late night swim when most of the festivities were over," laughs Nina. "Being able to have all friends and family spend the night and the following day with us was just wonderful. Guests felt free to go for a dip in the lake, dance and enjoy food as they wanted!"
Katie and Nina's mouthwatering dishes were served as a seated dinner by Nick Petti and his team from Mendo Bistro. The dinner started off with a Caesar salad with polenta croutons. Next, guests had a choice of chicken (chicken, white corn, arugula pesto), beef (braised short ribs with crispy gnocchi, swiss chard and picholine olives) or vegetarian (saffron risotto cake, braised greens, pan-roasted asparagus, shaved parmesan). Afterward, they served coffee, assorted teas and dessert from Market Hall.
Not only were there plenty of activities for guests to partake in so they could fully enjoy this beautiful, natural ambiance, but there were a ton of assorted desserts to go around: lemon cheesecake, flourless chocolate cake, princess cake, tres leches cake, fruit tarts and macaroons. "We decided against a traditional tiered wedding cake, because the commute to the site takes you down a very bumpy gravel road for 30 minutes," Katie explains of their choice. "Also, we had several guests with food allergies and wanted to accommodate everyone's sweet tooth." We hope the guests waited a half hour after eating before they went for those late night swims!
"Feeding 55 people for 3-4 days was a huge undertaking that only immense planning could solve. Once everything was planned and guests were onsite, we were very fortunate to have friends and family lend a hand whenever they saw the opportunity, from manning the grill, to helping craft breakfast, and of course, chipping in with all the dishes! We are very grateful to have such wonderful family and friends that helped to make our wedding the wonderful event that it was."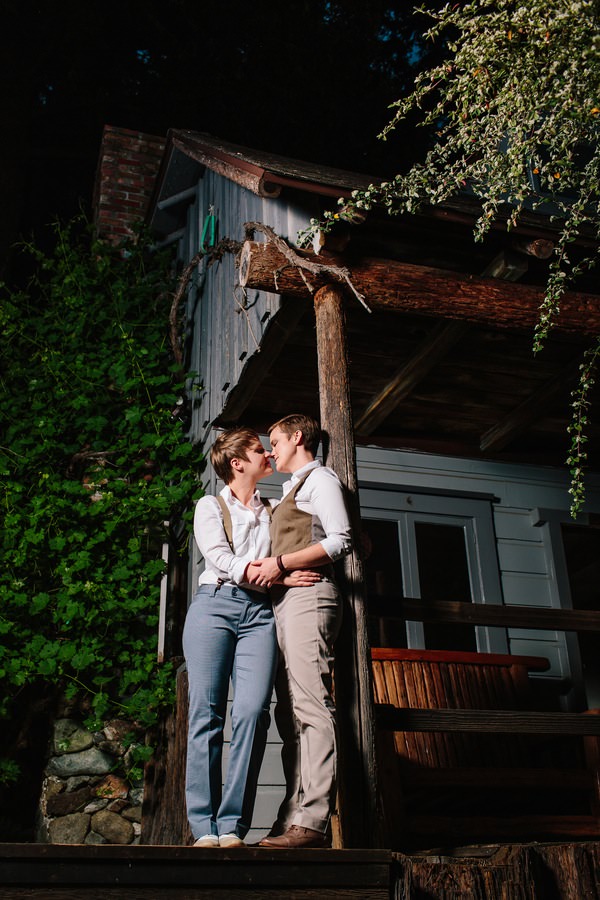 Memorable Moment
"One of our favorite and most memorable moments was a surprise song Katie's mother arranged during her speech. She slyly distributed several kazoos, and at the mention of "all you need is love" in her speech, family members stood up with their kazoos to help play the melody to the song while everybody sang along. It truly brought us to tears."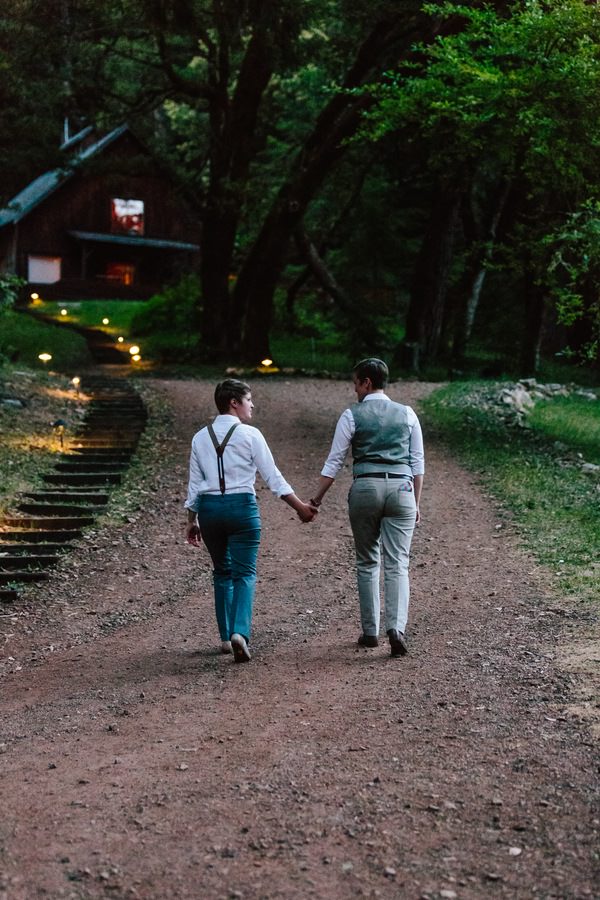 Vendors:
Wedding planner/designer/venue: Christy at Leonard Lake Reserve
Photographer: Miki Vargas Photography
Cake Designer: Market Hall Bakery
Catering for wedding dinner: Mendo Bistro