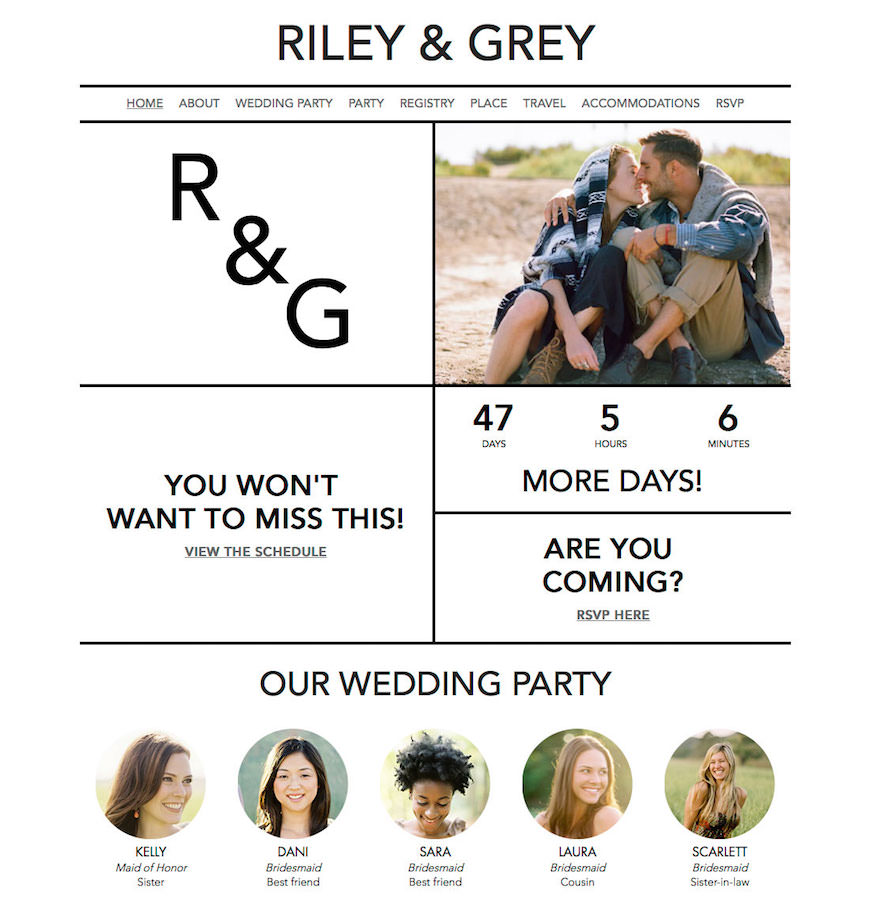 It was important to my fiance and I that our wedding website reflect our style as a couple and, when researching, I was slightly appalled at the options. Designs were dated, options were limited and/or the actual building of it was too complicated. With wedding websites now a norm, how can this be what's out there? And then I came across Riley & Grey and swear I heard angels singing. It was chic. It was modern. And it was exactly what I had been looking for. 
Turns out, the founder of the company, Marissa Gibbons, created the company after a similar experience. "When I planned my wedding in 2011 there just didn't seem to be much out there for me or someone who might lean even a little on the edgier side of things. I usually describe it as a little less Martha, a little more Vogue. Not that Martha doesn't do some very lovely things. It just wasn't our aesthetic and we wanted our wedding to really reflect who we were in our everyday lives. We didn't want to adopt a whole new style just because that's what the wedding industry offered," explains Marissa. "Two years later in 2013, I looked around and nothing had changed! And it was especially painful/obvious when you looked at wedding websites. The same three templates were still getting used at every wedding I went to — it was very Web 1.0. We knew we could make that experience so much more beautiful, useful, and enjoyable for couples and their guests. So we built Riley & Grey."
I encourage you to check out Riley & Grey's design options, which range from contemporary to vintage, romantic to nautical, with plenty of masculine options (another gripe I had when searching for my own — all designs seemed to be overly femme). My fiance and I selected the one above for our own and my personal experience with them was fantastic — even their customer service and tech teams are stellar, responding to inquiries within a couple of hours if not sooner. After such an positive experience, I had to sit down with Marissa to find out more about her amazing company and to get her advice on creating a wedding website to really make it about you. Her answers are totally on point, not to mention, include some creative gems to implement into other areas of your wedding planning!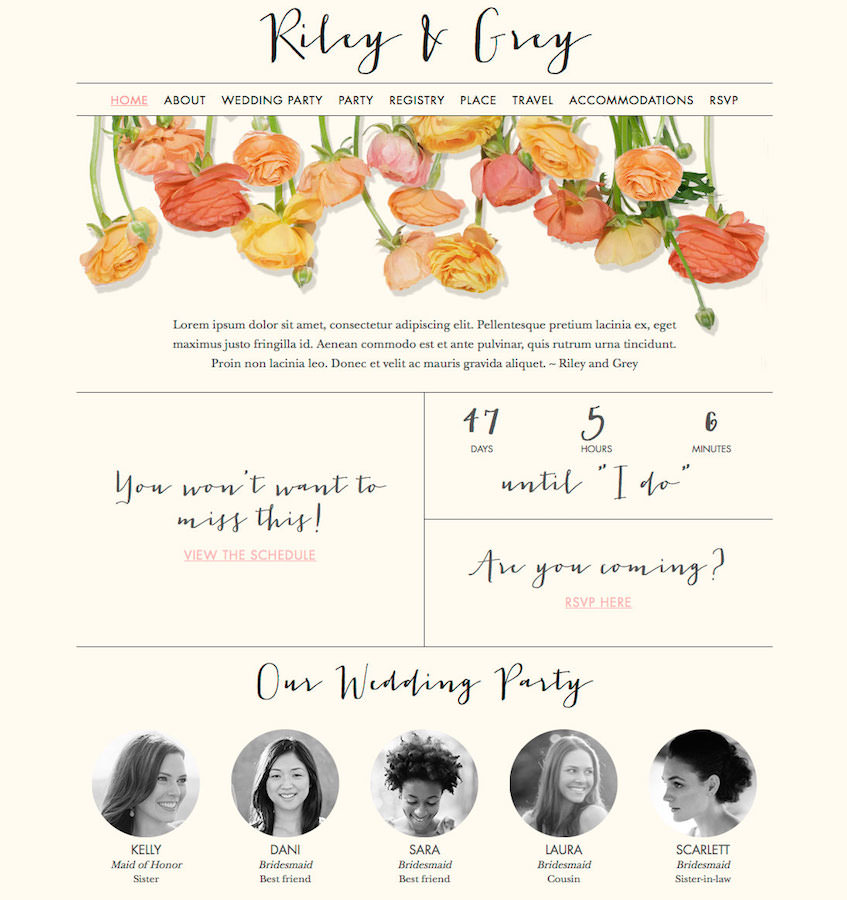 How important is it to match the wedding website to your overall wedding style?
Well first of all, our motto is "do you," so if you want every part of your wedding to show a different side of you, go for it. I'd say it's less about matching and more about remembering that your wedding website is often the first real interaction guests have with your wedding experience and it's often the piece they interact with the most number of times. So knowing that, you probably want it to be awesome.
What are some fun ways you'd suggest couples implement their personality into their wedding website?
I've become much more into engagement photos as a "must-do." If you don't want to spend a lot of money, you don't have to use the same photographer as your wedding. Even just finding a great setting, putting on some killer outfits and asking a friend to man your iPhone goes a long way to getting the imagery on your site to tell a story of reflect whatever vibe you're going for. I think it's also fun when people invite their wedding parties to the engagement shoot. It's a nice "gift" for them to get some great shots of themselves and is definitely better than pulling those bridesmaid pics off of Facebook!
The text is also a great way to infuse your personality. I always suggest that you try to "type as you would tell." In other words, keep it casual and intimate — these are your closest friends and family reading it and if you're having a schmancy black tie wedding (which I did and loved so no shade) you can save the formality for that letterpress invitation you're probably also sending out.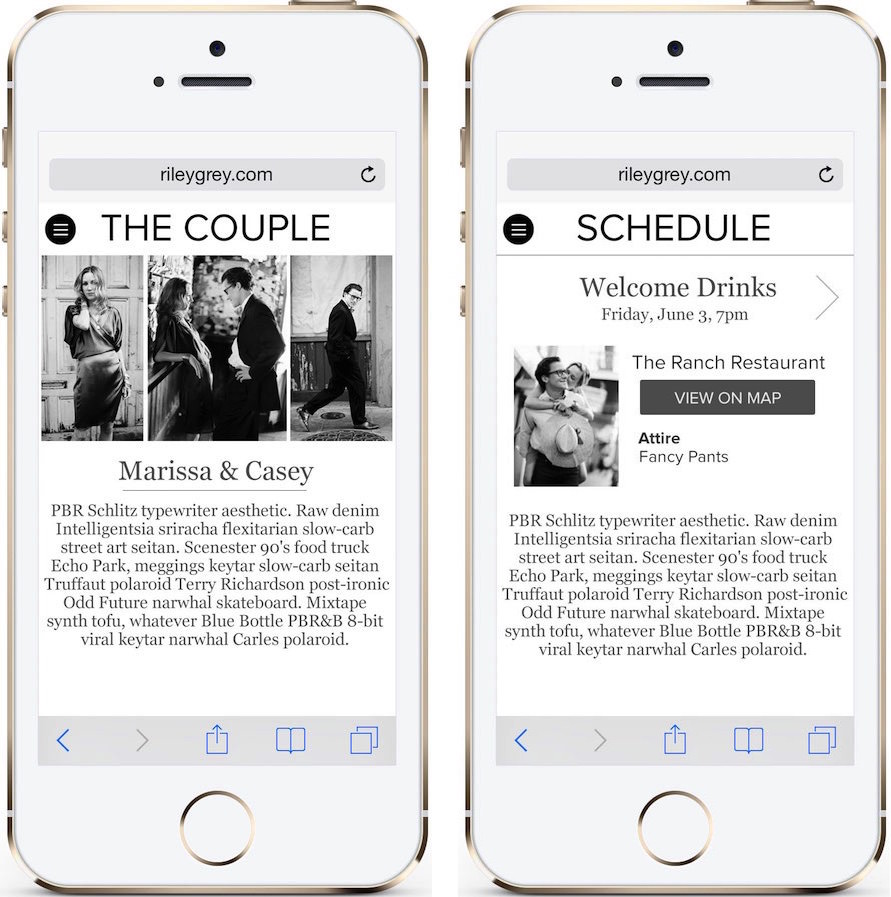 While a wedding style has always been important, the concept of a "wedding brand" is really taking off. Can you explain to us, in your eyes, the difference and why you think couples are wanting to customize other elements of their wedding (for example, their website)?
The difference between a style or theme and a brand is that a brand tends to be much more of a living, breathing, nuanced thing. Boho or rustic are styles/themes, but there are about 9,000 different ways to do them and people tend to identify with much more complex combos of different styles that evolve over time. My husband and I have an aesthetic that is this weird mashup of boho, mod and hip-hop. That's our "brand," and those kinds of combos are hard to pick out of one box, hence the need for customization.
When would you recommend couples set up their wedding website?
Our year package is our most recommended and most popular. It gives you enough time to get everything set up and then your guests enough time to make plans. A lot of the travel-heavy destination weddings opt for a year and a half though.
What's your personal favorite design on Riley & Grey and why?
Ah! that's kind of like asking me to pick my favorite child! I am really loving our Coppertone design right now, though. It's got this masculine metallic thing going on that you don't see a lot in the wedding space.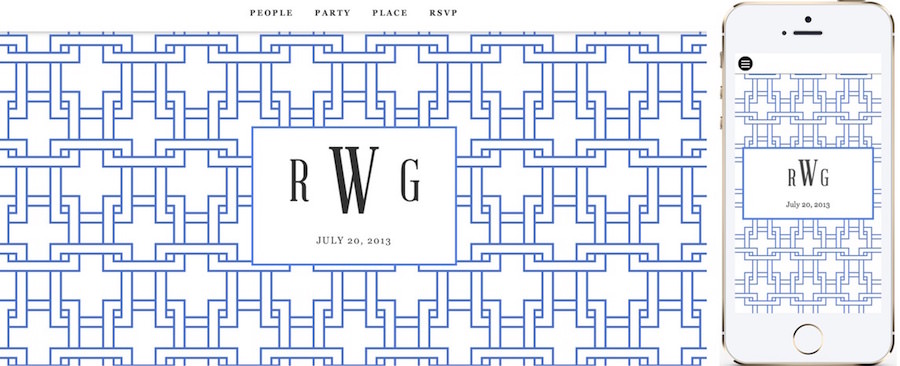 Can you walk us through the process of how your team creates a design? What is the design inspiration?
We have a massive inspiration board that we post anything and everything that catches our eye. The funny thing is is that there is very little wedding stuff on that board. There are a lot of ready-to-wear fashion, home decor, typography, illustration and scenery. We'll either start with something off of there or with a frequent customer request, sketch out the concept a little more and then iterate from there.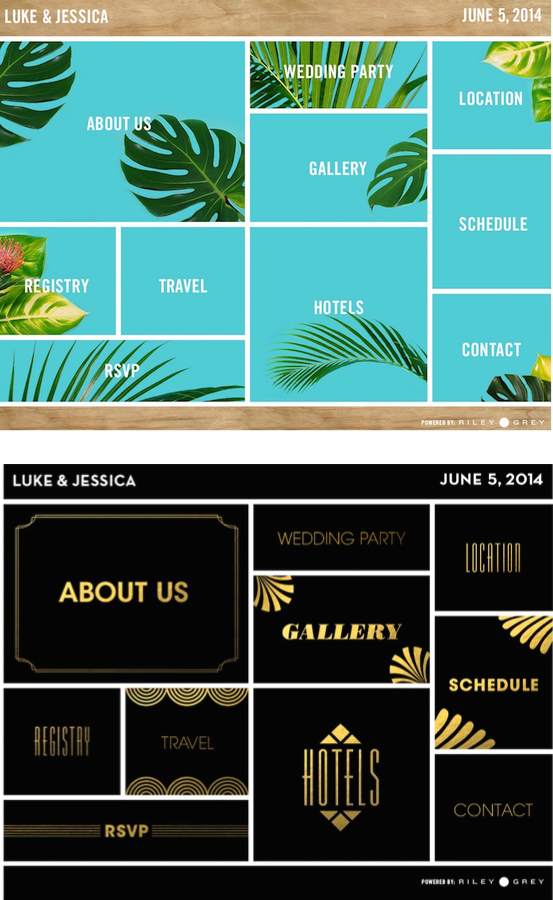 Can these website designs be used for other life events?
We don't market other uses, but we definitely have customers using our sites for birthday parties, baby showers, bat mitzvahs and more.
Okay, lightning round:
What's color palette are you currently loving? Copper and black (see above)

What celebrity couple's wedding (past or future) would you want to attend? David Bowie and Iman. "Labyrinth" was my life when I was little.

Blooms or succulents? Greens.

Champagne towers: yay or nay? Yay, especially with mix-matched vintage glasses.

Favorite cake flavor: Frosting.
By Brittny Drye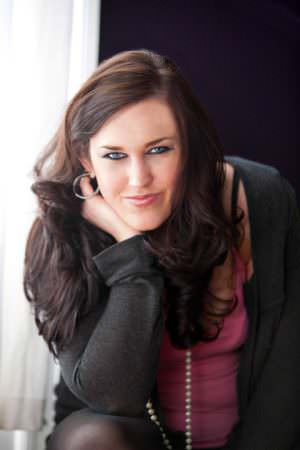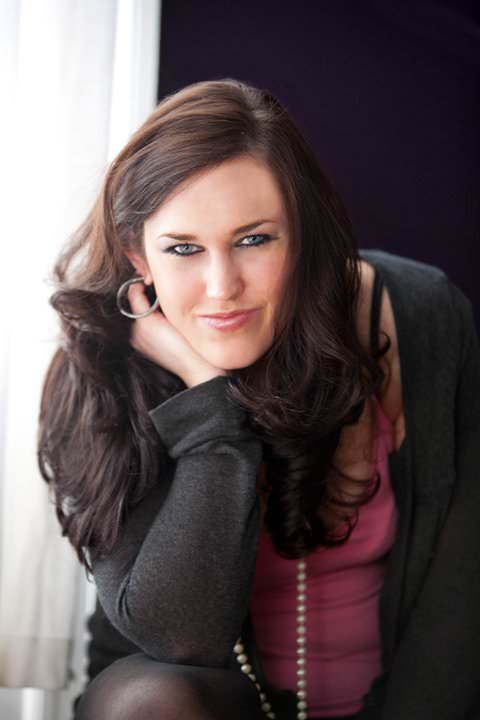 Brittny Drye is the founder and editor-in-chief of Love Inc. magazine. A fierce cheerleader for marriage equality, she launched loveincmag.com in 2013 as a way to to celebrate both straight and same-sex love, equally. She lives in New York City with her fiancé and their cat, Scout.