Kate and Lauren met on a summer night while out with friends more than eight years ago. With a strong connection, the happy couple moved in together a year later. After buying a house and getting married within the next three years, they soon started looking into fertility treatments. "We don't recall a specific discussion about starting a family," Kate says. "It was something we both knew we wanted; it felt like the natural next step for us after marriage. We had the three-bed house and the SUV and were ready to go."
River Medlock Photography captured this beaming family of three at the peak of autumn as the vibrant colors of fall surrounded them in the park. We can't get enough of sweet little Matthew, whose beaming grin reveals two adorably cute baby teeth. Now that Matthew is 1, the happy parents are starting the process all over again and trying for baby No. 2.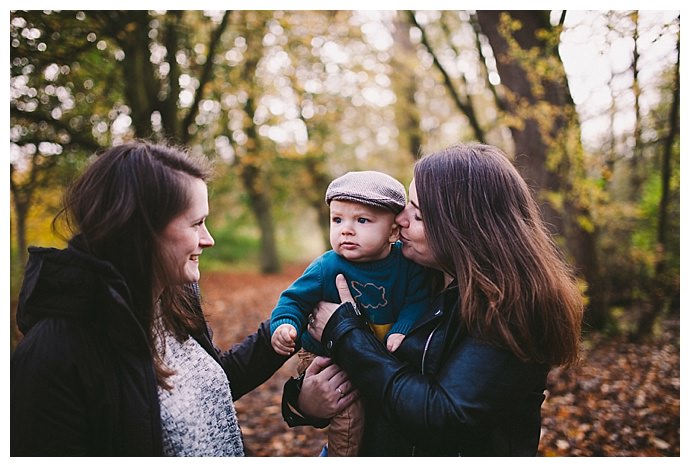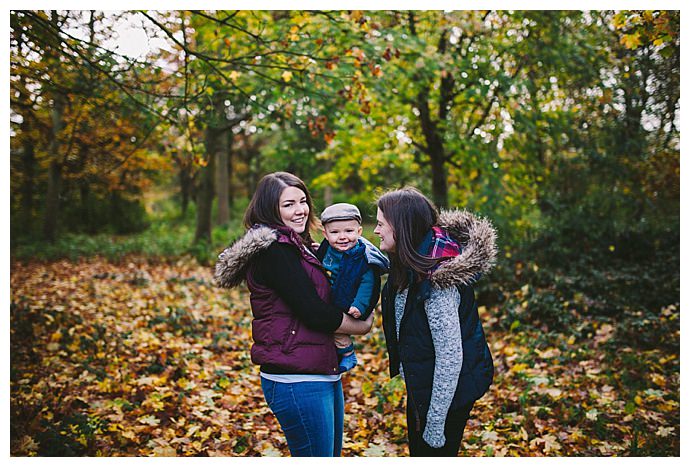 The Family Story
Because Lauren was slightly older in age, they decided she would be the first one to get pregnant. After exploring their options and considering adoption, Kate and Lauren settled on a local fertility center where they started with IUI. "Luckily in the UK, we have numerous laws protecting LGBT families, so our complications were solely medical," Lauren says. "We haven't experienced any discrimination to date." After three unsuccessful IUI attempts, they changed their approach and decided to try IVF, which also came with its setbacks. Lauren had to undergo an operation prior to the IVF procedure, and they soon learned that they only had one viable egg from that first cycle. "However, the odds were in our favor, as this one egg turned into our baby boy," Kate says. Throughout the pregnancy, Lauren endured morning sickness at all hours of the day and was diagnosed with Preeclampsia, leading to an induction at 38 weeks. But their beautiful baby boy, Matthew, arrived healthy and happy in March 2016.
The Joyful Changes
The loving mothers refer to themselves as Mummy Kate and Mummy L, but for now, Matthew calls them both Mama. They've decided to leave it up to their son to decide what he wants to call them as he grows. "Matthew is awesome," Kate says. "He has such a funny personality; he's a big fan of tickling our feet and blowing raspberries, and he loves to dance, so we have the radio on a lot." Aside from a silly love for remote controls, Matthew adores his fur siblings, two twin girl cats named Rice and Noodles. "Matthew loves the cats so much and sends them beaming smiles whenever they walk in the room," Kate says. "His first word was cat. Unfortunately, the love is unrequited as they are still very annoyed that they are no longer the only objects of our affection."
New moms Kate and Lauren are enjoying watching their son grow and all the life changes that come with having children. "Everyone warns you of the tiredness, but I don't think you can describe it," Lauren says. "We've taken the step of moving from the city to the countryside and are loving it. Last Saturday we were blissfully happy having a take away, watching Saturday night TV and playing Scrabble — until we argued about whether 'dem' was a valid word. Gone are the nights out and frequent restaurant visits. They've been replaced with soft-play and coffee dates with some fantastic friends." But Kate and Lauren say they wouldn't have it any other way.