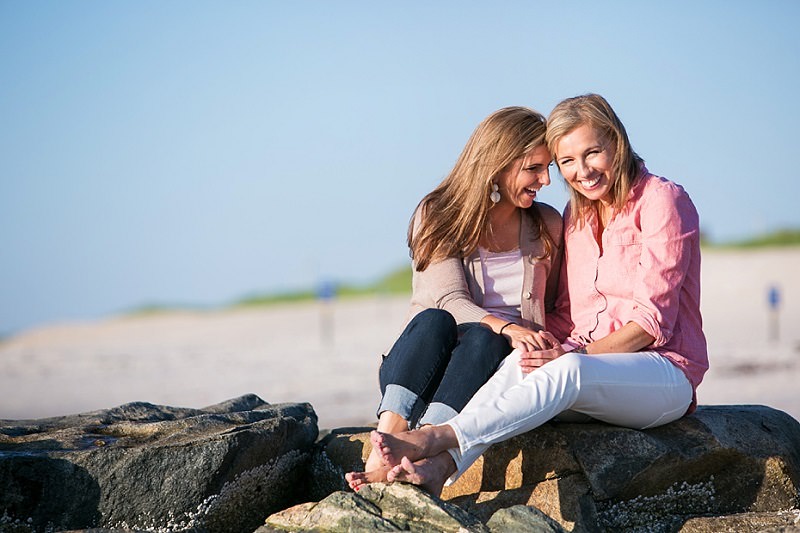 Kate and Kathy's engagement session held at the Cape is equal parts playful and heartfelt, which is a true reflection of this couple's relationship. "We knew we were meant for each other when we realized that through all of the highs and lows that life kept throwing at us, we were able to stick together and come out stronger on the other side," says Kate. "We also laugh like there is no tomorrow!"
"The Cape has always meant a lot to us, and we spend much of our time down there with our friends. This particular house was our dearest friend Ryan's family's house," explains Kathy of their locale choice. "The scenery is absolutely gorgeous, as you can see."
Sandra Costello Photography followed the brides-to-be over the sandy beaches and rocky dunes for an entire afternoon, capturing their love underneath the mid-day glow until the romantic sunset.
[raw]
[/raw]
The Proposal
Kathy: I have to be honest, there was no big proposal … it was a conversation we had at dinner one night about wanting to make our relationship official and start a family together. Because we are both artists, we decided that we would design our rings so the next day we made an appointment with the Bostonian Jewelers who did an amazing job with our vision.
When the rings were complete, we picked them up and started to drive down to Bristol, R.I., where we were going to "make it official" but we got too excited and decided to just pull over on the side of the road in front of a church in Boston and ask each other! So typical! We laughed at ourselves, but as we asked each other, we both did a lot of crying and hugging.
[raw]
[/raw]
The Rings
They officially became a couple on July 4 so they designed their rings to reflect the holiday's fireworks. "The Fourth of July has a lot of meaning for us," says Kate. "I think when we opened the little box in the sunshine and both rings were so incredibly gorgeous, we both gasped and looked at each other and couldn't believe it was finally actually happening!"
[raw]
[/raw]
Photography by Sandra Costello Photography