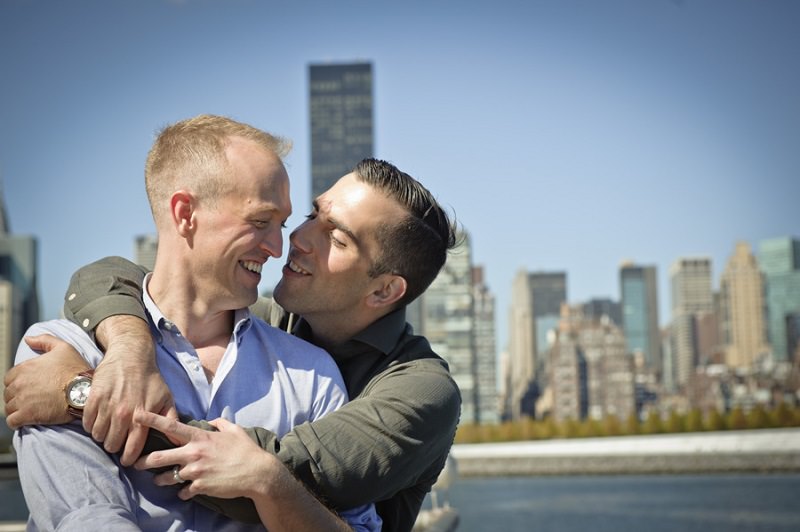 Matthew and Rodney selected two very classic New York sceneries to capture their engagement: Grand Central Station and the Long Island City waterfront with breathtaking views of the Manhattan skyline (plus a playful subway ride in between!).
"We wanted to choose locations that were quintessentially New York—that our friends and family from out of town would recognize when they saw the pictures," says Matthew. "Before the shoot, I was a bit apprehensive of the reaction we may get from people. While it is New York, you never know just what might happen. During the entire shoot, we had tourists lined up taking pictures of us and shouts of 'Congratulations!' and applause. I really think this feeling of welcome and love helped us to be our true selves and allowed the images to come out as they did."
With David Castagneto of Dreamscape Photographs behind the lens and good weather looking down on them, the grooms-to-be's session is filled with loving stares, sweet kisses and love that is truly inspirational.
[raw]
[/raw]
How they met:
Matthew: While Rodney may enjoy telling everyone that he and I met on Match.com, the truth is slightly different. Rodney and I first met right after I transferred from a business degree at the University of Tennessee-Knoxville to study dance at Shenandoah Conservatory in Winchester, Va.  Upon arriving at the school I was asked by another dance major to be part of a student composition piece—a dance centered on the idea of online dating using both actors and dancers. The piece was titled Match.com, hence Rodney's little joke with friends.
About a year and a half later, Rodney attended a concert I danced in and attended the evening's concert reception. While there, I approached Rodney and started talking with him for what ended up being the entire evening. Finally, after a lot of hinting, which he was not picking up on at all, I took his phone from his hands, saved my number into it, gave it back and said, "Here. You should probably call me sometime."
Ten minutes after I had just given him my phone number, he called and invited me over that night to watch American Psycho and to have a few whiskey sours. That was January 29, 2005 and we have never left each other's side after that night.
[raw]
[/raw]
When he knew he was "The One":
Rodney: It was July 2005 and we had been dating for a little over six months. At the time, we were both in college and it was our first summer away from each other. I was working at a small theater outside Philadelphia for the summer and Matt came to visit.  He had been working at his family grocery store in Knoxville, The Handy Dandy, all summer in order to save up enough money to be able to afford the trip. During his visit we traveled to New York City—his first time seeing the city outside of a high-school band trip. On the last day of our trip, I received a call from my mother telling me that my dad had suffered a heart attack. Without question, we ended our trip early and drove to Baltimore in the middle of July in a car with no air-conditioning to see my family and be with my dad. I was nervous about my family meeting Matt as I was still in the closet. But standing in the hospital with Matthew and my family just felt right. Matt was there to support me in my darkest hour with all of his love and support.
[raw]
[/raw]
The proposal:
Matthew: Prior to the proposal, Rodney called me one day and asked me to go to the David Yurman store to try on rings and let him know of a few I liked. I had an idea of what might be going on, but thought surely I was mistaken. So, I went with our roommate at the time and happily played in the store for a while and returned to Rodney with a list of five very different rings.
On the night of the proposal, I came home from work and Rodney had made dinner. Not unusual. Anyone who knows Rodney knows that he loves to cook. We ate dinner and then he asked me if I wanted to go on a walk to one of the bakeries in our neighborhood for dessert. We went out and wandered around our neighborhood for a while, picked up some pastries—which were horrible, I might add—and went back to the apartment.
Once we were back we went into our bedroom and Rodney asked if I'd like to watch a movie in bed. He was setting up the DVD player on our dresser when he bent down and came back up and said, "Matthew, will you marry me?" He wasn't holding the ring up at the time so I thought this was just another episode of him joking around with me. I gave a quip response not thinking anything of it. When he held up the ring, I instantly gasped, said "I'm such a bitch!"… then, of course, said yes!
We spent the rest of that night in our bed cuddling and watching that movie … although I was spending more time staring at my ring and the man I was going to marry.
[raw]
[/raw]
The Wedding Date
Matthew: The wedding will take place on Friday, December 13, 2013. The ceremony is being held at our church, Madison Avenue Baptist Church, where Rodney is a deacon and we have been congregation members for the past five years.
Our reception is being held on the rooftop of the Ravel Hotel in Long Island City at Penthouse 808, a glass structure that will give all of our guests full views of the Manhattan skyline and the Queensboro Bridge.
And you may wonder why Friday, the 13th? Well, Rodney and I both just so happen to have been born on Friday, the 13th and 13 has always been our lucky number.
Photography by Dreamscape Photographs