'Tis the season for giving but there's no reason the gifts you give (or put on your own wish list!) can't inspire you for your wedding. For our 2015 Holiday Gift Guide, Love Inc. editors have curated a series of gift ideasthat can also serve purpose for the big day.
Whether they are a unique yogi or the CrossFit conquerer, our fitness fanatic friends deserve the best gifts to help them reach peak performance and ultimate badassery. From the small goodies to help them keep going to the goodies that up their style game while flexin' those pecs, these gifts are sure to keep your rock hard homie happy.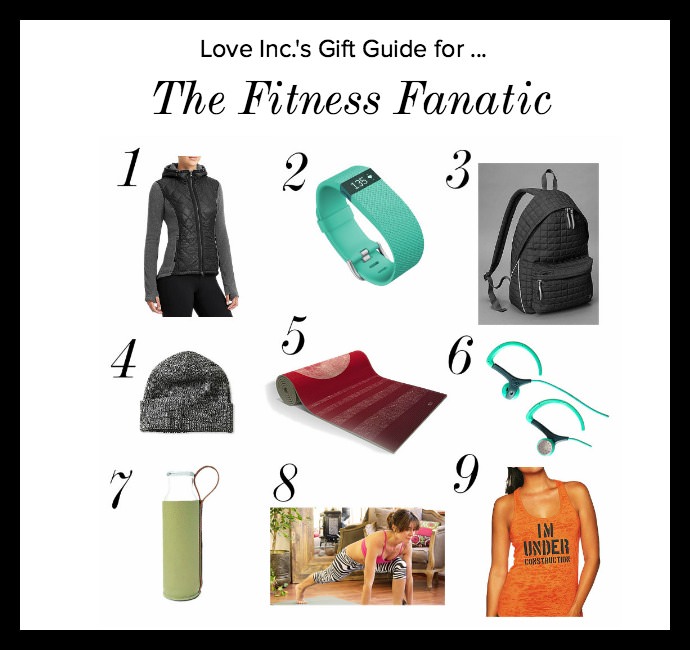 1. Vortex Jacket: Working out during the winter isn't always the best, but it's sure a lot better when you're able to keep warm and still look good. With soft, breathable fleece, thumbholes to keep the cuffs from riding up and a hood to ward off any impending ickiness, the Vortex Jacket is sure to make any cold-weather workout a little more pleasant. Available at Athleta for $148
2. FitBit Charge HR: Sure, wearable fitness trackers are all the rage – but there's good reason for it! A colorful FitBit Charge not only looks sharp, but its digital readout will keep you apprised of your heart rate, workouts, distance, calories burned, active minutes and steps. Keep track of daily stats to reach your optimal awesomeness … and tell time while doing so! Available at Target for $149.99
3. GapFit Quilted Backpack: There's no reason to tote stinky gym clothes in an equally stinky-looking bag. Arm yourself with GapFit's gorgeous quilted backpack, perfect for stashing a water bottle, gym goods and other personal affects. The polyester outer cleans easily with a simple wipe and the zippered compartments helps keep everything nicely organized so you can get in, get your workout on and get outta there. Available at Gap for $49.95
4. Ribbed Extra-Fine Merino Wool Beanie: It's known that keeping your noggin warm is key to keeping all of you warm, and that's especially important when exerting massive energy. A fine merino wool beanie will get that job done while still looking sharp. Available at Banana Republic for $39.50
5. Caliban Yoga Mat: Just like you wouldn't rock the same shirt multiple times in a week, nor should you be expected to stick to the same old yoga mat routine. Switch it up with a gorgeous new design-driven mat made out of eco-friendly materials. Available at Fab.com for $68
6. Skullcandy Chops Bud: Working out to your fave jamz is totes necessary, but significantly less amaze when your ear buds are constantly falling out. With the wraparound design and stellar sound, the Chops will be your most favoritest workout companion, helping you to stay in step with that sick beat without losing your rhythm. Available at Zappos.com for $19.99
7. Modern Glass Waterbottle: Hydration is super important when working out, #duh. Help your pal ditch that old BPA-riddled plastic bottle and class 'em up with this stylish glass vessel. With a handy strap for carrying and a leather wrap to help them get a grip, this will make a great gift for any fitness enthusiast. Available at Etsy.com for $68
8. Grokker Subscription: Not everyone is a gym rat or a running enthusiast. Sometimes, it's easier for both schedules and motivation to workout in the comfort of one's own home, and Grokker is all about that. With easy, medium and difficult workouts ranging from Zumba to barre to yoga and more, you or your homie can get your sweat on in as little as 20 minutes or go full bore with an hour without even leaving your living room. Perfect for the person who is having a tough time getting motivated and just needs to find the perfect routine to fit their schedule. Available at Grokker.com starting at $14.99
9. I'm Under Construction Tank: There's no shame in the workout game, so why not shout it from the rooftops? Stay empowered through workouts, even on bad days, by wearing an inspirational message in a bright color on your sleeve – er, torso. Available at Etsy.com for $21.99
*Editor's Note: This post contains affiliate links. Each time you purchase an item via our affiliate links, Love Inc. is receiving a small percentage of the sale, thus you are helping our small, equality-minded business grow and allowing us to provide more content for YOU! Isn't that just fantastic?  
By Christen Moynihan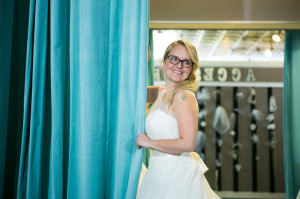 I'm from a small mountain ski town and now live on the outskirts of a big Texas city. By day, I edit The Broke-Ass Bride, own Bourbon & Sparkle and generally ogle all things tulle and shiny. By night, I'm a cat cuddler, bourbon drinker and voracious high-fiver. Follow along on Twitter and Instagram (@brokeasschris10).