Whether you're buying for a friend who is the ringleader at your local Crossfit or someone who is just wanting to shed a few pounds for their wedding day, this wish list is sure to delight all fitness levels.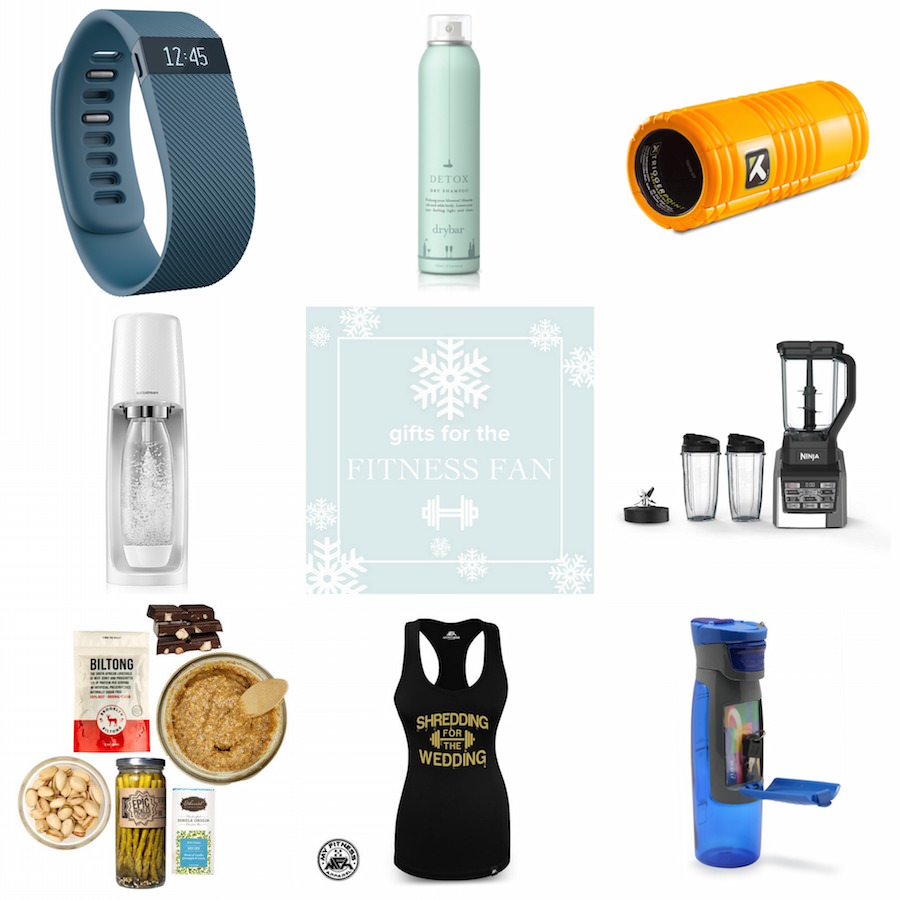 Fitbit Charge: This tiny tracker keeps tabs on heart rate and activity all day long — including exercise, food, weight and sleep — keeping them motivated toward their fitness goals.
DryBar Detox Dry Shampoo: For the on-the-go goal getter, DryBar's dry shampoo is a cult favorite that will absorb post-workout sweat.
Grid Foam Roller: Work out kinks with this three-dimensional surface foam roller. Designed to replicate the feeling of a masseuse's hands, sore muscles will be soothed while increasing circulation and flexibility.
Ninja Blender: Make juices and smoothies in a snap with Ninja's BlendMax DUO Drink System. The blender's 1600 watts of power paired with Total Crushing® Blade Technology helps to pulverize tough ingredients like ice, frozen fruit, and vegetables.
Contigo Water Bottle: This BPA-free water bottle features a built-in compartment to carry keys, ID, money, gym pass and more, making it an easy grab-and-go to hit the gym. It also features a one-touch AUTOSEAL® lid that automatically seals between sips to eliminate spills and leaks while you work out.
Shredding for the Wedding Tee: This tank will allow them to show of their soonlywed status as they sweat, and provide encouragement to slay those extra burpees.
Paleo Gift Basket: This taster comes packed with healthy goodies of the sweet and savory variety, from zesty pickled vegetables to decadent chocolate and almond butter so good that will have them scraping the bottom of the jar.
Soda Stream: Staying hydrated never tasted so good! A Soda Stream is a must-have in any athlete's kitchen, allowing them to make their own flavored seltzers with the carbon-dioxide infuser.
*Editor's Note: This post contains affiliate links. Each time you purchase an item via our affiliate links, Love Inc. is receiving a small percentage of the sale, thus you are helping our small, equality-minded business grow and allowing us to provide more content for YOU! Isn't that just fantastic?