By Brittny Drye | Photography by Elvira Kalviste Photography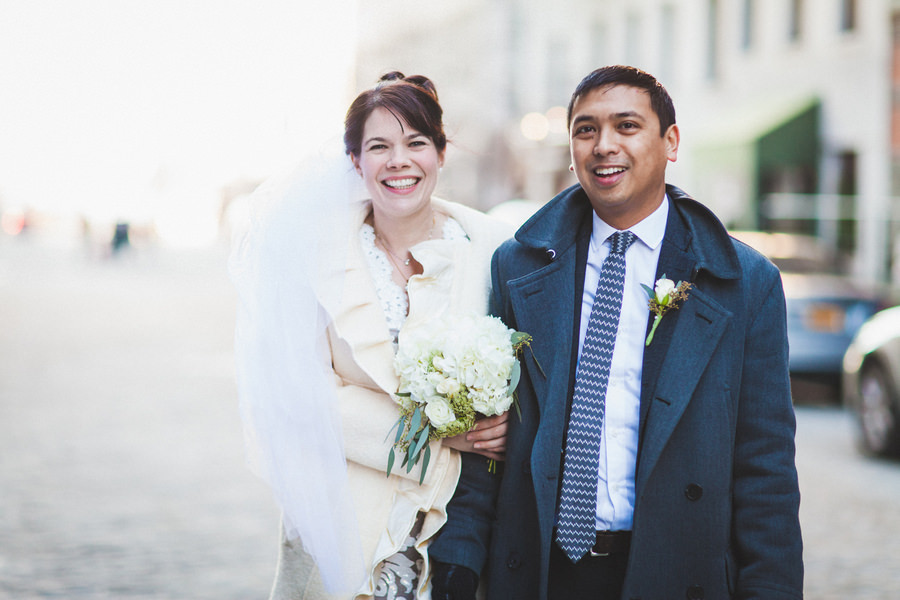 Erin and Virgil just seem like the kind of couple we'd want to be friends with. Their vision for their intimate restaurant wedding seems to scream "good food, good company and good times" which, in our eyes, doesn't get any better than that. Elvira Kalviste Photography snapped the New York City couple's ceremony and reception, both held at the Tribeca hotspot Locanda Verde, where wine and good conversation flowed in celebration.
The Love Story
Erin and Virgil met at work at a children's museum. "On a lunch break, on the fire escape," explains Erin. "We initially bonded over our choices of burritos that day, and later, over other little things, other little ideas, other interests. Those little connections grew into a more emotional bond over the years and our strong friendship grew into a long, long courtship."
The Venue
Locanda Verde's cozy dining room proved to be the perfect space for their intimate New Year's Day celebration. A raging fire from the stone fireplace kept guests warm from the New York winter, while hand-blown glass chandeliers hung from the wine cork ceiling.
The Fashion
Virgil looked dashing in a charcoal gray English tweed suit from J.Crew while Erin chose a gorgeous Tadashi Shoji wedding gown and paired it with a Nanette Lepore coat. Family heirlooms — a diamond necklace made from her grandmother's engagement ring and a pearl necklace that belonged to Virgil's grandmother — were passed down to the bride as her something old, while a beaded purse gifted from her mother was her something new, and a borrowed veil from a friend and a blue floral handkerchief she mother had saved since she was little rounded out the rest of the tradition.
The Ceremony
Guests spontaneously hummed the "Bridal Chorus" as the couple walked down the aisle with their respective parents. The couple wrote their own ceremony and vows, incorporating a reading of "Some Things Go Together" by Charlotte Zolotow. "It seemed an appropriate reading given that we met at a children's museum," added the bride. "In the blur of it all, I vividly remember Virgil promising that our lives would be 'extraordinary not just ordinary' together."
They ended the ceremony with a unity candle ceremony, a tradition in Filipino weddings and a component of Erin's parents' wedding. Virgil's friend Jenny Cuddihy, a trained opera singer, sang "Bailero," as the newlyweds recessed down the aisle. 
The Party
"We will never be ones to say 'You don't eat well at your own wedding' because Locanda Verde knocked it out of the park — for us and the guests," exclaims the couple. Their guests were served up an Italian menu, family style, down long farm tables topped with pillar candles and arrangements made from ranunculus, roses, eucalyptus, ferns and white peonies.
A carefully constructed Spotify playlist provided the background music for the memorable meal. "We did have a simple photo booth with a Fuji Instax camera and silly 2015 glasses. We encouraged guests to take instant photos, both to add to an album for us to keep and for themselves to take home as momentos. It was a fun activity and resulted in some great  photos!"
Memorable Moment
Erin: After walking down the "aisle," looking out at the room and seeing our friends and family all gathered together for our wedding, just filled me with love and affection for everyone. I was so touched by the way our friends and family contributed to our wedding in so many ways. However, the moment we took each others hands and looked into each others eyes, I was entirely focused on Virgil. 
Virgil: Is it fair to say the day after the wedding? We were both so in the moment on the day of the ceremony, that the magic and the love shared at the event truly impacted us the next day.
Vendors
Photography: Elvira Kalviste
Venue/Catering: Locanda Verde
Floral Design: Raquel Corvino Flowers
Cake Design: 2 Creative Moms Cakes
Wedding dress: Tadashi Shoji
Suit: J.Crew