One of the most talked about movies of the summer, "Crazy Rich Asians," just hit theaters, and we couldn't have been more excited to see it. With the promise of a lavish wedding (as detailed in the global best-selling novel by Kevin Kwan), we sat on the edge of our seats as Rachel Chu (Constance Wu) traveled with her boyfriend Nick Young (Henry Golding) to Singapore to meet his — surprise! — ultra-rich family for the first time and attend his best friend's wedding. In addition to being the first film in 25 years to feature a predominantly Asian cast, the film explores the dynamics of blending families from different cultures and backgrounds in an authentic and gripping way. We laughed, we cried and we seriously swooned over all the fashion.
In fact, one of the most memorable and fashionable moments of the film came in the form of an epic entrance as Nick's best friend's bride, Araminta (Sonoya Mizuno), made her debut at the end of an aisle lined with bright, lush floral arrangements, cherry blossom branches and a surge of water (just wait until you see it!). But what really took our breath away was the wedding dress, designed by costume designer Mary Vogt.
To create the glam gown with a tiered high-low skirt, Swarovski crystals and gold detailing, Vogt drew inspiration from avant-garde designs as well as Alexander McQueen and Iris Van Herpen, and she considered the character's personality as well as the actress who played her. "With Sonoya Mizuno, in addition to being beautiful, she was very playful, exuberant and moved with great elegance," Vogt says of the actress. "I found out she was a ballerina in recent past, so I tried to design a dress that showcased her sense of fun and grace." Vogt says she also wanted to convey the bride's charm into the dress design. "The high-low elements were reflective of Araminta's creativity and love of fun," she says.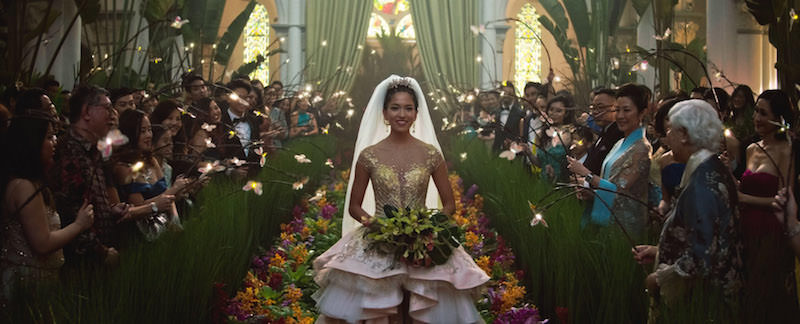 For those who read and love the book, the wedding in the film delivered all the extravagance and elegance that was written in novel, but the dress itself differed from Kwan's original description. "The dress in the book was very sophisticated and serene," Vogt says. "The actress cast was more fun and adventurous, and Kwan understood completely that the actors cast in the different parts will bring a different perspective to the character. He was very open to those changes." To bring the dazzling design to life, Vogt collaborated with designer Carven Ong in Kauala Lumpur to manufacture the dress. The result was a stunning, statement-making dress that we're sure will inspire future soonlyweds for years to come. If you haven't seen it yet, check out the trailer below, and then head to your local theater because this is one film you won't want to miss!
*Editor's Note: This post contains affiliate links. Each time you purchase an item via our affiliate links, Love Inc. is receiving a small percentage of the sale, thus you are helping our small, EQUALITY-MINDED™ business grow and allowing us to provide more content for YOU! Isn't that just fantastic?
Written by: