By Shannen Hofheimer | Photography by Altar Image Photography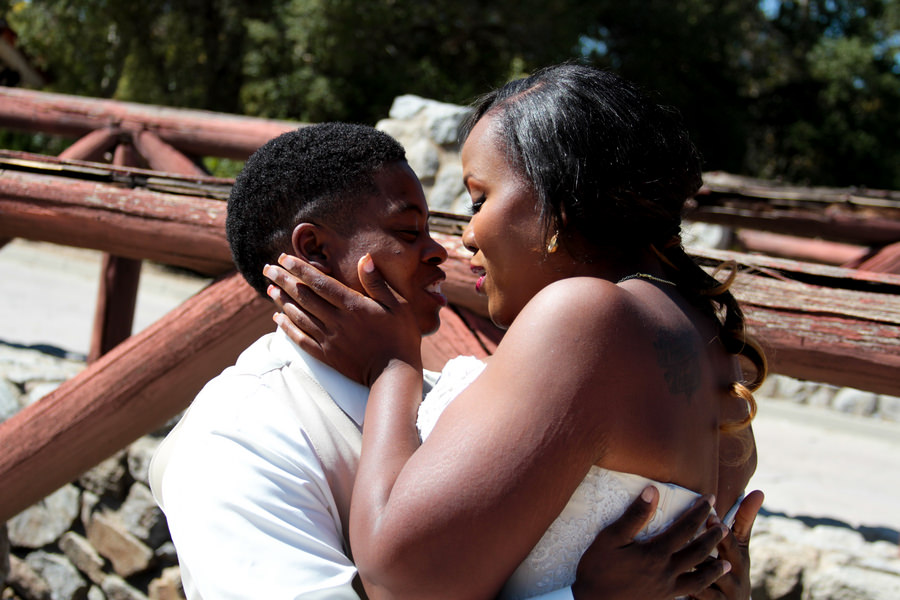 On their wedding day, Charena and Melissa took pleasure and fulfillment in celebrating their love before an intimate gathering of close friends and family. Altar Image Photography couldn't have done a better job of capturing the pure ecstasy that these two ladies feel in the presence of one another. In these playful, joyous wedding photos taken at a friend's beautiful backyard in sunny Ramona, Calif., these brides are quite literally jumping for joy on their special day!
The Love Story
Back in 2004, Charena and Melissa's journey to true love commenced when Charena sent Melissa an "ice breaker" via Yahoo personals. Thanks to Charena's persistence, the two soul mates began to chat often and eventually agreed to meet in person. "During our first date, it was evident to both of us that we had found The One, but we did not express this. We have pretty much been inseparable since that day," the glowing brides tell us of their love. Melissa undoubtedly agreed to marry Charena (better known as "Tiny") when she proposed to her before their closest friends at her going away party for her last deployment.
The Venue
Despite looking at countless venues, Charena and Melissa were still not sold on a "perfect place" for their wedding day. However, both ladies knew that they desired an outdoor, laid-back wedding. Once a friend of Melissa's told the happy couple to come and check out her backyard as a potential contender, Tiny fell in love with it and knew it would be the perfect backdrop for their nuptials.
The Ceremony
There was so much love at Charena and Melissa's ceremony that it moved their guests to tears. With Melissa's two daughters as her bridesmaids and Tiny's father as her best man, it was the perfect, intimate feel that the ladies had in mind. The ceremony, beautifully and creatively officiated by Ceremonies by Bethel, incorporated a hand-fasting ceremony as well as a presentation of the brides' daughters with special rings.
The Fashion
Melissa looked like royalty in a flowing ivory strapless ball gown with an organza skirt, while Tiny looked perfectly dapper in tan pants, a vest and a coral tie. Both brides tied in their wedding colors of coral and ivory in everything down to their shoes — Melissa strutting down the aisle in coral converse and Charena rocking her ivory Converse.
The Inspiration
Their rustic fall wedding, held on a sunny September day, was infused with splashes of bright coral and ivory which could be found in the centerpieces, floral design and cake. However, the brides' favorite details were found in the time they spent together preparing for the big day as a family. "Although a lot of things were done by professionals, there were some DIY projects which we loved doing with our daughters. Together, the four of us made table numbers and name tags for the mason jars," the brides tell us.
Circus roses were found in every aspect of the floral design, beautifully and simply paying homage to early fall. The gazebo in which Charena and Melissa exchanged vows was decorated by a garland of greenery with pops of florals which framed the brides as they said their I dos.
The Party
Every dish that Charena and Melissa had for their guests sounds even more scumptious and mouth-watering than the next (our stomachs started growling at the hors d'oeuvres). Tomato and mozzarella mini paninis, panko chicken skewers with spicy peanut drizzle and roasted tomato bruschetta was only the beginning. Entrees consisted of delights from the carving station, including citrus and oregano-marinated grilled steak tips and herb chicken with seasoned potatoes and vegetables on the side.
The three-tiered cake was jam-packed with three different delectable fillings, including carrot cake with walnuts and cream cheese, chocolate peanut butter filled with peanut butter mousse and fudge and lemon cake filled with lemon mousse and lemon jam. If guests still hadn't eaten to their hearts' content, they needn't worry — they could just head on over to the s'mores bar, complete with Ghiradelli chocolates.
The talented photographer set up a photo booth that was quite the hit with all the guests, and the DJ didn't fail to keep the dance floor hopping all night. "After being together for almost 10 years, it was only appropriate that we had our first dance to Etta James' 'At Last'."
Memorable Moment
"When we were walking out from our wedding ceremony, Charena did a little jump. Just picture Fred Flinstone's famous jump and you will get the gist!"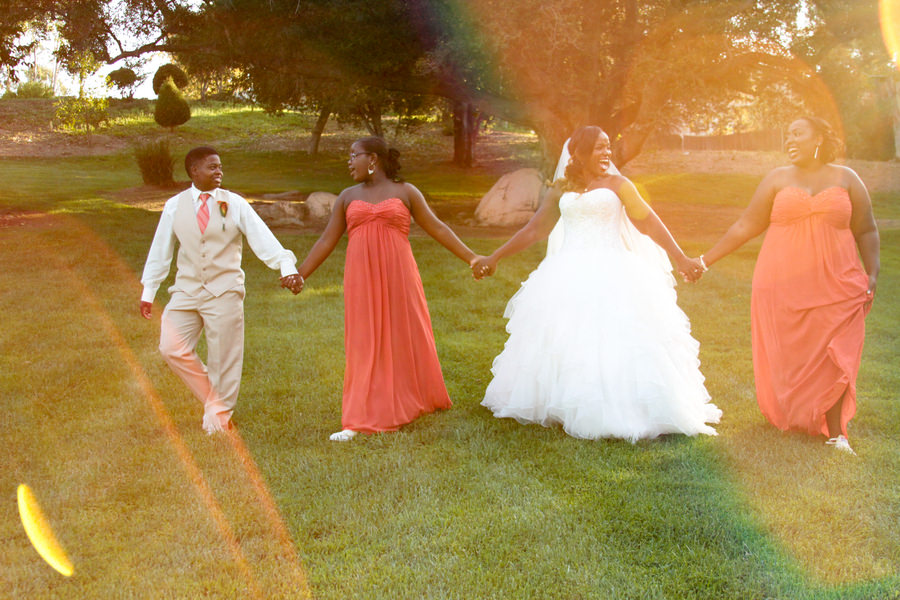 Wedding Vendors:
Officiant: Ceremonies by Bethel
Photographer:  Altar Image Photography
Florist: Sheri's Flowers
Cake Designer: Flour Power
Catering: Personal Touch Dining
DJ/Band: Choice Entertainment
Makeup/Hairstylist: Beauty by Brittany