The number of decisions you have to make when planning a wedding can be overwhelming. For Cassi and Christine, that first decision of where to hold their big day was one of the toughest decisions of all. "We didn't have the easiest time choosing a venue — at first," Cassi says. "We were all over the place with what state we even wanted it in. After beginning the process of setting up appointments, we were surprisingly met with some resistance to us being a same-sex couple." Discouraged by the search, the soonlyweds took a break from wedding planning for a few months before they stumbled upon Sweet Pea Ranch.
"Boy am I glad we walked onto that property," Cassi says. "It immediately felt like home, which was exaclty what we wanted — we wanted our guests to feel like they were invited to an intimate affair at our home with a lot of amazing extras." With the perfect venue, Cassi and Christine got to work planning their dream day, which was made even more special when they also got to use their wedding day to celebrate the adoption of their son. Captured beautifully by Classic Photographers, Cassi and Christine's shabby chic ranch wedding is a poignant reminder of the magic that happens when two families become one.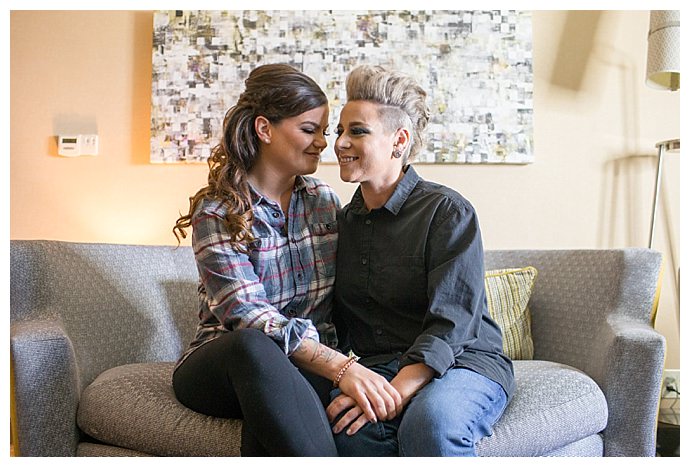 The Love Story
More than 15 years ago, Cassi and Christine met while working in the same restaurant. They quickly fell into the same friend group and struck up a close friendship, but it wasn't until five years later that they realized their connection ran deeper. "The idea of us wasn't always embraced the way it is now, but the friendship that was developed over five years was the foundation we needed to overcome all the obstacles that lay ahead," Cassi says. A quick and joyful five years later, Cassi and Christine were headed to see Incubus and Deftones in concert to celebrate Cassi's 30th birthday with some friends.
They met up for dinner and drinks beforehand, but while they were at the restaurant, Christine said she was feeling ill and told Cassi to stay and finish her drink while she went back to their room in the hotel across the street. After dinner, they went back to the hotel to check on Christine. "Once we opened the door to the room, I knew what was about to happen," Cassi says. "The lights were off, there were tea lights everywhere and a path led to the double French doors. As the doors opened, Jason Mraz's song 'I Won't Give Up' began to play, and out came Worm. The rest of the beautiful details were a blur, but as you can see, I absolutely said yes!"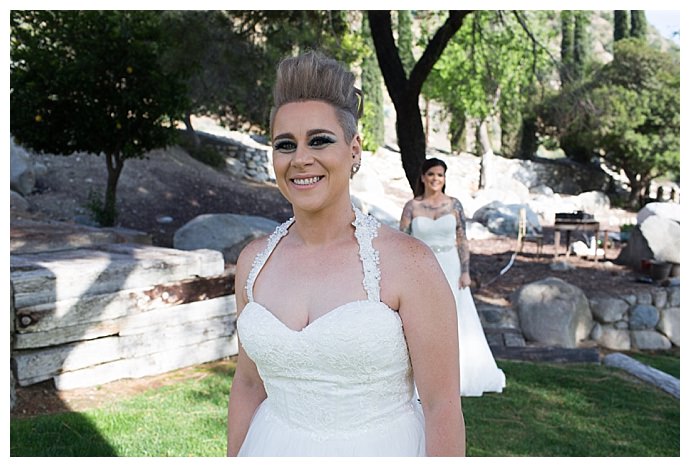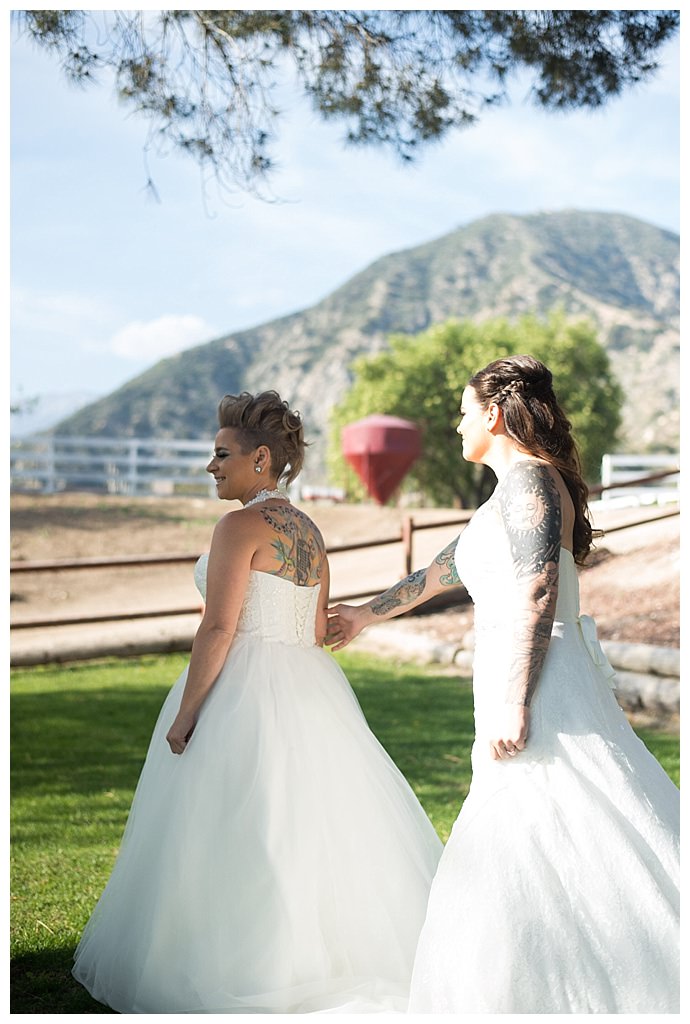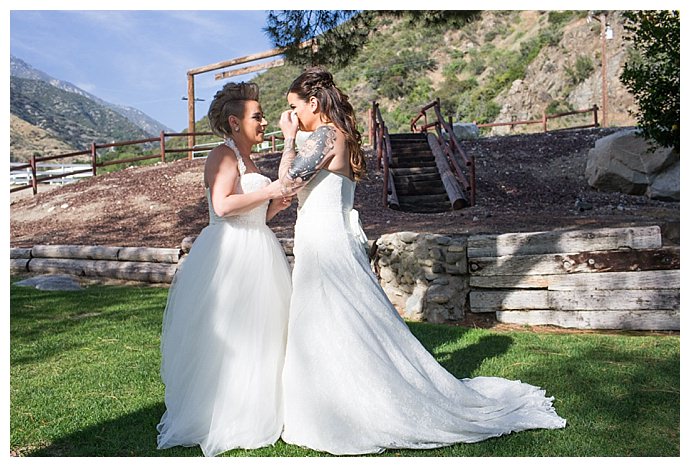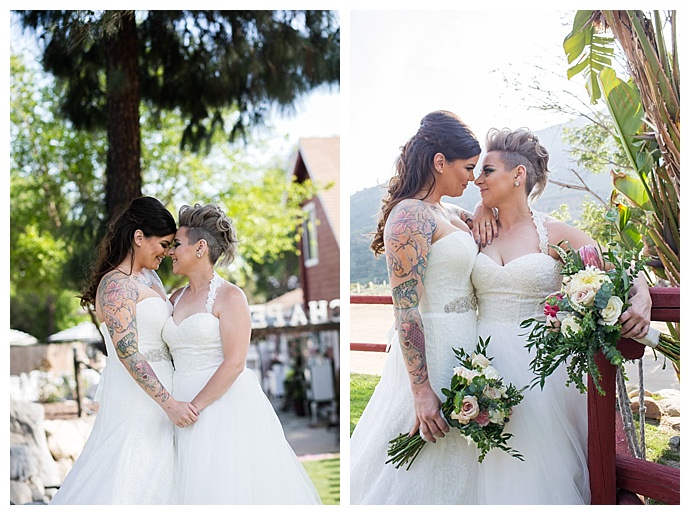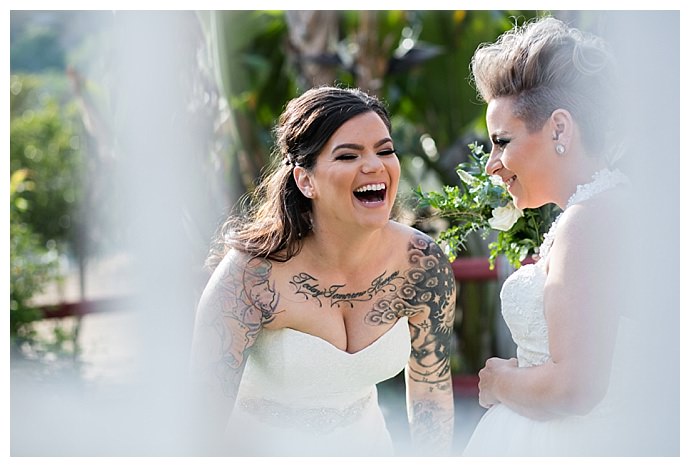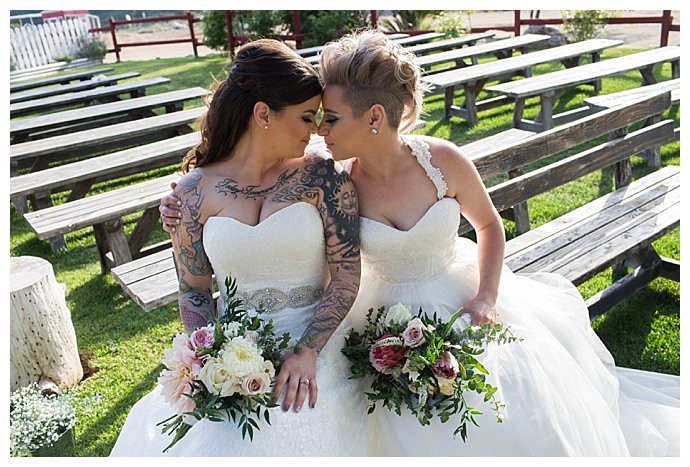 The Ceremony
Along with the celebration of their relationship, Cassi and Christine's wedding day was special for one other very important reason. "Our wedding was not just about the joining of two hearts, but the joining of a family as well," Cassi says. "On our wedding day, we announced the adoption and name change of our son Maison for the first time." To commemorate this joyous occasion, their officiant, who is a close friend of the brides, wrote a beautiful and moving ceremony that included their son, who stood proudly next to his moms at the end of the aisle. And after Cassi and Christine were pronounced wives, the look of joy on his face as they kissed says it all.
Following the ceremony, Christine changed in a custom gray suit for the reception, but before the party got underway, the newlyweds took a private moment to partake in a ceremony ritual that they had saved for just the two of them. "We were able to do our ring exchange privately with our photographers, which created such a beautiful moment," Cassi says.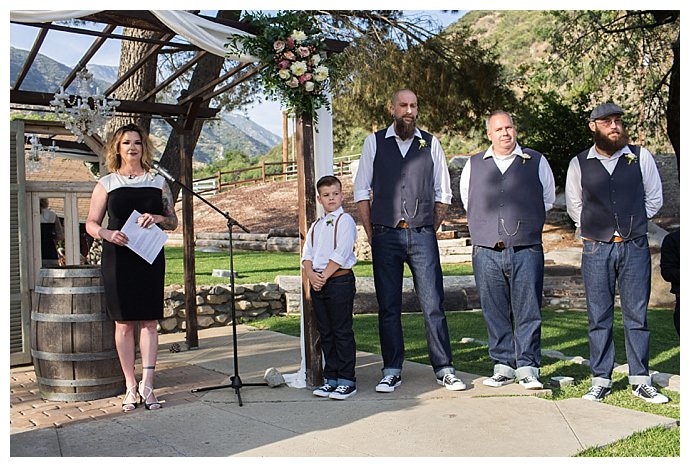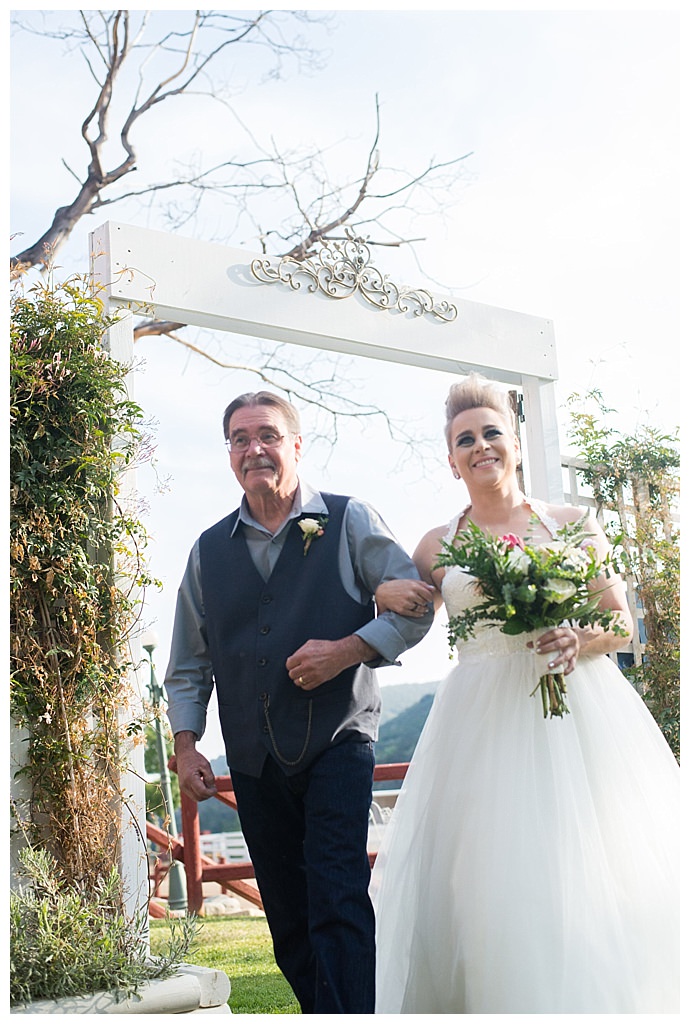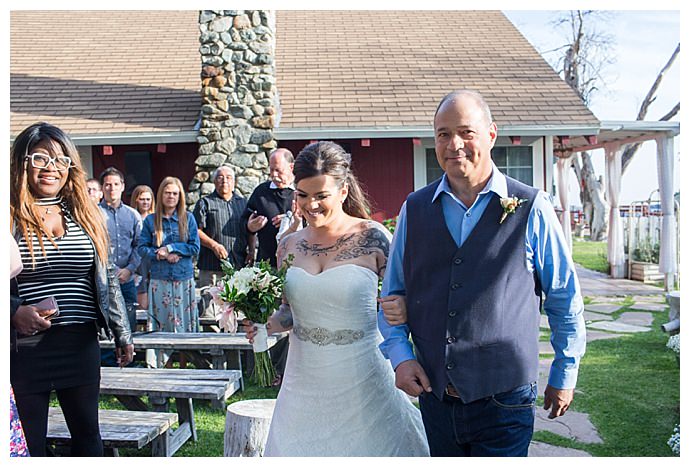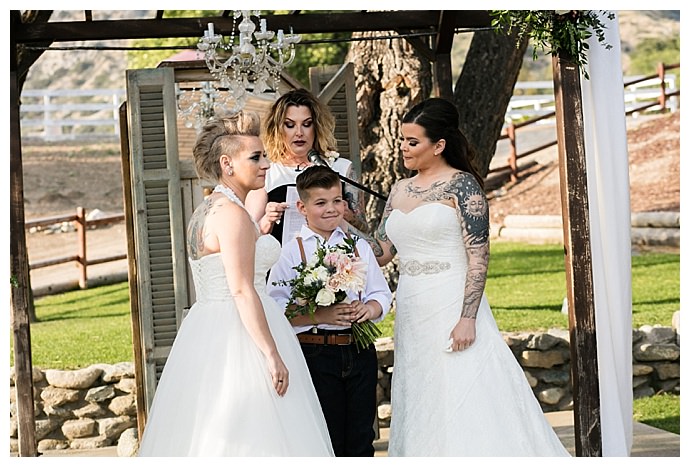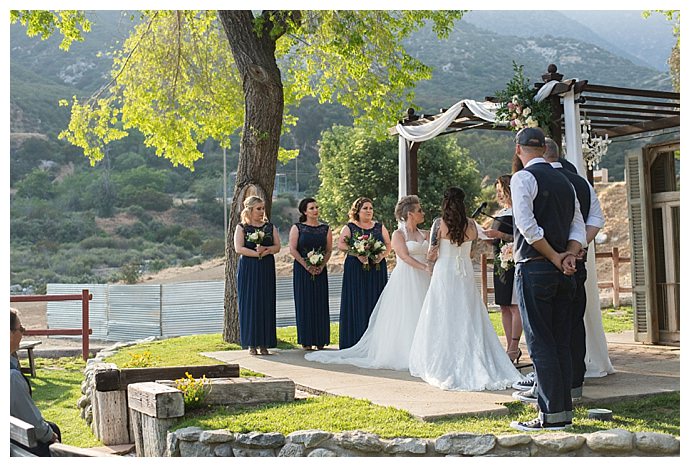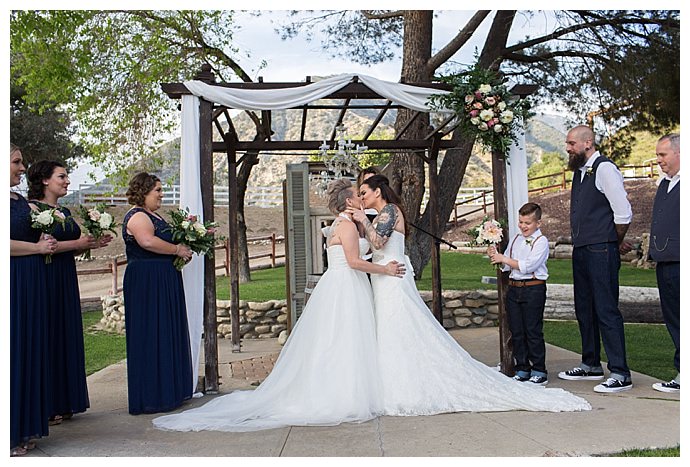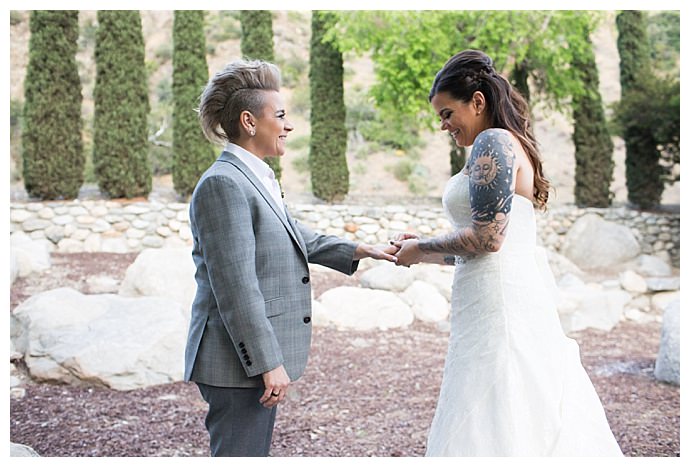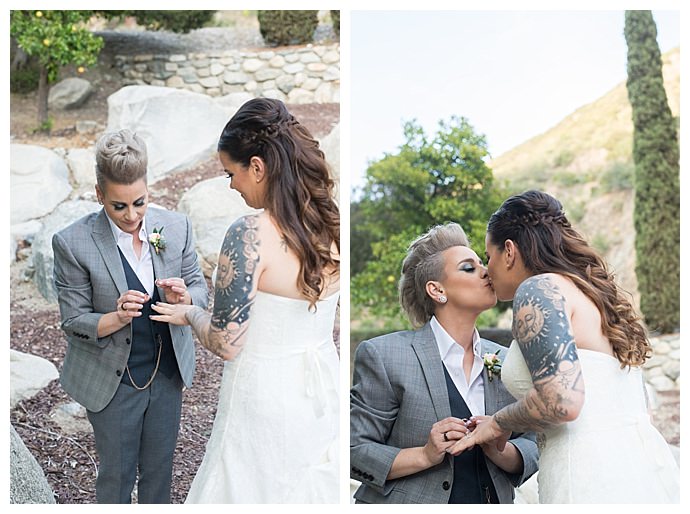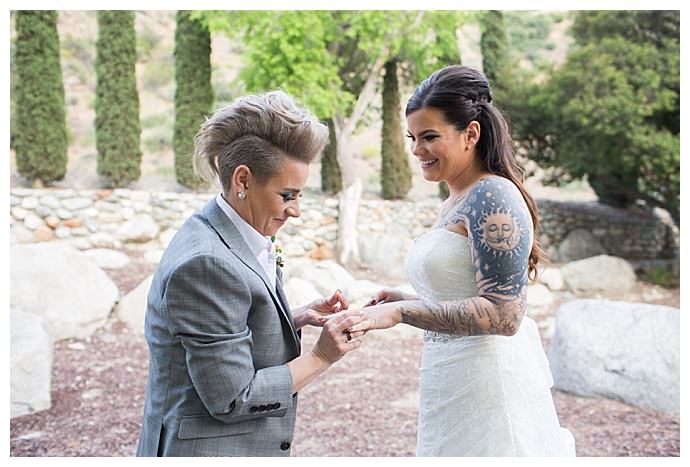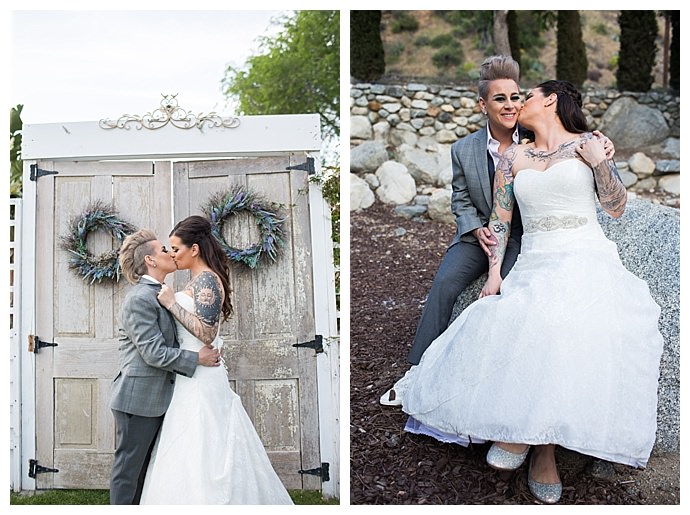 The Party
One of the aspects that immediately drew Cassi and Christine to Sweet Pea Ranch was its sizable property that they would have full access to on the day of their wedding. They truly wanted to provide a fun and memorable experience for their guests, so they provided a number of activities for guests to partake in. "There was something for everyone to do," Cassi says. "There was an area to play billiards, hang out on the couches and talk, a fire pit to roast marshmallows and make s'mores. There was a barn where the dance floor, bar and dessert table were located — this place had it all!" Just outside the barn, rows of farm tables were set up underneath a canopy of string lights. Burlap and lace runners topped the tables, and for centerpieces, Jack Daniel's bottles were filled with copper wire fairy lights. "Everyone had Mason jars and goblets to drink from along with champagne flutes," Cassi says. "For plating, we used mismatched antique china on top of gold chargers."
After a delicious Louisiana BBQ buffet, the brides shared their their first dance and then cut into their one tier white wedding cake to find a rainbow surprise inside. "Our cake was a surprise that was chosen by our venue," says Cassi. "It was beautifully simple on the outside with white buttercream icing, and on the inside was a beautifully vibrant rainbow." In addition to the cake, the dessert bar was stocked with a plethora of sweet treats for their guests to enjoy.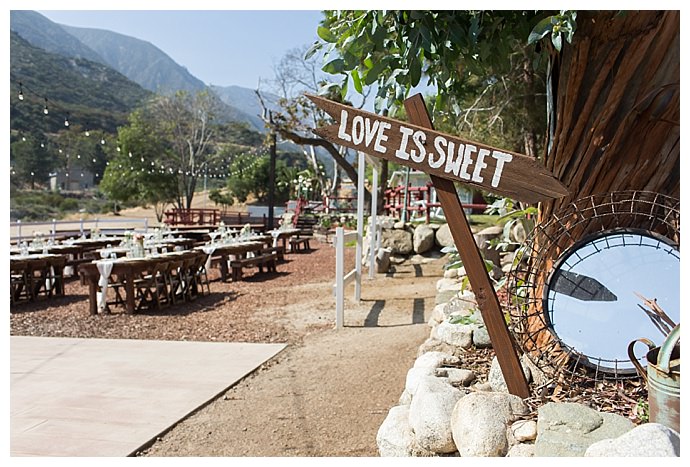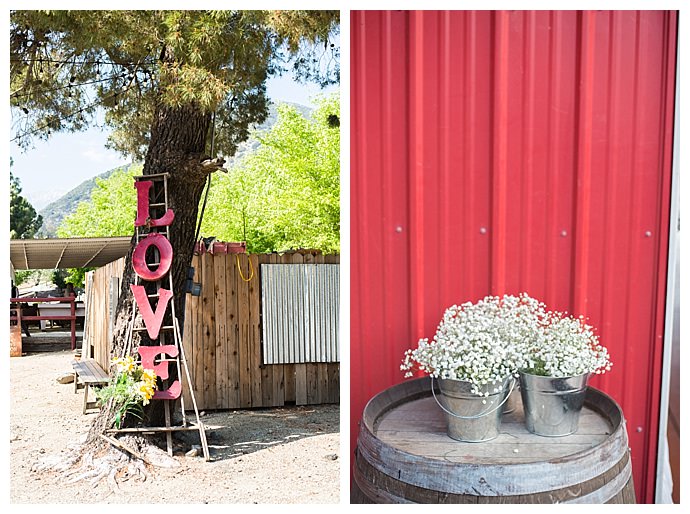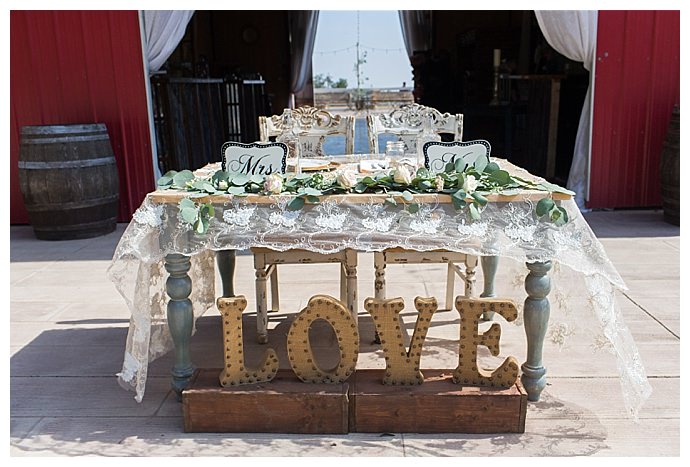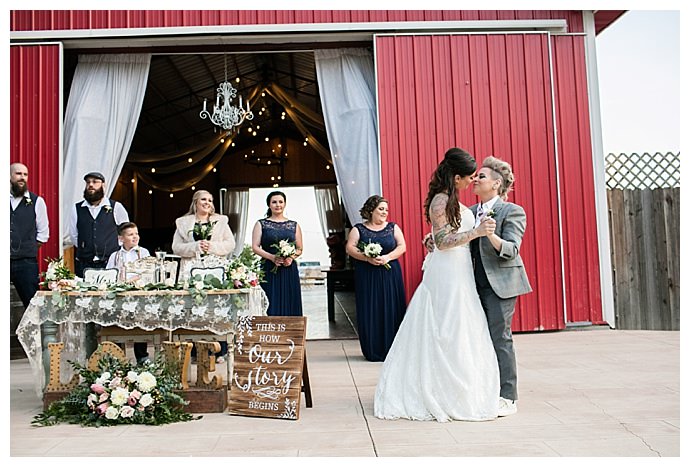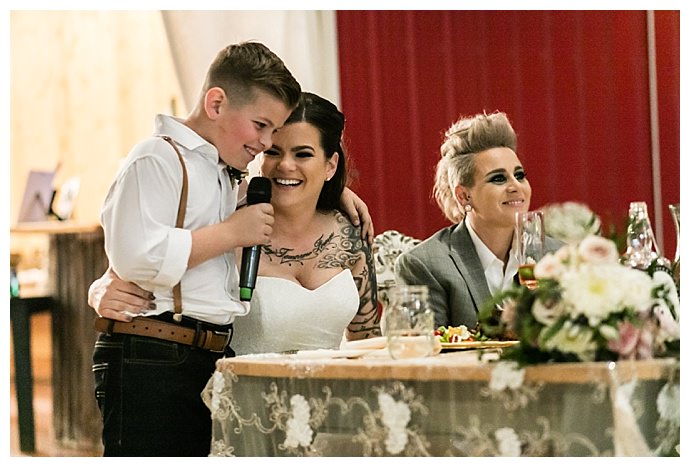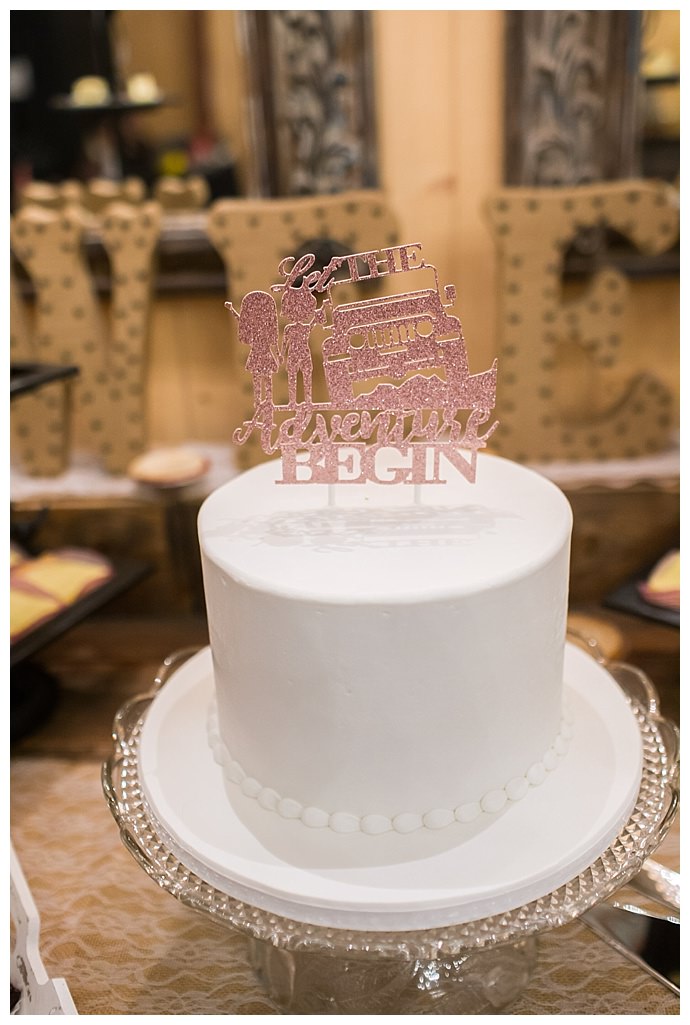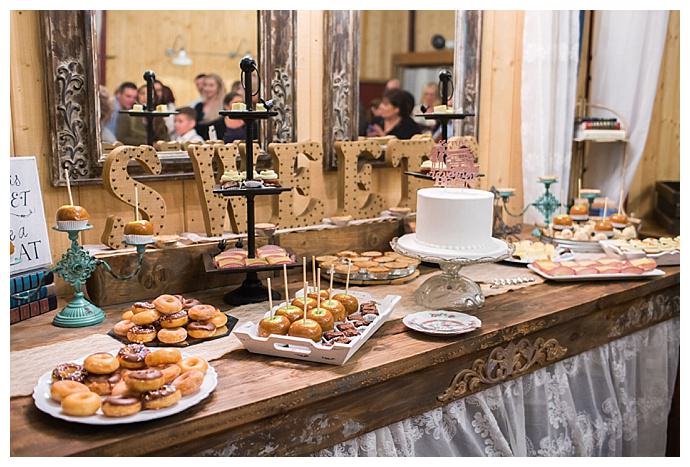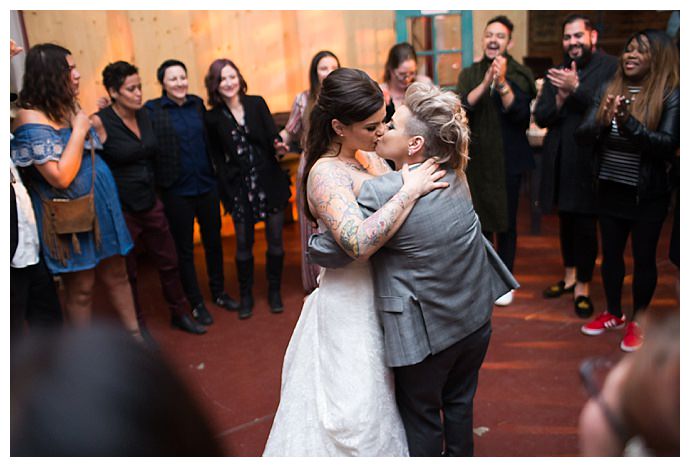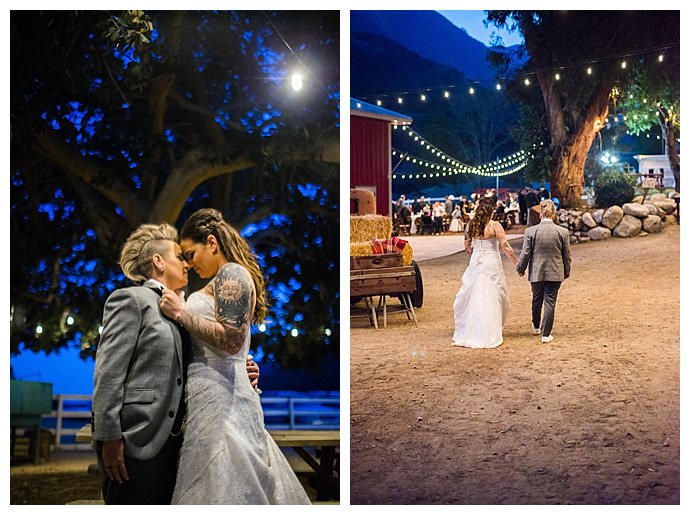 Written by: