When both grooms work in the wedding industry, their wedding is sure to be a grand affair. "We came up with this idea that we wanted everyone to feel sexy at our wedding," Brent says. "We wanted a darkish, modern industrial, lush, midnight in the garden of good and evil kind of feel." With varying shades of purple flowers, a warm light from glowing candles and industrial hanging bulbs and dark decor infused with pops of copper, they achieved just that. Dark Roux Photography captured Brent and Herb's stylish New Orleans wedding, where the couple of eight years celebrated the beginning of the rest of their lives together.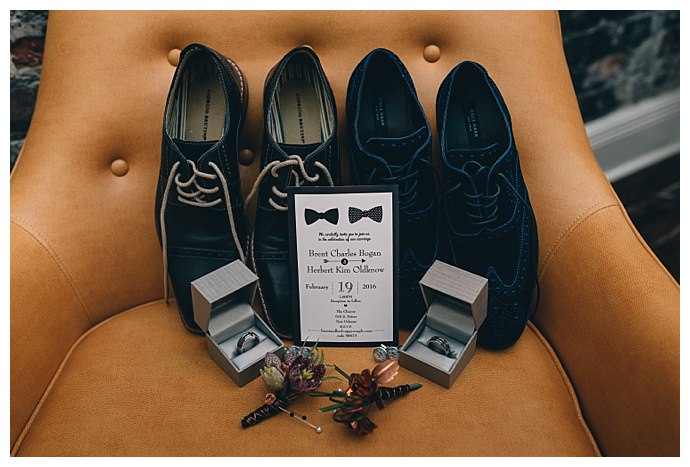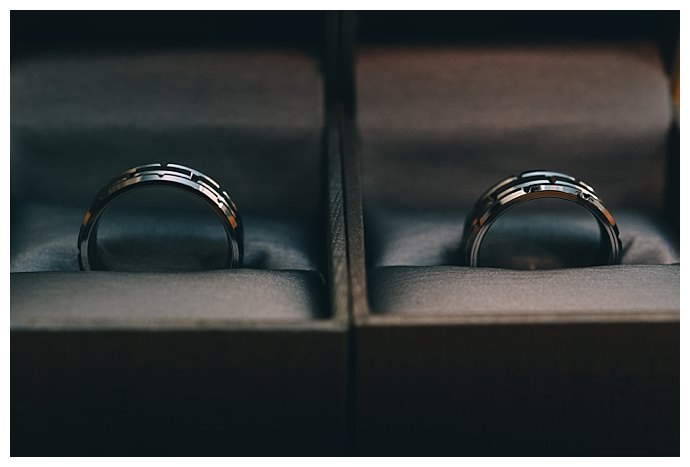 The Love Story
Brent and Herb met, according to Brent, the old fashioned way — on a night out at the bar in Baltimore. It was Herb's good friend Stephanie who unknowingly played matchmaker when she ran into Brent while looking for the outdoor patio. Brent was more than happy to show her the way, not knowing that his life would change forever within the next few minutes. "She said she was waiting for her friends," Brent says. "And then Herb walked through the door, and it was love at first sight."
After three months of dating, Brent and Herb moved in together in DC where they lived for the next three years until they packed up and headed south to live in Brent's hometown in New Orleans. They settled into their new home, bought a house and began building a life together, but marriage wasn't yet on the table for them. All that changed years later on the night of the historic Supreme Court ruling that legalized gay marriage. The venue where Brent works, The Chicory, was hosting a party for the Southern Decadence Grand Marshals, and Herb wanted to surprise Brent. So with a 50-cent candy ring pop in his pocket, he brought Brent up to the rooftop of The Chicory and got down on one knee.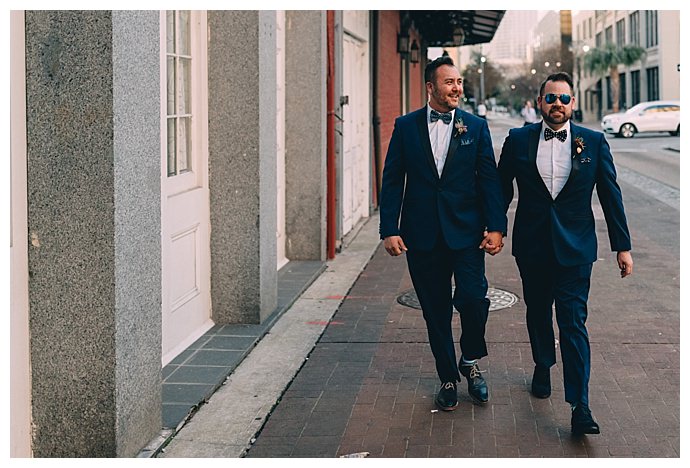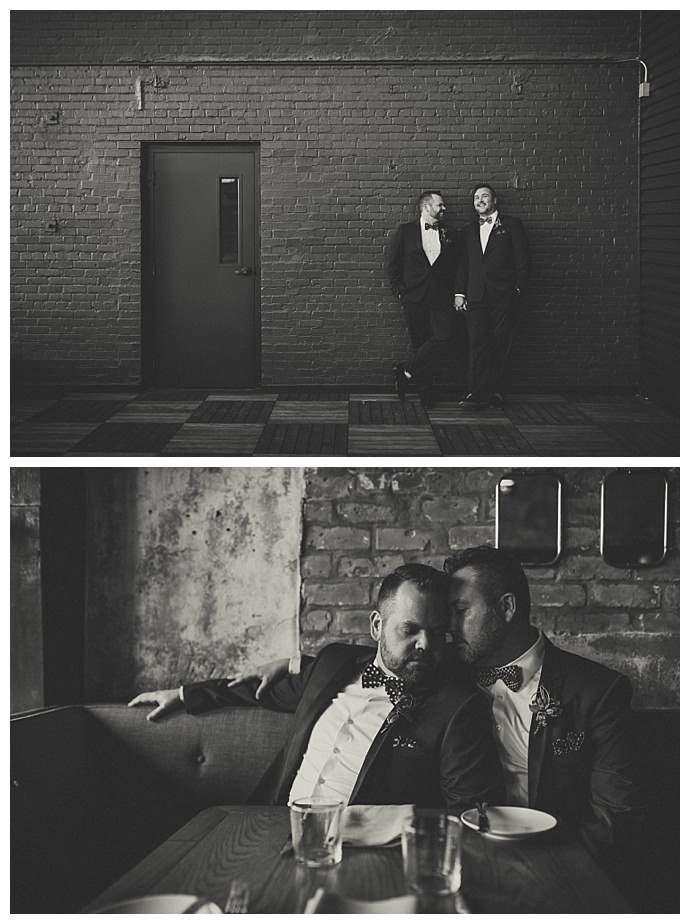 The Ceremony
A canopy of vines suspended from the wood beam ceiling held clear glass teardrop globes with votive candles, projecting a soft luminous glow onto the aisle below, which was lined with more than 100 white pillar candles. As guests arrived for the ceremony, a guitarist played beautiful acoustic versions of Brent and Herb's favorite pop songs, such as Paula Abdul's "Straight Up," Cyndi Lauper's "Time After Time" and Jason Mraz's "I'm Yours." The grooms wore matching navy tuxedos by Calvin Klein that they paired with crisp white shirts and french cuffs, which were clasped together with a pair of personalized cufflinks with tiny maps of Washington DC and New Orleans, a wedding gift from Herb.
As Brent and Herb were escorted down the aisle, Brent with his mom and Herb with his sister, the band Groovy 7 sang Kelly Rowland's "When Love Takes Over." "There already wasn't a dry eye in the house," Brent says. The beaming couple exchanged vows against a gorgeous custom-made backdrop of floating Edison bulbs, all different shapes and sizes hung at varying heights. "We wrote our own vows, which were hilarious, poignant, genuine and heartfelt but mostly funny," Brent says. "After our vows were said, we gave each other the biggest tasteful kiss and recessed down the aisle to "Let's Hear It for the Boy" by Deniece Williams."

The Party
Black chandeliers hung from the ceiling of the reception hall where centerpieces of purple vanda orchids, hydrangeas, anemones and garden roses decorated tables coated with purple linens and a black lace overlay. Guests sipped on Brent and Herb's signature cocktail of blackberry infused champagne before digging into the buffet-style meal in true New Orleans style. "We had tons of passed hors d'oeuvres, ranging from bacon-wrapped shrimp and crab cakes to fried green tomatoes and mini muffulettas," Brent says. "We had a buffet station with season fruits, imported cheese and charcuterie and pasta. We had stations everywhere!" There were also stations with shrimp and grits, Korean tacos, prime rib and a gourmet mac and cheese bar. "The food was over the top," Brent says. For dessert, a grand five-tiered wedding cake in steel gray was decorated with cascading bowties in an array of colors and patterns.
The band played Brent and Herb's favorite music – a mix of '70s disco, '80s pop and hip hop, and guests danced the night away as late night treats of mini beignets and moonshine milkshakes were passed around the dance floor. They also had a second line band, a New Orleans wedding tradition where a brass band leads a parade through the streets celebrating the newlyweds.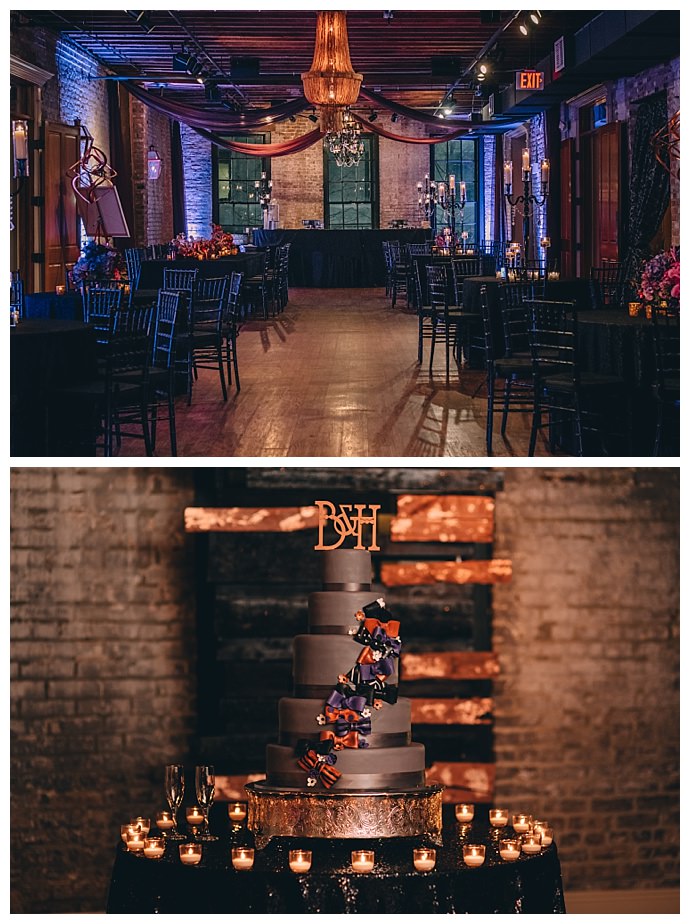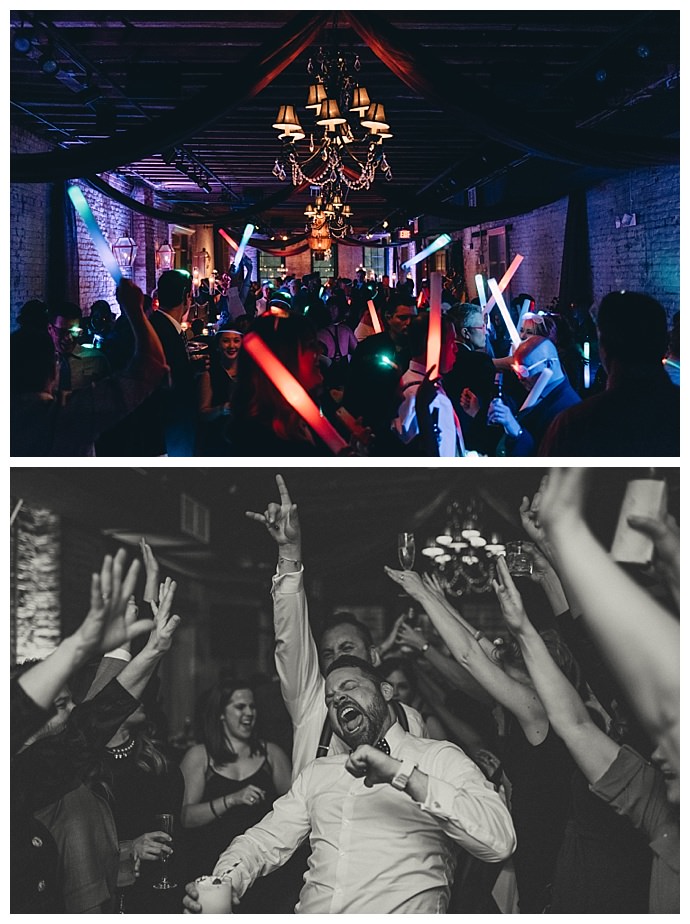 Memorable Moment
"The most memorable moment would have to be when we had the opportunity to see everything before the guests arrived," Brent says. "The ceremony and reception space was over the top gorgeous — I remember walking in and being blown away. The tears would not stop."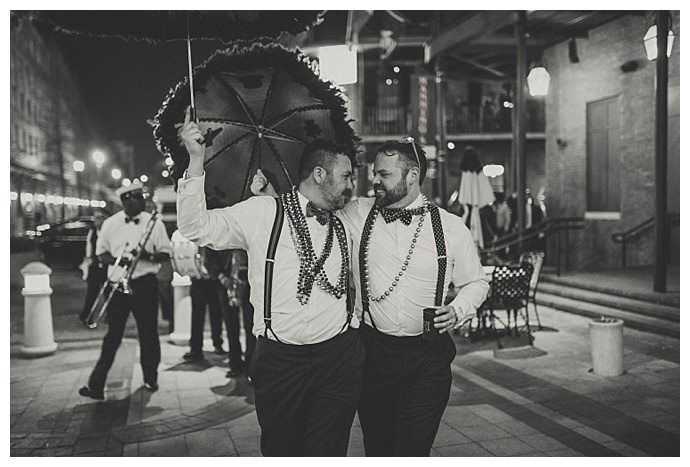 Team of Talents
Venue: The Chicory
Photography: Dark Roux Photography
Wedding Planner: Sapphire Events
Floral Design: Kim Starr Wise Floral Events
Cake Design: Royal Cakery
Wedding Suits: Calvin Klein
Band: Groovy 7
Makeup: Midori Makeup Artistry
Hair: Roxy Diaz
Decor and Lighting: Luminous Events NOLA
Rentals: Perrier Party Rentals
Photobooth: Go-Go Booth
Live Painter: Jeanne Cassanova
Second Line Band: Kinfolk Brass Band
Videographer: 1080 Productions