You did it! You officially tied the knot, hopefully embarked on a blissful, romantic honeymoon, and now you're settling into that sweet, sweet newlywed life. Whether you're still trying to find your footing as you transition into the post-nuptial way of living, or you fell easily back into your pre-wedding routine, conquering that major milestone offers the perfect opportunity for a fresh start. So if you vowed after the vows to stop ordering Seamless or Uber Eats for dinner every night and actually try your hand at cooking, then you've come to the right place.
There are a plethora of niche cooking resources out there when it comes to everything from skill level to cuisine, so it's no surprise that there's also a number of books that are the perfect fit for life after "I do." If you're wondering how to tackle entertaining for the first time as a couple or you're in search of quick weeknight meals for two with minimal cleanup — because there's never enough time in the day, is there? — these seven cookbooks harbor the recipes and advice that will help get your married life off on the right foot. So add them to your registry or scoop them up on your way back from your honeymoon, and get to cooking!
The Complete Cooking for Two Cookbook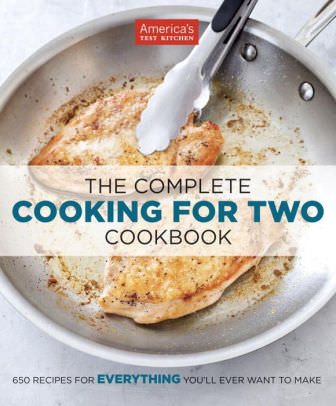 America's Test Kitchen creates some of the best culinary resources, from the most-watched cooking show on public television to best-selling cookbooks and an online cooking school. Even if their name doesn't sound familiar, if you've ever looked up how to make a certain recipe, it wouldn't be uncommon to have stumbled across something produced by America's Test Kitchen. For this Cooking for Two cookbook, they've compiled 650 recipes perfectly tweaked for two servings. No more cutting recipes in half or throwing away uneaten leftovers! With this book, you'll never get bored of the same old dinner recipes.
The Newlywed Cookbook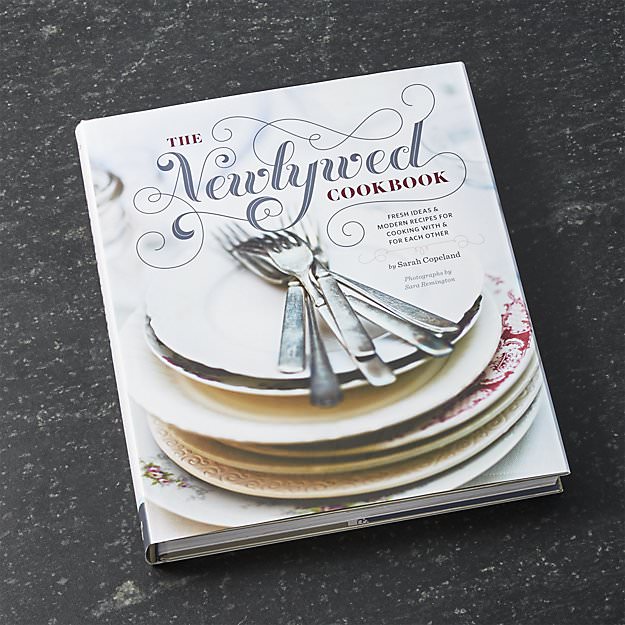 Sarah Copeland's newlywed cookbook should be a staple on all wedding registries. Armed with more than just delicious recipes for everything from comfort food classics to scrumptious recipes to satisfy your sweet tooth, this book, which was written when Copeland was a newlywed herself, also shares the importance of stocking your pantry with fresh ingredients and encourages you and your partner to find your own path in the kitchen in order to set a sturdy and delicious foundation for the future.
Two in the Kitchen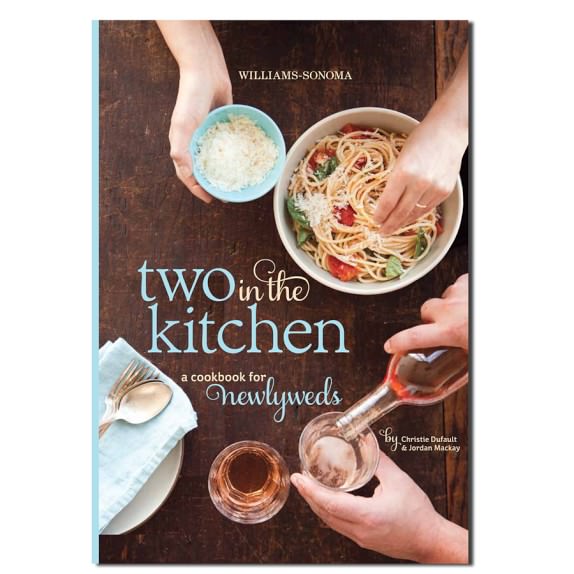 The best aspect of this Williams-Sonoma cookbook is that it encourages you to cook together! It can be easy to fall into the routine of having one person — the better cook or the one who enjoys cooking more — whip up all your meals, but there's something special about taking time out of your day to make your food together. And it's even better when you get to sit down and enjoy it together after you've put in the hard work!
One Pan, Two Plates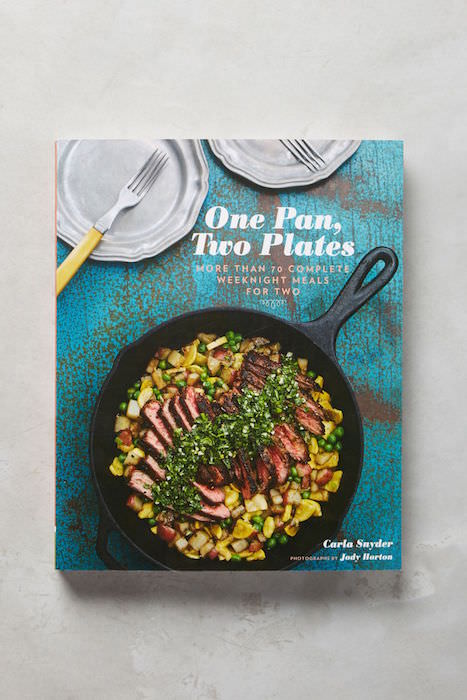 If there's one thing the author of this cookbook understands, it's that life as a newlywed is busy! You're already fighting for time together between work, friends and other obligations, so when it comes to cooking, Carla Snyder is offering 70 meals that can be made in one pan! That means less time spent cooking and doing dishes and more time for yourselves!
Newlywed Entertaining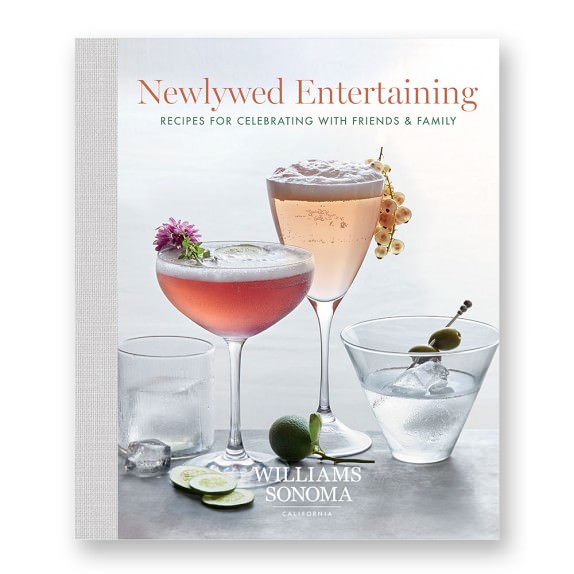 Now that you're officially married and have likely finished decking your home with the spiffy new decor and appliances that you received as wedding gifts, it won't be long before your home is filled with friends and family for fun weekend nights or holidays. So before you entertain the idea of entertaining, make sure you have this cookbook on hand to guide you through your first few gatherings. Along with hosting advice and recipes for everything from lite bites and delicious drinks, this cookbook will no doubt come in handy!
Date Night In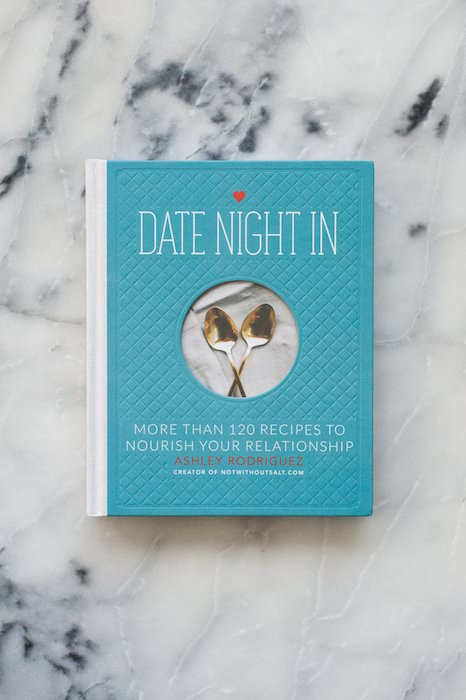 Post-wedding life should always be filled with lots of date nights, but we know how after a while going out weekend after weekend can not only get a little old, but also pricey! So on a night when you want to stay in but still maintain the integrity of a date night, this cookbook is your answer! The perfect date-night activity, cooking something delicious together is a guaranteed way to keep romance alive.
Martha Stewart's Newlywed Kitchen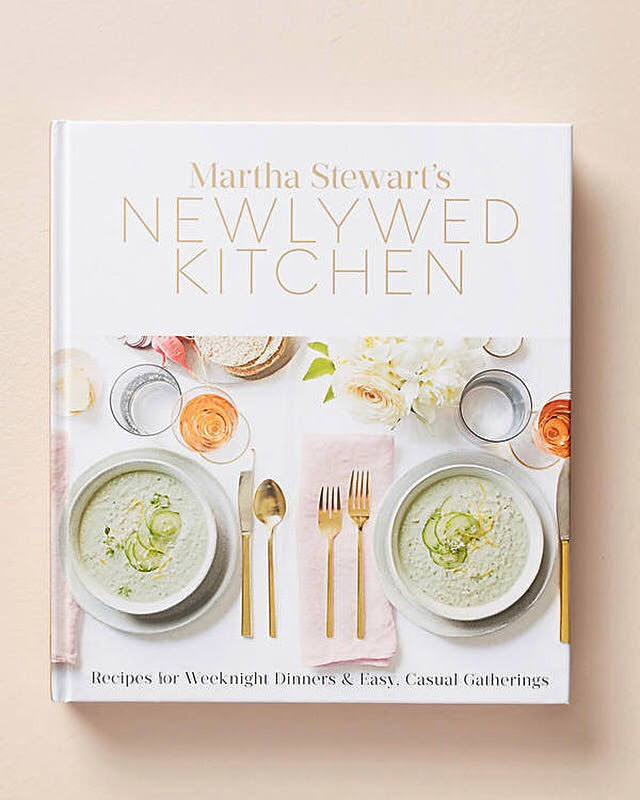 If every kitchen should have a Martha Stewart Cookbook, then the Newlywed Kitchen is the perfect introduction! In true Martha fashion, this cookbook has it all — recipes for weeknight dinners for two, decadent brunch recipes for the weekend and party-style recipes for when you gather with friends or family. Whether you're an experienced cook or a beginner, Martha's cookbook will guide you through some delicious post-wedding meals that will soon become a staple in your household.
*Editor's Note: This post contains affiliate links. Each time you purchase an item via our affiliate links, Love Inc. is receiving a small percentage of the sale, thus you are helping our small, EQUALITY-MINDED™ business grow and allowing us to provide more content for YOU! Isn't that just fantastic?
Written by: