You've hit a huge milestone marrying the love of your life this year, and before 2022 is over, it's time for another important occasion: your first holidays together as newlyweds. The holiday season is a time of almost endless shopping, but gifts for others shouldn't be the only thing on your list … get yourself something that celebrates this impressive landmark. Consider a custom ornament highlighting this first holiday together for a charming keepsake you'll cherish for years to come.
Because you're ordering a custom item, it's important to get your order in soon, so it's here by the Yule Tide. To help you meet your deadline ahead, we've found the most unique and stylish newlywed ornaments on Etsy that will look perfect dangling off your tree.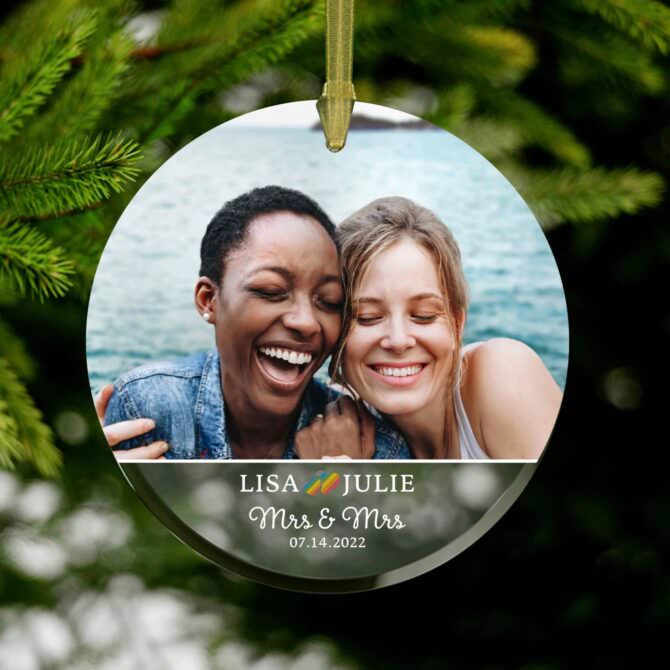 Picture perfect
Show off a picture from your wedding day or your favorite shot together when designing this custom ornament, complete with your photo and names. You can even choose a black-and-white photo if that's more your style.
Custom Photo Christmas Ornament by GabyandTali, $28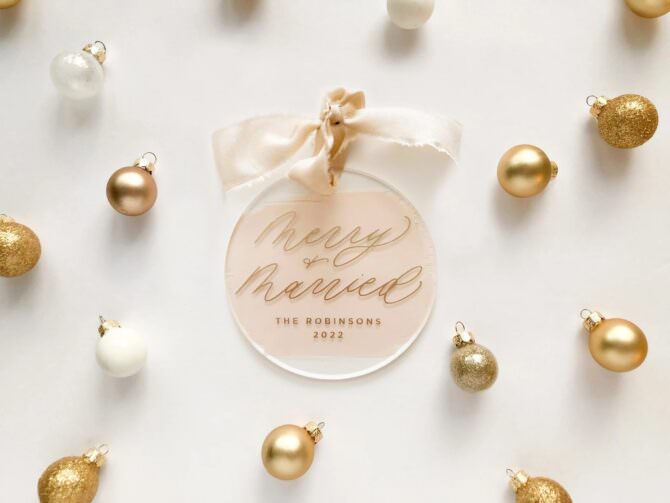 Merry and married
With gold lettering and a neutral background, this ornament celebrates the happy couple with a simple design. It's made of acrylic, so it's less fragile than ceramic or glass options, and it comes with a silk ribbon so you can instantly hang it on the fir.
Merry and Married Christmas Ornament by Alexis and Lynn, $25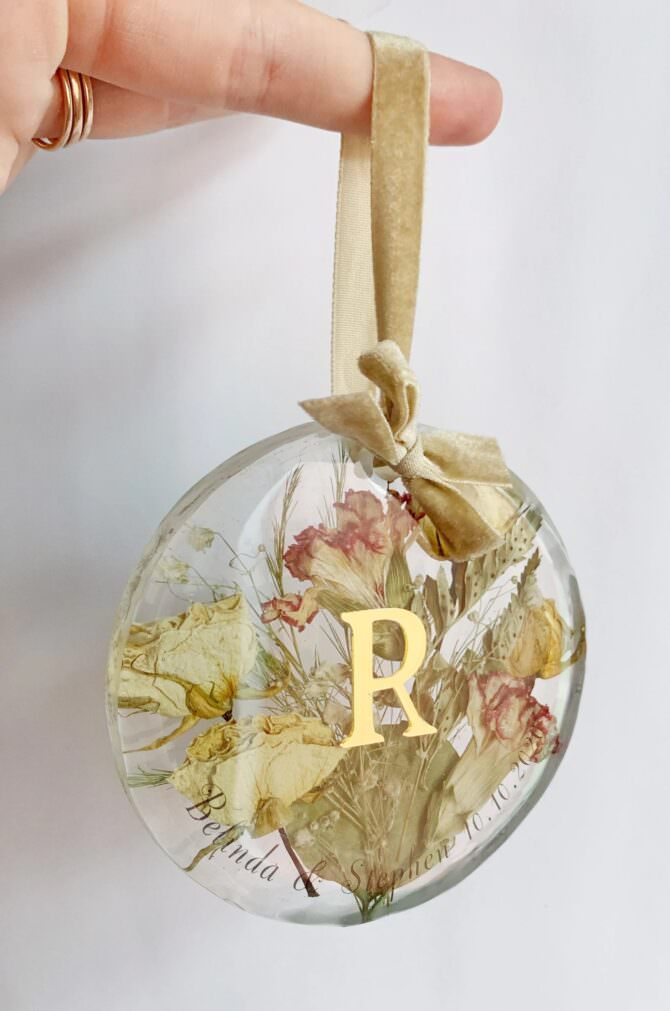 Preserve a memory
If you had a fresh bouquet or live flowers decorating spaces in your wedding, preserve them in resin. When you order this ornament, you'll be sent an envelope with instructions on how to dry and press your flowers, so they're ready to be transformed once you mail them back.
Pressed Wedding Bouquet Ornament by LonelyPine, $55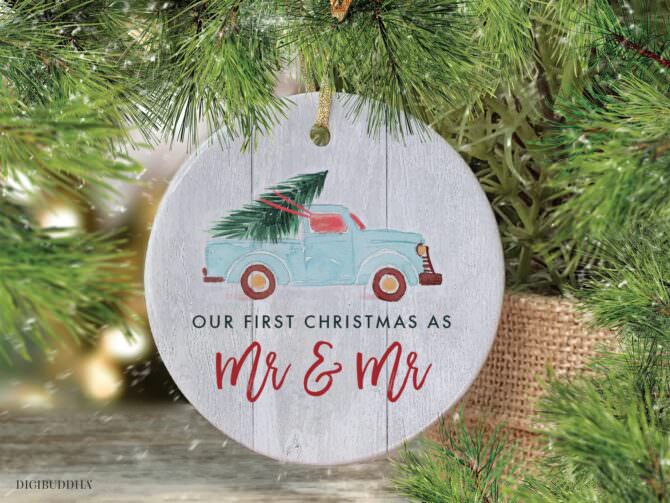 A small-town Christmas
Featuring an old-timey truck carrying a pine tree, this ornament is adorable with its vintage vibes. You can personalize it with your names or forgo the customization to save a bit on your purchase.
First Christmas as Mr. and Mr. by DigiBuddhaHome, $22.95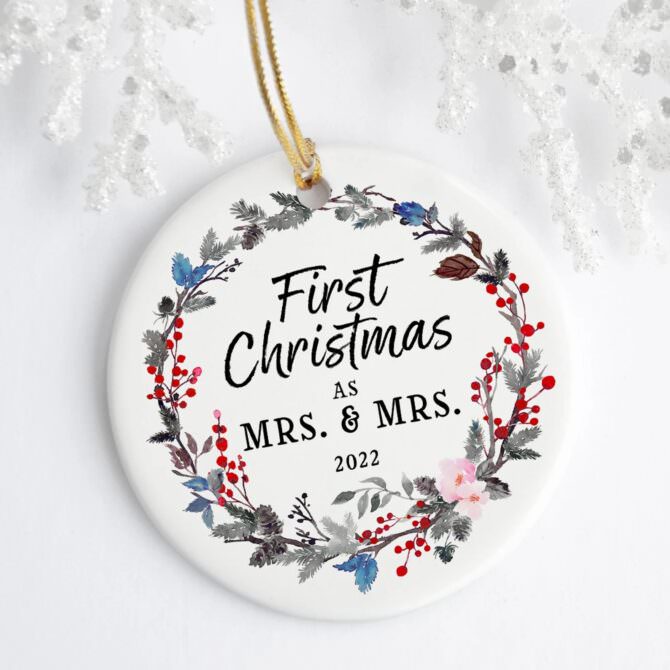 A hand-painted keepsake
This ornament is super charming with its hand-painted border of flowers and festive red berries. The muted grays of the design lend a winter-esque look to the blooming florals around the edge.
First Christmas as Mrs. and Mrs. by Loftipop, $18.95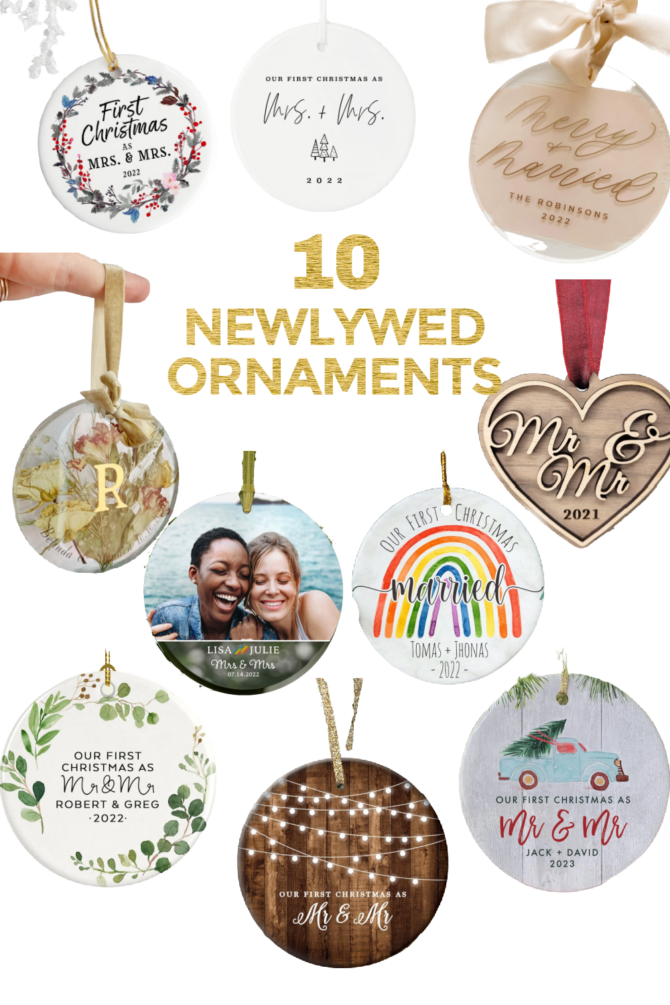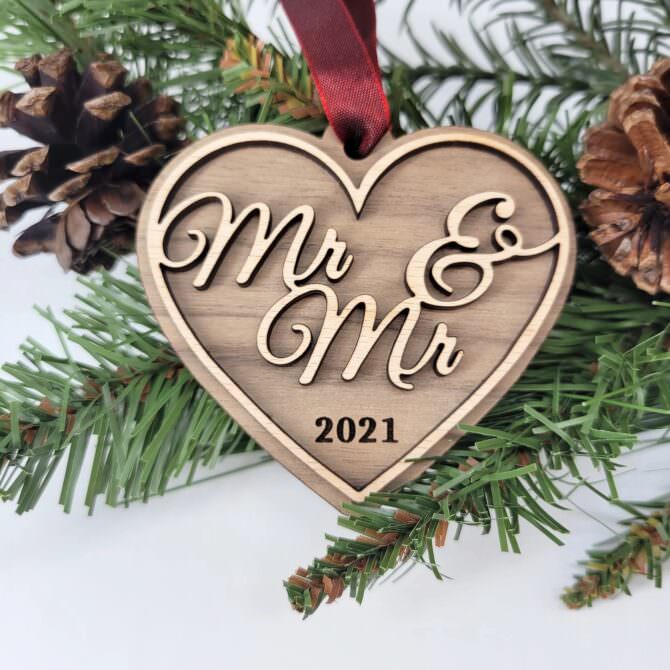 Go all natural
Carved out of wood, this is a simple and elegant way to remember your wedding day. It's not as customized as other options, but you will be able to put the year of your wedding day on this ornament.
Wooden Mr. and Mr. Ornament by BumbleAndBirchMerch, $15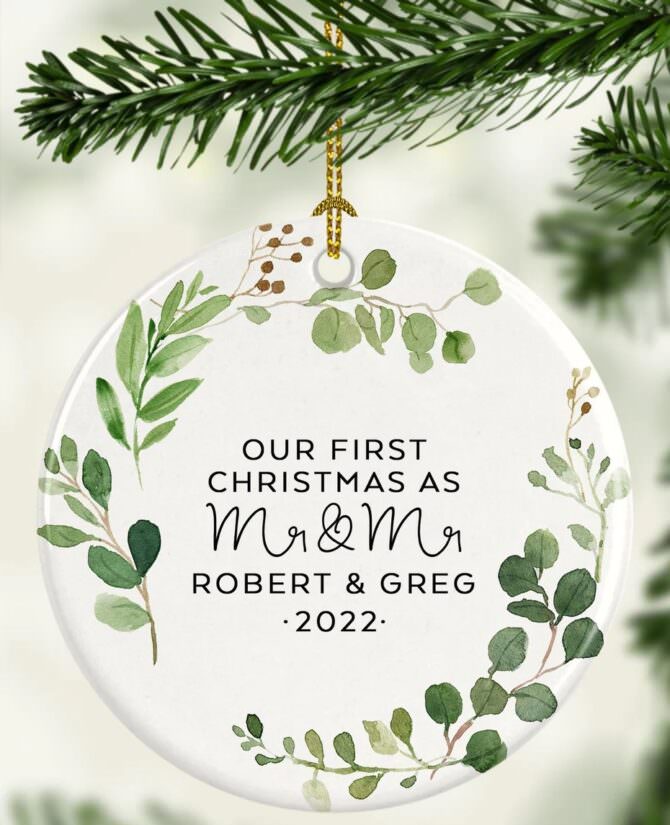 Add some greenery
If you have a green thumb or care for plants around the house, you may prefer this ornament with green foliage and leafy branches. Be sure to order this option before December 10th to ensure your get it in time for the holiday.
Our First Christmas by ChristmasHausShop, $24.95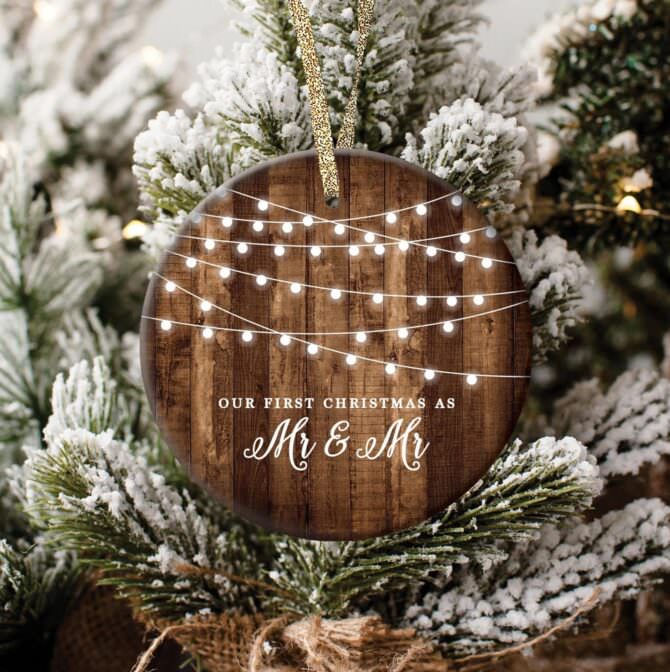 Rustic Christmas vibes
If you had a barnyard reception or a rustic theme on the big day, this ornament captures the look of your wedding with wooden paneling and string lights. For those not sharing a last name, they also have a similar ornament that includes just your first names.
Married Mr. and Mr. Ornament by DigiBuddhaHome, $22.95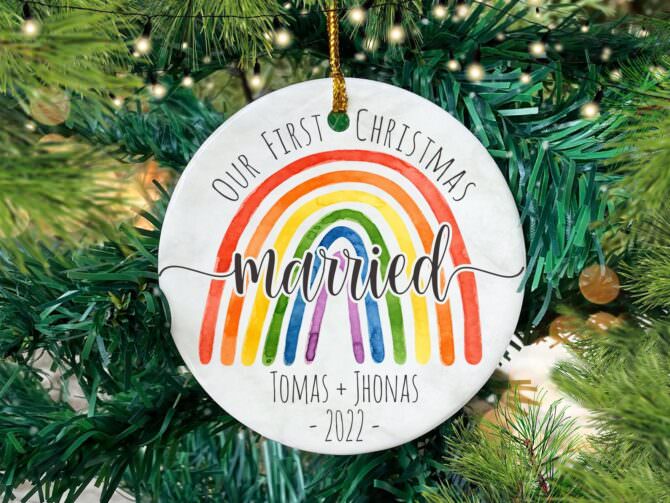 Show your pride
Colorful and bright, this ornament will definitely stand out against the solid forest green of a Christmas tree. This store offers a free gift box, making it a great early Christmas present to give to your partner.
Rainbow First Christmas by Crinkex, $14.99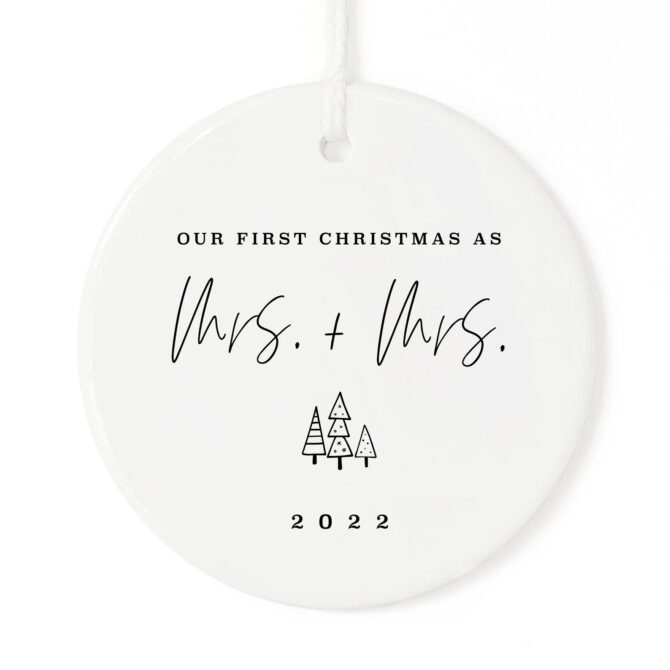 Simplicity is key
It's simple with its black pen-style lettering and graphics, but that just makes it all the more charming. If you want something a bit more custom, they sell a similar style ornament that will include your first names and the specific date of your wedding (it also comes in color).
Ceramic Christmas Ornament by thecottonandcanvasco, $15.99
Editor's note: Some of these links are affiliate-based, which means we earn a small commission when you purchase from these links (and helps our small business keep providing free equality-minded® wedding content to you!)
Written by Rebecca Rovenstine