Today marks three years since I said "I do" (happy anniversary, honey!) and though I shared my wedding in our V5 issue, I thought I'd take the opportunity to share some more of our wedding photos that didn't get in the feature (okay, a lot more photos!) plus our wedding video.
I feel a little awkward writing my own love story per our usual real wedding feature (but if you'd like to read it, the talented Kate Abney beautifully penned it in V5), so I'm just going to list some moments and intentional details of the day that still makes my heart skip a beat, three years later.
Writing my vows, morning of. Okay, guilty for procrastinating, but in the chaos of the early morning hours, I was able to sneak away on my balcony, the first of many champagnes in hand, and bang out my vows while looking down on my dream wedding vision come to life below me during setup. It forced me to take a moment to really and truly take it in, and I'm so grateful for that.
Putting on my dress. Oh, I loved my dress. It was custom made by Samuelle Couture, and it my was my maid-of-honor Krista's idea to layer different colors of tulle to give it this smoky, iridescent effect (who knew that would be trend three years later?). It wasn't until I slipped into it that it really started to feel REAL. And then I had my grandmother's wedding ring strung on a thin chain to wear as a necklace, and when my mother fastened that around my neck, she whispered words of pride and encouragement in my ear, and we shared a beautiful mother-daughter moment.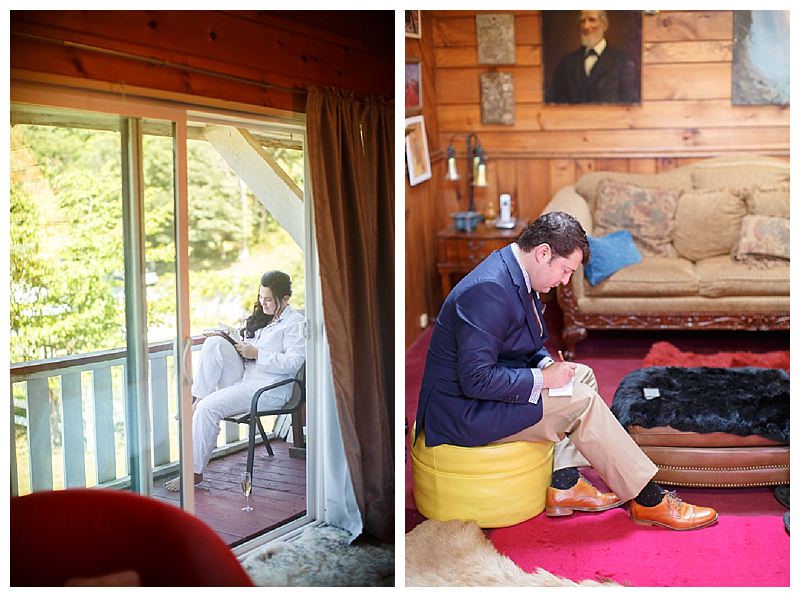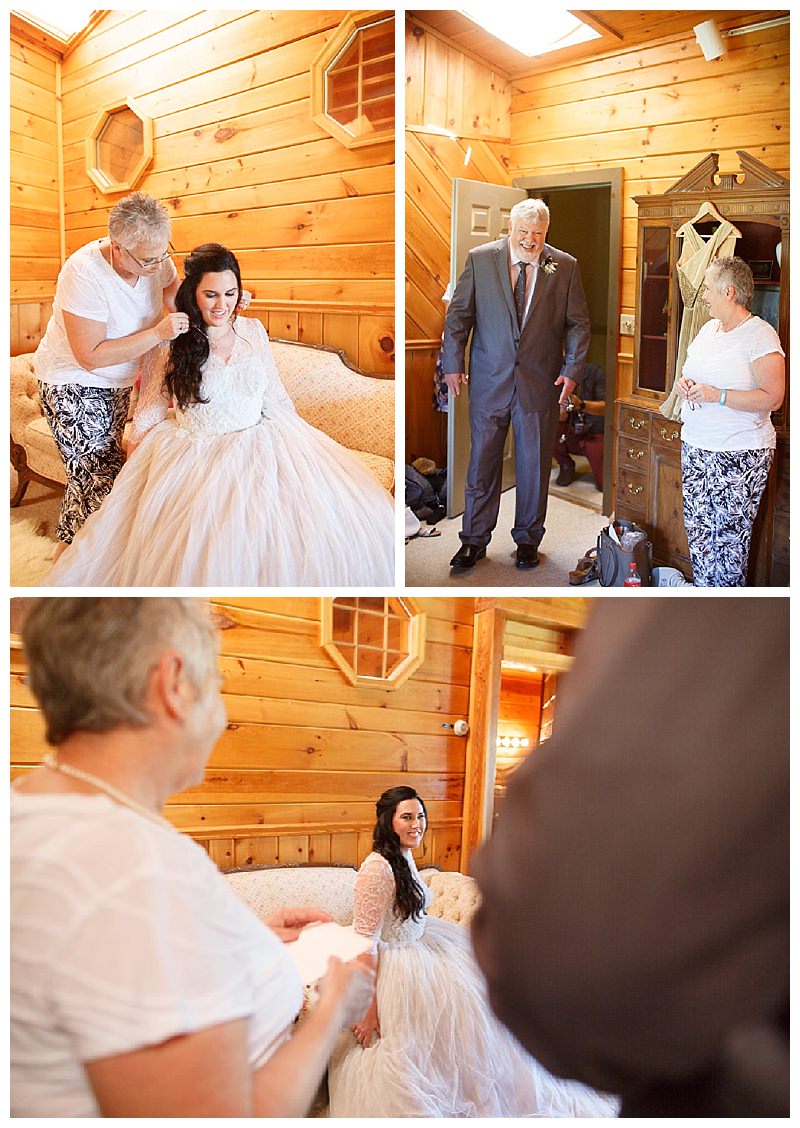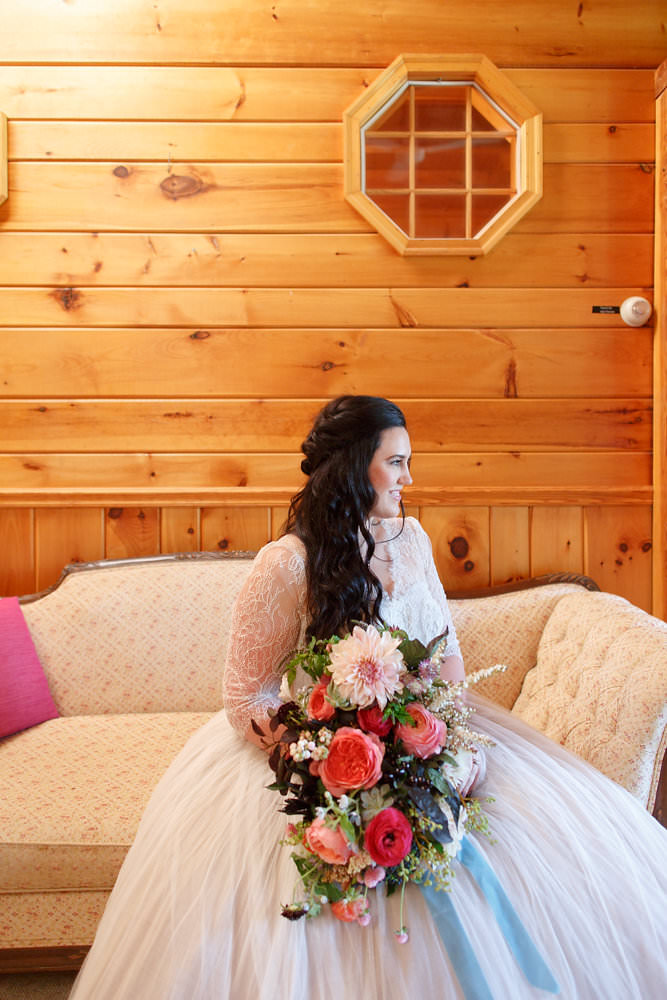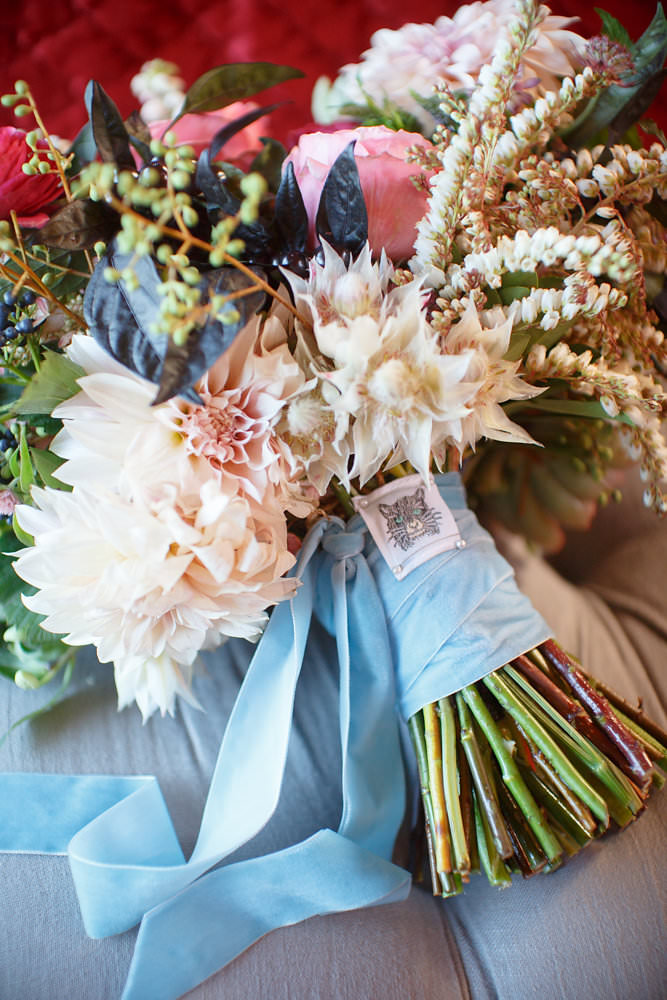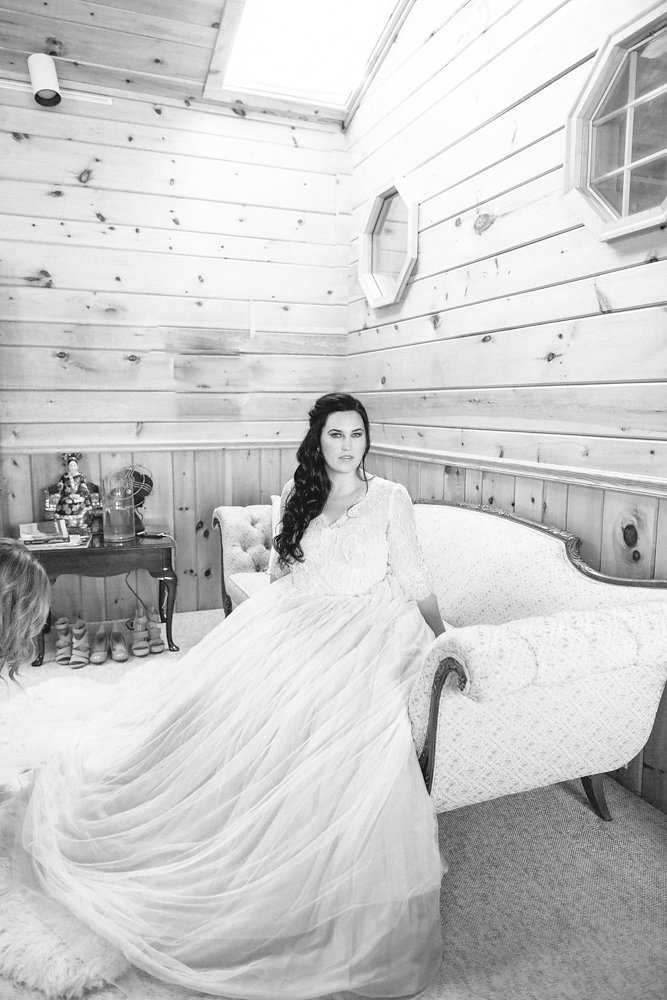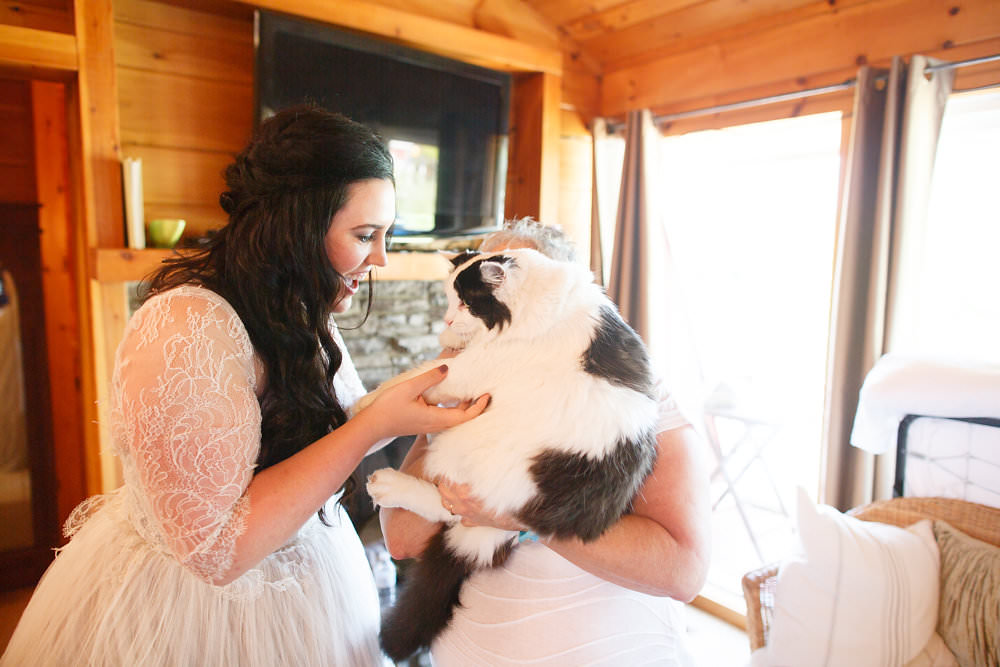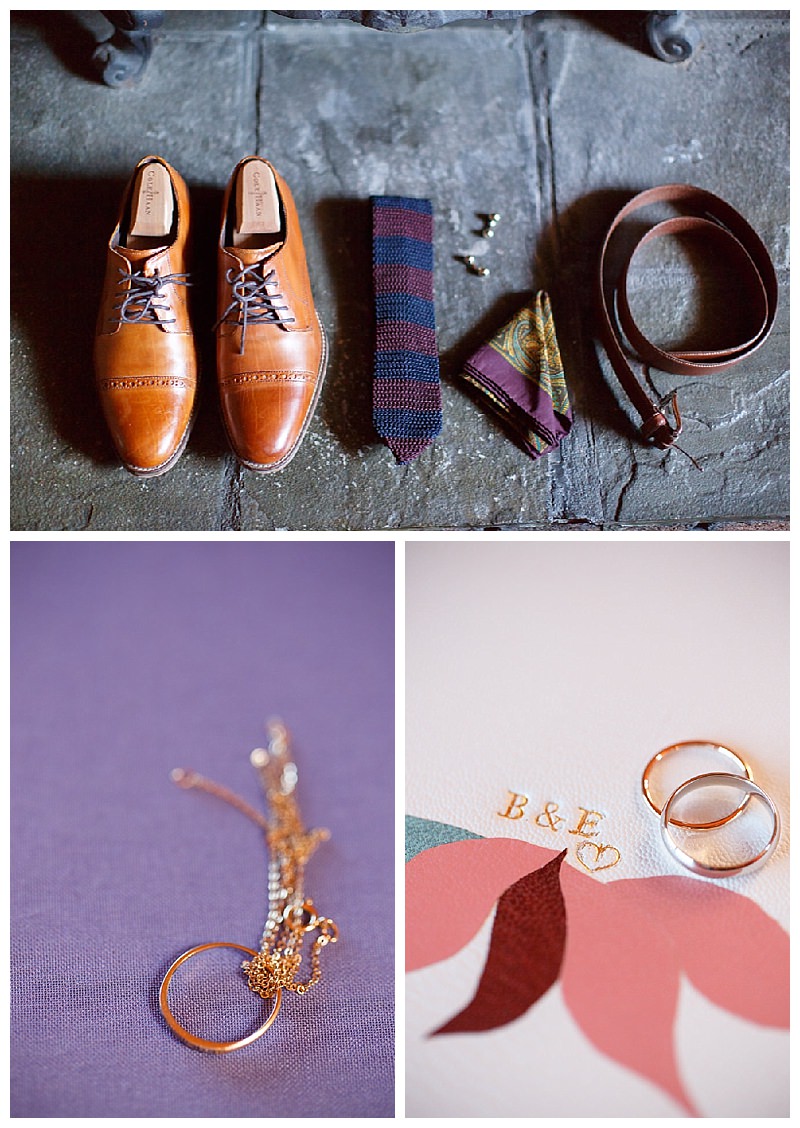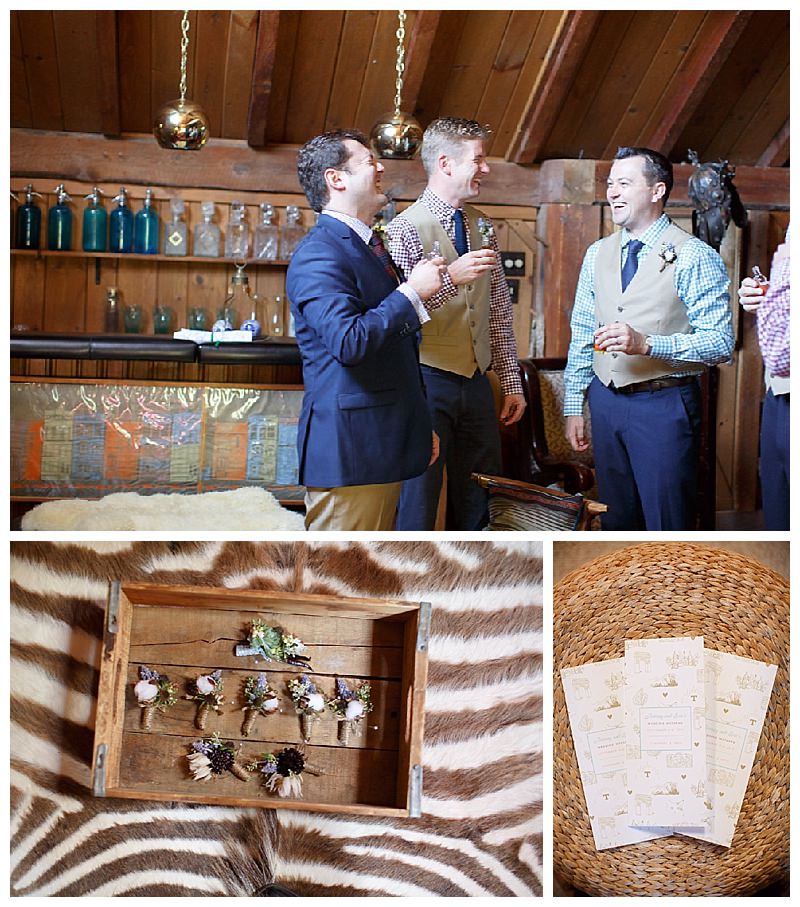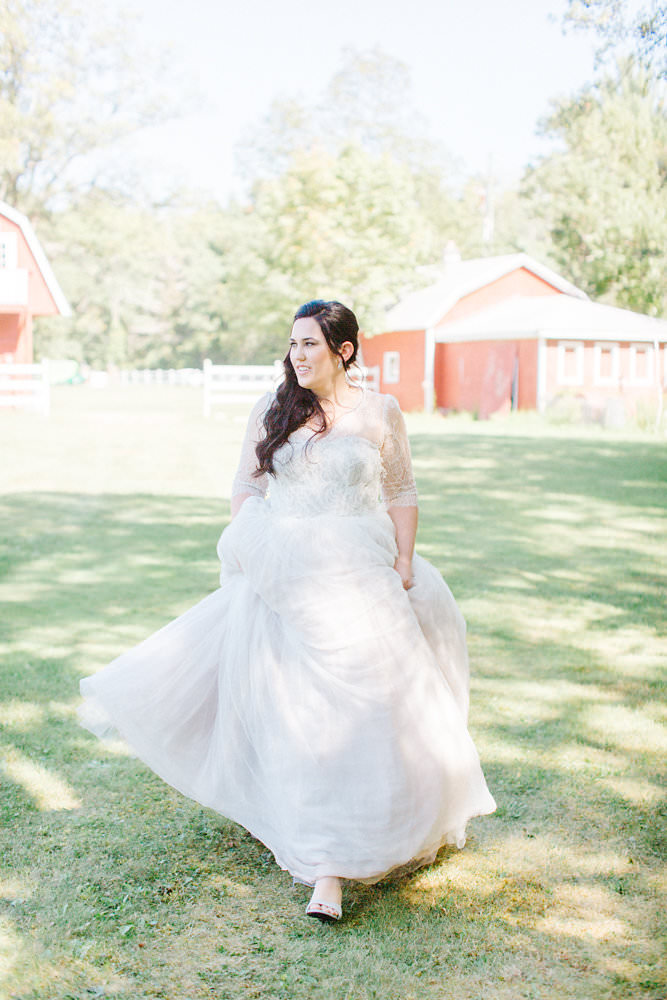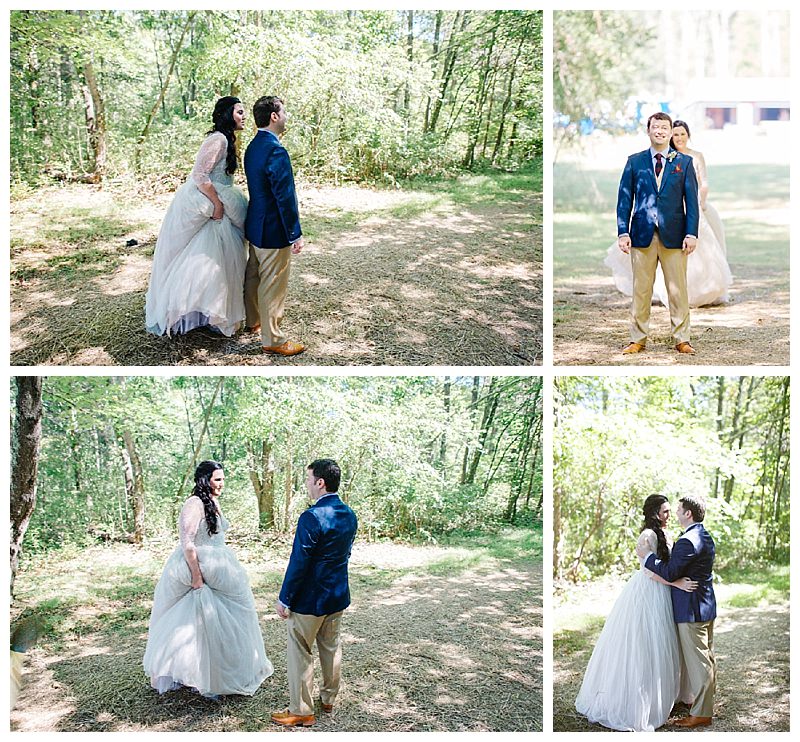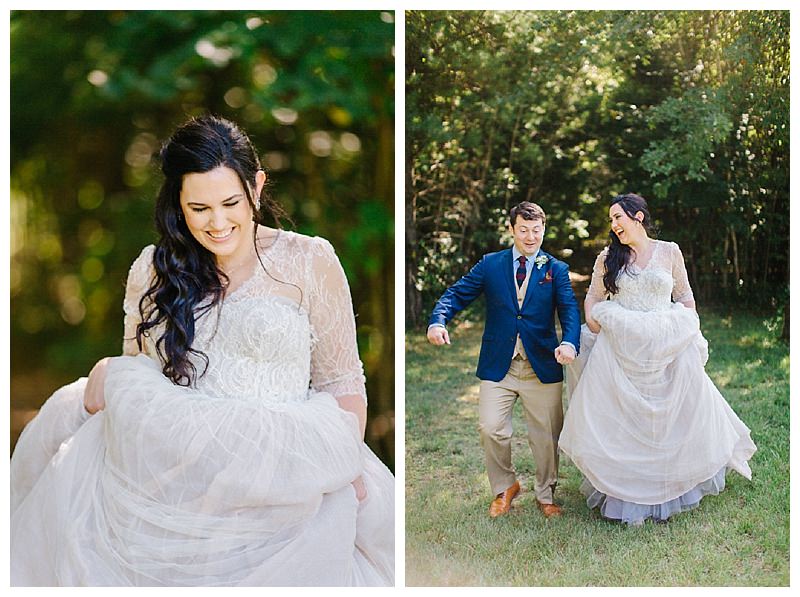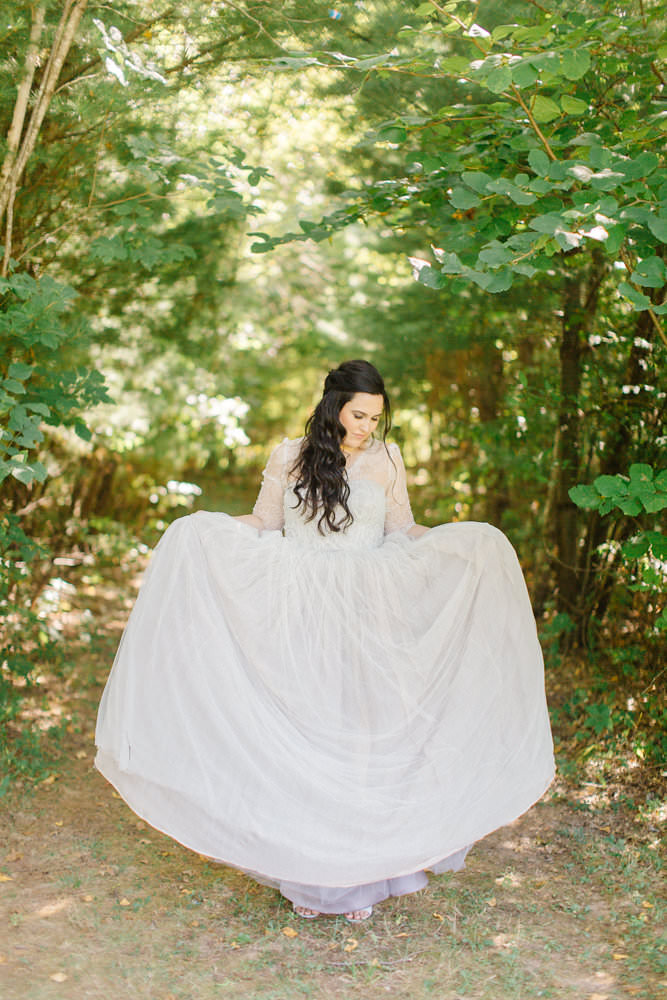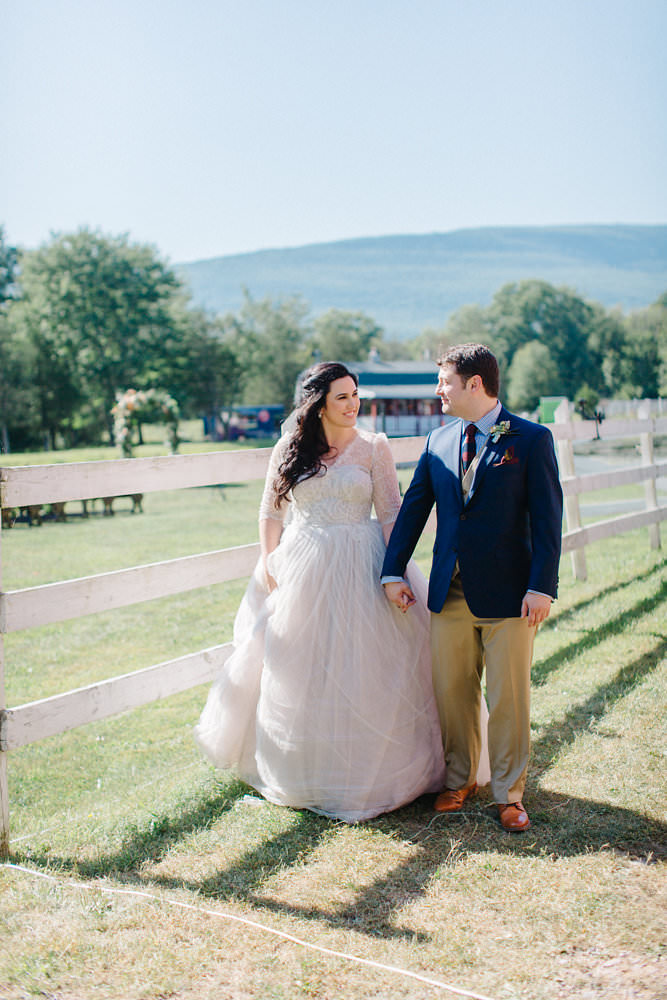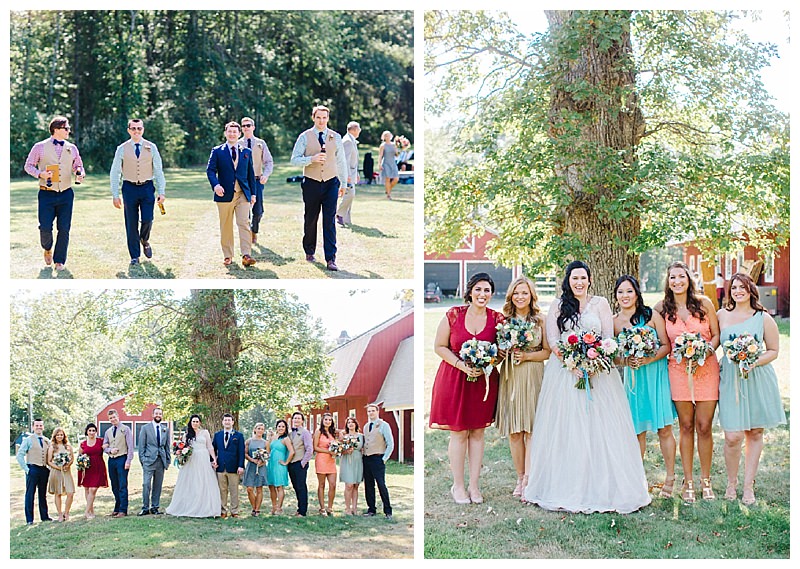 Intimately gathering before the ceremony. While guests started to arrive and enjoy our seltzer station outside, we took a few minutes to relax with our wedding party, siblings and parents inside the property to drink a couple and share some laughs. During a wedding, you often don't have much time with those closest to you, so we took advantage of that time before to tell them how grateful we were for their love and support.
The design. I wanted to create moments that looked beautifully "stumbled" upon, and my design team, Tinsel Experiential Design, nailed it, from church pews dripping with florals to a cinder block photo display and bathtub overflowing with flowers (and moonshine!).
Walking down the aisle. I was hyper-aware of the significance of every step I took, of those moments I was currently living, and it made for an extremely emotional walking down the Victorian rug-laid aisle toward my love. It still remains one of my top five happiest moments of my life.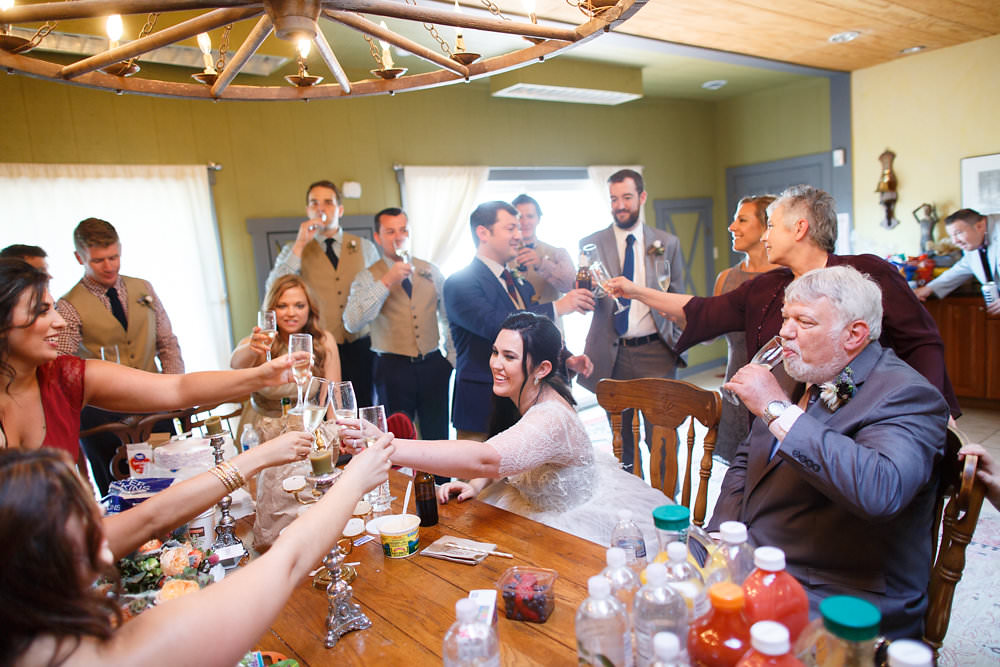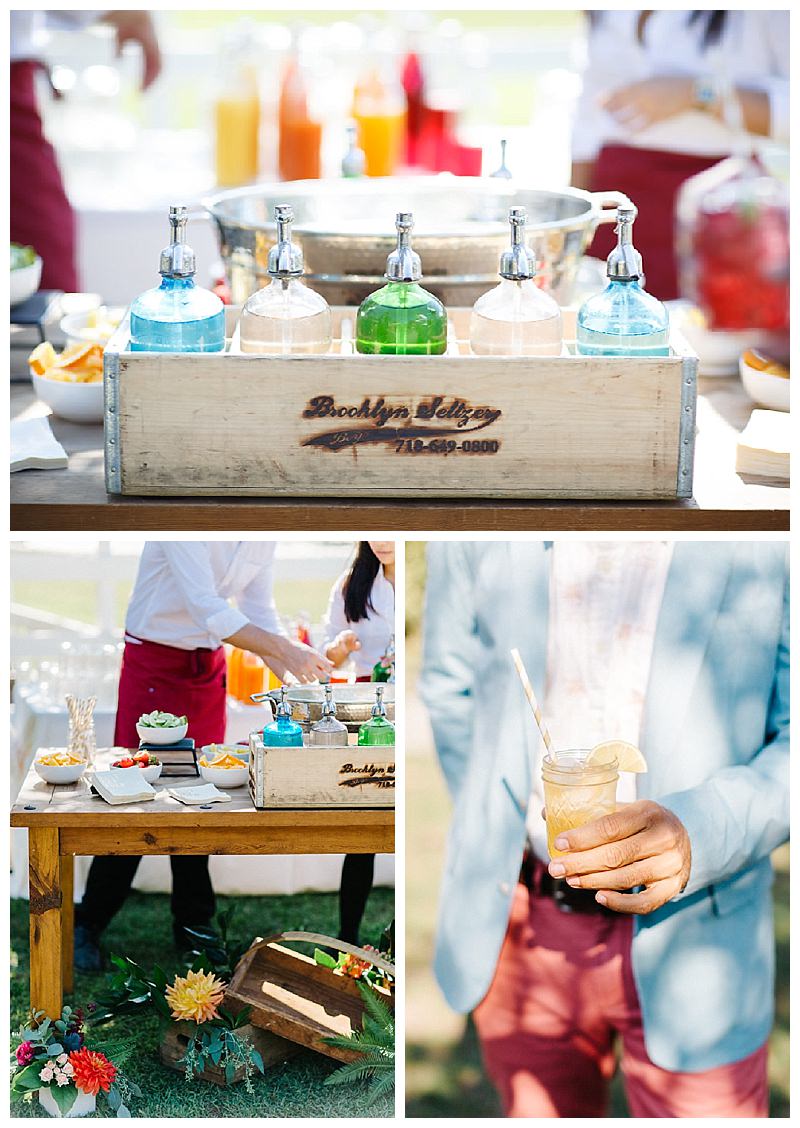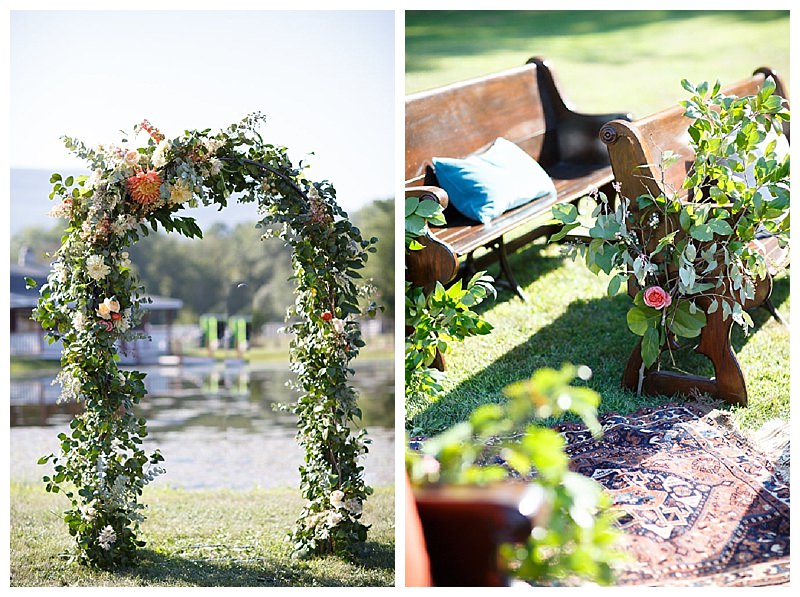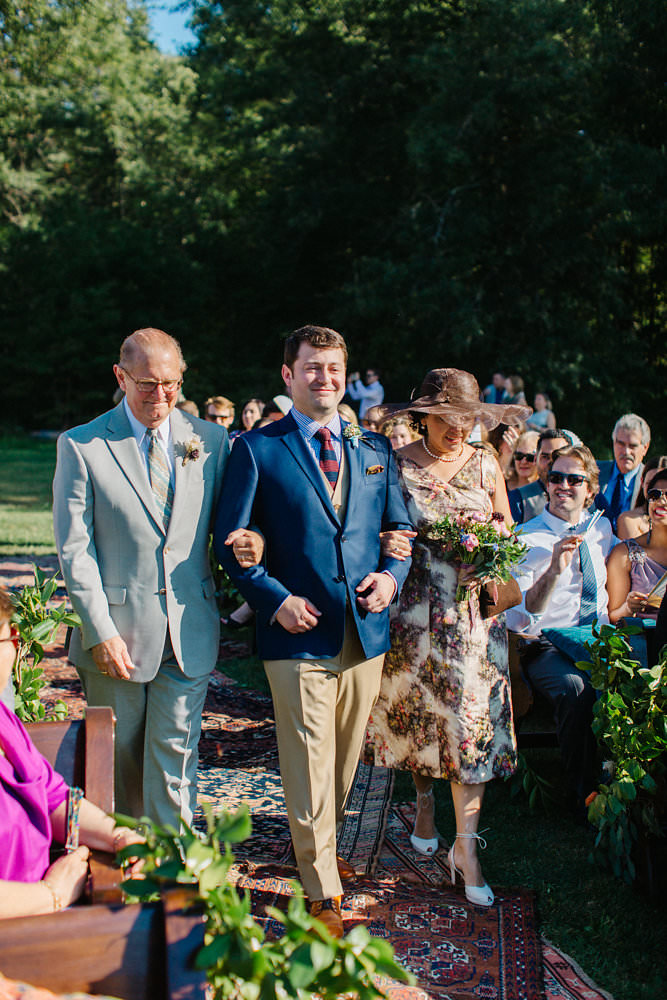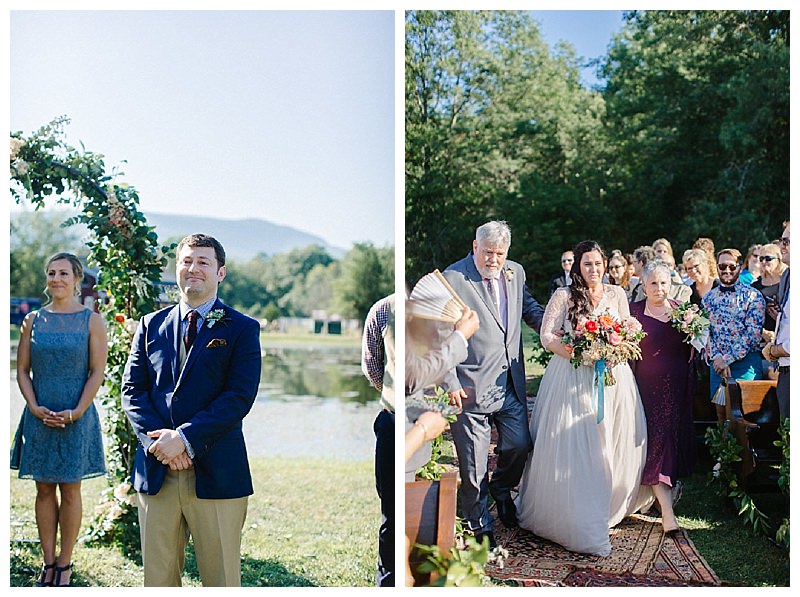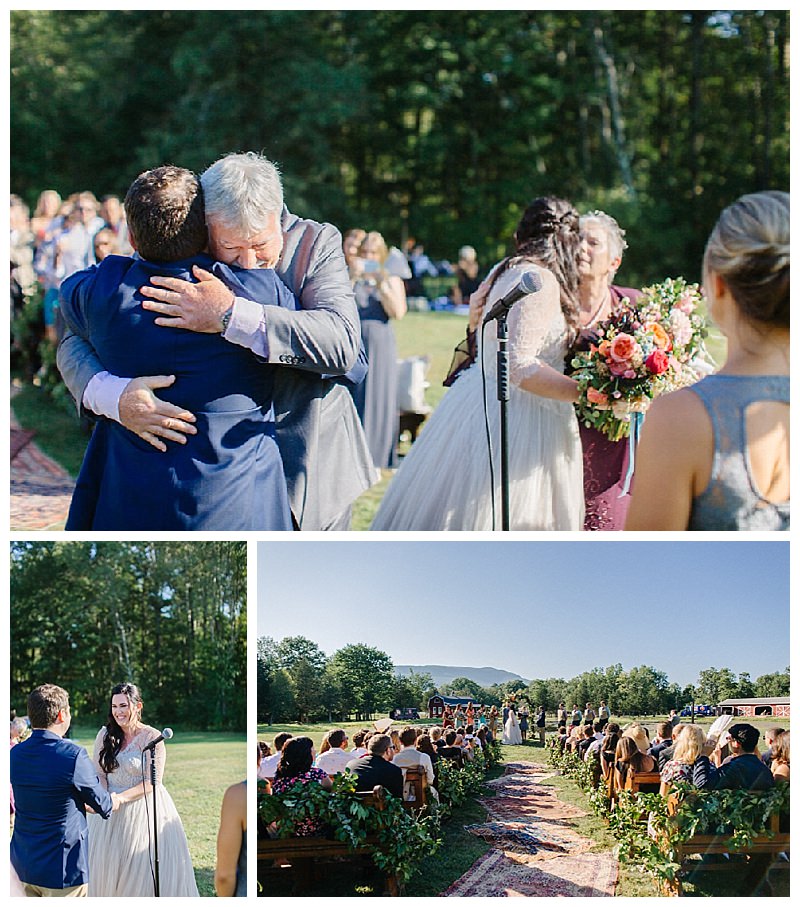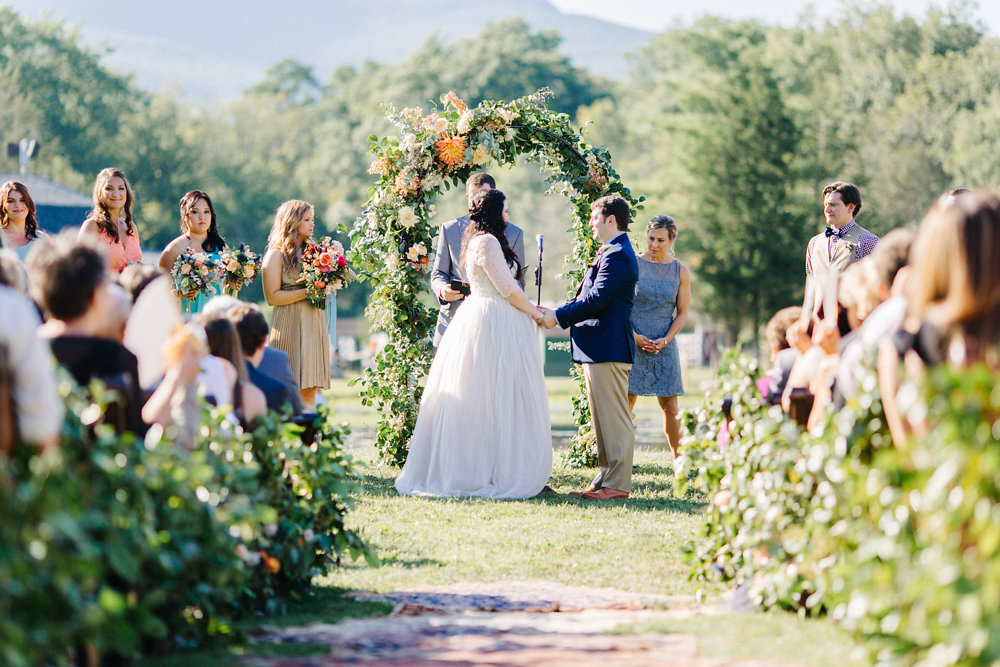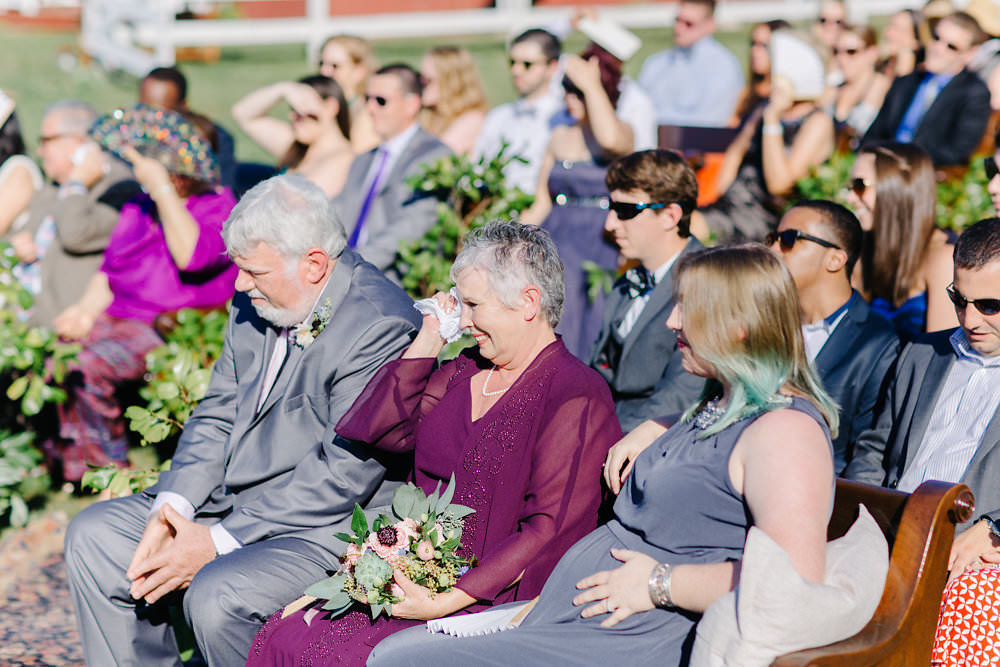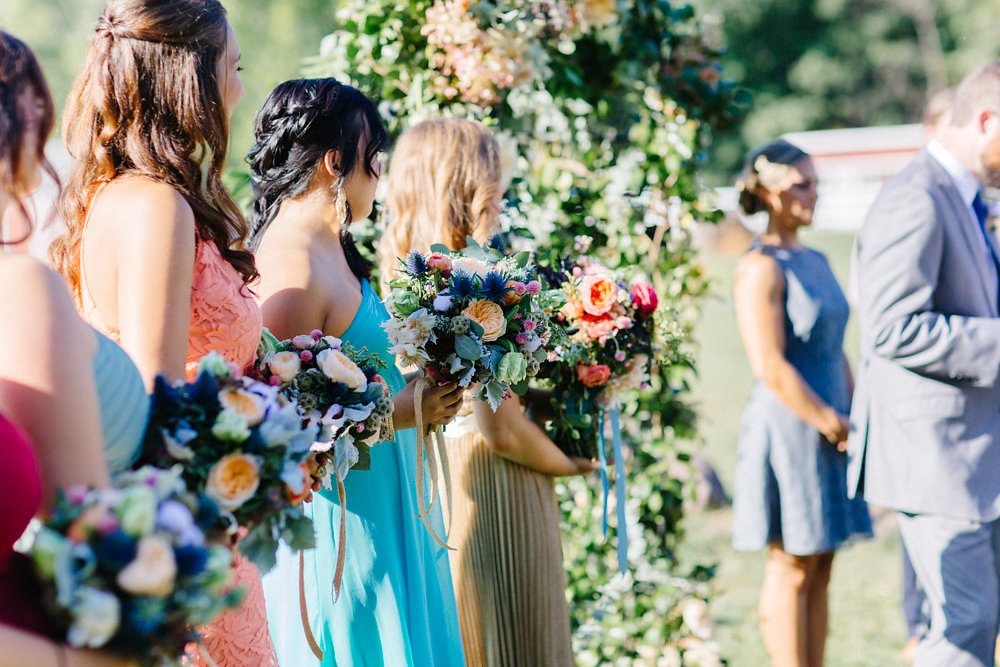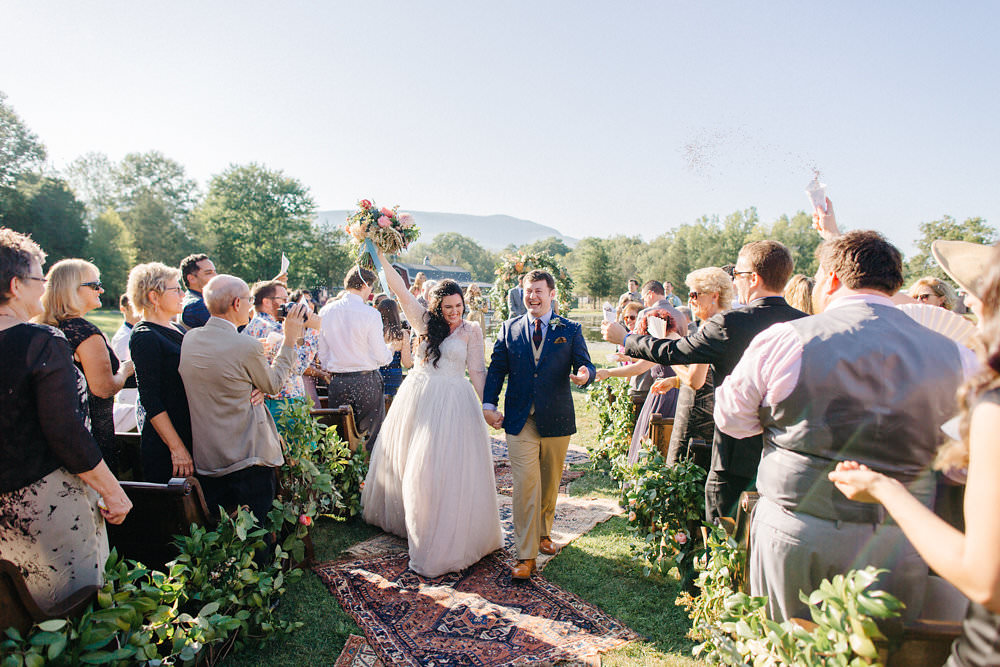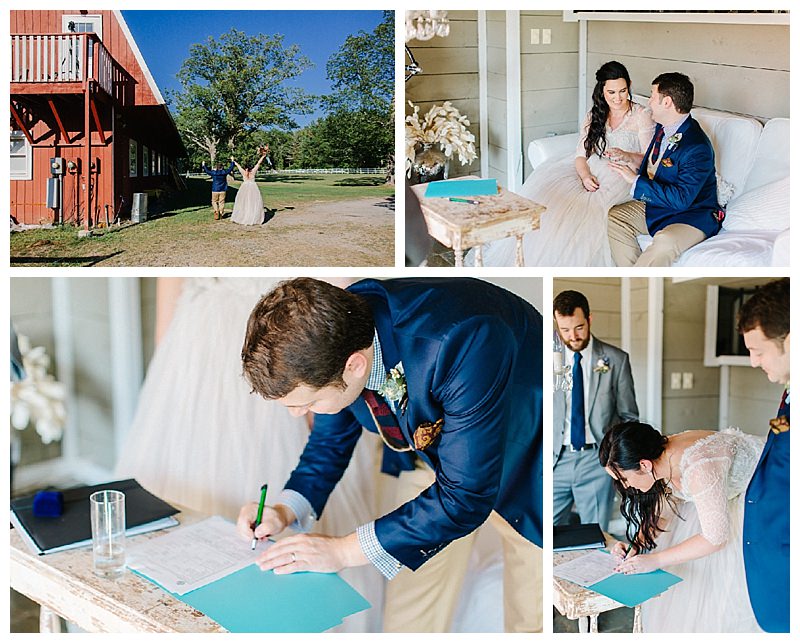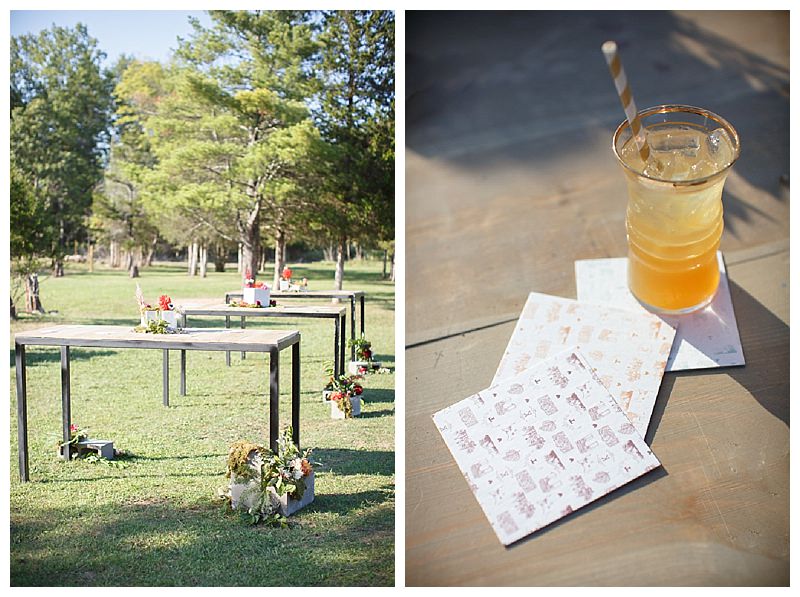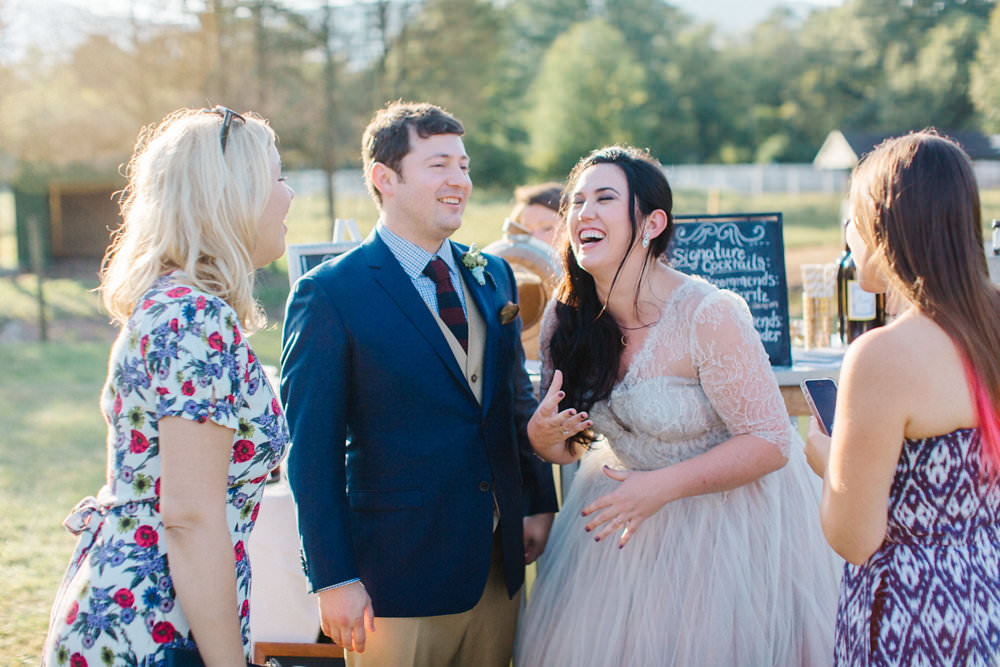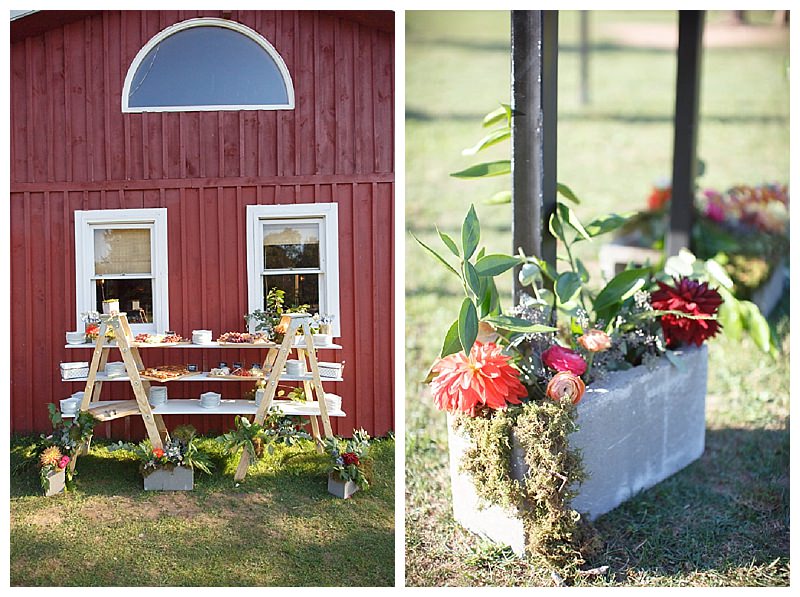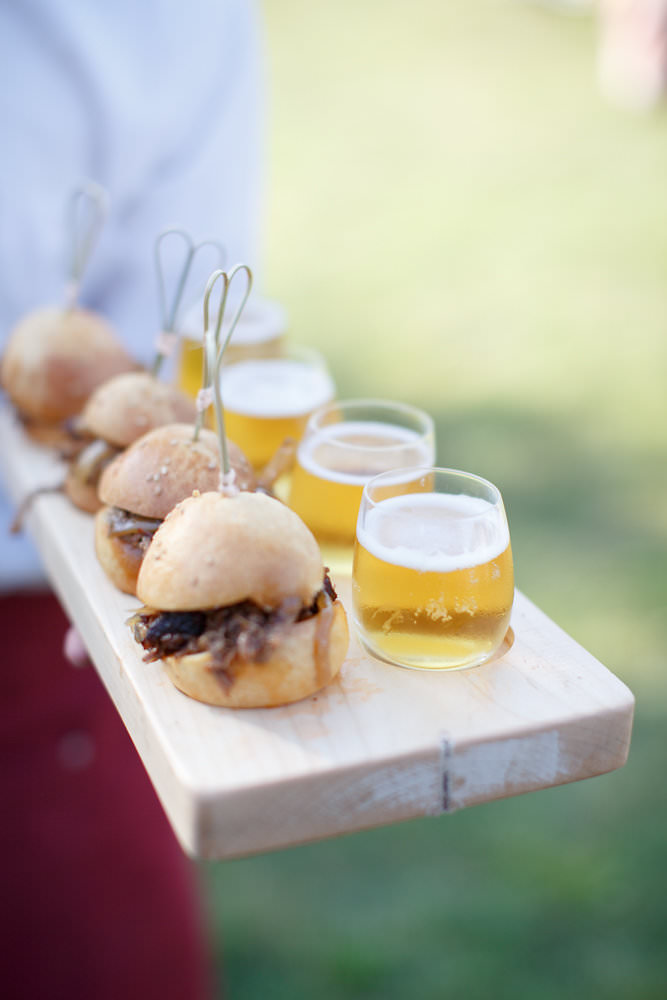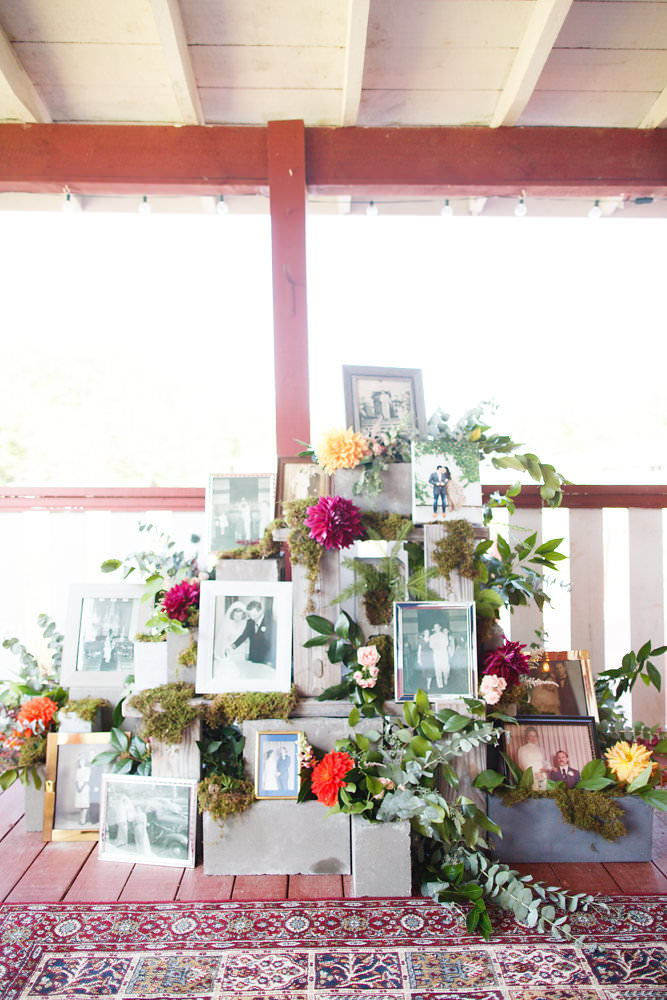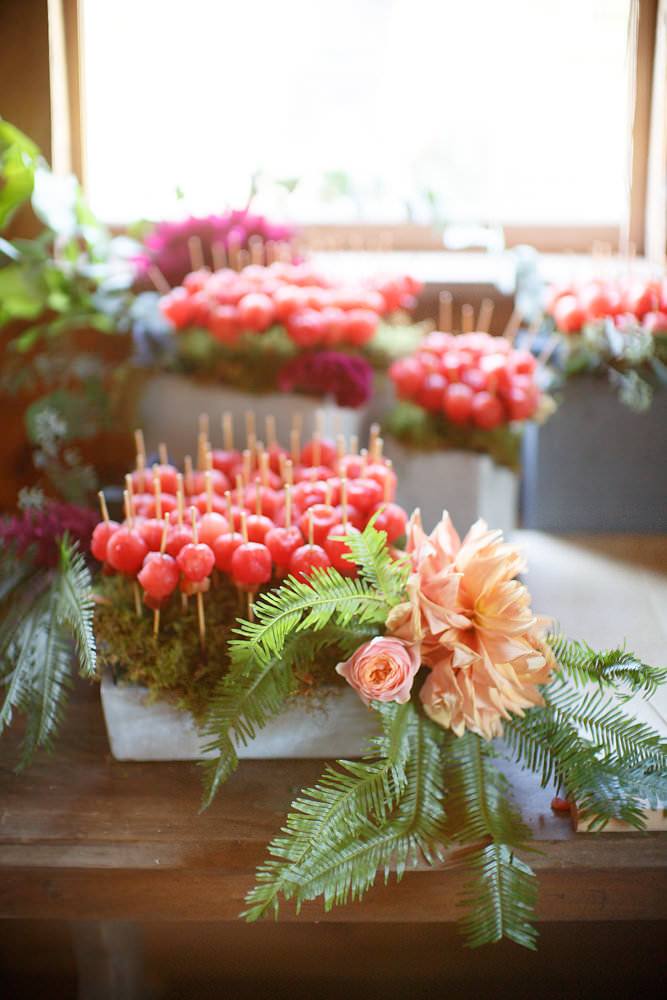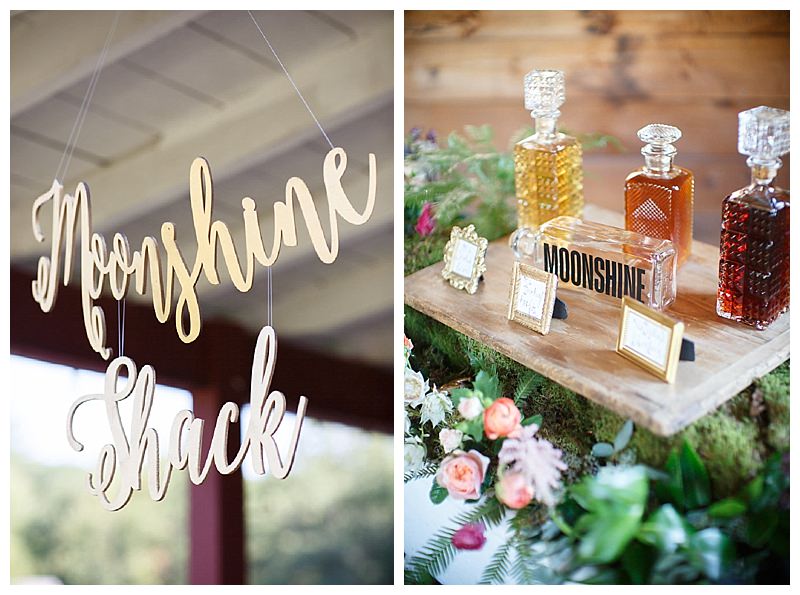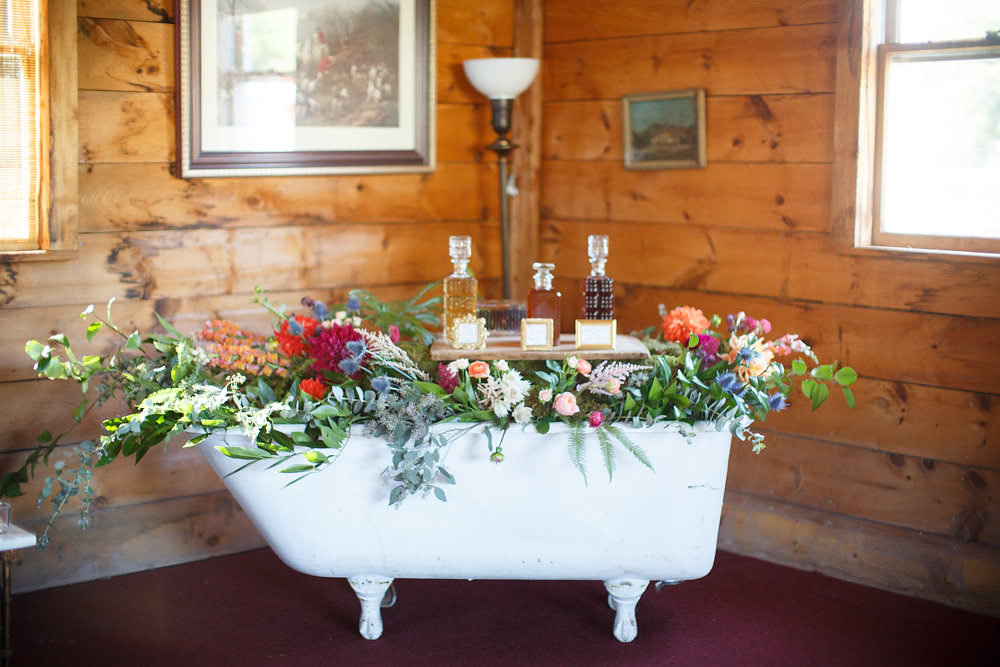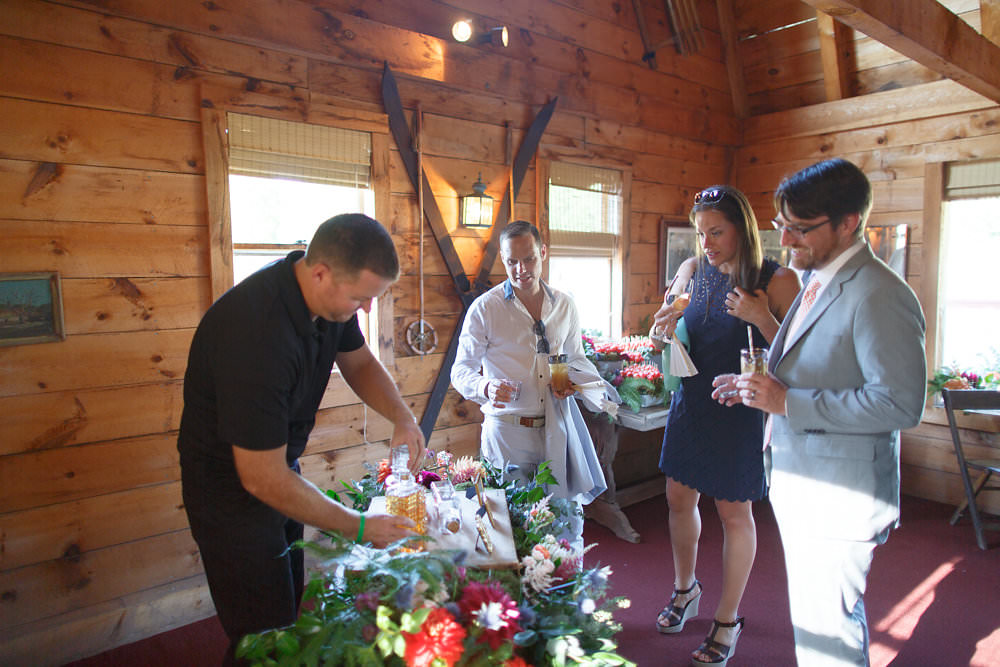 Alllll the cat details. My husband and I are crazy about our cat Scout, and while he had to stay inside during the celebrations, his face and inspiration was seen throughout. He was in the stationery motif that Katie Fischer Design created for us that was featured on our invites, coasters and menus, a SCOUT Out Your Table escort card display was made of gilded cat figurines and Sachi Rose Floral Design even surprised me with a small cat patch on my bouquet ribbon.
Food and Drink. My husband and I love to eat and booze it up, and this was probably the element that we prioritized the most. We took influences from our backgrounds and relationship (southern, Guatemala, New York, Italy) and created a menu with Hudson Valley BBQ Co. that guests are literally still raving about years later. (The watermelon and pork belly sliders still come up in conversation at least 10 times a year.) Presentation was also important and giving our guests an experience, whether it was the moonshine tasting from a bathtub, lavender-infused Prosecco upon entering the reception, a draft beer truck or the synchronized porchetta entrance.
Standing outside the venue. This was a word of advice from a friend of mine and I'm so glad I followed it (thanks, Seth!). During the reception, when everyone is on the dance floor, take a step back and look in. All of your favorite people are in one room, celebrating YOU. How special is that?!
The pop-up diner afterparty. I wanted to have all of the greasy food favorites that everyone craves at the end of a boozy night, but I wanted to do it in a creative way. As New Yorkers, we often would stumble into a 24-hour diner at 3 a.m. to chow down on grilled cheeses, so why not bring that concept to the middle of a meadow? Tinsel took this idea and ran with it, converting a drink bar into a diner grill complete with neon signs and black-and-white tiled flooring installed on the grass. Our caterers totally played the part, with the head chef getting into character as a grouchy short order cook, making grilled cheeses, burgers, cheese fries and boozy milkshakes on-demand and wearing retro soda jerk hats (which many of our guests promptly stole for their own photo opps!).
Day-after eating cake in bed. As much as I loved our morning-after Guatemalan brunch, I was completely wiped by the end of it. Once we sent off the last of our guests, we cuddled in bed and ate leftover wedding cake while watching crappy TV (#marriedlife) and scrolling through all of our friends' posts from the weekend. It was bliss.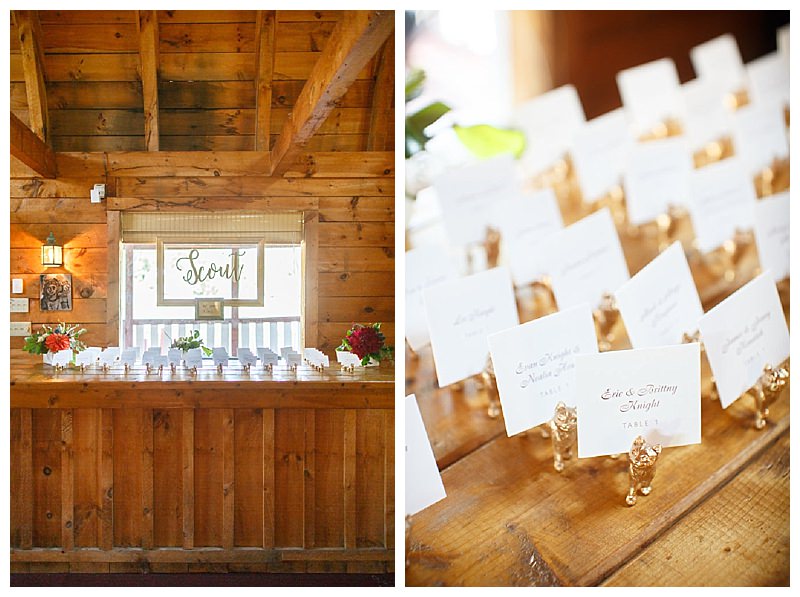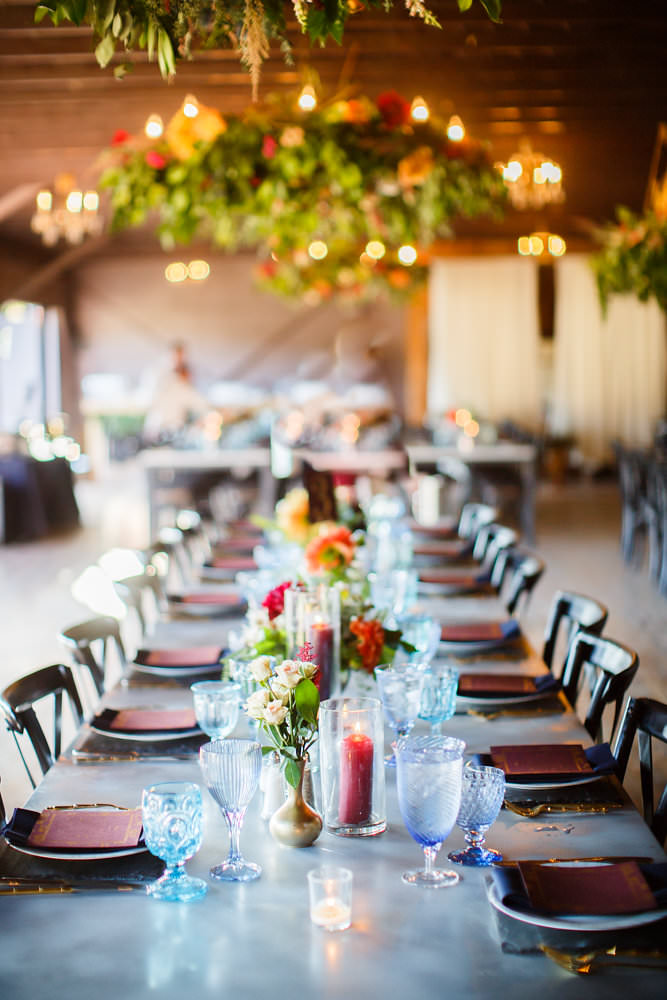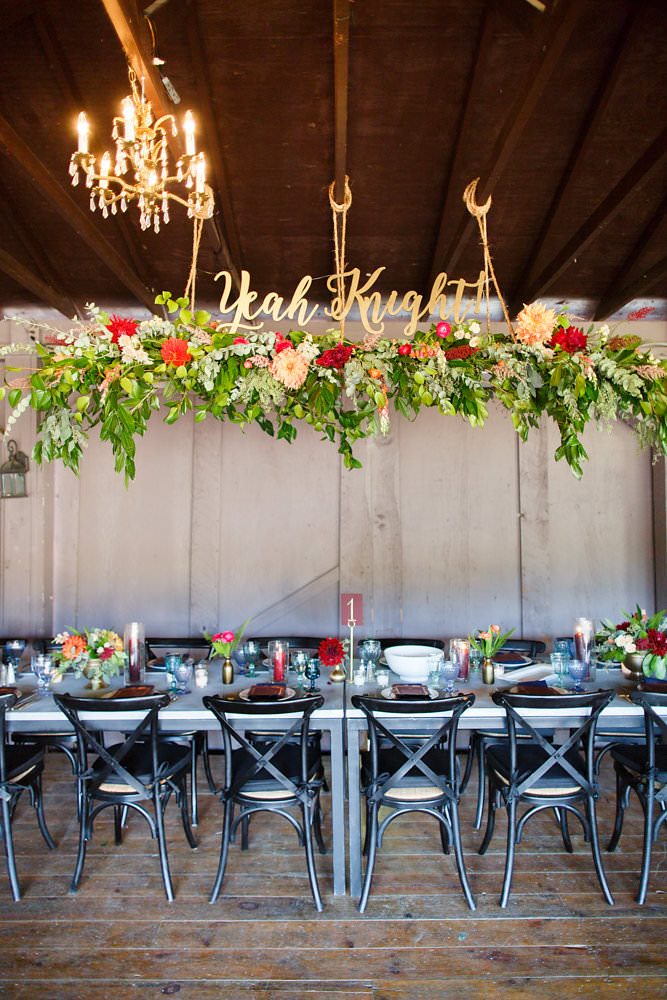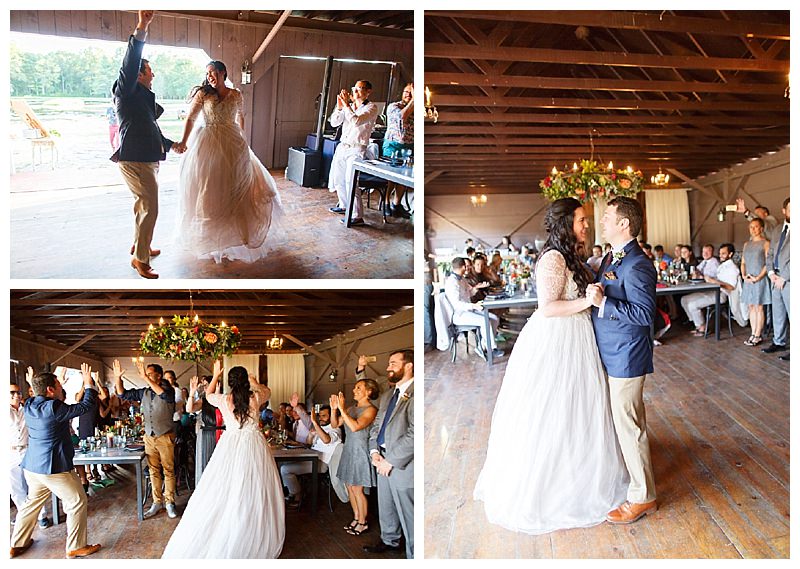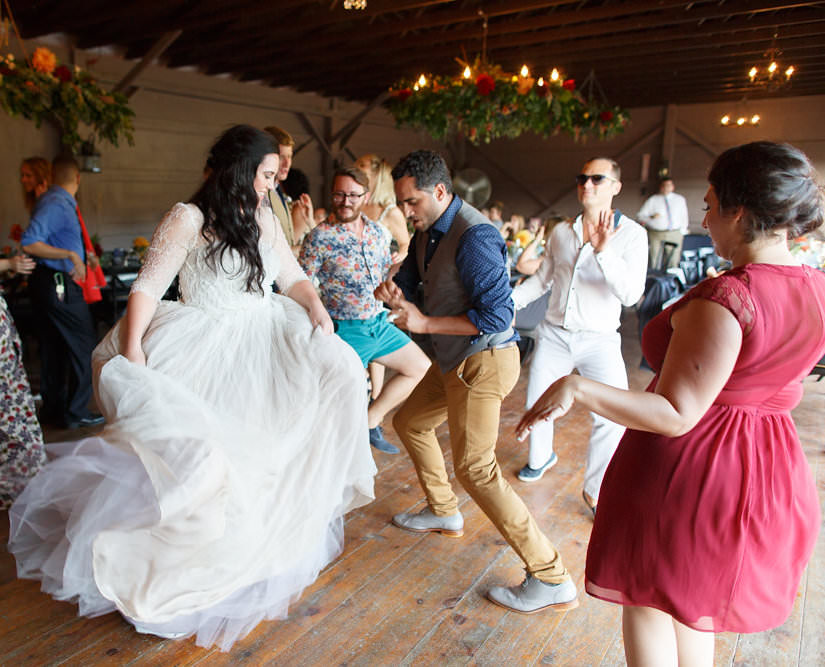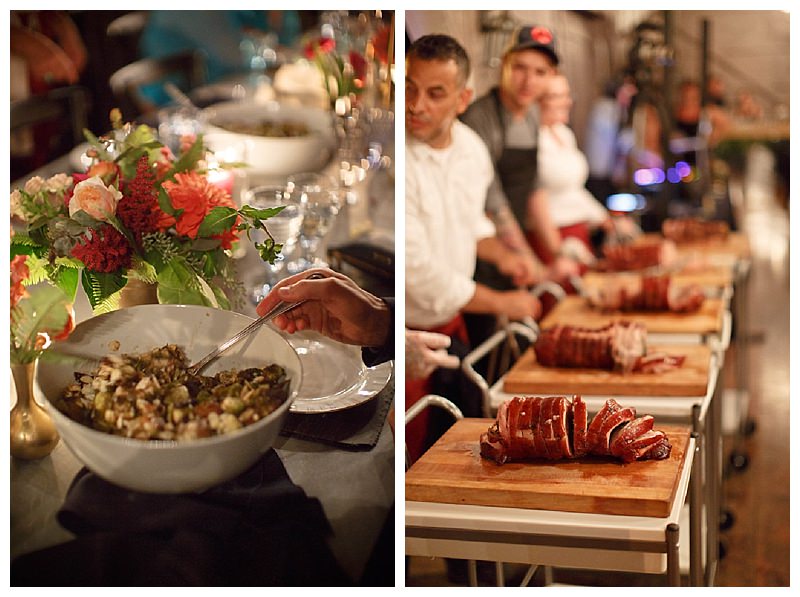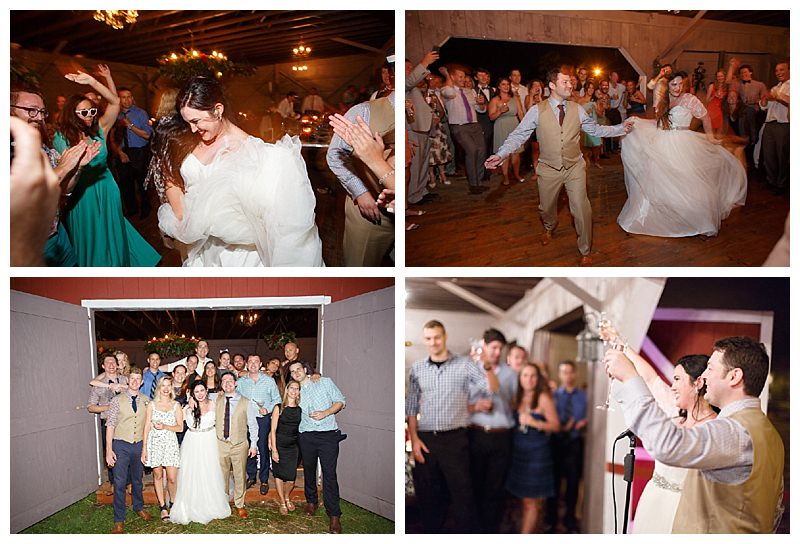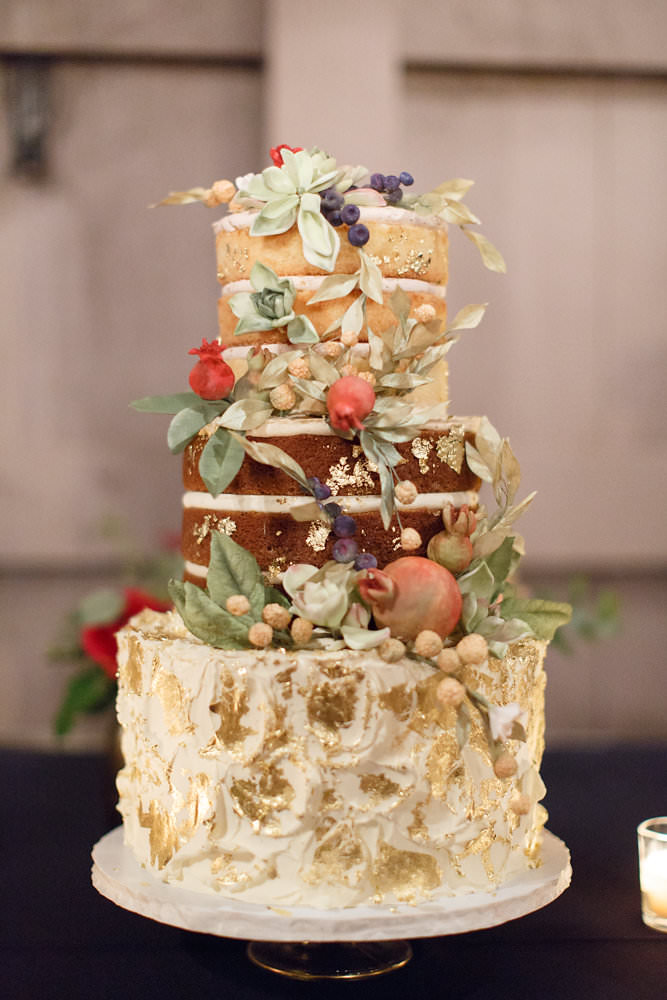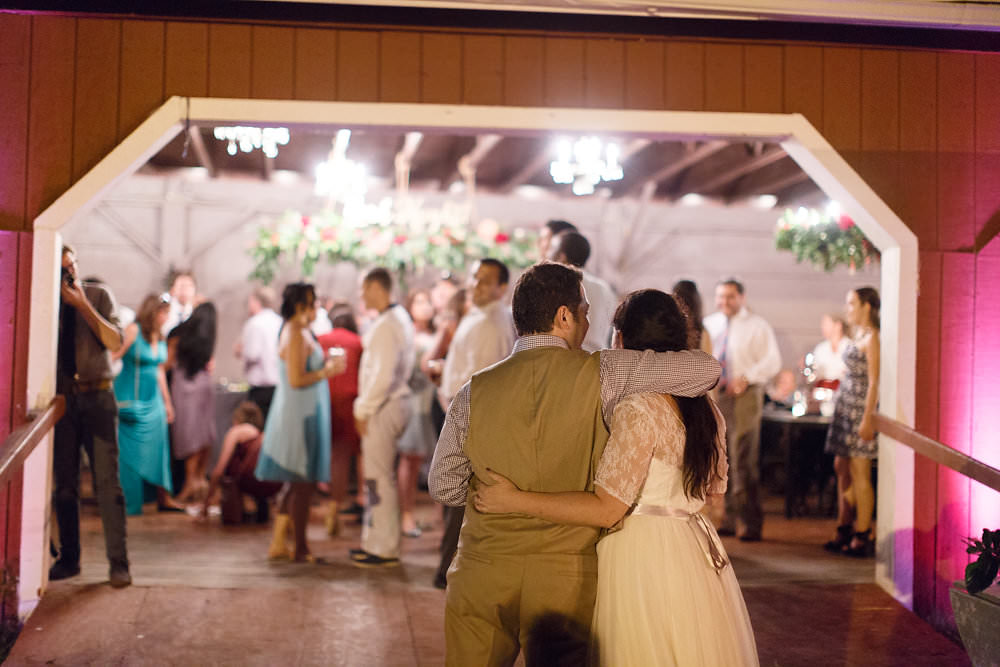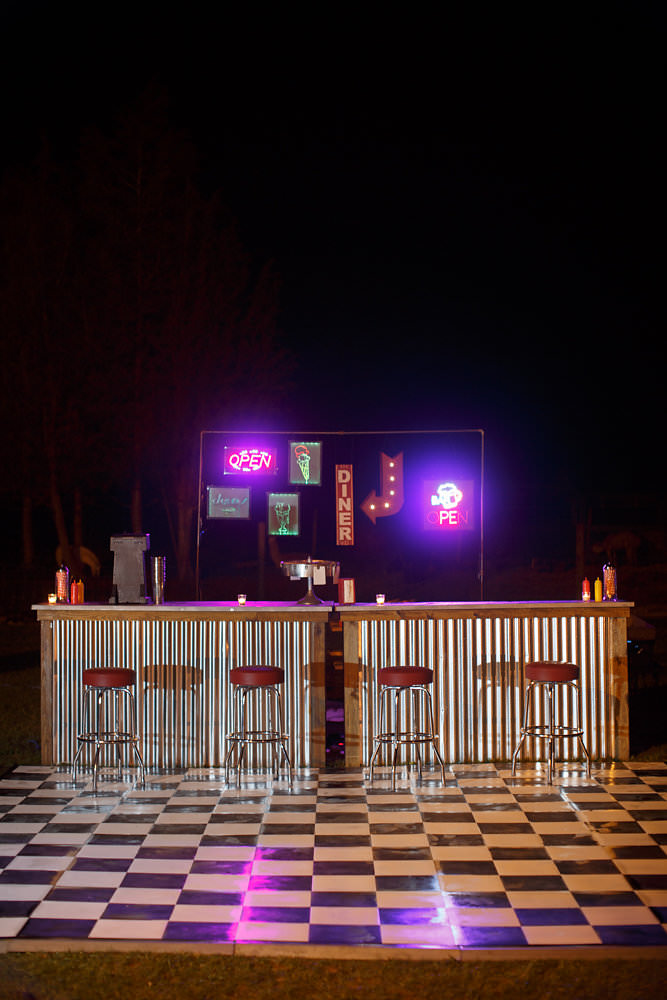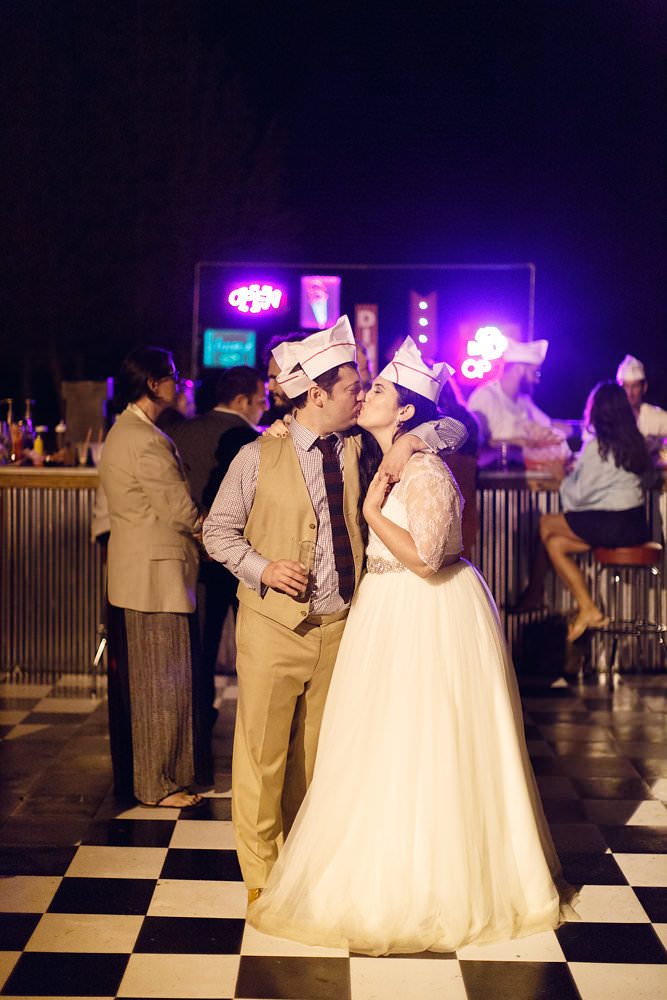 *Editor's Note: This post contains affiliate links. Each time you purchase an item via our affiliate links, Love Inc. is receiving a small percentage of the sale, thus you are helping our small, EQUALITY-MINDED™ business grow and allowing us to provide more content for YOU! Isn't that just fantastic?we