Okay, I'm going to get real with you. Contrary to what movies and television shows lead us to believe, wedding dress shopping isn't as easy as trying on The One and flipping out into hysterical happy tears. Truth be told, it's really difficult to envision yourself walking down the aisle purely by the samples provided by dress salons unless you fit perfectly into their bridal size 10 proportions (which run small and are actually around a 6-8 IRL sizes) — don't worry, your consultant will have a whole toolbox of clips, ties and clamps to make it fit, (sexy!) — not to mention, you'll likely want to do some customizing to truly it make it your own.
But it can be a little nerve-racking not knowing exactly what it looks like on you before forking over $$$. To put your worries at ease, I've asked some friends to share their before and after photos of their dress, proving that once you're wearing the dress that's made for you, you'll positively shine.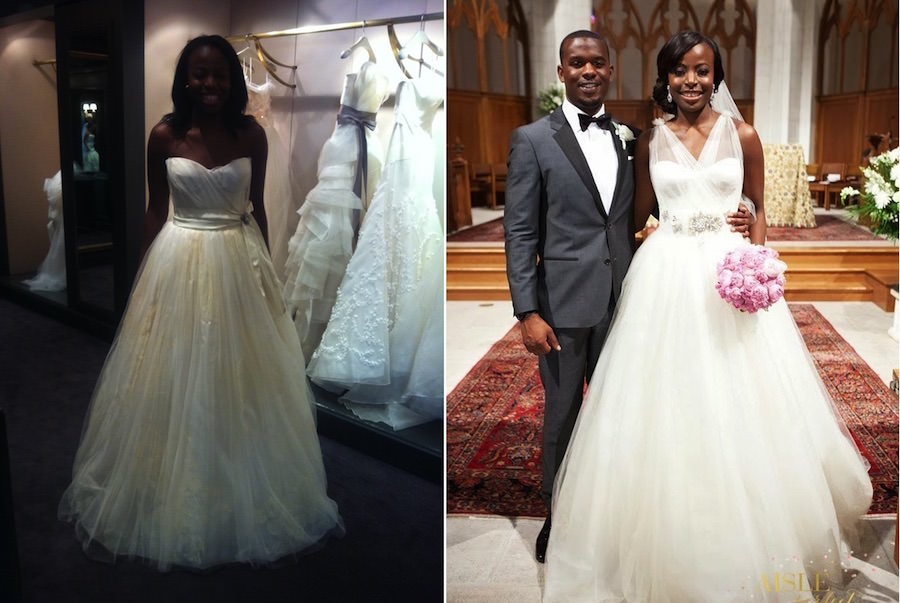 Kunbi from Aisle Perfect really made this Vera Wang dress her own! She added tulle to the neckline/sleeves and swapped out the satin ribbon for something with a bit more sparkle. Photo by Collins Metu Photographer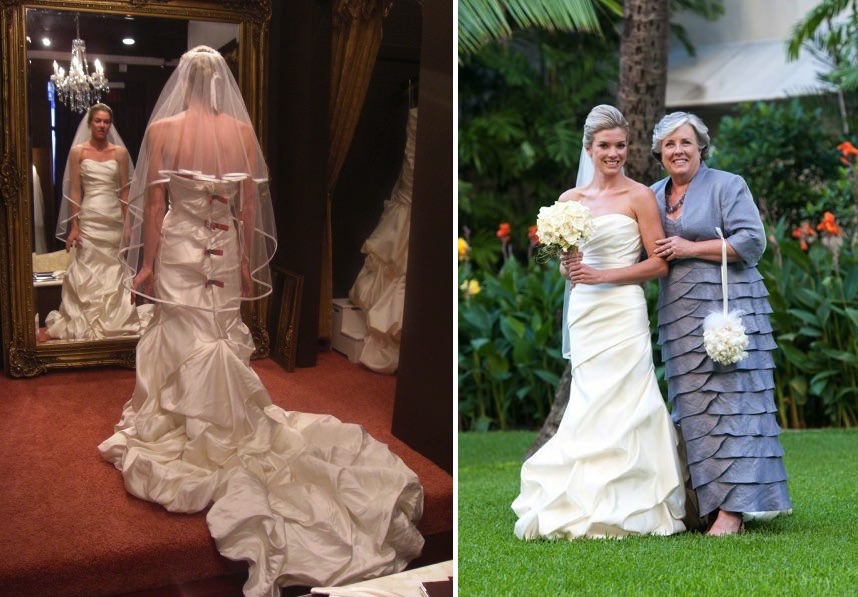 Sara (of the popular wedding blog Burnett's Boards) might have been clamped up during her shopping experience but check out how gorgeous she looked on her wedding day!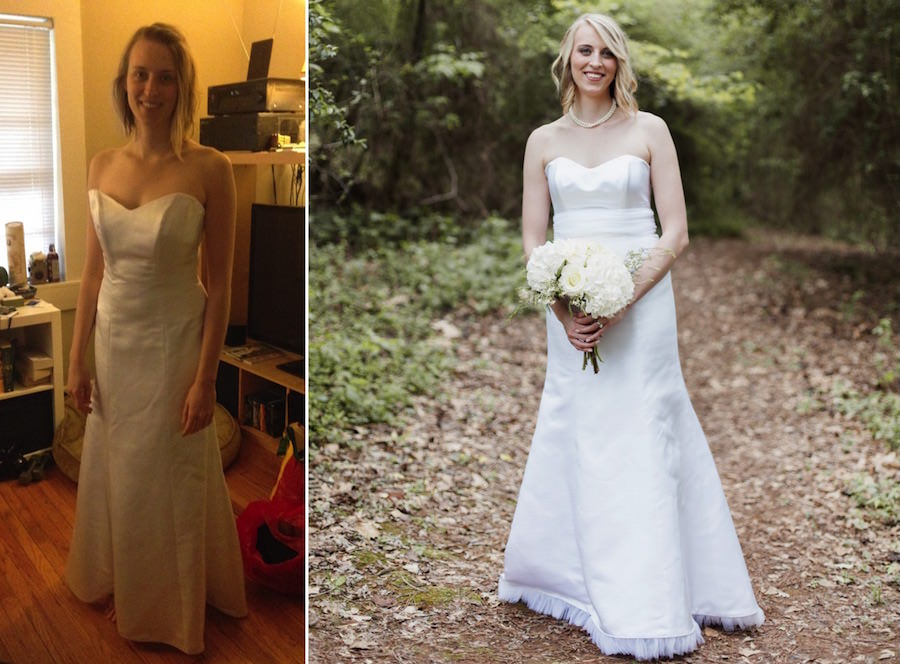 Our own blogger Clair scored her wedding dress at a sample sale before she even got engaged (hey, can't skip out on a bargain — though we will note that her beau popped the question a few weeks after!). Especially at sample sales, you're at the mercy of what's available but with a few alterations, she was able to create a truly unique design that fit her like a glove. Photo by Mary Katherine Morris Photography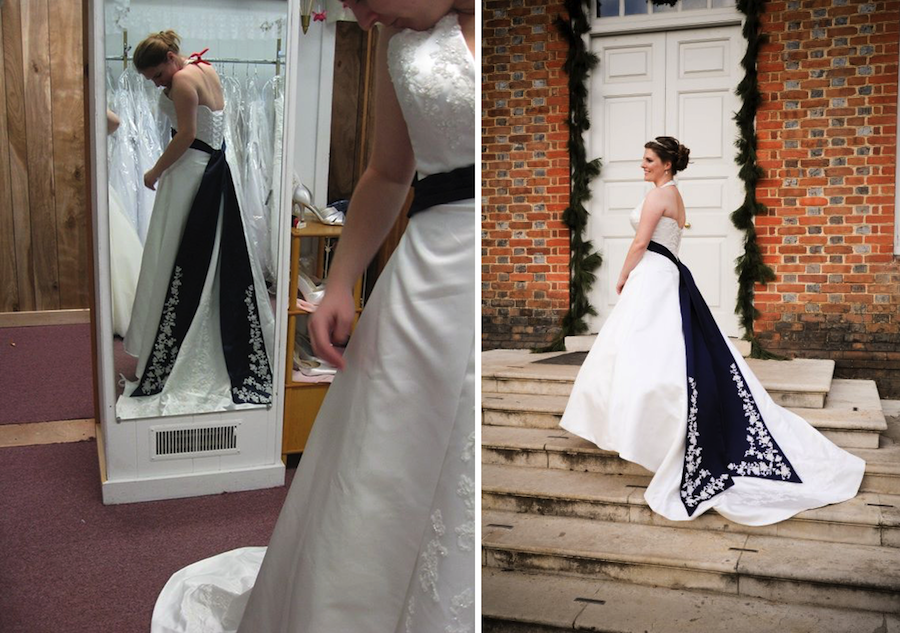 Chelsea, of Virginia wedding blog Tidewater & Tulle, proves with her Alfred Angelo gown that a little alteration can make a big difference in fit. Photo by Fareine Suarez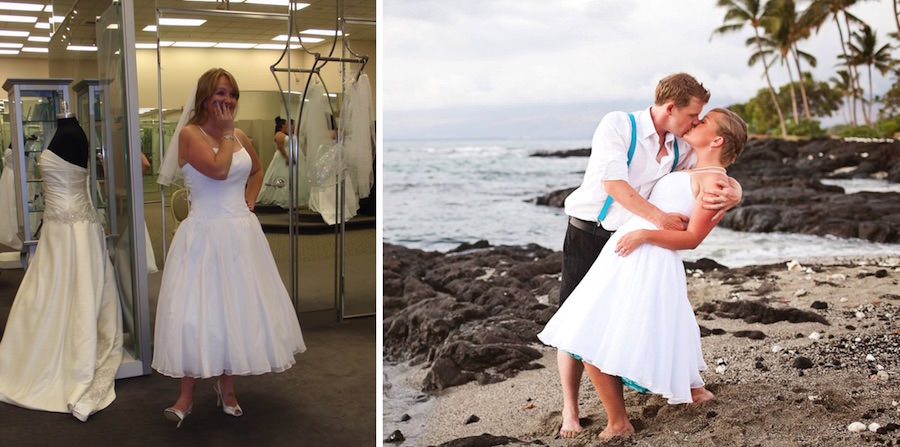 Christen of The Broke-ass Bride put her budget savviness to use by taking this simple David's Bridal gown and adding her own flair. She may have looked contemplative in the salon shot, but after adding a blue petticoat, buttons and spaghetti straps, she obviously made the right choice. Photo by Persimmon Images