Kamrin, of KNDM Co. Photo, is a close friend of Tiffany and Aaron's, and Aaron knew that with a little help from her, he could surprise his future fiancée and capture it all on film. "She had asked me if we wanted to do a couples shoot with her and make a day trip out of it," Tiffany says. "I thought Joshua Tree would be a fun adventure and started planning details with her; although, I had no idea the entire thing had already been planned."
Meanwhile, Aaron disguised his involvement with a healthy dose of apathy, fooling Tiffany into thinking he didn't even want to go. So by the time Aaron got down on one knee, Tiffany was shocked beyond belief. KNDM Co. Photo beautifully captured the special moment between these two soonlyweds in the very place they will tie the knot later this year.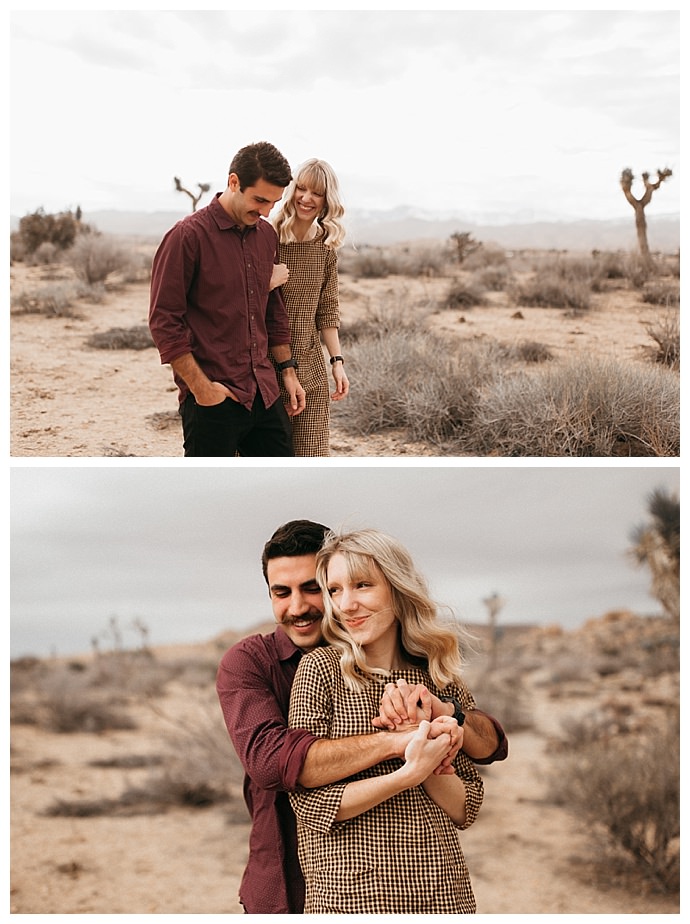 The Love Story
Tiffany has only two memories from the first day she met Aaron after a weekend at church camp — he smelled bad, and he was very sweet. Tiffany had just spent three days with her high school friends on a cabin retreat while the boys group spent the weekend in the desert. When they arrived back at the church, a mutual friend introduced them. "Our relationship started out as a friendship — or so I thought," Tiffany says. "He apparently had liked me for months, and everyone in our circle of friends knew except me."
Tiffany would routinely confide in him about the guy she was seeing, and Aaron would offer dating advice all the while keeping it secret that he had feelings for her. "He'd make dinner with me and come bowling with my family, and in hindsight, I feel like a real idiot for not realizing it sooner," Tiffany says. "When I finally found out he liked me, I told my roommate that I knew if I dated him, I would never date anyone else again." And after three years together, Aaron was ready to make sure she never would.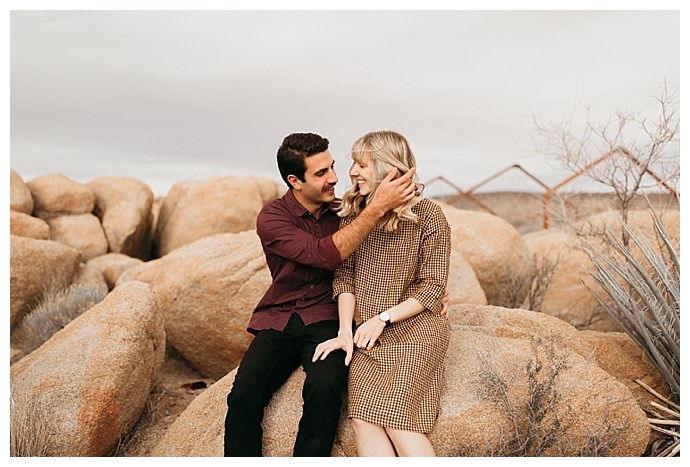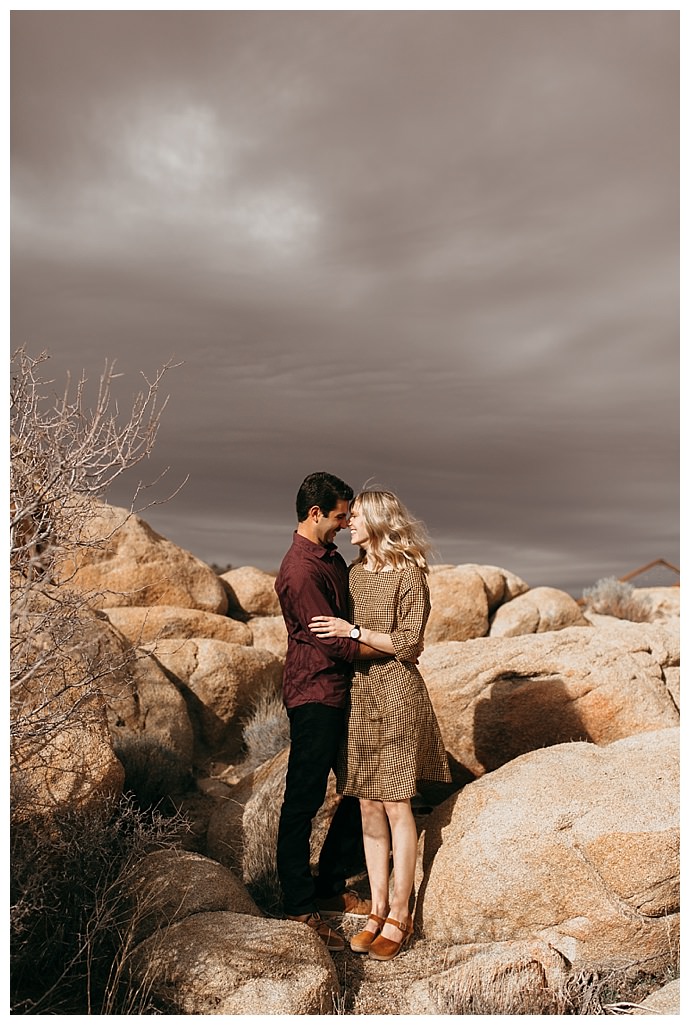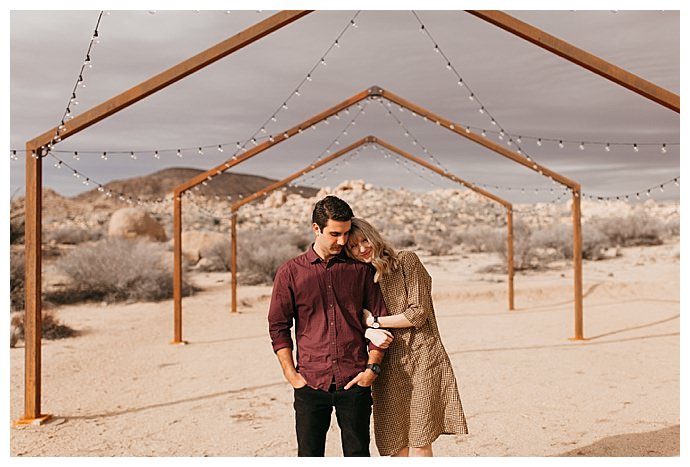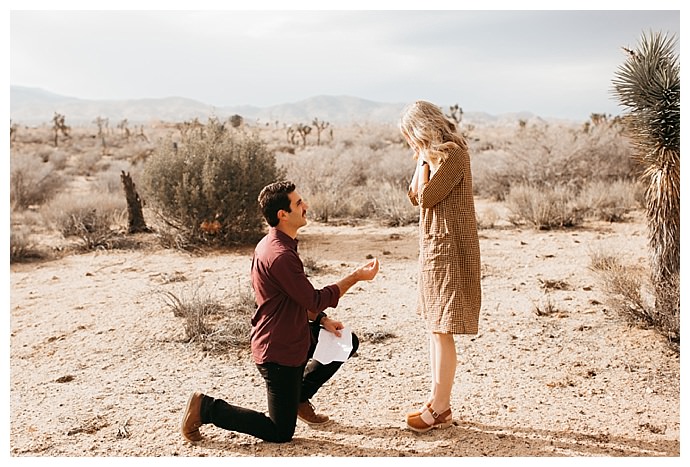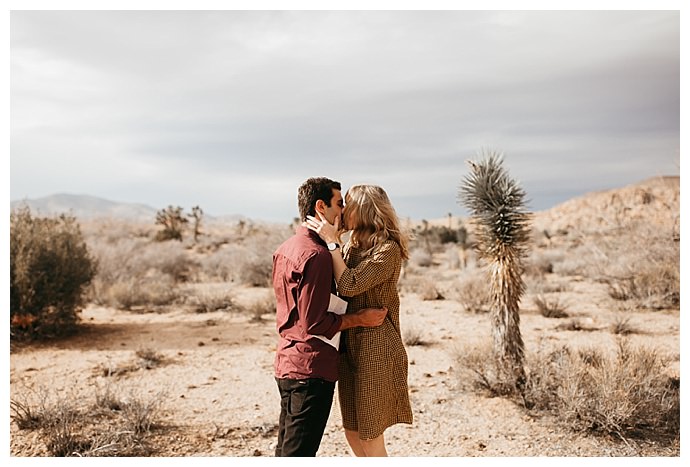 The Proposal
When the day finally arrived, Kamrin surprised Tiffany and arranged for them to shoot at The Ruin, one of Joshua Tree's beautiful wedding venues, after Tiffany mentioned she was interested in getting married there. It was the first of many surprises in store for her throughout the day. After 20 minutes of posing for pictures around the breathtaking landscape, they had made their way to The Ruin, and Kamrin told Tiffany that Aaron had a letter to read to her. "I was floored, knowing that I have to beg Aaron to write birthday cards because he hates writing," Tiffany says. "When I heard he had written a letter, I immediately realized what was going down." 
As she listened to him read, she says she felt frozen in time, realizing the depth of planning it had taken to reach this very special moment. "I had always thought that when he asked me, I would be a jokester and say no," Tiffany says. "When the moment was really happening, all I could bring my mouth to say was yes." After the ring was on her finger, Kamrin snapped some pictures of the newly engaged couple as their best friends drove up to surprise them with champagne and chocolate-covered strawberries. But the fun didn't stop there. Back in San Diego, Aaron had arranged all of their family and friends to be there waiting to celebrate with them when they got home.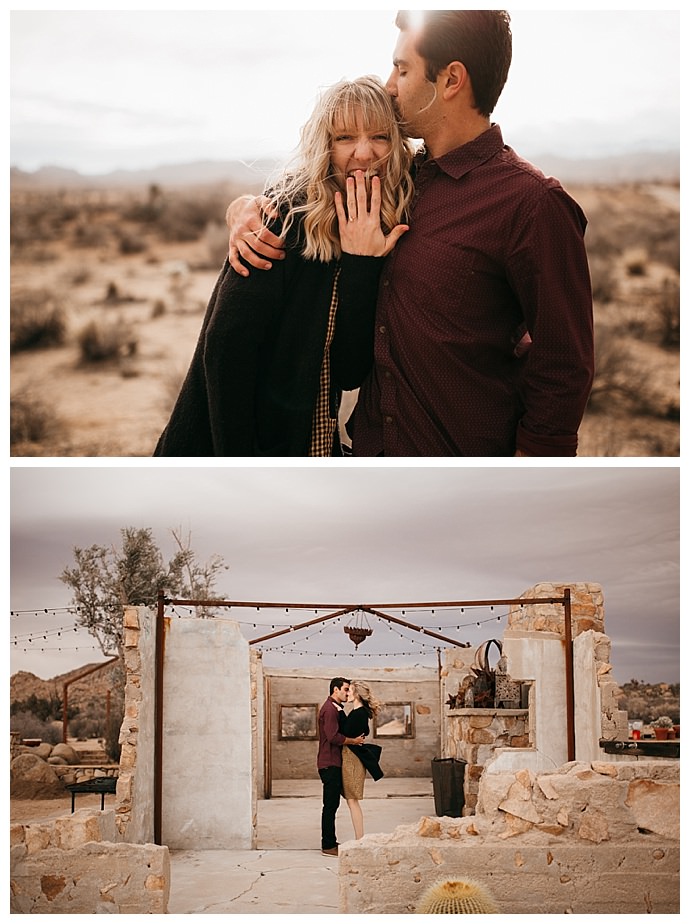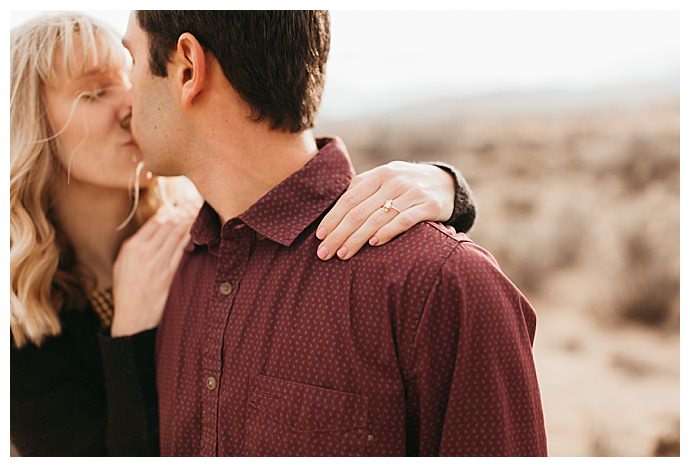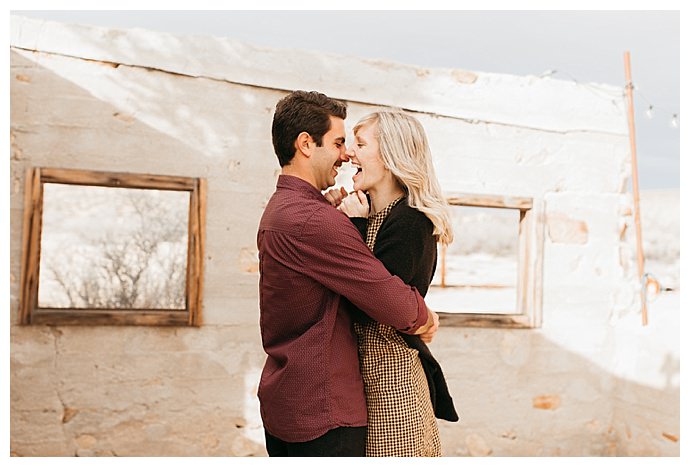 Memorable Moment
"The most memorable part of the whole thing was how much he managed to plan and pull off behind my back," Tiffany says. "I am the planner in our relationship, and he is most definitely not. I innocently thought I had planned the whole shoot with my friend and that he reluctantly did not want to participate!"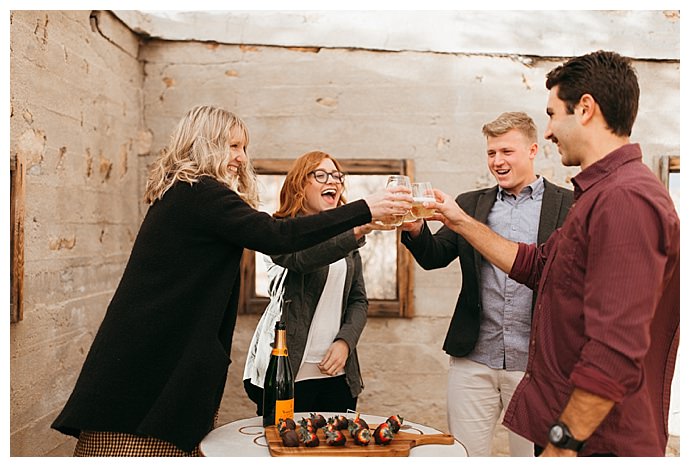 The Wedding Date: November 18, 2017