We're firm believers in loving the skin you're in, and although some soonlyweds' worst nightmare is waking up to acne on their wedding day, we love to remind brides- and grooms-to-be that the most important thing on your wedding day isn't how clear your skin is, but rather the journey you're about to begin with your partner. With that said, establishing a skincare routine is not only good for healthy skin, but also for achieving that newlywed glow that will radiate through your wedding pictures.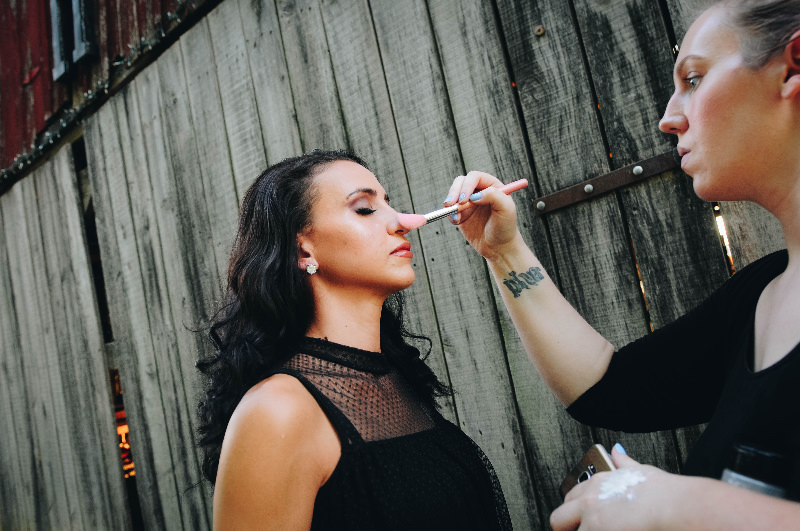 We got the details on all-things skincare from licensed esthetician and makeup artist, Allyson Roe, who suggests beginning a skincare regimen at least two months before the big day. Today, Allyson, who does everything from bridal to boudoir makeup and is a skincare aficionado, is sharing her picks from the Nordstrom Anniversary Sale. So whether you're looking for products to incorporate into your pre-wedding skincare routine or just want to try something new, check out these 10 amazing deals and see why Allyson thinks they're worth adding to your regimen.
Trish McEvoy The Power of Skincare Confident Collection, $230
From cleansing to sunscreen, this collection has it all. This is a great starting point for anyone who wants to take extremely good care of their skin but feels overwhelmed at all the options out there. This has everything you need and even comes with its own skin care organizer!
RODIN olio lusso Jasmine/Neroli Luxury Face Oil & Crema Set, $120
Get your softest skin for your wedding day using the Cream Hand and Body Lotion and the Luxury Face Oil, both of which comprise beneficial oils such as Argan Oil, Jasmine and Neroli Oil — an oil loaded with vitamins and minerals to help soften and combat wrinkles.
Clarisonic 'Mia' Skin Cleansing System, $86
The Clarisonic has gained the attention of many beauty lovers and for good reason! It gently removes dirt and grime while providing exfoliation that sloughs off the dead skin cells that can make your skin look dull. This also allows for better absorption of your serums and moisturizers. Keep in mind that although the Clarisonic is an awesome tool for cleansing, it is exfoliating your skin, so you only want to use it one to three times a week, depending on your skin's sensitivity.
SK-II Skin Care Trio, $99
If you're looking for radiant skin that lasts throughout the day, try out this trio. Start with the Facial Treatment Mask followed by the Facial Treatment Essence for beautiful, glowing skin. Both products contain Pitera, an ingredient that speeds up the skin's natural rejuvenation process. Finish your routine with a spritz of the Mid-Day Essence, which you can take with you if you need a refreshing boost in the afternoon.
Mario Badescu The Icons Home & Away Collection, $32
This collection includes the Mario Badescu Drying Lotion and the Rose Water Facial Spray, both cult favorites among consumers and makeup artists. I keep the facial spray in my professional kit at all times. It gives a wonderful, hydrating boost to dry or dehydrated skin, and all my clients love the gentle scent. I can spray it before or after makeup application with no issues. The drying lotion is a terrific spot treatment for those who are prone to breakouts. Simply dab some on the blemish, and let it work its magic overnight. It contains salicylic acid and calamine to help quickly dry up those pesky spots.
Paula's Choice Skin Perfecting 2% BHA Liquid Exfoliant Duo, $35
This chemical exfoliant works to gently, yet effectively unclog pores and rid your skin of dead cells. The salicylic acid in it makes it a great choice for those who suffer from breakouts, while the green tea extract is a great antioxidant and anti-aging ingredient.
GLAMGLOW Youth, Contour & Glow Set, $54
Keep your skin looking youthful with this trio from GLAMGLOW. The ingredients in each product will help bring dull skin back to life. The mattifying moisturizer is great for those needing oil control, and the exfoliating and firming treatments are both great for brightening and improving the look of fine lines.
Kiehl's Day-to-Night Masque Duo, $23
This collection includes the Turmeric & Cranberry Seed Energizing Radiance Masque and the Ultra Facial Overnight Hydrating Masque. Use these masks once or twice a week for more radiant, hydrated skin. Turmeric is a known antioxidant and anti-inflammatory ingredient, which helps brighten skin, while the Squalene and Fountain Plant found in the overnight masque boost your skin's hydration, leaving your skin soft and plump.
Fresh Sugar Lip Romance Set, $26
You want your lips to be kissably soft for your first smooch as a married couple. Formulated with nourishing ingredients, such as sea fennel and grape seed oil, this duo works to combat wrinkles and keep your lips hydrated and smooth.
Bobbi Brown Instant Hydration Hydrating Skin Care Trio, $80
If you're dealing with dry skin, try this collection from Bobbi Brown. The Cleansing Oil is perfect for removing makeup and grime without stripping your skin of the oils it needs. Soothing and nourishing ingredients in the Hydrating Eye and Face Creams leaves skin plump, improving the overall look and texture.
Photo by Graceful Designs Photography
*Editor's Note: This post contains affiliate links. Each time you purchase an item via our affiliate links, Love Inc. is receiving a small percentage of the sale, thus you are helping our small, equality-minded business grow and allowing us to provide more content for YOU! Isn't that just fantastic?