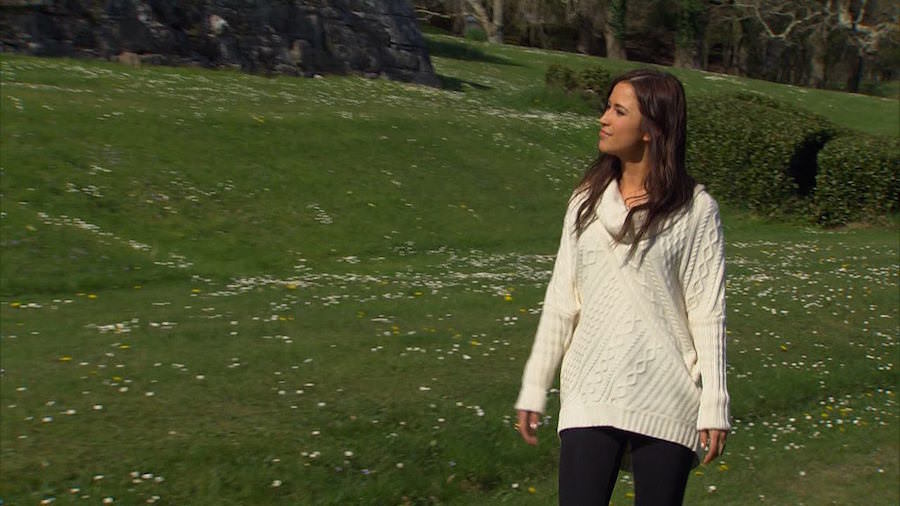 Given that we are at the final two, I'm sorry to say that tonight's recap is going to be brutally short for two reasons: one, I can only write about Nick and Shawn's middle school catfights in so many different words and two, we hit the final two tonight, which means hometowns, which means a lot of crying and not that much significant conversation. I'm pretty bummed out that we are already nearing the end. Next week is the Men Tell All, so I won't be recapping again until the finale but I feel like this season flew by insanely fast. I feel like we were just at the limos arriving at the mansion! I feel like Britt and Kaitlyn were just competing to be the Bachelorette! Time really does fly, everyone. For the sake of not wasting any more than I already have, let's recap!
How are we still in Ireland? Have we or have we not been in Ireland for the majority of the season? Why is this show so cheap? They flew Chris Soules from country to country every week but Kaitlyn gets stuck in Ireland. Not that I'm complaining about Ireland, because, hello, my name is Meghan Kennedy, I'm about as Irish as you can get … but a change of scenery would have been nice. Last week we ended on Shawn finally confronting Nick, which was about as anti-climactic as one would expect from The Bachelorette. Basically, Shawn sat down on Nick's couch, called him a bunch of names, and left. Really, that was it. Whatever. I expected more from this!
Kaitlyn heads from Cork to Galway for her overnight date with Ben H., who is wonderful albeit boring. Kaitlyn thinks that her date with Ben is a breath of fresh air due to the Shawn and Nick melodrama clouding her opinions of both of them and I agree. Ben should be the next Bachelor! They go on a horseback riding date with no problems whatsoever, which is why I'm surprised Ben made it this far on the season. He's actually this season's Becca Tilley, except not a virgin. Kaitlyn reveals that they're staying in a castle for the night — dinner, date, and whatever else may follow — and he arrives at the castle later that night to see Kaitlyn waiting his arrival in one of the turrets.
What I'd really like to know is how Kaitlyn is maintaining that tan of hers in the middle of Ireland, a country known for nonstop rain. Riddle me that one, producers! Ben drops a few truth bombs during this date, including but not limited to that his birthday occurred while filming the show and no one said anything and that birthday happened to be his 26th birthday. Kaitlyn is 30! I'm 23! Ben H., call me. She asks him in, what I think is supposed to be a seductive manner, if he thinks of her as an older woman, and I threw up in my mouth a little bit. They open the date card where Chris Harrison invites them to stay in the fantasy suite, and he launches into a speech about how much he cares about Kaitlyn. Let me tell you, I was convinced he was going to turn it down but he didn't, and off to the fantasy suite they go.
We then switch gears to the overnight with Shawn, which, of course, is the most intense overnight so far (or ever). They go golfing, which is a cool idea, and Kaitlyn buys him a shocking pink golf shirt (along with bright blue pants). Shawn admits that Kaitlyn enjoying golf gives her another check on the Wife Material checklist, and I'd just like to say that if someone's Wife Material checklist includes enjoying golf, I think it's safe to say that that person is going to be looking for a wife for a long time. Or maybe I just hate golf. Doesn't everyone hate golf? The best part about this date was that Shawn stripped completely naked and apologized to his grandma for doing it on live television. I guess he knows how to get a party started. Shawn was probably the guy you knew in college who willingly did a naked lap if he didn't make a cup in beer pong.
Kaitlyn brings up Nick with Shawn, and I am honest to God so sick of writing about this that I'm not even going to go into detail about it, but know that they talked about it for the 500th time and nothing came of it. We don't even get anything from the morning of —  just Shawn leaving Kaitlyn's apartment. Quel interessant, considering we saw all of Kaitlyn's AM breakfast with Nick after their overnight. I couldn't help but wonder if they got into a fight … until I saw Nick waiting for Shawn across the property like a bully in an afterschool special. Shawn refuses to speak to Nick and kicks him out of his room as soon as Nick gets in and tries to defend his honor (or whatever). I'm so sick of Nick. I really don't want to see him on television anymore.
Chris Harrison asks Kaitlyn what she's going to do and there's a lot of back and forth before we finally get to the rose ceremony — she just can't decide what to do. After this rose ceremony, it's time for Kaitlyn to meet the families, so she has to be seriously careful with who she picks. She panics during the rose ceremony and has to walk out before she can go through with it. She ends up sending Ben H. home because he was too good and pure for this world and without the Nick/Shawn dynamic, who would watch the show? Ratings are key. We then get about 30 seconds of dead air where Nick and Shawn refuse to speak to each other after Kaitlyn leaves the room … so that was something I would have loved to fast forward through. Kaitlyn walks Ben out and he handles it so well that I wonder if he saw this coming from a mile away (like the rest of us did).
Nick is first up for hometowns, and tells Kaitlyn he loves her right before they go in. Way to make your new girlfriend nervous around your family! Nick's family gets interviewed right before they meet Kaitlyn, and they all discuss how much they don't want Nick on this show after what happened with Andi. LOL. That's all I have to say. His mom cried about it, which made me feel bad … even his little sister cried (and I mean little — she's way too young to know what's going on). Nick is one of 11 children which I was completely unaware of until just now. How do you have that many children?????
Kaitlyn wins over Nick's siblings with a compilation of weird dancing, jokes and honesty about how much she cares about Nick. For all I say about Kaitlyn, I do have to admit that she seems like she genuinely cares about both Nick and Shawn. Nick's little sister totally stole the show with her "interrogation" of Kaitlyn and then Nick ruins it by telling his mom that Kaitlyn is good at making out. Come on. I tell my mom everything, but one thing she doesn't know is if my ex-boyfriends were any good at making out. There are some things you need to keep to yourself, you know?
Shawn's family date is next, and when he introduces Kaitlyn, the family immediately warms up to her. He tells Kaitlyn that his sisters are very protective of him, and you can tell that right away, but they seem to love Kaitlyn. His sisters even say that it seems like there's love in the room — that their personalities, while totally opposite, complement each other. This is a statement I can get on board with, because if you have two introverts you spend your Saturday nights watching Netflix until you're dead, and if you have two extroverts, you spend your Saturday nights staying up until you throw up from too much drinking. So, yeah, this is a good scenario. Shawn's dad pulls him aside and at first I think he's going to tell Shawn that he hates Kaitlyn, but he tells him that when you know, you just know. Shawn confesses to Kaitlyn that he loves her, and she kisses him in response. Has anyone else noticed that Kaitlyn never says that she loves anyone back? Is this a contractual thing? I need answers!
Hometowns are never super eventful, but this definitely provided an awesome setup for next week's Men Tell All special. While there's nothing particular to recap, I'm excited to see if they announce next season's Bachelor — crossing my fingers it's Ben H. — and hopefully they confirm that Ashley S. will be on this season of Bachelor in Paradise! As for this season of the Bachelorette … see you in two weeks when we wrap up Kaitlyn's search for Mr. Right (or Mr. Right Now, given this show's track record)!
Thoughts and Questions
How much did you love Nick's little sister's questions? "How's Vancouver? Do you love my brother?"
Do you feel, too, that you don't even need to visit Ireland ever from being exposed to the entire country on this show over the course of five weeks?
What are you going to watch once The Bachelorette is over? I think I'm going to start The Walking Dead. They should do a crossover!
Texts from my Editor
On hometowns: "Also the hometowns are not, er, in their hometowns. It's Utah. Budget cuts?" (True. Just another example of ABC caring more about The Bachelor than The Bachelorette.)
On Nick: "Everyone is crying because he's going through this again. Basically they're reflecting America's reaction when he showed up on the show weeks ago."
On Shawn's striptease at the golf course: "Reality "stars", they're just like us — they wear SPANX!"
On the excruciatingly awkward silence between Shawn and Nick: "I can just see an associate producer wanting to fastforward in the editing room and the genius senior producer just holding up his hand, 'Just wait.'"
Photo via The Bachelorette/Facebook
Past Episodes:
Episode 9: Things Fall Apart
Episode 8: Picnics and Parting Ways
Episode 7: Luck of the Irish
Episode 6: Does Anyone on This Show Understand Where They Are?
Episode 5: The Gang Goes to NYC
Episode 4: Sex, Lies and Sumo Wrestling
Episode 3: This Isn't Church Camp
Episode 2: Who Is the Bachelorette?
Episode 1: Fireball on the Rocks
By Meghan Kennedy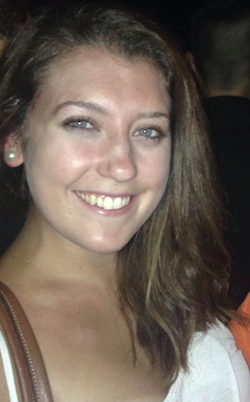 Meghan is a recent graduate of SUNY Geneseo with a degree in Personal and Professional Communication. You can find her at the nearest Chipotle tweeting about Drake, her sorority little and Project Runway.