By Shannen Hofheimer | Photography by Nicole Lopez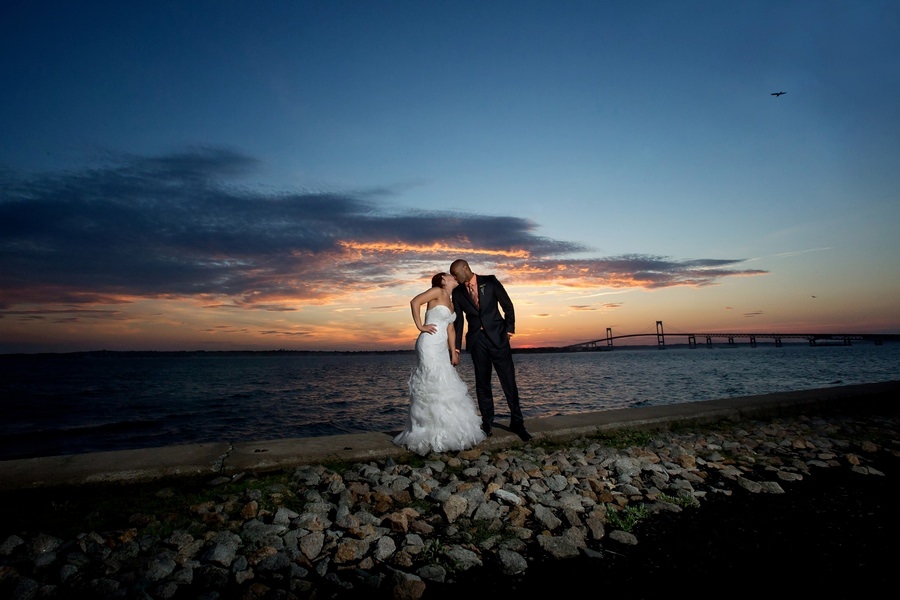 On Danielle and Rodney's special day, Nicole Lopez Photography did an excellent job of capturing this fairytale couple's seaside nuptials and romantic energy that usually only exists in the movies. With a picturesque lighthouse to complete the scene, Newport, R.I., provided this playful, beaming couple with the perfect beach atmosphere and gorgeous wedding photos.
The Love Story
When you actually meet your soul mate, your union is meant-to-be even if you are dating other people at the time, like Danielle and Rodney. "Rodney and I first met at his high school football practice when we were 16 and 17," Danielle tells us. "From that point on, Rodney and I seemed to run into each other for the next two years, but each time we were unavailable! Then, Rodney and I finally first started dating in college. For the next three years, we dated on and off being that we went to two different schools. After a long break up, Rodney and I got together for the final time. After seven years of dating, I was sure Rodney would pop the question, but I was wrong. He waited another year to really surprise me. The proposal was perfect because it was from his heart: a fully cooked meal,  candles, flowers and him in his tuxedo. So handsome!"
The Venue
The Pennsylvania natives knew they wanted a destination wedding in July. At the suggestion of a close friend, Danielle and Rodney visited Newport to explore the venues and the sites of the old New England town. "On our way to the visit a venue, we passed the beautiful Hyatt Regency Newport. Instantly, I fell in love. The lighthouse and its location on Goat Island was simply perfect. We checked out the other venue, but it wasn't what I wanted. At this point, I was panicking because I knew if we wanted to get married in eight months, we needed to book a place as soon as possible. As a shot in the dark on our way out of town, we called the Hyatt and set up an appointment to see if it was our dream wedding spot. It had everything we wanted: a beach atmosphere without all the sand, a full service hotel for our guests, a beautiful lighthouse, well-kept grounds, great food and an outdoor pavilion we could use for our reception with a breathtaking view of the bay and the Newport Bridge," Danielle reminisces enthusiastically.
The Ceremony
For this charming, charismatic couple, their simple ceremony spoke for itself. Rodney's aunt officiated their special day, keeping it short and sweet, while his cousin played the violin. "It was an amazing ceremony full of love, friends, family and sunshine!"
The Fashion
Both Danielle and Rodney looked sharp and crisp in their ensembles, which were truly representative of their characters and grace. Daniella wore a strapless Casablanca gown and accessorized with Swarovski crystal earrings and a diamond bracelet borrowed from her aunt. Rodney looked handsome in a gray tuxedo designed by MySuit in New York City, a coral shirt and a gray and coral stripped tie.
The Inspiration
"Our wedding day was inspired by our love for traveling, the ocean and the feeling we got when we visited Newport, a sailing town full of history and old world charm," the bride perfectly explains. Incorporating ivories, corals and greens, their reception decor was simple and elegant. "We used a floating picture frame to display pictures of us as well as the seating assignment. The card box was an overnight bag that had a globe print on it. Our centerpieces consisted of a coral frame with a postcard in it from all the states we have visited thus far, a larger center cylinder filled with river rocks, roses, hydrangeas and dusty millers adorned with green and coral ribbon, surrounded by three smaller cylinders filled with a variety of succulents. Our plan was to have sustainable items that our guests and we will use again. It worked because we only had one large centerpiece left," Danielle exclaims.
The Party
After an incredibly tasty cocktail hour that included lobster macaroni and cheese and a seated dinner consisting of New York Strip steak, chicken and pasta primavera, it was time for the couple's delectable dessert. "We had a three-tiered almond flavored white cake. The cake was decorated with a simple dot pattern, coral ribbon and topped with Batman and Wonder Woman figurines," Danielle tells us. We are also digging the adorableness of their Batman and Wonder Woman aprons they wore as they cut their cakes!
"We had a DJ from New York City who did an amazing job. He played nonstop and the dance floor was always packed! As he introduced us, we went right into our first dance. Our wedding song was 'All of you' by John Legend," Danielle shares with us. Wanting their guests to go home with a little taste of Newport, bottles of Dels Lemonade were decided on as party favors, which is a famous, Rhode Island-based lemonade company.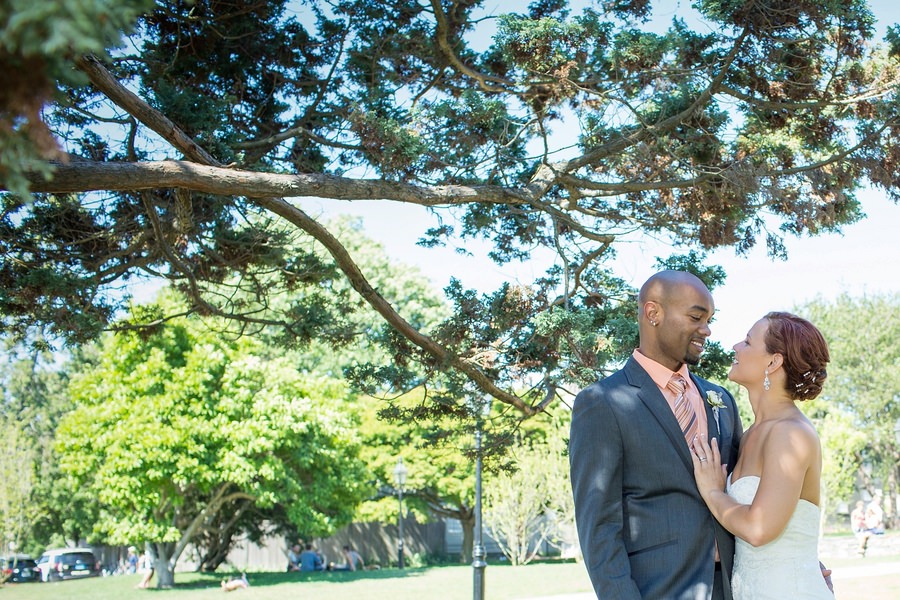 Wedding Vendors:
Venue/Catering: Hyatt Regency Newport
Photographer: Nicole Lopez Photography
Florist: Broadway Florist
Cake Designer: Scrumptions
DJ/Band: DJ Fats
Makeup/Hairstylist: Stillwater Spa – Hyatt