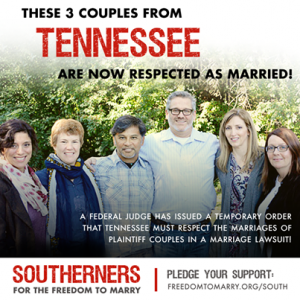 The marriage equality winds are ablowin' in the South! Mere weeks after Freedom to Marry's declaration to focus on the states in the Bible Belt, Tennessee is the second Southern state where a federal judge has ruled in favor of respect for out-of-state marriages for same-sex couples, following Kentucky.
"This is the eighth judge in recent months to rule on a challenge to marriage discrimination, with now eight out of eight ruling that under our Constitution, across our entire country, marriage discrimination should and must end," says Evan Wolfson, founder of Freedom to Marry. "The judge's powerful words and the fact that today's ruling comes out of Tennessee make clear that all of America is ready for the freedom to marry, and it is time for appellate judges and the Supreme Court to do right by all families and bedrock principles of liberty and equality under the law."
The ruling by Nashville-based federal judge Aleta Trauger was the result of a lawsuit filed in October by three same-sex couples who's legal union was deemed irrelevant after moving to the Volunteer State.
"At this point, all signs indicate that, in the eyes of the United States Constitution, the plaintiffs' marriages will be placed on an equal footing with those of heterosexual couples and that proscriptions against same-sex marriage will soon become a footnote in the annals of American history," wrote Judge Aleta Trauger in the order
As someone who was born and raised in Tennessee, I grew up surrounded by conservatism in my hometown but as the years progressed, so has the acceptance. While we still have a long way to go —  the ruling is currently only effective for these three couples — it's certainly a step in the right direction for marriage equality in a state where it looked damn near hopeless even just 10 years ago.
By Brittny Drye, Photo courtesy of Freedom to Marry