By Brittny Drye | Photography by OneLove Imagery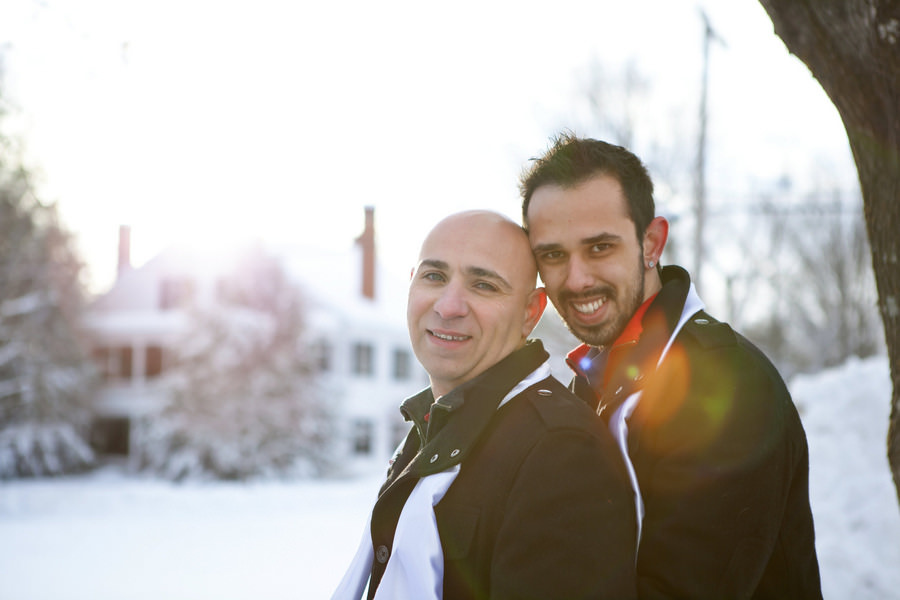 Tony and Leo traveled from their home in Tampa, Fla., to snowy New Hampshire for a romantic ceremony on Valentine's Day. They exchanged vows underneath a gazebo right outside of the town hall in Walpole, N.H., just days after a major snowstorm hit with the freshly fallen snow providing a stunning backdrop for their ceremony.
"We chose New Hampshire for many reasons," explains Tony. "The first was that Florida is very discriminating. Gay marriage is not only unaccepted, it is illegal. New Hampshire is quite the opposite in that they are non-discriminating and very welcoming. To that end, I have a very good friend of mine named Lucia who lives there with her husband, Mike. Upon telling Lucia all about Leo and revealing to her that we were going to get married, she and Mike graciously opened their doors to us. In fact, the date we were married is the same date Lucia and Mike were married!"
The Love Story
As luck would have it, after a three-month stay in America, Leo met Tony on the day before he was leaving to return to his home country of Brazil. "I couldn't believe what I was hearing," exclaims Tony. "That's when I went into panic mode and tried everything I could to get him to reconsider and stay a little longer."
They clearly both knew they shared something special, and Leo decided to stay in Tampa for a few more months, giving their obvious adoration of each other a chance to grow into love. Leo eventually had to fly back to Brazil but returned three months later to go on a seven-day cruise with his love, during which Tony popped the question.
The Ceremony
Though traveling to New Hampshire in the middle of the winter might have seemed crazy, these two lovebirds knew that it would be perfect. "Leo and I were never worried. Everything fell into place as we followed our intuition with every decision, which even included our travel days." That intuition proved to be invaluable as the very next day a large snowstorm blanketed the entire Northeast, canceling flights, buses and trains. "But not before Leo and I were able to get our marriage license!" he adds. "By Friday, the storm blew over and after some snow blowing and a little bit of shoveling, everything went off with flying colors."
Afterwards, they celebrated with light hors d'oeuvres at their friends' home, followed by a delicious dinner at the French bistro-style eatery, The Restaurant at Burdick Chocolate.
The Fashion
The grooms looked cohesive yet low-key in their red shirts with dark jeans, matching Michael Kors coats and identical white silk scarves.
Memorable Moment
The most memorable moment has to be what occurred right after the ceremony. Once the ceremony was complete, everyone began to embrace with warm hugs. Located directly across the street was the huge town hall. Within seconds of everyone embracing, all of the snow let go from atop this town hall roof in a huge, domino-like avalanche. It was like the Universe was clapping! We turned around and, amazingly, the sun broke through the clouds! Our wonderful photographer took full advantage of this and off we went to take the most beautiful and memorable pictures we could ever have wished for.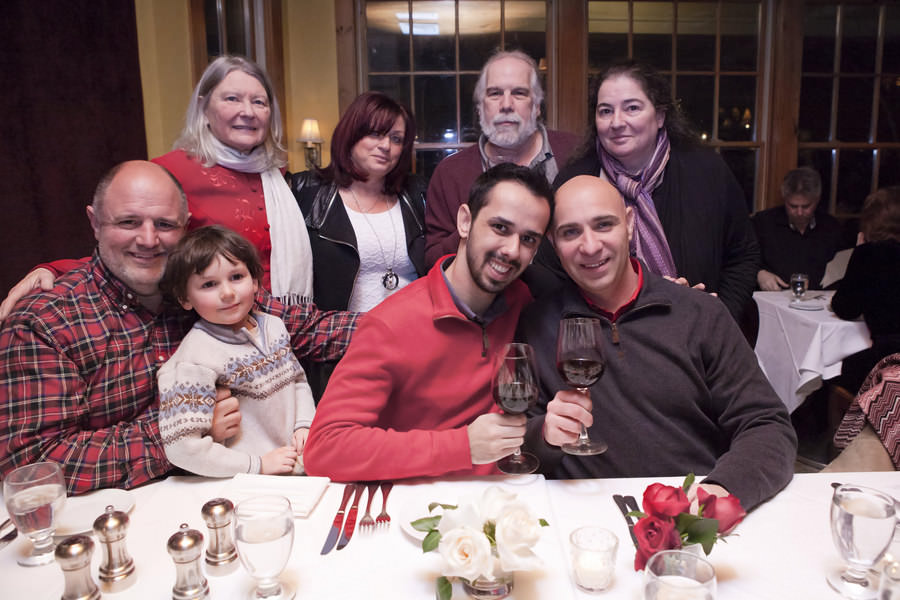 Photography by OneLove Imagery