By Shannen Hofheimer | Photography by Alexis June Weddings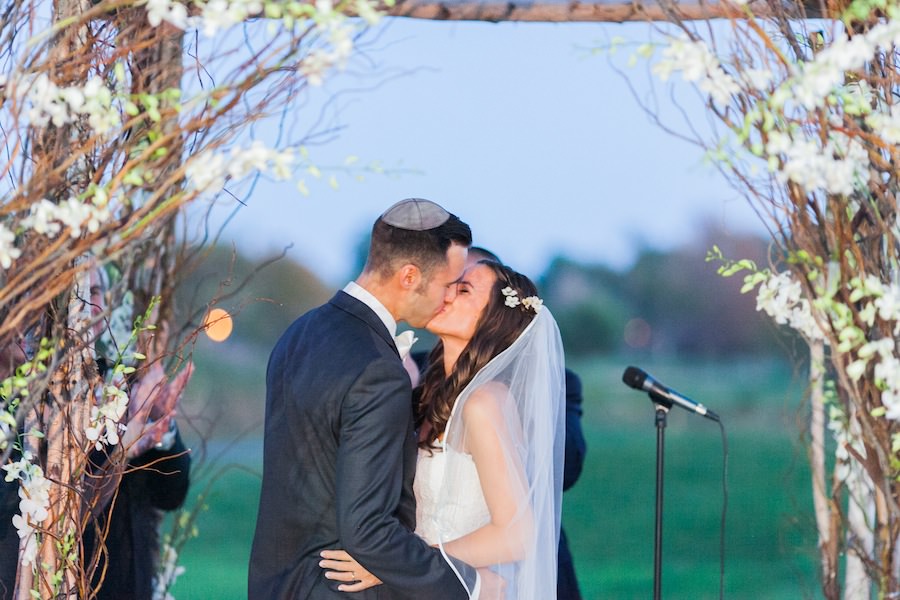 When you meet the person you are meant to spend forever with, your heart just knows…even if you are a first-grader who can barely even read yet. For Michele and Jon, their love story begins way back, culminating in a beautiful wedding on a cloudless day in September 2014. Celebrating a traditional Jewish wedding surrounded by loving and supportive family and childhood friends, we are gushing at how adorable and perfect this couple is. Alexis June Weddings beautifully infused these Long Island wedding photos with not only the essence of their special day, but their love story that has been 20 years in the making.
The Love Story
Who ever said relationships don't count in elementary school? In Michele and Jon's case, saying their first grade relationship merely "counted" is quite the understatement. "Jon and I met in the first grade at Plaza Elementary School in Baldwin, N.Y. We were good friends and started 'dating' in the fourth grade, which was short-lived. We remained close friends and started dating again the summer going into our senior year of high school, but broke up briefly after our junior year in college. That summer, we got back together and remained together with one brief break shortly after college. In December of 2011, we moved in together into our New York City apartment, got our dog Bailey in May 2013 and were engaged in Central Park on August 24th, 2013 — our 10th anniversary from when we first started dating!" 
Any New Yorker knows that Central Park is a magical escape amidst the industrial city, full of activity and possibilities. For Michele on that warm day in August, it was full of unexpected romance and surprise guests. "Jon and I met his sister for drinks at the boathouse in Central Park and then decided to go for a walk. He stopped by a caricaturist and requested we get a caricature done, which I thought it was odd but went along with. When the caricaturist presented the drawing, it was of Jon down on one knee asking me to marry him. I turned to my right and there was Jon on his knee with a gorgeous ring! I have no idea what he said to me, but I said yes! I called my mom as we continued on our walk and then saw both of our parents coming towards us. We were laughing and crying all at once! Then I noticed a ton of our friends and siblings in the park with a huge picnic to celebrate. It was perfect!"
The Venue
Michele and Jon exchanged vows at The Royalton at Lawrence Yacht and Country Club under a beautiful chuppah comprised of branches and flowers. For this happy couple, it was important for them to pay homage to the history of their love by being on Long Island where they grew up, complete with an outdoor ceremony, great food and service and a beautiful space.
The Ceremony
Michele and Jon enjoyed a traditional Jewish ceremony, which was heartwarming and personal. Before the ceremony began, the couple had their Ketubah signing which Michele's sister-in-law, the groom and her good friend all took part in. Guitar music accompanied the wedding party as they walked down the aisle, and when it came time for Michele to glide toward her groom, Mariah Carey's "Always Be My Baby" played in the background, a favorite song of the couple back from their fourth grade days.
"It was a gorgeous, warm September day without a cloud in the sky. We used Jon's deceased grandfather's Talis and Kiddush cup throughout the ceremony. Jon was married with his grandfather's ring, and I wore my deceased grandmother's ring. Jon broke the glass and we walked out of the ceremony to Queen's 'Another One Bites the Dust'." However, we have to say that we really are all smiles looking at these pictures of Michele and Jon's superhero ring bearer Lucas, their three-and-a-half year old nephew who rocked a Spiderman cape as he walked down the aisle to complete his mission.
The Fashion
Michele looked radiant in a Romona Keveza mermaid gown with lace and tulle, accessorized by a ribbon belt across the bodice with flowers  from Etsy. The bride wore a diamond bracelet, a wedding gift from her groom, who wore a dark gray tuxedo and engraved cufflinks, courtesy of his blushing bride.
The Inspiration
The wedding was beautifully tied together by hues of gray, ivories and yellows. Tables at the country club where the reception was held overlooked a golf course, the band leader entertained guests with his guitar melodies and the chuppah was brought in from outside, framing the band and adding a personal touch to the decor. However, most of the inspiration came from Michele and Jon's romantic journey together, which could be found infusing every detail of the reception. "Our menu featured a faded picture of Jon and I from our senior prom in high school," Michele shares with us.
The Party
If you're going to eat seafood, Long Island is the perfect place to indulge. The pan-seared Chilean sea bass sounds delectable, and the center-cut filet mignon served with truffle red bliss mashed potato and asparagus bundle topped with Merlot demi-glace has our stomachs rumbling pretty loudly. The couple's simple and elegant ivory cake was filled with strawberry shortcake, but another tasting plate of desserts tickled every fancy, featuring chocolate soufflé, apple crisp and mint chip gelato.
Evident Queen fans Michele and Jon shared their first dance to "You're My Best Friend" and the dances kept on coming. Guests danced the famous Horah in the beginning of the reception and hoisted the happy couple onto chairs lifted above their heads (an exhilarating Jewish tradition), both Michele and Jon enjoyed a father-daughter/mother-son dance and Michele's parents were honored in a special way. "We also had a Mezinka to honor my parents because I am their last child to get married. All of our guests danced around my parents to a special song and came up to kiss and congratulate them."
Memorable Moment
"The speeches from our parents and our maid of honor and best man were hilarious and incredible," Michele reminisces happily. "Jon's brother was his best man and my best friend from middle school was my maid of honor. We have all known each other for most of our lives, and the stories they told went all the way back to when Jon and I were in each other's lives as children. Jon's brother, Zach, mentioned a story from when Jon and I were in the fourth grade and our class was buddies with Zach's first grade class. Even then, Zach was aware of our connection and that we would be married one day. We are still hearing how funny and great the speeches were and how they perfectly captured our love story!"
For Jon, he was overjoyed watching Michele dance with her grandfather … a moment during the reception that brought friends and family to tears. "The whole atmosphere was amazing. Everyone has known each other for years, being that we have been friends since childhood. It was just a joyous affair. Our parents are very close and sat at the same table with their siblings for the reception. There was no division of bride and groom sides and everyone was thrilled to be celebrating together."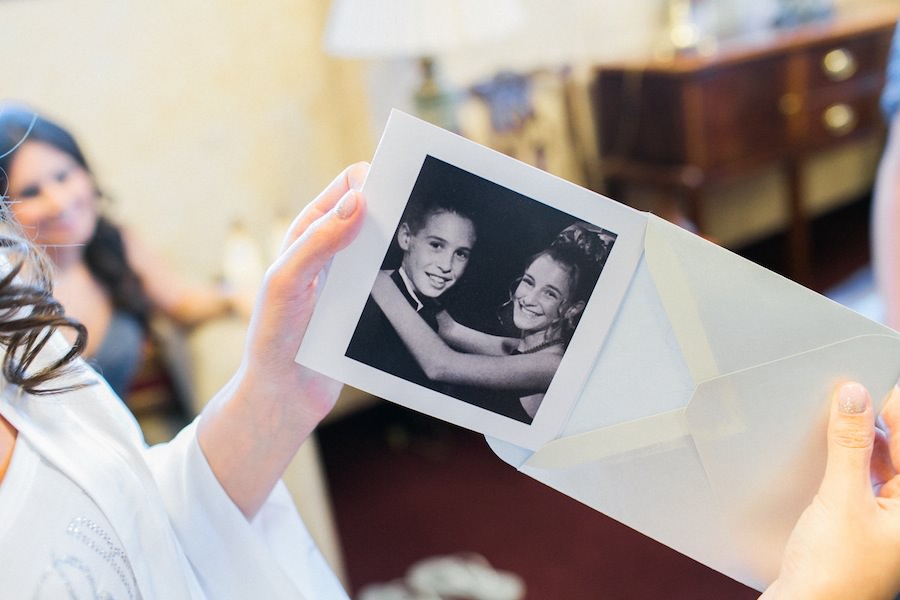 Wedding Vendors:
Photographer: Alexis June Weddings
Florist: Pedestals
Venue: The Royalton at Lawrence Yacht and Country Club
Hair: Bangz
Makeup: Make-up by Sarah Sweet
Caterer: The Royalton
Entertainment: Hank Lane's Artie Stuart Band